Made from steel wire, our welded mesh fencing is either hot dip galvanised or Galfan® zinc alloy coated to provide superior protection against rust and corrosion.
We manufacture a range of customisable welded mesh products suitable for all applications, from schools and sports facilities, to commercial properties and high security sites. Creating an 'invisible' screen, welded mesh fencing offers high visibility and doesn't compromise CCTV. With posts adaptable for security toppings, cameras and lighting, flat profile designs for sports enclosures, reinforced V mesh styles for additional strength, and close-knit panels for high security applications, we can offer you the tailored security solution your site requires.
Product Quote for Welded Mesh Fencing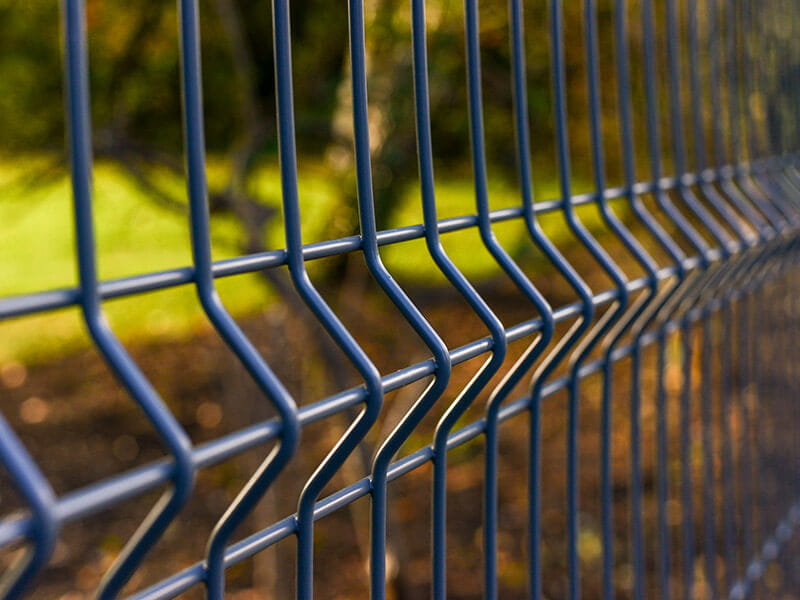 Reinforced V fold in EuroGuard Regular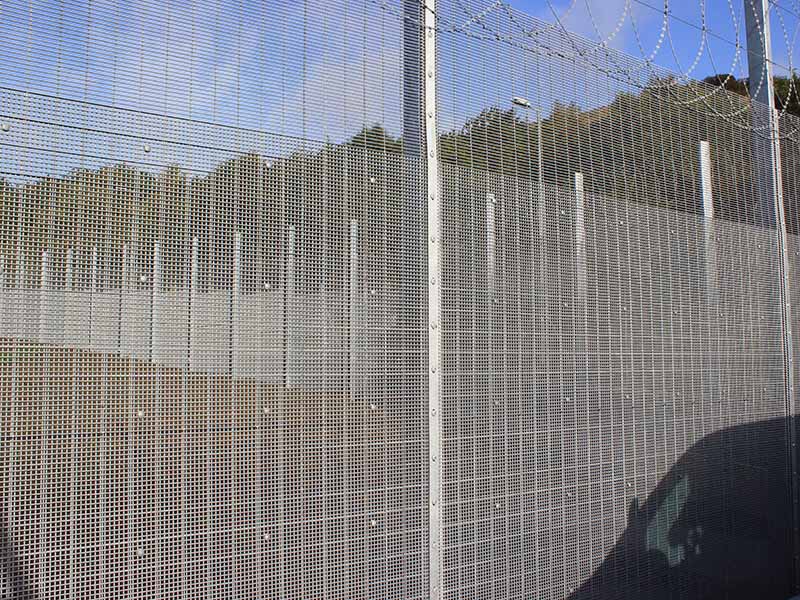 Galvanised Trident Securi-Mesh Plus Fencing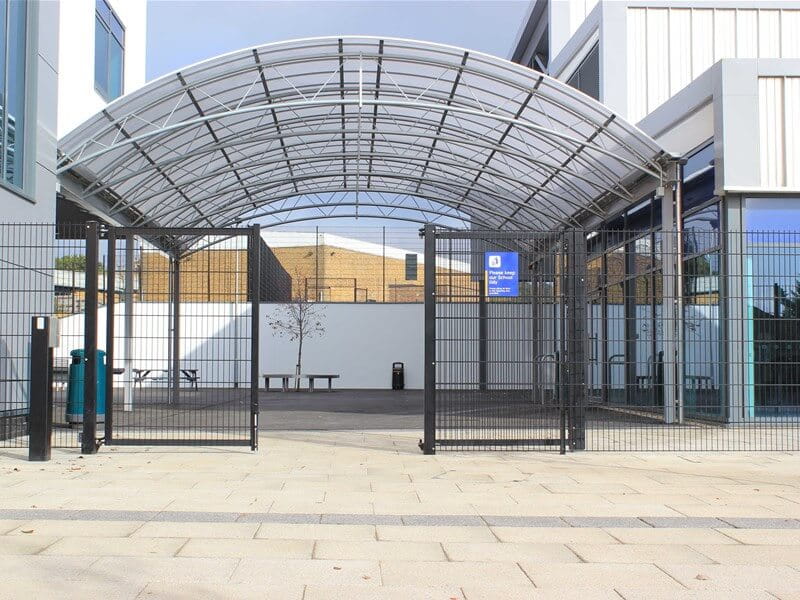 Double Leaf Euroguard Flatform Welded Mesh Gate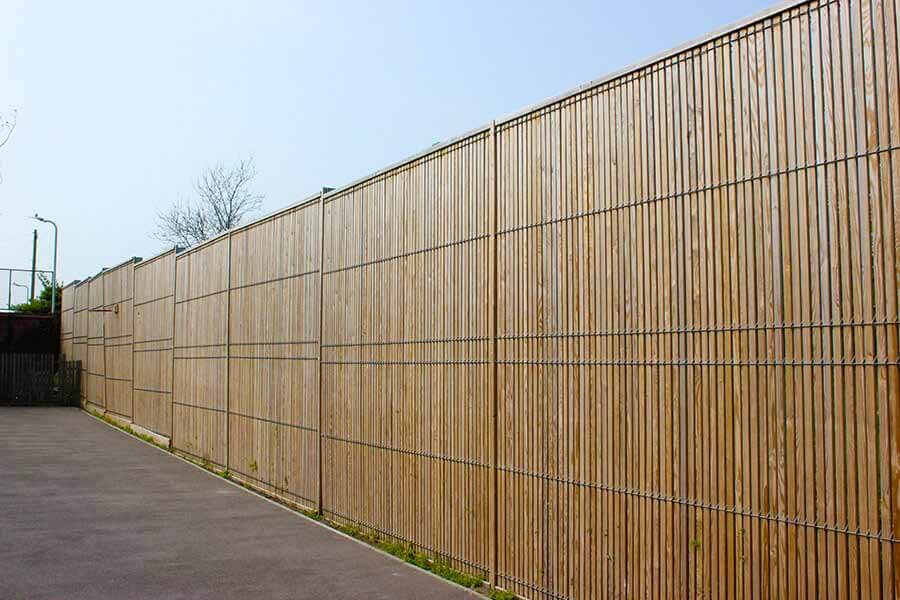 EuroGuard Combi Timber and Mesh Fencing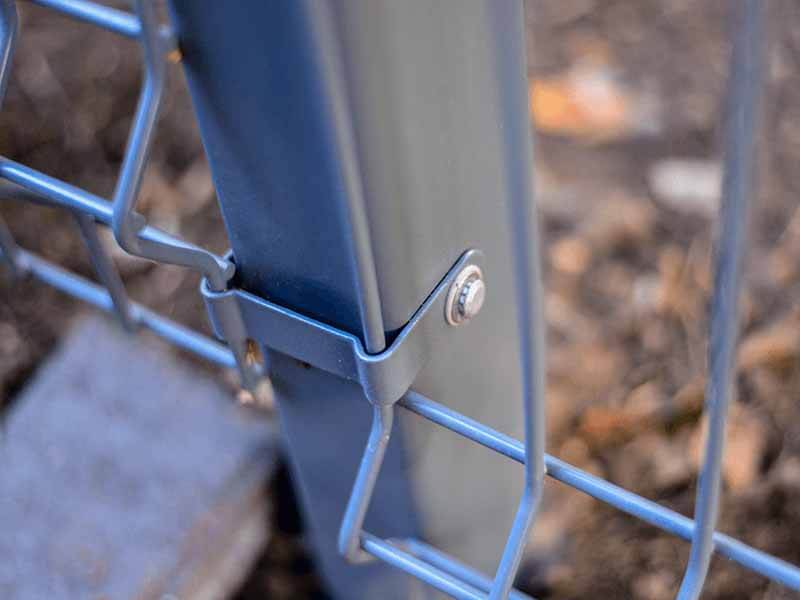 Welded Mesh Panel to Post Fixing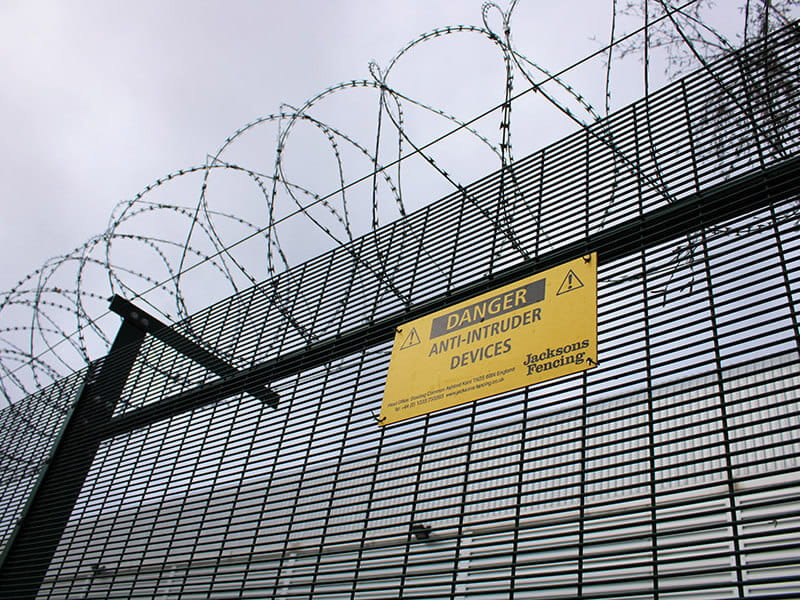 Trident Securi-Mesh With Barbed Wire Topping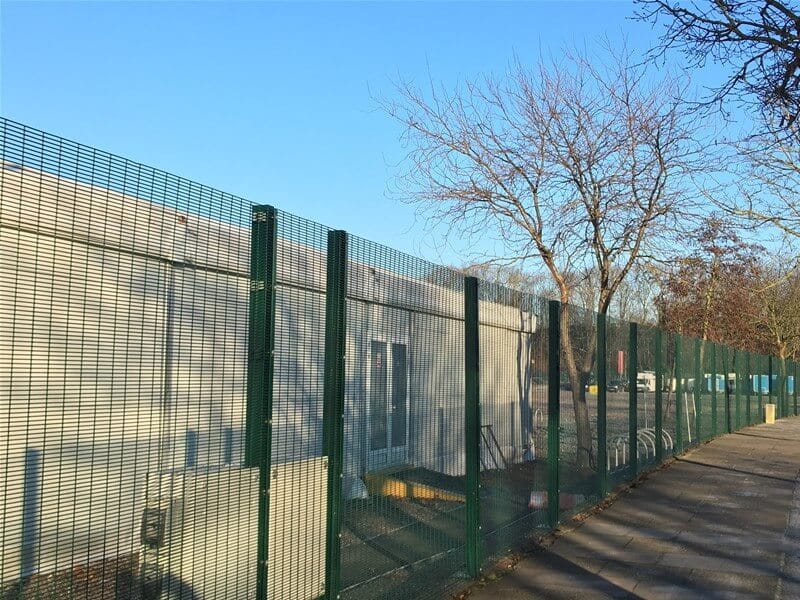 RAL 6005 Green 358 Securi Mesh panels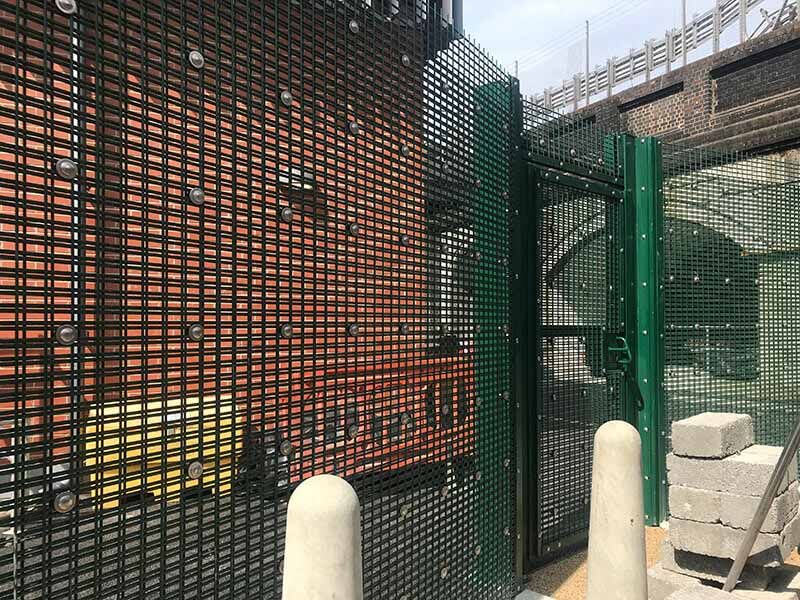 Green UHS Xtreme Welded Mesh Panels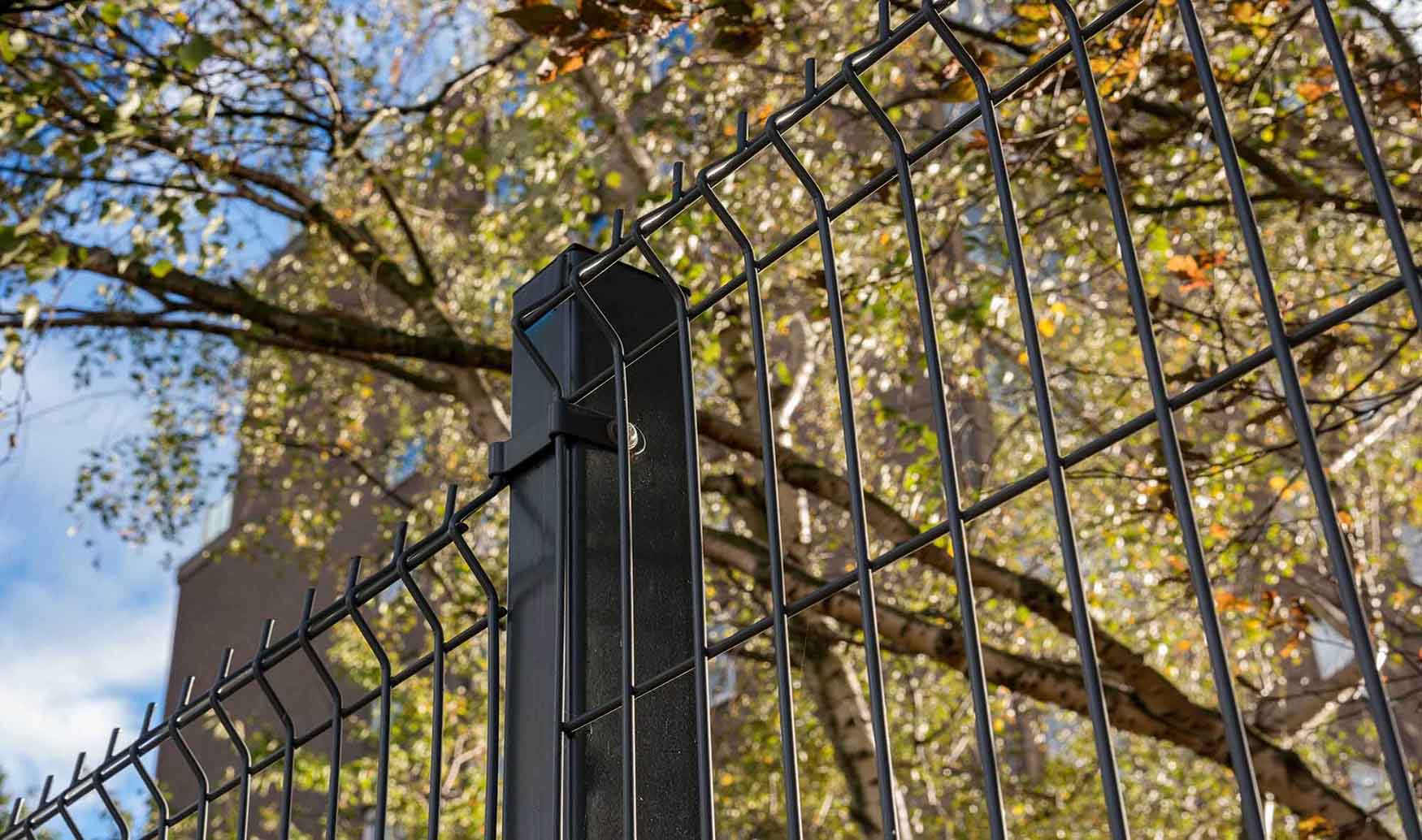 EuroGuard Regular RAL 9005 Black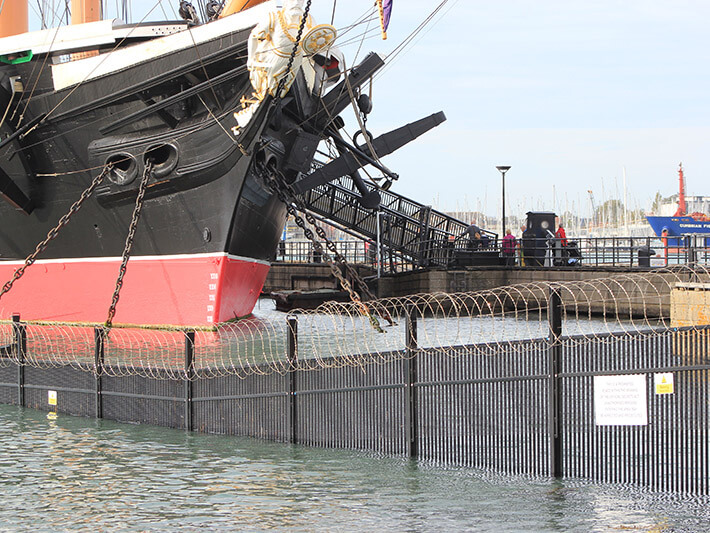 Trident 3XM High Security Welded Mesh Panels Marine Coated With Barbed Wire Topping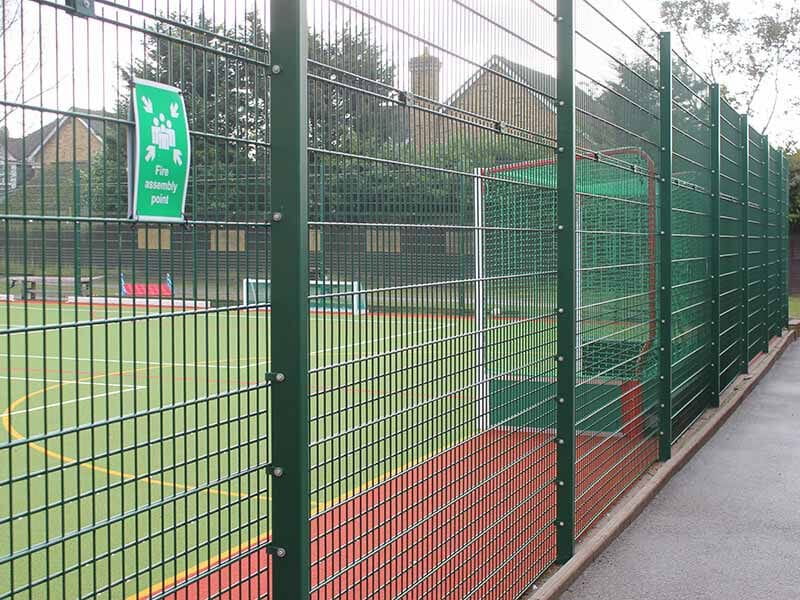 EuroGuard Rebound Welded Mesh Panels Around Sports Pitch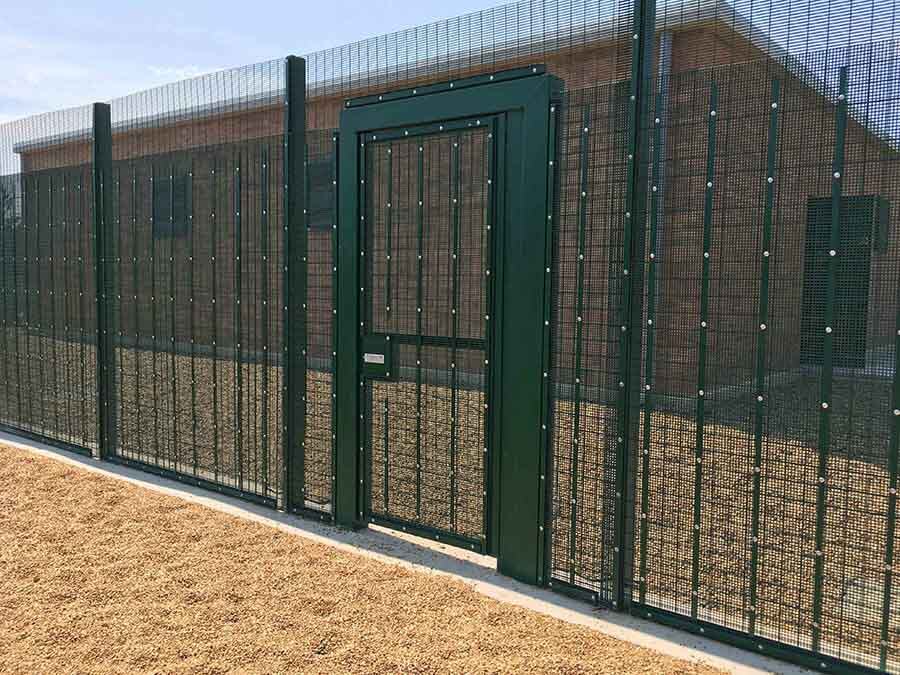 Securi-Mesh Plus SR2 Fencing and Single Leaf Gate RAL 6005 Green
EuroGuard® Welded Mesh Panels
The EuroGuard® range of welded mesh panels offers an ideal perimeter fence solution for schools, leisure attractions, commercial sites and even residential properties where there is a need for higher levels of security. There are different styles available, including a flat profile fence with horizontal twin wires, a flat profile sports rebound mesh, reinforced V mesh fencing with v shape profiles for strength and rigidity, and a steel and timber combination panel to increase privacy and aesthetic appearance with a natural timber façade.
Securi-Mesh® Welded Mesh Panels
Commonly known as 358 Mesh or Prison Mesh, our Securi-Mesh® range of welded mesh panels employs a climb resistant heavy duty mesh with small apertures and welds, meeting specifications including the use of CCTV, and where a visual deterrent is a key consideration. Securi-Mesh® panels have a single layer of close-knit welded mesh, while Securi-Mesh® Plus offers a double layer of mesh secured with tamper-proof fixings.
High Security Welded Mesh Panels
Our high security welded mesh panels have passed physical tests to a standard which gives each panel a classification indicating its protection level against a range of toolsets and attack times. Achieving a certified LPS 1175 Security Rating from the LPCB, these mesh panels are ideal for high risk areas where certified protection is necessary.
Welded Mesh Panels For Sports
We manufacture welded mesh panels suitable for sports pitches and enclosures, including high impact sports.
Sports Mesh
Ultra High Security
The Trident® range includes mesh fence panels that offer extremely high security with products that meet Home Office specification for use in mental health units and prisons, and products designed for rapid deployment and reduced costs.
Trident Mesh Fencing Range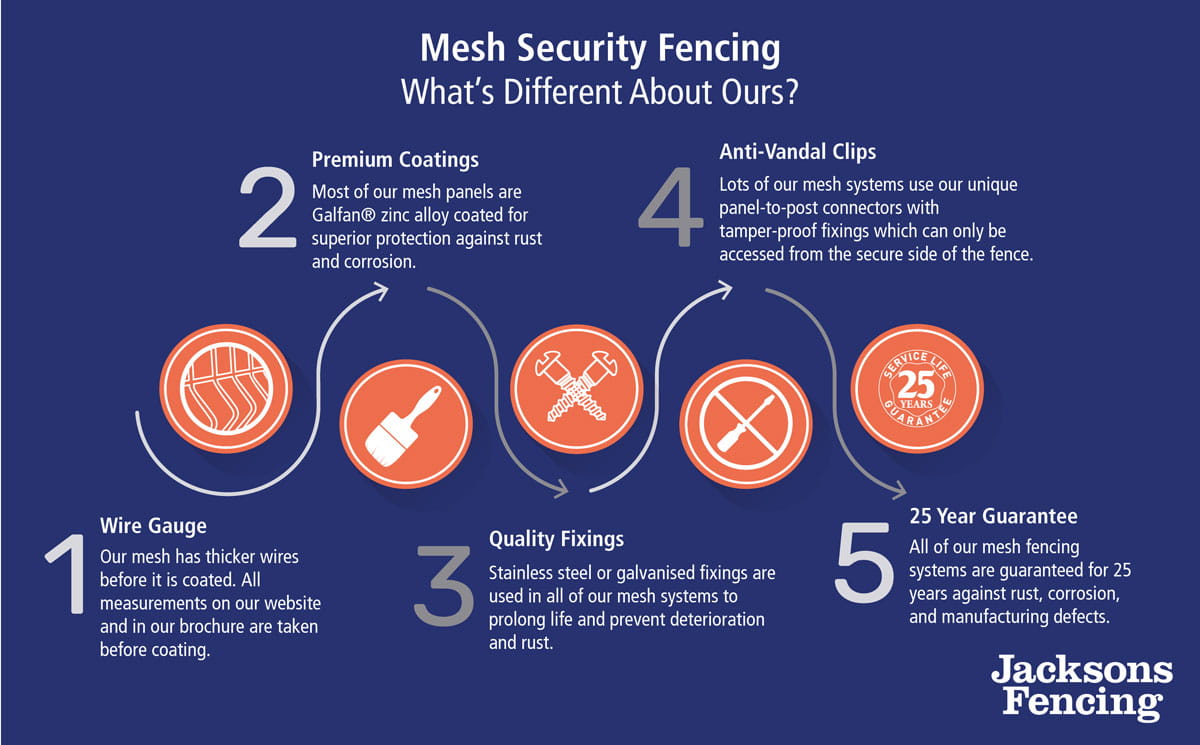 How long does mesh panel fencing last?
Mesh panel fencing usually lasts around 20 years but this can be shorter or longer depending on the installation location, type of coating it has, the quality of the materials used, and the installation. Jacksons' mesh panel fencing is guaranteed for 25 years against rust and manufacturing defects because we are so confident in the quality of our materials and processes. Galfan® coated, or galvanised and polyester powder coated fencing will last at least 25 years without rusting.
How to install welded mesh fencing
We supply installation instructions for our products which can be used to help you install our various mesh fencing systems. We also have our own installation teams for mesh security fencing. Some mesh fencing systems are easier to install than others, but this is not necessarily a good thing as if it is quick to put up then it is generally quick to take down. Our mesh fencing if flexible and uses unique mesh security clips to securely attach panels to posts, with tamper-proof fixings on the secure side.
What coating does mesh fencing have?
Rigid mesh fencing will usually have a protective coating covering the wire – whether pre-galvanised (Galvanised Before Welding), Galvanised After Welding (GAW), Zinc-Alloy coated or plastic coated. When supplied without a polyester powder coating, our mesh is Galfan® zinc alloy coated. If PPC is to be added, our fencing is galvanised first . Our polyester powder coating is a premium architectural grade finish which adds colour and increases the protection against rust
What types of mesh security fencing are there?
There are many types of mesh security fencing including V mesh, 656 and 868 mesh, 358 mesh, and double skin mesh. Jacksons supplies all of these, and also supplies mesh fencing for other purposes including sports pitches and MUGAs, general demarcation, supplied in rolls and panel form.
Why choose welded mesh fencing from Jacksons?
Welded mesh fencing lends itself to applications where good visibility, quicker installation speeds, and lower cost are primary requirements.
Looking at the most popular mesh designs, it's easy to assume that there is little to choose between them; on paper, they look much the same and share similar wire spacings, reinforcing folds and wire sizes. But that's far from the reality.
There are many factors that will distinguish a mesh panel fence capable of providing security and a long service life from those that can't. Here are some points to consider if you want a welded mesh fence that will remain fit for purpose throughout a long life cycle:
QUALITY STEEL
All welded mesh fence panels start as coils of steel wire. As with all steel products, the quality and durability of the finished product results from starting with a good material, and that's largely a factor of the wire manufacturing process. Where possible, check that the steel wire being used by the fence panel manufacturer is of a good grade to ensure consistency and adherence to material specification and tolerances.
WIRE DIAMETER (GAUGE)
Rigid welded mesh fence panels are almost always sold with a protective coating covering the wire – whether pre-galvanised (Galvanised Before Welding), Galvanised After Welding (GAW), Zinc-Alloy coated or plastic coated. Some manufacturers measure their wire diameters after the coating is applied. A smaller diameter wire with a heavier layer of coating will not provide the same structural strength and resistance to cutting as a product made from heavier diameter wire, even though both will be show as being the same diameter. Jacksons provides all of its wire mesh measurements as readings taken before coating, to provide an accurate representation of strength. The coating provides additional thickness on top of the measurement specified.
MESH PANEL COATING
ZINC GALVANISED BEFORE WELDING (PRE GALV)
The mesh fence will be manufactured with wire that has been pre-galvanised with a zinc coating before being welded together. During manufacturing, each intersection of horizontal and vertical wires is welded to form the mesh panel. However, the welding process effectively removes the protective layer of zinc, leaving the wire unprotected and subject to corrosion at precisely the points where it needs to maintain its integrity.
ZINC GALVANISED AFTER WELDING (GAW)
Rigid mesh fence panels galvanised with a zinc coating after the wires are welded into place are inherently more durable than panels manufactured from pre-galvanised wires. The manufactured panels are typically hot dip galvanised for full coverage of the zinc coating. The downside of this process is that it requires significant 'fettling' after manufacture to remove surface imperfections and sharp zinc spikes which adds to the cost.
ZINC ALUMINIUM ALLOY COATED BEFORE WELDING (GALFAN®)
The notable exception to the rule is with panels manufactured with Galfan® or similar zinc alloy coated wire to British Standard (BS EN 10244-2:2009). The higher aluminium content of Galfan® coated wire allows the join to 'heal' under welding temperatures and as a result, maintain protection against corrosion.
Jacksons supplies both galvanised with a powder coating and Galfan® coated mesh fencing.
POLYESTER POWDER COATING
Polyester powder coating to British Standard BS EN 13438 is applied to a galvanised or zinc alloy coated substrate to provide a decorative finish in a virtually limitless range of colours. Additionally, powder coating enhances the durability of a mesh fence by providing a further protective layer. We have our own powder coating facility at our headquarters in Kent to ensure a high level of control and premium architectural grade finish.
THERMOSET COATINGS
Thermoset powder coatings (including polyester powder coating) are sprayed onto a galvanised or zinc alloy substrate and are particularly effective in applications where the fence is exposed to harsh or corrosive atmospheres, such as coastal areas, deserts, and industrial facilities. The combination of a thermoset coating on a galvanised substrate provides maximum surface protection to a mesh panel fence.
POSTS & FIXINGS
Posts and the mechanical fixings of welded mesh panels to posts are essential to the safety and security characteristics of mesh fencing, and some manufacturers are happy to down-spec posts to save costs; so it's worth a closer look. Jacksons mesh fencing employs at least two vandal-proof mechanical fixing points per clip.