Experience and Expertise
We have invested heavily in the R&D, testing, manufacture, and certification of various novel and effective perimeter fencing and gate systems that offer highly durable, high quality alternative solutions to generic mesh or palisade security systems widely available.
The resulting products from our high security portfolio offer LPS 1175 certified ratings from A1 through to G1, NSPA (previously CPNI) fencing and gates up to the highest level, Hostile Vehicle Mitigation protection to PAS 68 and IWA 14, and Perimeter intrusion Detection Systems – most of which additionally meet with 'Police Preferred Specification' through Secured by Design.
These products have already been employed in some of the most sensitive and secure establishments in the UK and export markets, including an ever-increasing number of security-aware data centres, providing them with perimeter security solutions which work effectively and reliably 24/7, 365 days a year, requiring minimum maintenance and a long service life.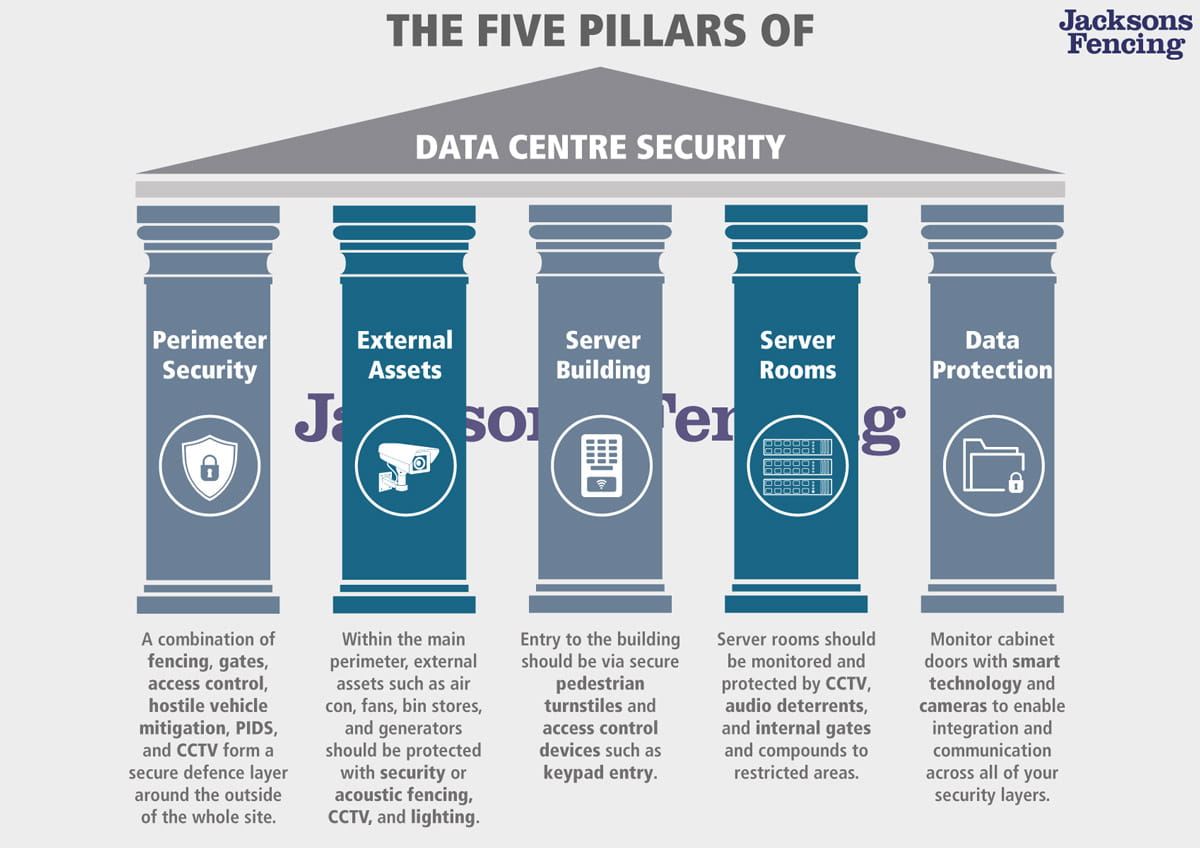 SECURITY FENCING FOR DATA CENTRES
Case Studies
Browse our case studies below to learn more about the fencing and gate solutions we have provided for various data centres across the UK.
Case Studies
Download data centre case studies
The changing landscape of 21st century data centre security
With over 23 billion IoT connected devices worldwide, UK data centre capacity is forecast to store data worth over £104bn annually by 2025 to cope with the ever-growing reliance on secure electronic data transfer and storage, cloud-based services, and critical M2M connectivity. With land at a premium, data centre operators no longer have the luxury of cherry picking their sites. They are increasingly forced to consider more densely populated locations, including residential areas. Link to acoustic barriers and why they are good in residential areas.
Download Insight Paper
Kao Data Centre Case Study
Kao London One, situated at the heart of the London-Stansted-Cambridge corridor, is one of the UK's most advanced data centres.
The first phase of the £200million data centre campus was completed at the start of 2018 and required a robust and extensive high security perimeter solution.
To meet the stringent security requirements of the 32,000sqm site, we installed 172 metres of Securi Mesh Plus SR2, galvanised and polyester powder coated RAL 6005 (green), three matching bi-folding speed gates to control access and egress to the site, and three 4 metre long rising arm barriers.
Read Case Study
enquire about Data Centre Security Fencing
If you require any product guidance or advice on a project, please get in touch with us using the button below.
Contact Us