In recent years, a single man managed to violate perimeter security at a major London Airport. Another incident at the same airport saw activists invade the runway, after cutting through a large section of chain link fencing. The event saw twenty-two flights cancelled.
Many airports have little more than a chain-link fence around the perimeter, the same fencing used for tennis courts, which simply fails to secure high risk sites. Appropriate security fencing is essential in the long term protection of airports and to conform to the counter terrorism initiative at transport hubs worldwide. We work with airports to ensure they deliver the best protection air side and continue operating smoothly, by integrating perimeter security and access into their security strategies. Another critical area involves undertaking regular reviews of airport infrastructure security; looking for opportunities where improvements can be made.
The Transportation Security Administration (TSA) advise "Security fencing is the most common means of securing a perimeter. Fencing design, height, and type can vary depending on local security needs. Typically, fences are low-maintenance, provide clear visibility for security patrols, provide added safety by deterring animals from sensitive areas of the airport, and are available in varieties that can be installed in almost any environment.
Fencing may not discourage a determined intruder; it can serve to alert airport management to the presence of unauthorised individuals. To derive the most value, a fencing system should be used in conjunction with a 'challenge' system".
Product Quote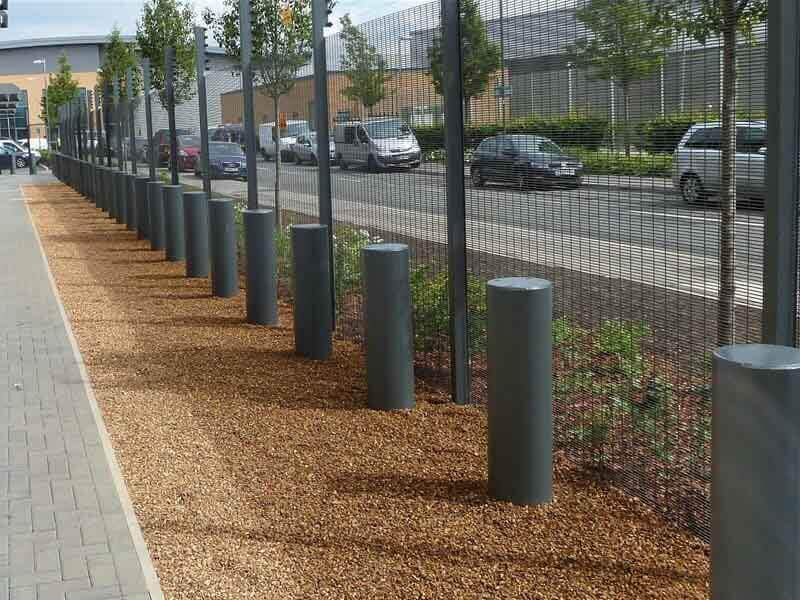 Bollards for Airports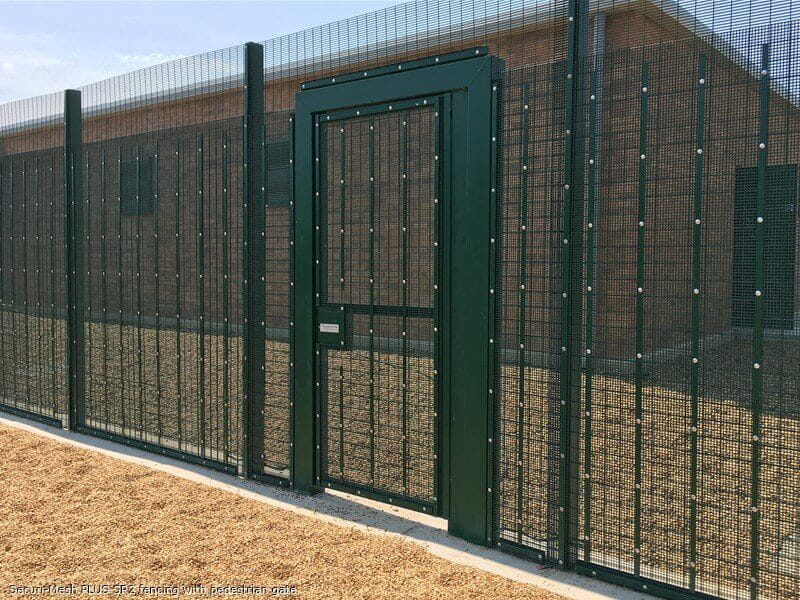 high security airport fencing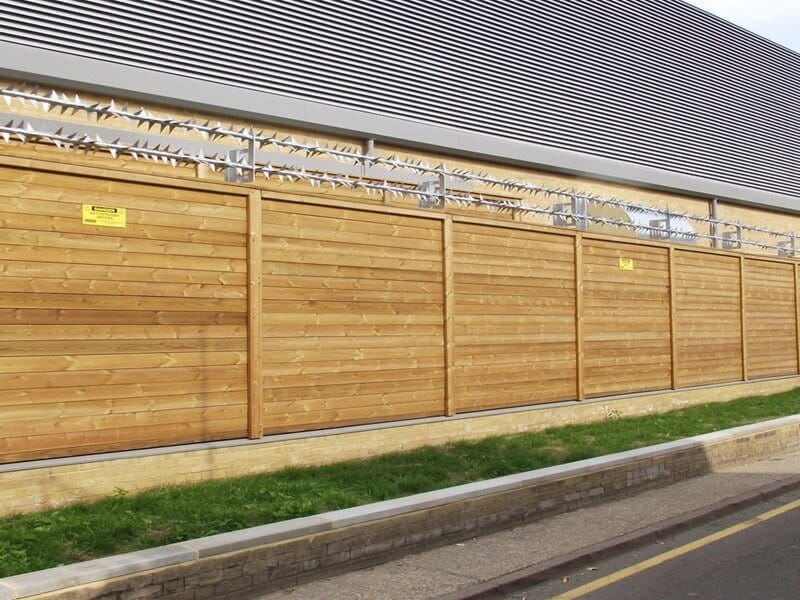 Airport acoustic fencing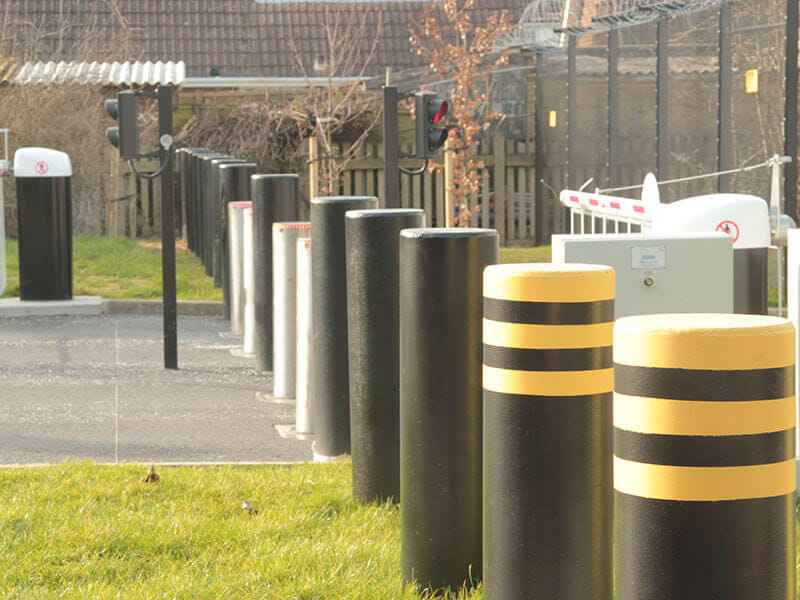 Security bollards for airports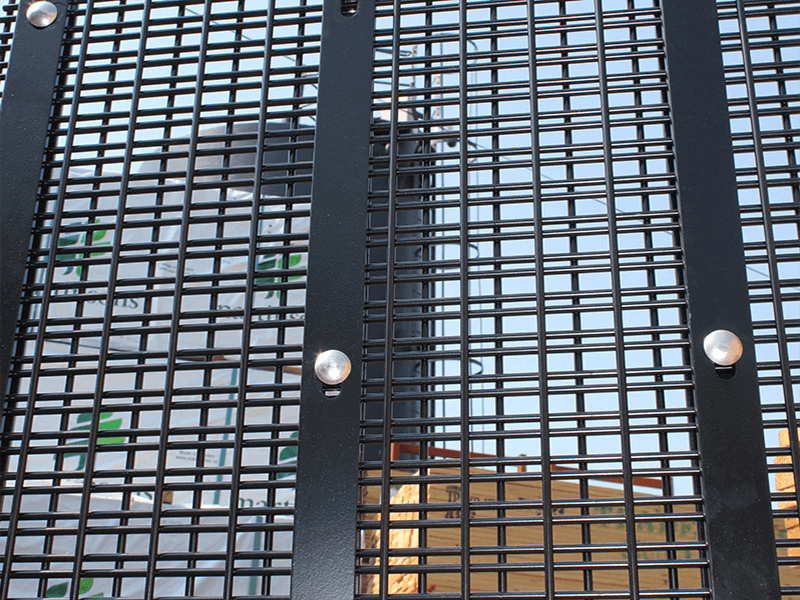 High security fencing
Similarly to the TSA we recommend a combination of security products is used at different areas of the site, depending on the requirements following the Onion Principle which we call the 5 Ds of perimeter security. The 5 Ds of perimeter security (Deter, Detect, Deny, Delay, Defend) follows the 'onion skin' methodology, whereby multiple layers of security work in combination to prevent access to a site's assets, allowing airport security the time and intelligence to respond effectively.
Welded Security Mesh fencing: Welded mesh panels offer visibility, and their narrow, close-together wires mean they are extremely difficult to climb. The mesh is also strong enough to withstand forceful attacks. Some of the more commonly used rigid mesh systems used include Securi-Mesh® Plus which has a close mesh design, with posts that can be customised for security toppings, and EuroGuard® Extra which features posts that can be adapted to mount security cameras and lights.
GRP and Frangible Fencing: Glass Reinforced Plastic is a popular composite material due to its strength and appearance, which is reminiscent of steel. It has Radio and ILS transparency amongst a host of other benefits, so it's ideal for airport security as it doesn't block signals. We make GRP fencing in Sentry®, Barbican® Imperial, and Mesh styles with matching gates.
LPS 1175 Security Rated Fencing: Jacksons was one of the first fencing manufacturers to have products developed and tested to LPS 1175 and remains the only fencing and gate manufacturer able to offer certified products from LPS 1175 SR1 through to SR5 (the highest security rating for a fence available).
SR2 Fencing Systems: Securi-Mesh® Plus SR2 is ideal for a variety of higher perimeter security solutions, Securi-Mesh Plus SR2 features a double layer of '358' mesh and small apertures, making it impossible to gain hold and stopping objects from being passed through.
SR3 Fencing Systems: Acoustic barriers are particularly apt for airports as they can reduce the level of noise from within. Jakoustic® Class 3 is designed to look like a timber fence, but without rails it is virtually impossible to scale, and the optional addition of the Rota Spike® fence topper is a further deterrent. This is recommended around car parks, as noise from jets can set off car alarms.
UHS Heavy Mesh SR3 and UHS Extreme Mesh SR3: Suitable for airport protection as they have an anti-climb design and have been constructed to withstand the use of even battery powered tools.
Bollards: In conjunction with raised curbs, bollards are an additional security measure that can further protect people by creating defined areas for pedestrians, and defend against vehicular attack. You can choose from static or automated bollards, and PAS 68 Crash Rated Bollards are also an option, designed to completely halt the progress of a hostile vehicle without a major detrimental impact on building aesthetics or making customers feel uncomfortable.
Security toppings: Jacksons manufacture a wide range of fence spikes and toppings designed for use on our fencing and gates. You can select from spikes, barbed wire and security combs to add protection and also assist as a deterrent.
Access control systems: It's important to make sure gates match the type of fencing chosen to ensure there are no weak points. It also makes installation and maintenance simpler. We manufacture gates to match each style. Consider whether your gates will be manual or automated, and what type of gates are suitable for different access points, such as arm barriers for car parks, sliding gates for delivery areas and , bi-folding speed gates for sensitive areas of the site. In addition to this our gates and access control provide convenience, for example compatibility with ANPR technology.