Machine rounded and chamfered timber bollard
Machine rounded and grooved timber bollard
Plain square timber bollard
Square grooved timber bollard
Timber bollard range left to right A, B, C, D
Timber Bollards
Our timber bollards come in a variety of sizes and heights with the timber being Jakcure® treated giving it a 25 year guarantee.
Timber Bollard Features
Reflectors available: Red/Amber/White
Machine round or square styles
Ideal for demarcation applications
More cost effective for low risk sites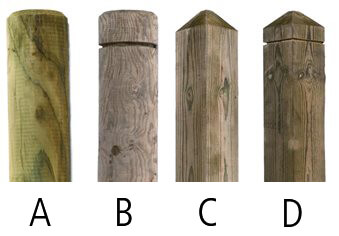 Bollard A is machine rounded with chamfered top
Bollard B is machine rounded & grooved
Bollard C square with shaped top
Bollard D square top and grooved
Download specification
Click the button below to download the timber bollard specification table. Please note that our square 2.1m x 175mm and our 2.4m x 150/175mm timber bollards are stress relieved by having a saw cut in the middle of one side allowing the timber to move as it dries out or swells in accordance to the weather, avoiding unsightly splits.
Download specification
Bollards Range
We manufacture a range of timber and metal bollards manual and automated bollards for security and demarcation, all with a 25 year guarantee.
View Range