What is LPS 1175 Security Rated Fencing and why it matters
LPCB Security Rated Fencing
Security Rated Fencing is integral to any well-planned and effective perimeter security strategy as it provides the reassurance of tested performance against a range of threats.
LPS 1175 Certification was introduced by the Loss Prevention Certification Board (LPCB) in the mid-1990s. The Loss Prevention Certification Board works closely with UK government security agencies, police services, risk consultants and architects to determine the standards for fire and security products and services and independently tests and certifies fencing systems to LPS 1175 security ratings (SR).
LPS 1175 Security Ratings range from SR1, the lowest security level through to SR5 the highest currently available for fencing.
To achieve a certified LPS 1175 Security Rating, a fence will be physically tested to a standard which stipulates the allowable toolset and minimum attack time at each SR level.
To pass, a fence must be able to prevent a person, represented by an elliptical test block (measuring 400mm major axis by 225 mm minor axis and at least 300mm long) from breaching its fabric and structure.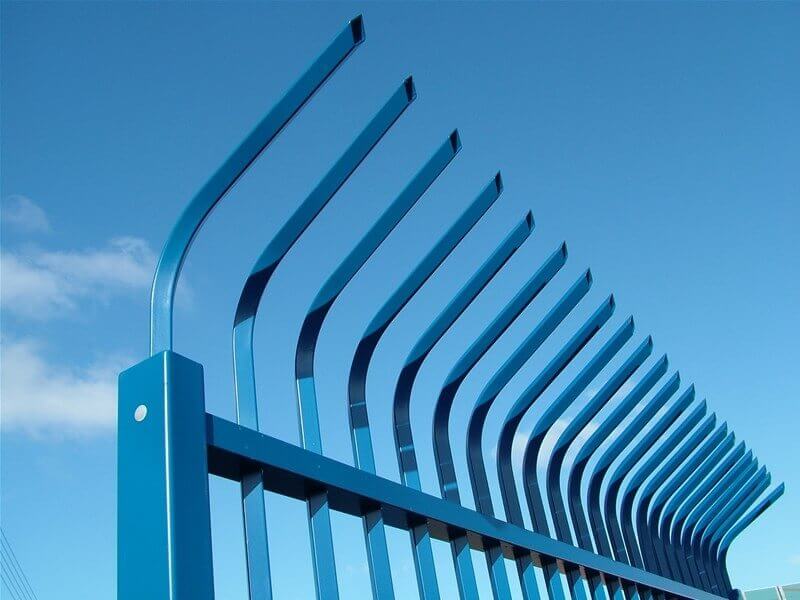 Barbican Defender Xtreme SR1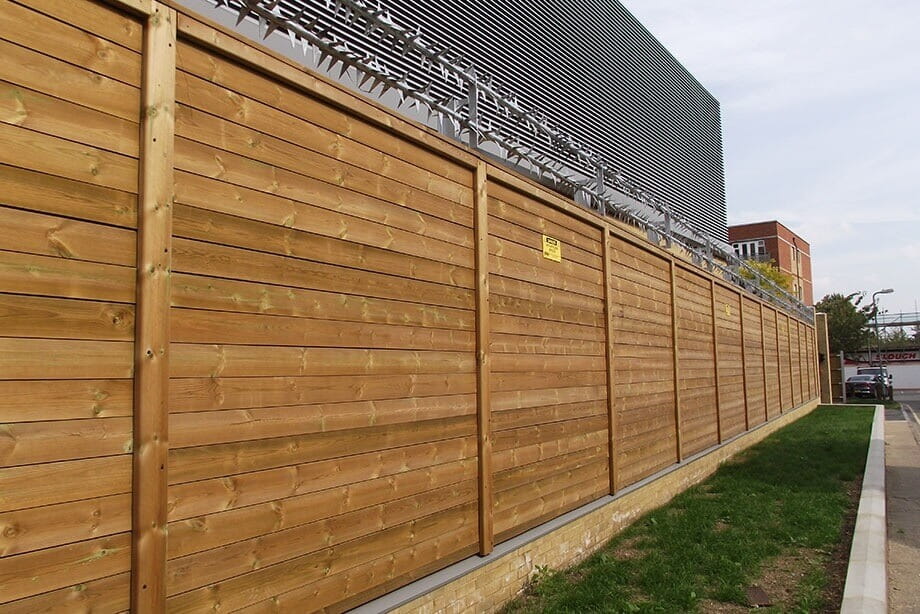 Jakoustic Fence with Rota Spike SR3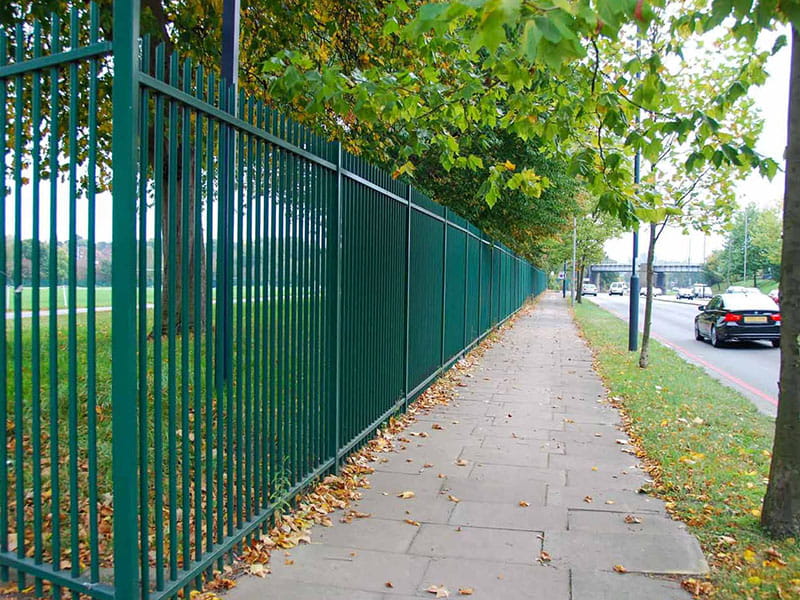 Barbican Imperial SR1 Fence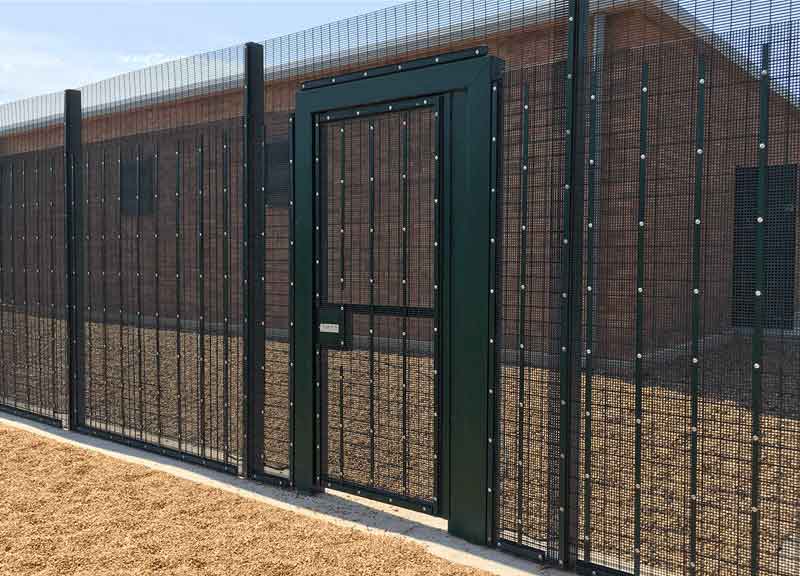 Securi-Mesh Plus SR2 with Pedestrian Gate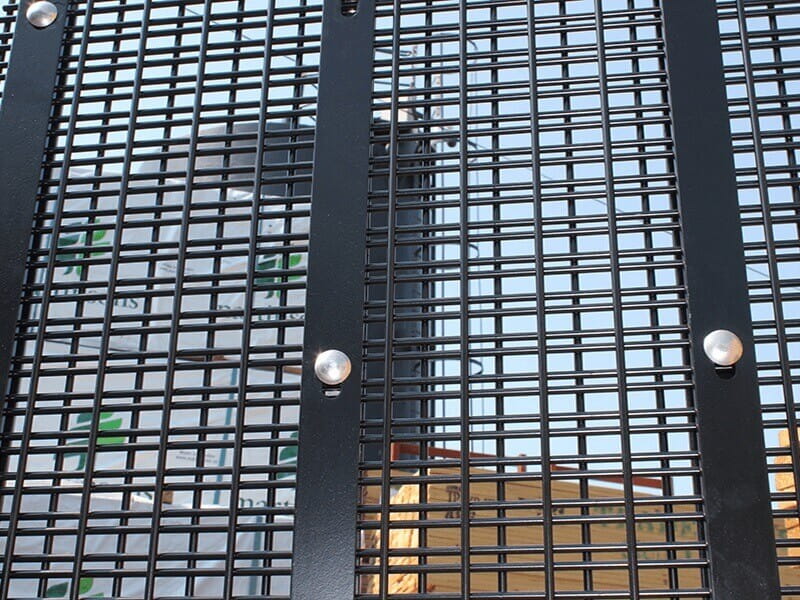 UHS Extreme Mesh SR3
UHS Extreme Gauge SR3 Mesh
The LPS 1175 standard for fencing and gates is specified across a wide range of applications, including: residential, education, transport, utilities, commercial, manufacturing, retail, healthcare, finance, data security and critical infrastructure. The increasing force and sophistication of tools and duration of attack time employed at each of the test levels allows specifiers to select products at the Security Rating most appropriate to the likely threats and risk to be mitigated. For example, the security fence around the perimeter of a data centre is likely to be of a higher SR rating than that required for protecting a primary school.
Jacksons was one of the first fencing manufacturers to have products developed and tested to LPS 1175 and remains the only fencing and gate manufacturer able to offer certified products from LPS 1175 SR1 through to LPS 1175 SR5 (the highest security rating for a fence available), including steel mesh and vertical bar designs, a mesh and timber combination and the only timber fence to be certified to LPSD1175 in Jakoustic Class 3 which is certified to SR3; all of which means that we are able to provide the right perimeter security solution whatever the requirements.
LPS 1175 Security Ratings Explained
| | | | | |
| --- | --- | --- | --- | --- |
| Security Rating Classification | Description | Tool Category | Maximum Working Time (minutes) | Maximum Test Duration (minutes) |
| SR1 | An opportunist attack by bodily physical force and by stealth using Category A hand tools. | A | 1 | 10 |
| SR2 | A more determined opportunist attack employing tools from Category A and Category B. | B | 3 | 15 |
| SR3 | Deliberate forced entry of protected premises using tools from category A, Category B and Category C which includes battery powered tools. | C | 5 | 20 |
| SR4 | Experienced attempts at forced entry with higher level tools, including those in Category A, Category B, Category C and Category D plus felling axe, sledgehammer, steel wedges, drill, disc grinder, jigsaw, etc. | D | 10 | 30 |
| SR5 | A serious attempt at forced entry with top end battery power cutting tools used by fire and rescue teams plus tools from Category A, Category B, Category C and Category D. | D+ | 10 | 30 |
| SR6 | | E | 10 | 30 |
| SR7 | | F | 10 | 30 |
| SR8 | | G | 20 | 60 |
Tool Set Category A
Adhesive Tape

1 cable cutter - 150mm long

Fishing line (e.g.polypropylene multi fibre)

Flexible plastic coupon

1 Glass cutter

Hexagon wrenches - selection 120mm long

Hooks

1 Knife (blade 125mm long x 3mm thick

Pliers (including self-gripping and cutting) - selection 200mm long

Punches

Rope

1 Scriber

Socket/screwdriver set - 150mm long ratchet arm

Spanners - selection 150mm long

Tweezers

Wire

WD40

Wood/plastic wedges
Tool Set Category B
1 Bolt cutter - 350mm long

1 Claw hammer - 350mm long/0.7kg

1 Drill bit (6mm diameter jobber - HSS / HSCO / Carbide)

1 Hand drill - 400mm long/1.5kg

1 Junior hacksaw plus 2 HSS blades

1 Metal plate shears - 200mm long

1 Multiple slip joint pliers - 250mm long

1 Pipe wrench - 250mm long

Pliers (including self-gripping and cutting) - selection 200mm long

1 Screwdriver - 7mm diameter/square x 40mm long

Socket/screwdriver set - 250mm long ratchet arm

1 Tube - 38mm diameter x 300mm long
Tool Set Category C
1 Axe - 350mm long/1.5kg

1 Bolt cutter - 400mm long

Brick bolsters - 250mm long x 75mm wide blade

Cold chisels - 250mm long x 25mm wide blade

1 Crowbar - 700mm long/2.5kg

1 Drill (cordless with rotary action only) 7.2d.c*

1 Drill bit (10mm diameter jobber - HSS / HSCO / Carbide)

Flurocarbon based freeze spray - 400ml

1 Gas torch (Butane / Propane)

1 Hacksaw plus 2 HSS blades

1 Hammer - 400mm long/1.5kg

1 Pad saw plus 2 HSS blades

1 Scissor jack - 1500kg capacity, 100mm minimum retracted, 200mm stroke

Wood chisels - 250mm long x 25mm wide blade

*Complete with a spare power pack
Tool Set Category D
1 "A-tool" lock puller - 500mm long

1 Bolt cutter - 500mm long

1 Circular saw (cordless) - 18V d.c/200mm diameter with 3 blades

1 Disc grinder (cordless)* - 18 V d.c with 3 cutting discs

1 Drill (cordless with rotary action only) - 18 V d.c*

5 Drill bits (13mm diameter jobber - HSS / HSCO / Carbide)

1 Felling/fire axe - 850mm long/3kg

1 General purpose saw

1 Hole saw - 50mm diameter

1 Hooligan bar - 760mm long

1 Jigsaw (cordless) 18V d.c with 3 HSS / HSCO / Carbide blades* 1 Sledgehammer - 900mm long/3kg

Steel wedges - 150mm long

1 Tube - 75mm diameter x 500mm long

*Complete with one spare power pack