HEALTH AND SAFETY, ENVIRONMENTAL, AND QUALITY POLICY 2022
H S Jackson & Son (Fencing) Ltd. is a professional and environmentally conscious organisation, which acknowledges the impact that our operations may potentially have on the environment. The clear objective of H S Jackson & Son (Fencing) Ltd. is to minimise any impact on the environment.
Click below to download the policy
Download Policy
In recent years, many companies have recognised the growing importance of a responsible approach to the environment, as a means of enhancing their appeal to customers, both current and future. Since its inception in 1947, Jacksons has always been committed to environmentally sound practices which have simply been amplified over time, as further opportunities which might contribute to a more sustainable method of operation have been identified.
Carbon Footprint and Timber Fencing
Whilst arguments persist condemning the felling of trees which create oxygen and absorb greenhouse gases, it is also widely accepted that timber is a necessary core building material. The reality is that if the timber is sourced under an environmental chain of custody scheme such as FSC (Forestry Stewardship Council), or PEFC (Programme for the Endorsement of Forest Certification), the effect on the environment is carbon neutral - providing the timber product offers a life span which lasts longer than it takes a tree to grow.
Jacksons' 25-year guarantee - courtesy of the Jakcure® timber treatment process therefore demonstrates the company's emphatic support of sustainability. However, other factors also need to be taken into consideration when calculating the carbon footprint of a product. CO2 emissions associated with the milling process and land/sea transport should be included in the overall carbon consumption figures.
Below is a summary of how Jacksons has identified a carbon neutral status for its timber products:
Carbon is stored in trees and typically in every tonne of timber, approximately 500 kg of carbon is stored.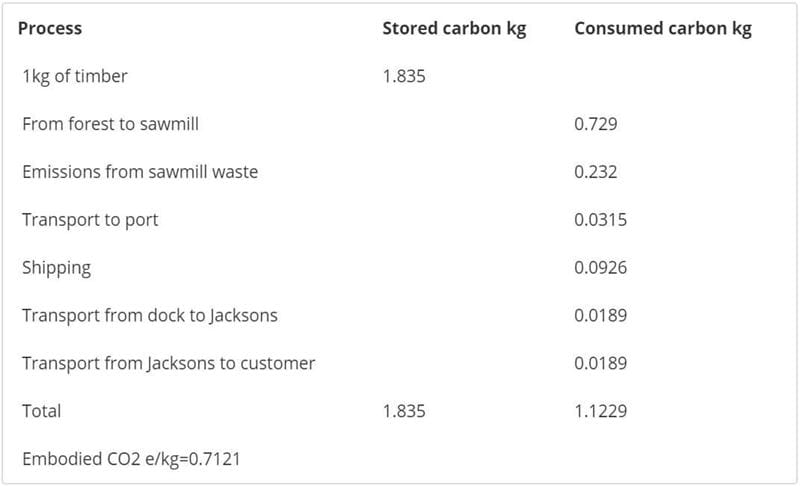 This means that in a standard timber product, the timber still represents a carbon store and assuming the life of the product exceeds the time that it would take to grow a tree, the effect on the environment is beneficial rather than detrimental.
The Jakcure process® which delivers timber with a minimum 25-year life span, also demonstrates a positive move towards achieving sustainability. Timber that needs replacing after five years will not only place undue pressure on a finite resource, but with five times as much timber being used over a 25 year period, it will also increase the amount of waste product in landfill sites by five times, releasing further carbon emissions.