School Fencing
School fencing is an important aspect of any education site. From the fencing around its perimeter to the main entrance gates, a visitor gets a clear impression of a school's commitment to safety and security well before entering its grounds.
In addition to defining its boundary and making a visual distinction between public and private property, the fencing and gates that surround and secure a school will typically meet a wide variety of other important criteria - from preventing unauthorised entry to the grounds, protecting pupils, staff and visitors from accidents and injury, deterring theft, anti-social behaviour and reducing the risk of malicious damage.
We have provided school fencing for hundreds of schools around the country and can find the right school fencing to meet the security needs of your school. We have many options for fencing around your school included welded mesh panels for perimeter fencing or sports areas and railing systems to act as demarcation to control foot and car traffic.
Within the boundary, our barriers, bollards and parking posts will keep pedestrians and vehicles safe from each other, while our timber fencing and gates will control the flow of people around the grounds and reduce the areas where students can be hidden from view.
Noise pollution can be a problem as well from noise coming in or leaving the school in residential areas. Our acoustic barriers are the perfect solution to reducing noise in and around the school. And when your students are taking a break from exercising their minds, you can be sure our tennis courts, ball stop and RoSPA approved play fencing will minimise the risk of injury or accidental damage.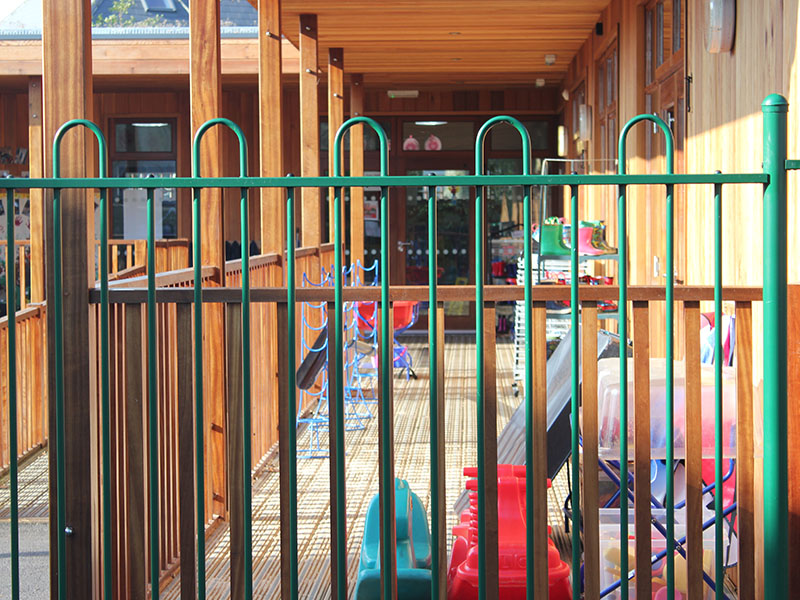 Green Anti Trap Bow Top Fencing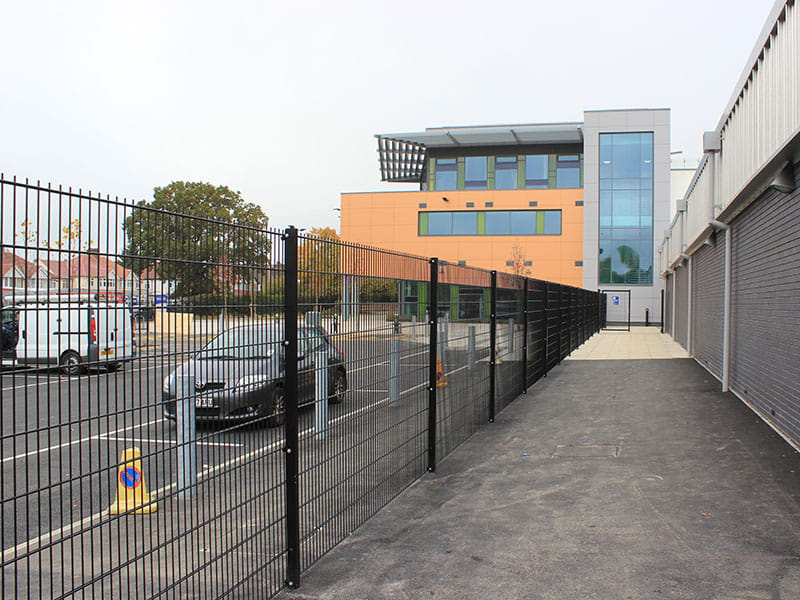 Black EuroGuard Flatform Fencing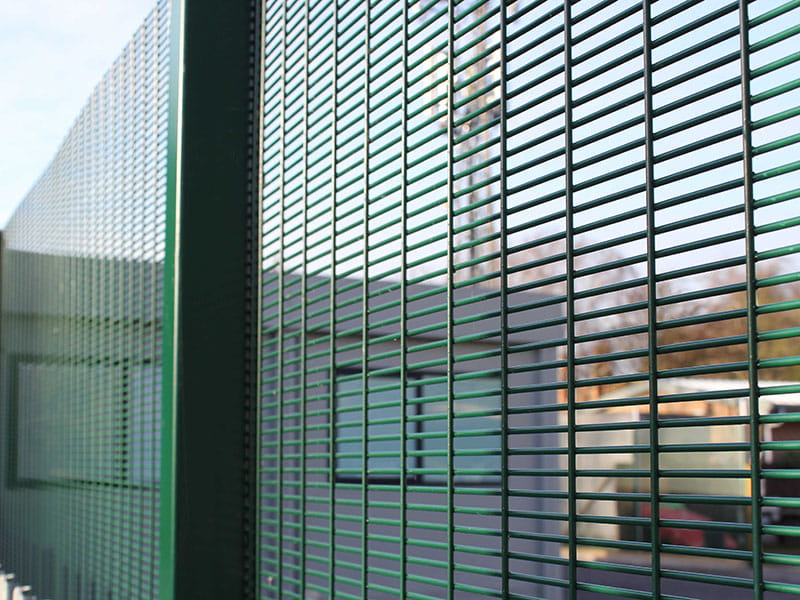 Green Securi-Mesh Fencing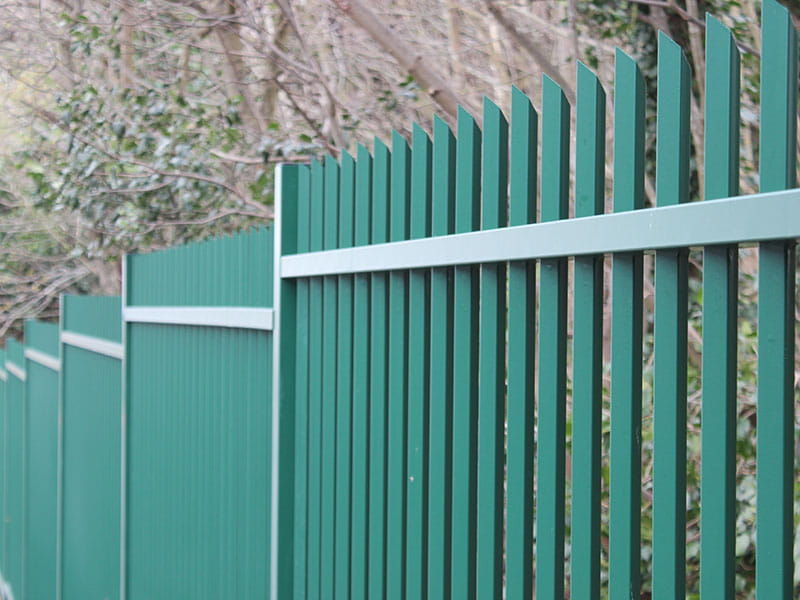 Green Barbican Vertical Bar Fencing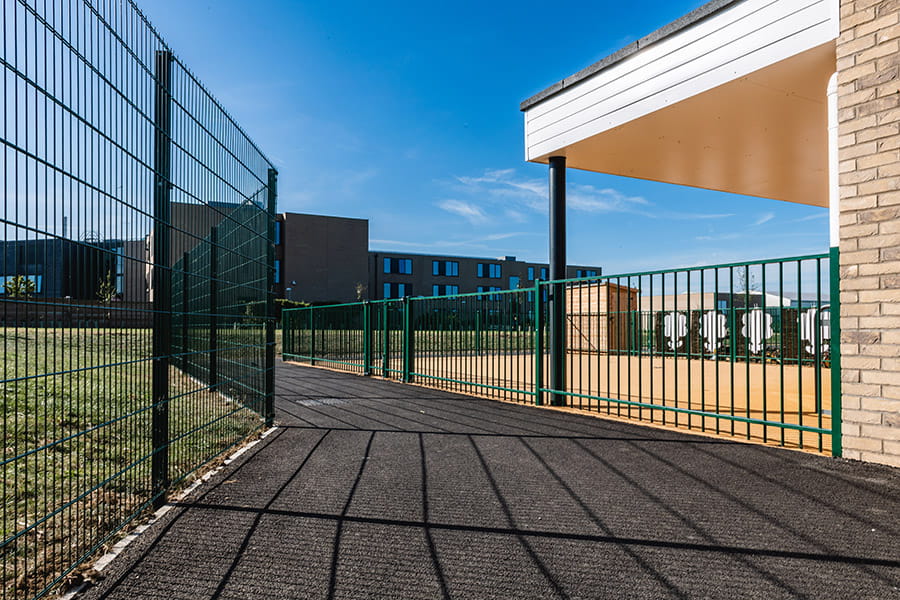 Green EuroGuard Flatform and Sentry Residential Railings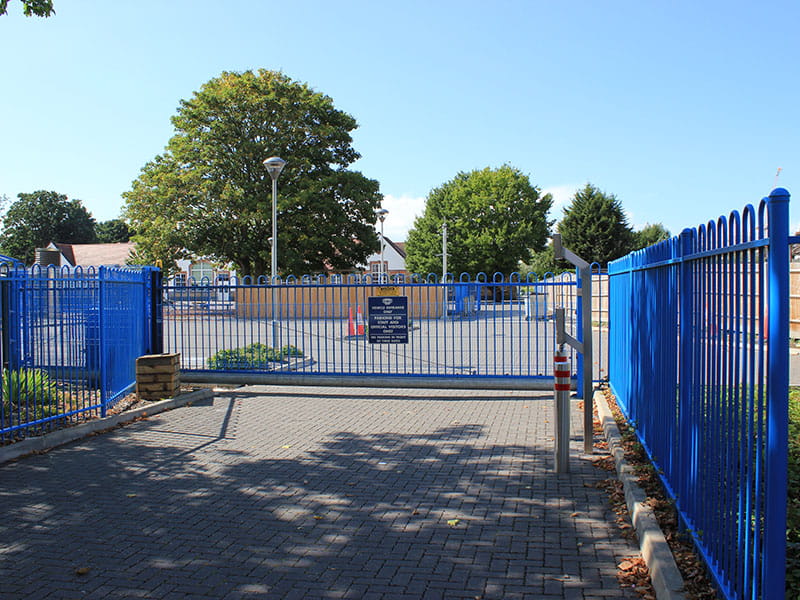 Blue Bow Top Railings and Cantilever Sliding Gate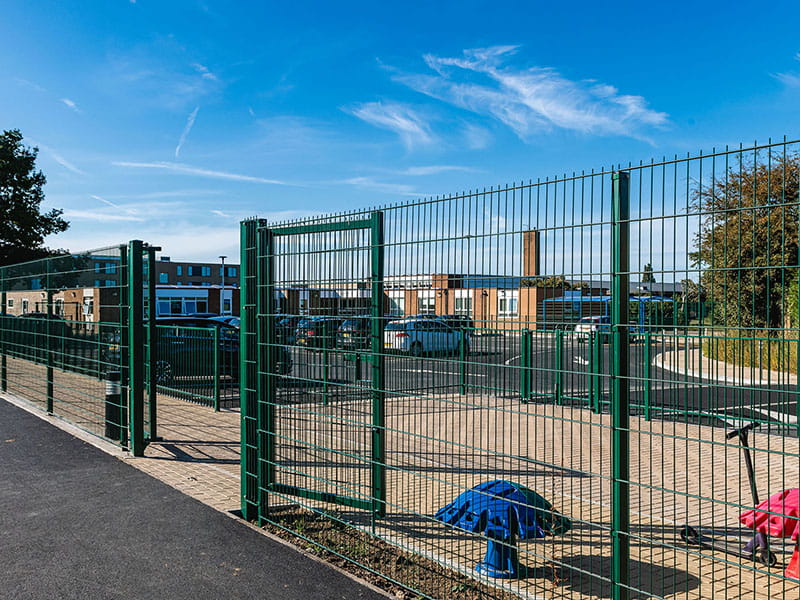 Green EuroGuard Flatform and Double Leaf Swing Gate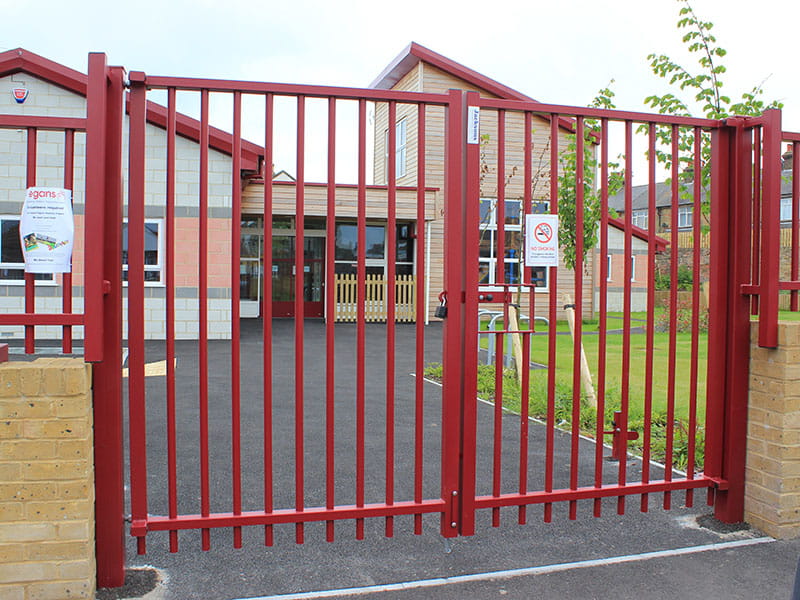 Red Sentry Vertical Bar Gate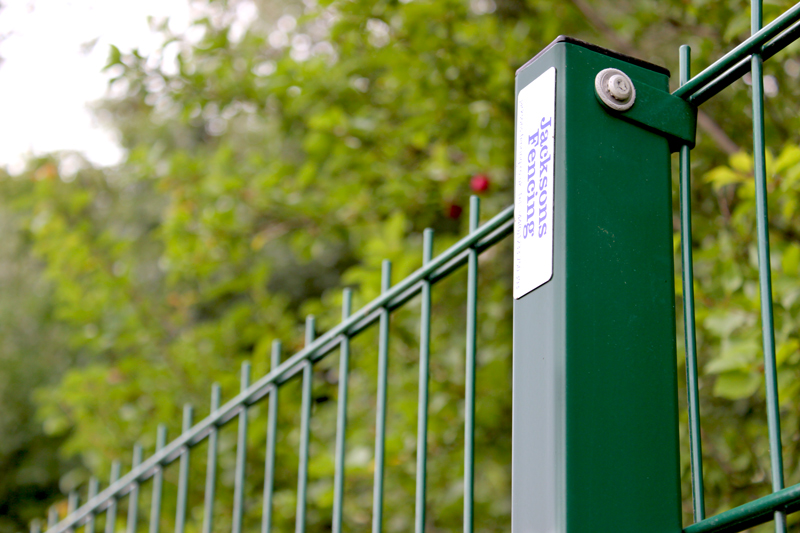 Green EuroGuard Flatform Panel to Post Connectors and Tamper Proof Fixings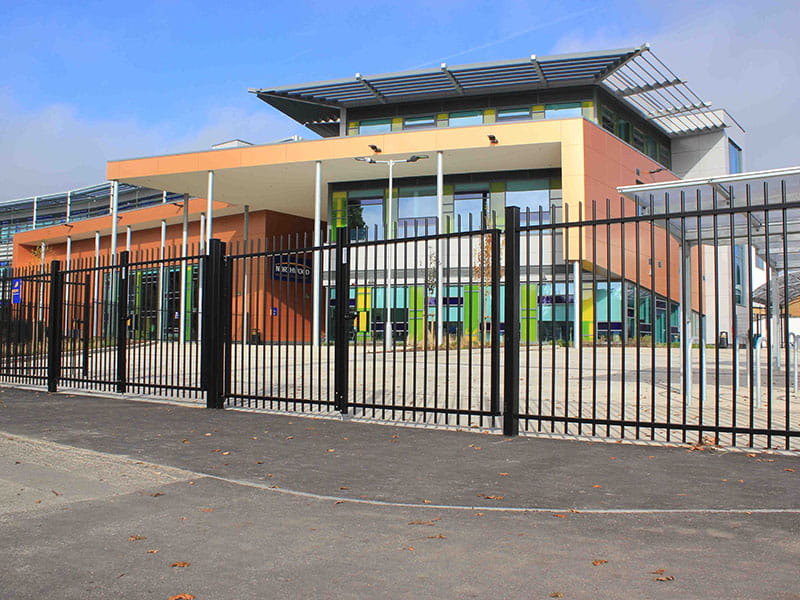 Black Barbican Imperial Vertical Bar Railings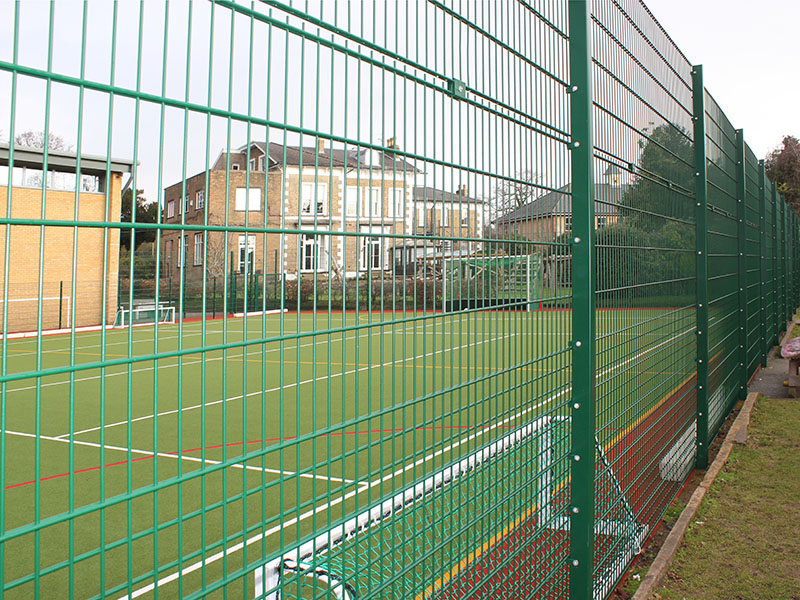 Green EuroGuard Rebound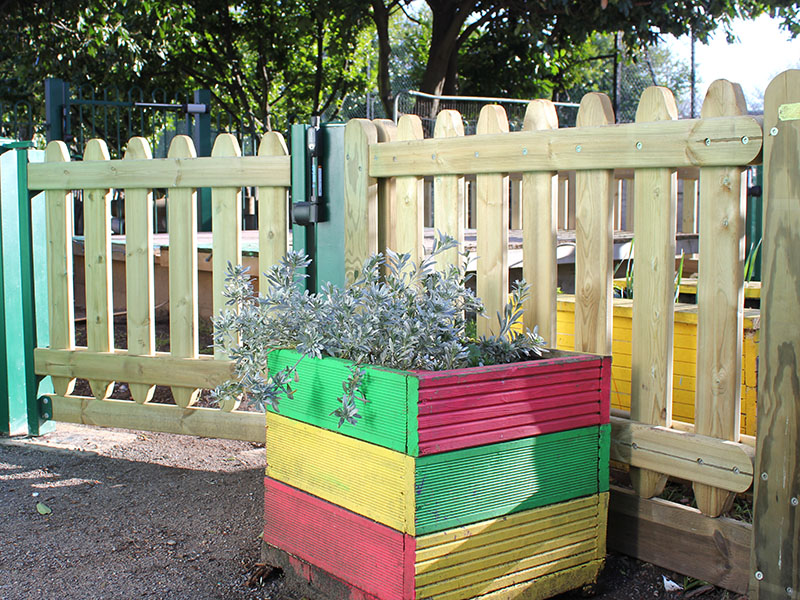 Timber Playtime Fencing
Create a safe and welcoming environment with our secure school fencing
School fencing and gates
request a Quote
Are you working on a school or playground project that requires fencing and gates? We have a wide range of welded mesh panels, vertical bar railings, sports fencing, and anti-trap, RoSPA approved playground safe solutions. Request a free, no obligation quote here.
Product Quote
Providing innovative perimeter fencing and gate solutions for Northwood School
Northwood School in London was a £35m regeneration project, benefiting from a range of Jacksons' security fencing solutions. The school, designed by Lizard Landscape Design and built by Farrans Construction Ltd, used 650 metres of Jacksons solutions, helping to make the school safe and secure for students, staff and visitors.
Buying fencing for schools responsibly
With the ongoing pressure on school budgets, it is imperative that any investment in fencing and access control measures represents a responsible use of public funds. Whenever possible, schools should take a long-term view on investment in capital purchases and select products which offer a long life expectancy giving a low life time cost.
All our timber and steel fencing and gates are manufactured in the UK and are designed to deliver fitness for purpose, low maintenance and carry leading 25 year guarantees to provide the lowest lifetime cost. Additionally, schools are being required to demonstrate sound environmental practice to protect the earth's finite resources. Jacksons Fencing has achieved certification under the environmental chain-of-custody schemes of both the FSC (Forest Stewardship Council) and PEFC (Programme for the Endorsement of Forest Certification) for its timber products.
Case Studies
Download school and education case studiesq