With the rising threat of a vehicle-borne attacks due to terrorism and even vandalism, Hostile Vehicle Mitigation (HVM) measures are becoming an increasingly important part of any physical security strategy.
One of the main requirements of HVM systems is to prevent unauthorised vehicles from getting close to, or entering a site or building, making bollards and road blockers an ideal solution. HVM measures can be applied to a wide range of applications including but not limited to: public spaces, stadiums and venues, utility sites and shopping centres.
At Jacksons we have a range of PAS 68 barriers, fencing and bollards designed specifically to mitigate vehicle-borne attacks. Capable of halting a HGV, our bollards, fencing and barriers provide an unobtrusive security solution.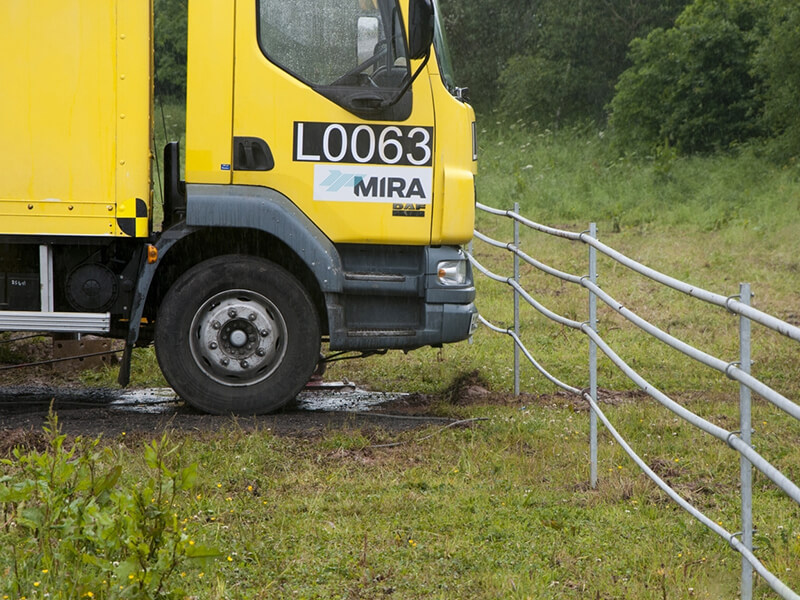 Linebacker PAS 68 Crash Rated Fence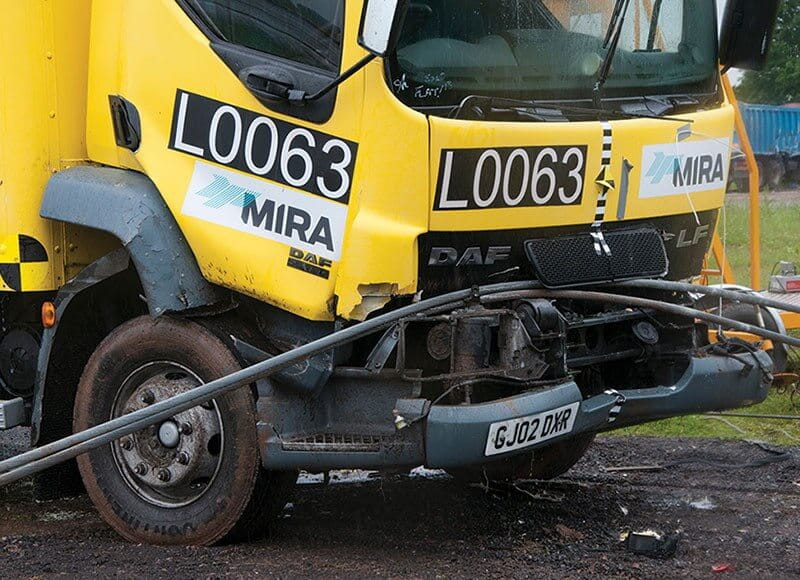 Linebacker PAS 68 Vehicle Security Barrier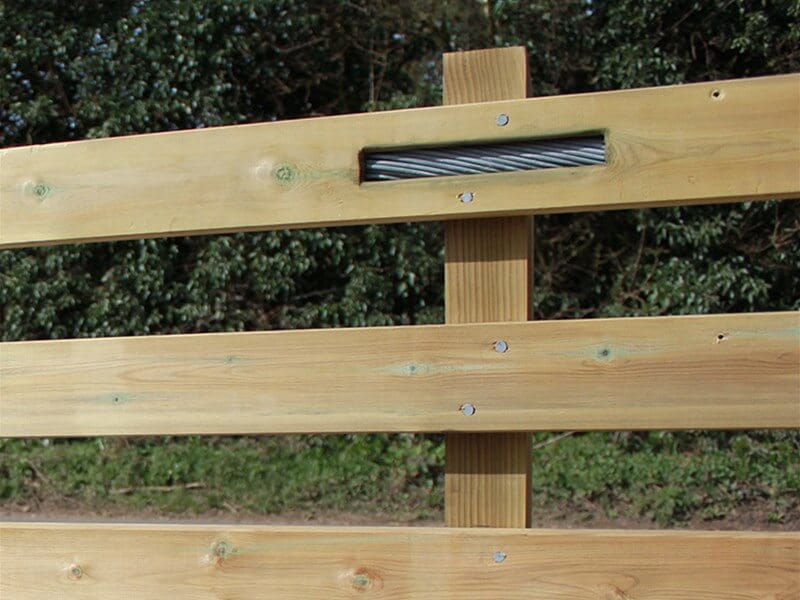 Linebacker PNR Vehicle Security Barrier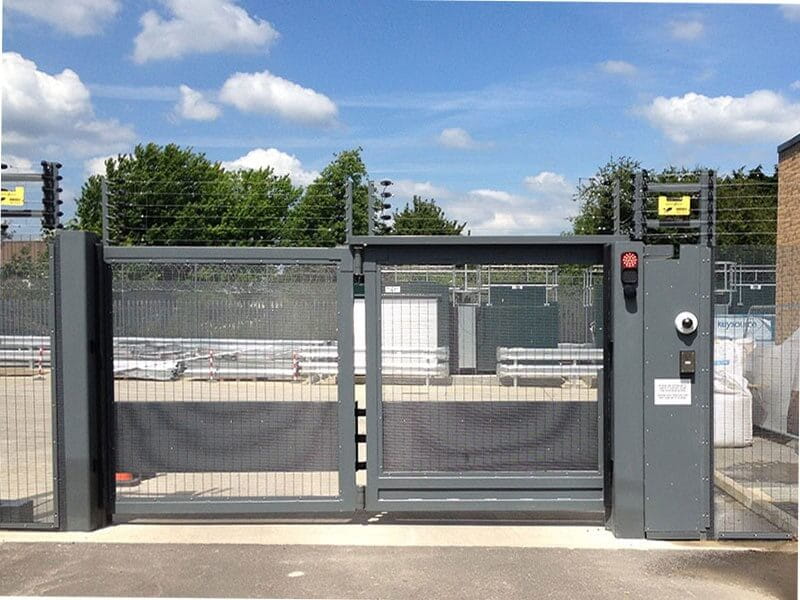 PAS 68 Crash Rated Bi-Folding Speed Gate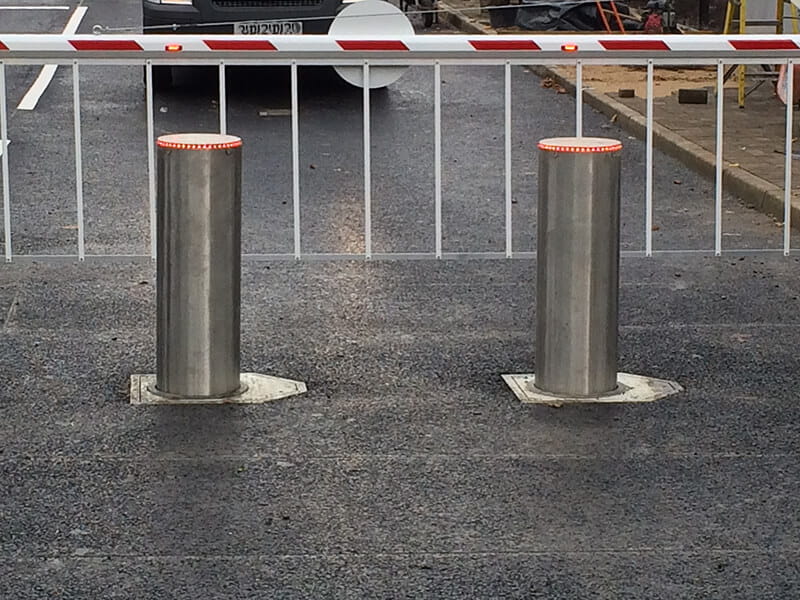 PAS 68 Automatic Rising Bollards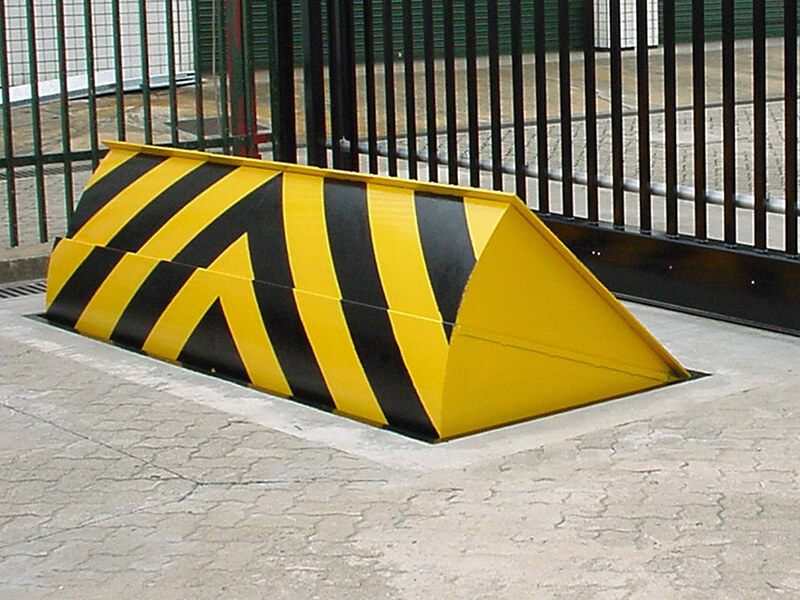 PAS 68 Road Blocker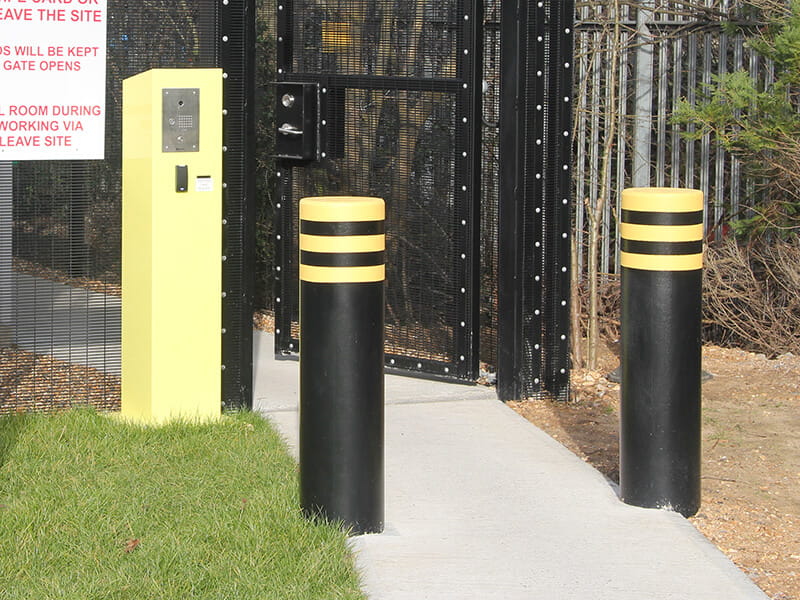 PAS 68 Static Bollards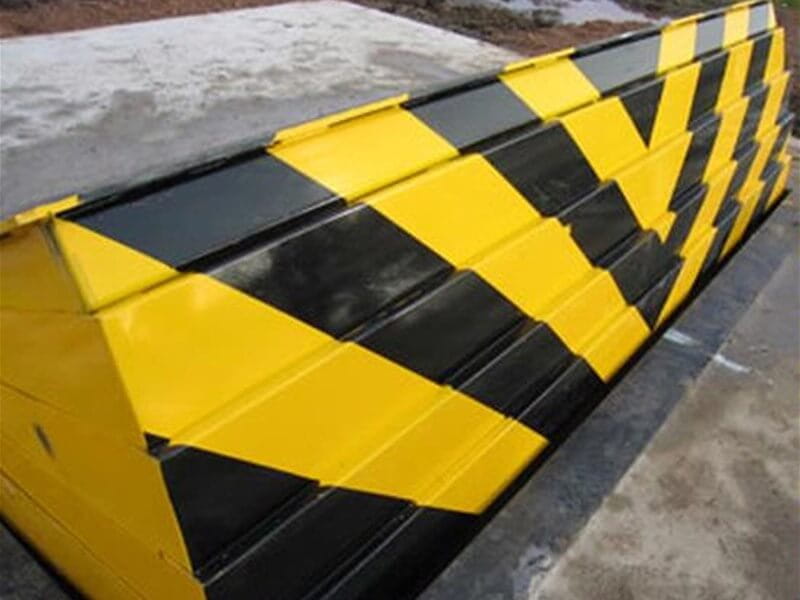 Hostile Vehicle Mitigation PAS 68 Roadblocker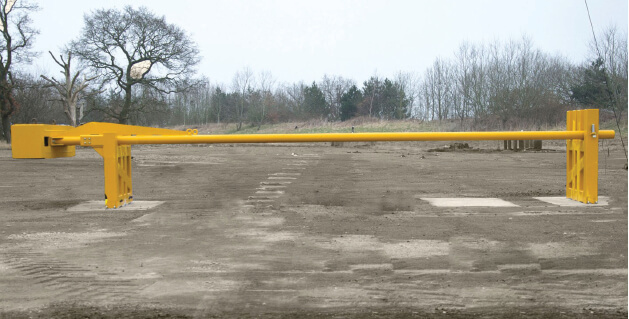 Crash Rated Rising Arm Barrier
BSI PAS 68 Explained
PAS 68 is the BSi's Publicly Available Specification for vehicle security barriers. It identifies the impact test methods, tolerances, test vehicle type and vehicle performance criteria that need to be met. It is considered the UK standard and the security industries benchmark for HVM products.
PAS 68 cites a classification system for the performance of vehicle security barriers and their supporting foundations when subjected to a single horizontal impact.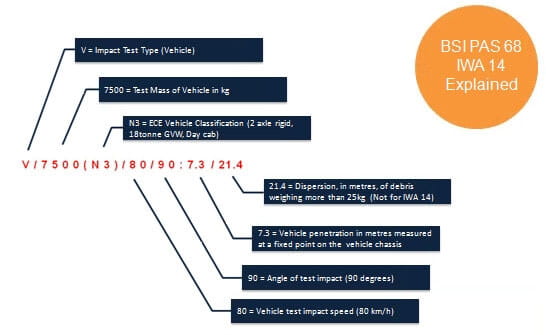 Equipment successfully tested in accordance with PAS 68 , which cover every form of vehicle barrier from fixed bollards to rising blockers, street furniture and crash rated fencing, is given a classification code which details the products rated performance. When specifying equipment, it is important to understand its rating which shown in a 5 to 7 part classification code:
V= Impact test type (vehicle)
7500 = Test Mass of Vehicle in kilograms
N3 = ECE Vehicle Classification (2 axle rigid, 18tonne GVW, Day cab)
80= Impact speed
90= Angle of test impact (90 degrees)
7.3 = Vehicle penetration in metres measured at a fixed point on the vehicle chassis
21.4 = Dispersion, in metres, of debris weighing more than 25kg
Our PAS 68 Range
PAS 68 Bi-Folding Speed Gate: Capable of blending in with any building or site perimeter line, our Bi-Folding Speed Gates provide a discreet vehicle mitigation solution. The gate offers a six second open/close time and requires minimum foundation depth of 360mm.
Static PAS 68 Bollards: Our Static Bollards are made from heavy gauge steel and hot-dip galvanised to provide a long lasting security solution. Able to stop a heavy goods vehicle in its tracks, the static PAS 68 bollards are ideal for a range of applications including data centre security or commercial premises.
Automatic Crash Bollards | K4 K8 and PAS 68: Our high security retractable bollards are an ideal solution for mitigating against vehicle attacks. Features include hydraulic operation, hot dipped galvanised finish as standard and the option to operate each bollard separately, making them a great solution for data centres, high risk sites, power stations, public spaces, airports and government spaces.
Linebacker PAS 68 Crash Fence: Linebacker is a cable crash fence capable of stopping a 7.5 tonne HGV travelling up to 50mph (80kph). The cable can be retrofitted to reinforce any existing security fencing and acts as a stand-alone system for perimeter protection.
Linebacker PNR: A covert high performance PAS 68 crash fence with the outward appearance of a traditional timber post and rail fencing system.
Crash Rated Shallow Mount Blocker: The Crash Rated Road Block is a PAS 68 tested, high security device installed in the ground which can be activated to prevent access to a site.
For quotations, pricing or general guidance on our PAS 68 range please contact our sales department.
Contact Us
View our range of Vehicle Security Barriers