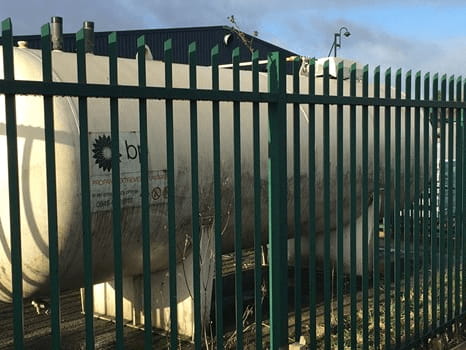 Security Compound
Oil Tank Security
There have been recent reports of a sharp rise in theft of heating oil from homes, due to the price of fuel has risen significantly in recent months.
With fuel prices at their highest more people are becoming victim to heating and diesel oil theft. Oil tank security is an issue that should be on the agenda of homeowners and householders around the country.
Oil tanks need to be filled up, so ease of access is essential, however making sure your oil tank is not on public show is recommended. Timber fences can provide an attractive screen, however steel fences and security compounds can give significant protection to the tank along with hiding it from opportunists. A metal security cage or grill with a lockable access point is a common solution.

Recommendations for securing oil tanks
1. Install secure fencing around your tanks.
2. Install a storage compound with lockable access.
All our fencing comes with a 25 year guarantee with premium tamper proof fixtures and fitting.
Options for keeping your oil tank secure
Mesh fencing such as our EuroGuard® range provides an anti-climb solution with high visibility, allowing operators to clearly see any intruders as well as potential maintenance problems. Posts can be customised for security toppings.
Timber and steel combination fencing such as EuroGuard® Combi provides a steel reinforced timber screen, which is ideal for storage areas in public places to hide oil tanks from view. Posts can be customised for security toppings.
Barbican® fencing provides an anti-climb design with tamper proof fixings, offering high visibility.
Document Downloads
Download specification documents, drawings and case studies for this product