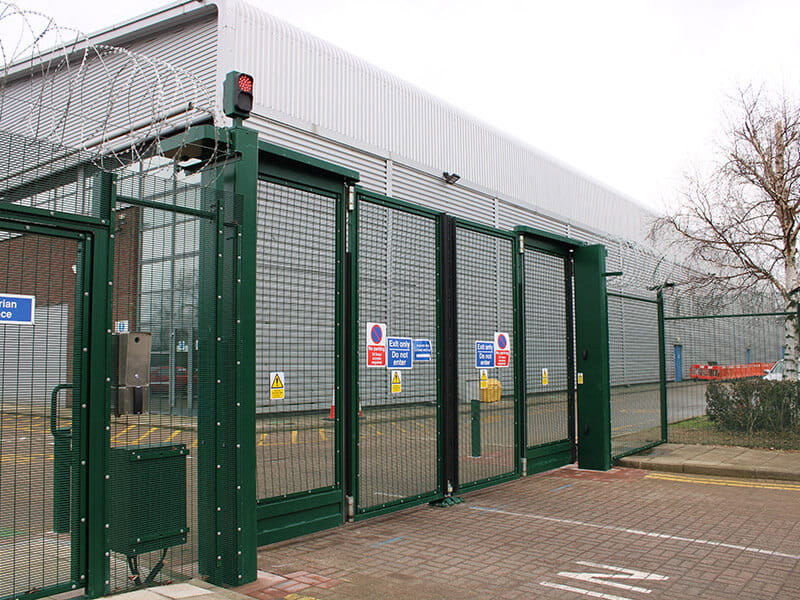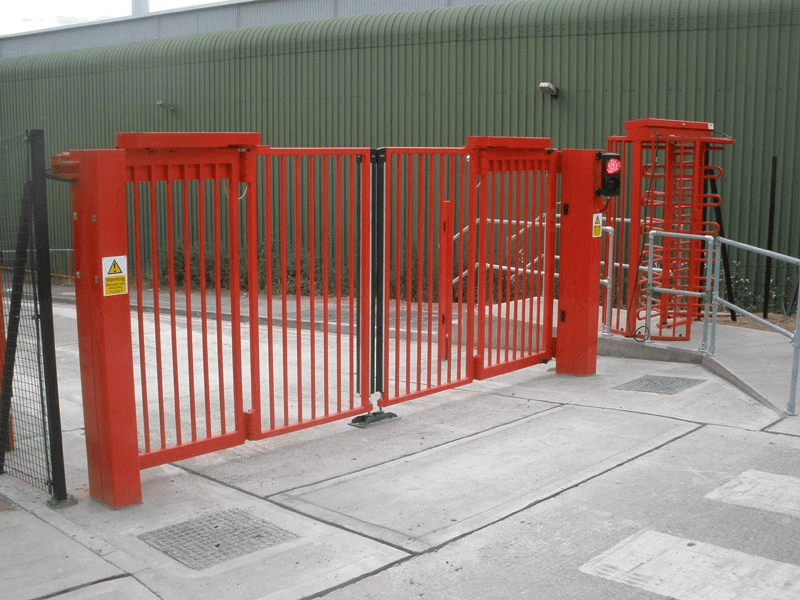 Red Vertical Bar Bi-Folding Speed Gate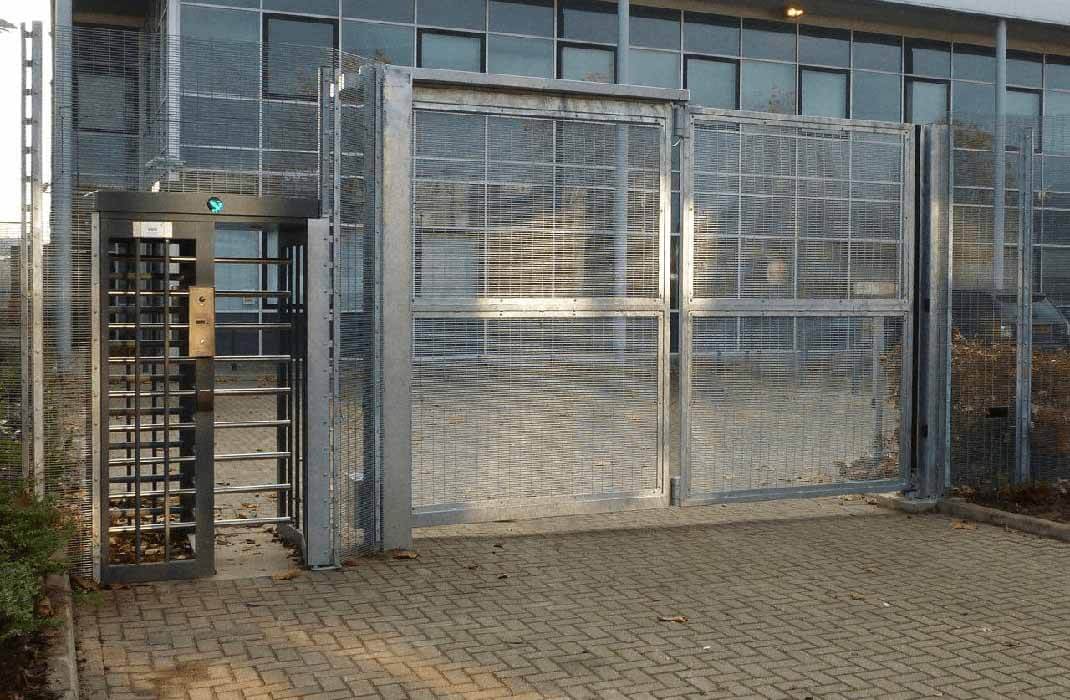 Galvanised Mesh Bi-Folding Speed Gate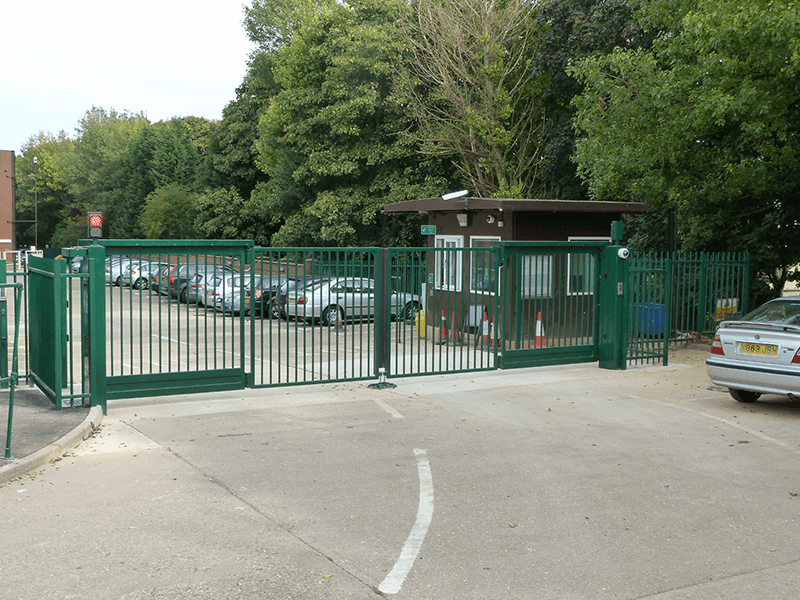 Metal Vertical Bar Bi-Folding Speed Gate Powder Coated Green
Gates and Access Control
Speed Gates | Bi-Folding Gates
Our trackless bi-folding gates comprise a unique drive mechanism to control the opening and closing of the speed gate.
The mechanism controls the gate leaves to produce a smooth and fast action. The design is ideal solution where the speed of opening and closing is essential for the security of the premises, or where space is restricted.
This unique design allows the gates to operate without the use of a bottom or top track, thus eliminating any height restrictions and large tracks on the road.
Bi-Folding Speed Gate Features
Very secure with opening and closing in approximately 1m per second
Hydraulic design, low maintenance with minimal moving parts
Trackless design, no height restrictions and lower maintenance
Heavy duty hydraulic ram with PLC controlled slowdown in both opening and closing movement
Smooth and quiet operation
Galvanised or galvanised and powder coated

About Jacksons' Bi-folding security gates
Our bi-folding security gates are hand built in the UK and manufactured to any entrance size up to 9.5m wide. Supplied with a 25 year guarantee against rust and corrosion, our bi-folding security gates represent a cost effective access control option. PAS 68 crash rated options also available.
Gate Options
Manual
Automated
Vertical Bar
Securi-Mesh®
Sheeted (one side only)
Bi-Folding Speed Gates Specification
| | | |
| --- | --- | --- |
| Style | Max. Width | Post Dimensions |
| Single Leaf | 4750 | 200 x 400 RHS |
| Double Leaf | 9500 | 200 400 RHS |
Thinking about automating your gate?
Jacksons Fencing has been automating gates since 1991 and is the expert in safe, reliable gate automation. All of our gate automation engineers are DHF qualified to a minimum of level 2.
Gate automation
Applications

What is a bi-fold speed gate?
A bi-fold gate is trackless and has one or two gate leaves which fold in half and back on themselves to open, usually at a fast pace. They are commonly used in high security sites because they are highly secure and provide rapid and reliable entry and exit. They can be made from timber and steel, and are normally automated due to their size and for convenience.
When are bi-folding security gates used?
Bi-folding security gates are often used around sites that require a high level of security, where the gate needs to act as a barrier; potentially stopping rogue vehicles that could try to drive through it. It is also essential that the gate closes quickly after each vehicle passes to be able to perform security checks or grant permissions. This could be around a port, data centre, MOD barracks, or water treatment plant. They are also used where rapid entry or exit is important, such as at an emergency service site such as an ambulance, fire or police station.
How do bi-fold gates work?
A bi-fold gate opens in a similar way to a swing gate but each leaf folds in half vertically while opening by the use of additional hinges.
Advantages of bi-fold gates
Bi-fold gates require less space to open compared to a swing or sliding gate of the same width, they are trackless which requires less maintenance, and they are the fastest opening gate of all the options. They are also extremely quiet and increase security.
Can speed gates be customised?
Yes, speed gates can be customised with your choice of infill such as mesh or vertical bar. The size of the speed gate can also be customised to suit your site requirements. You can also choose whether it has single or double leaf configuration, powder coat it in your choice of colour, and decide how you want to grant access with the use of various automation controls.
Can speed gates be integrated with other security systems?
Yes, we recommend that all security systems are integrated to provide a robust perimeter security solution that leaves no vulnerable gaps. Speed gates can be integrated into fencing, have added security toppings, be paired with access control devices, and fitted behind other access control measures such as rising arm barriers and bollards.
Document Downloads
Download specification documents, drawings and case studies for this product