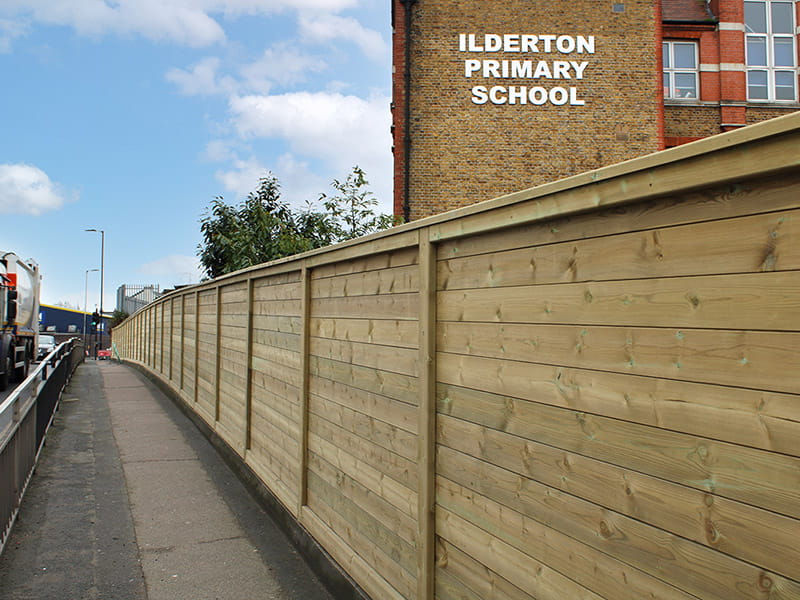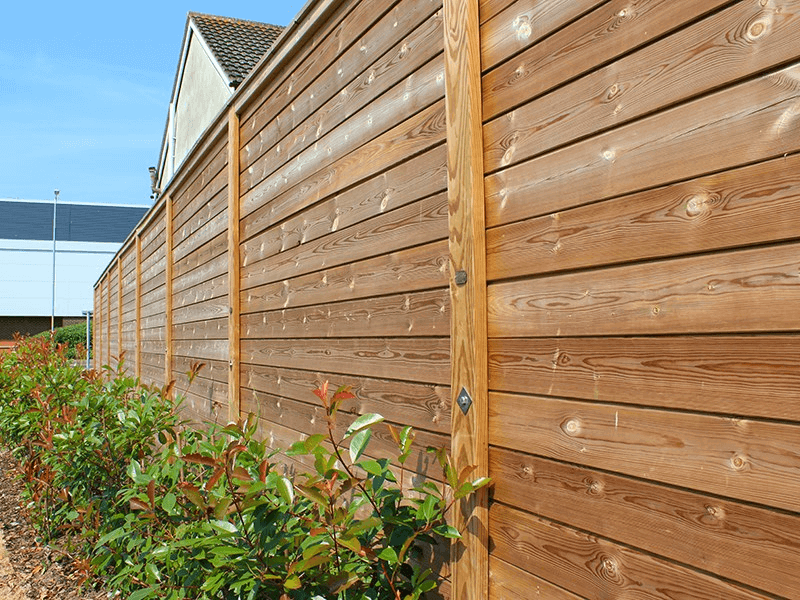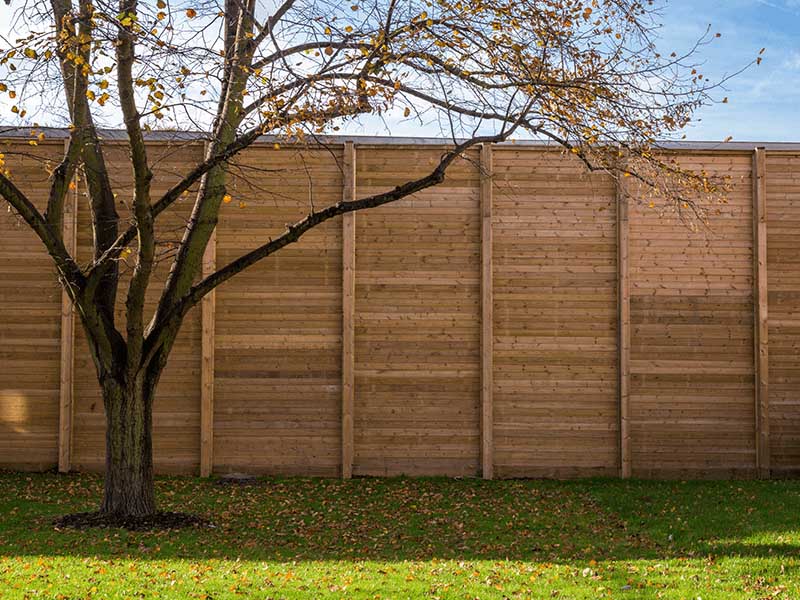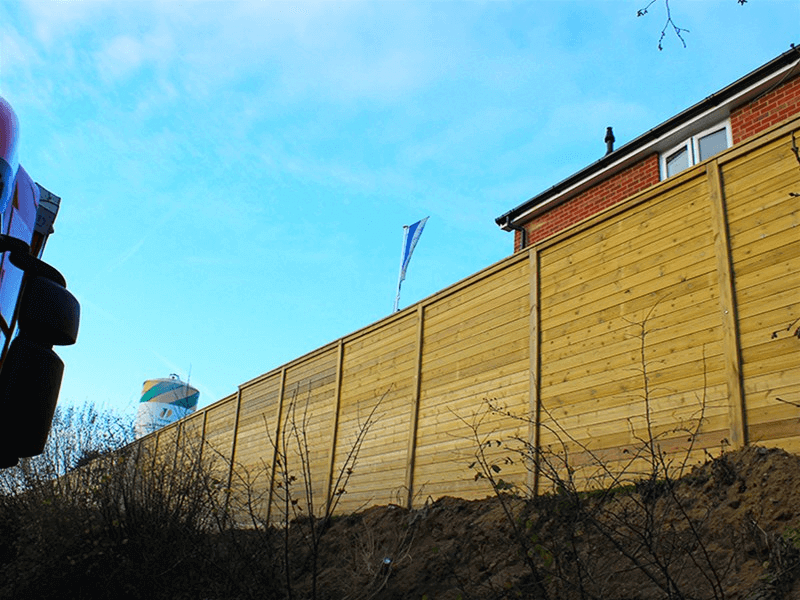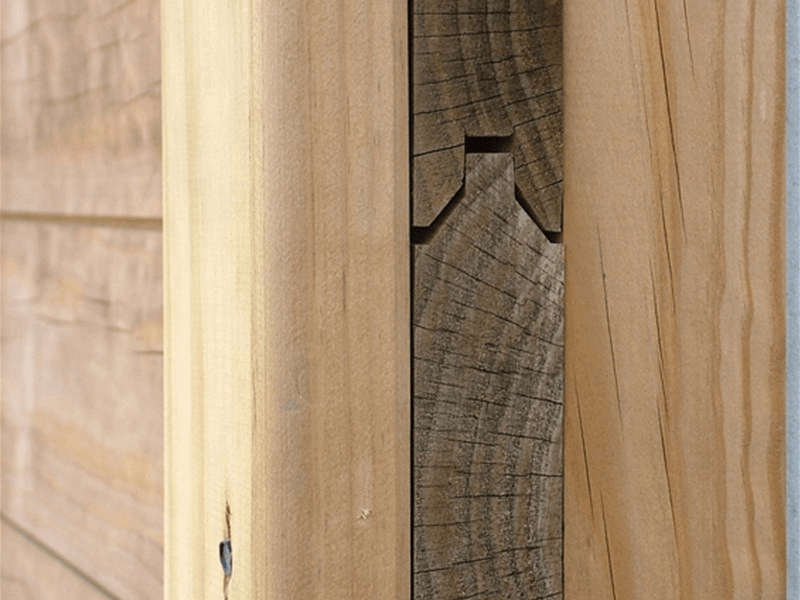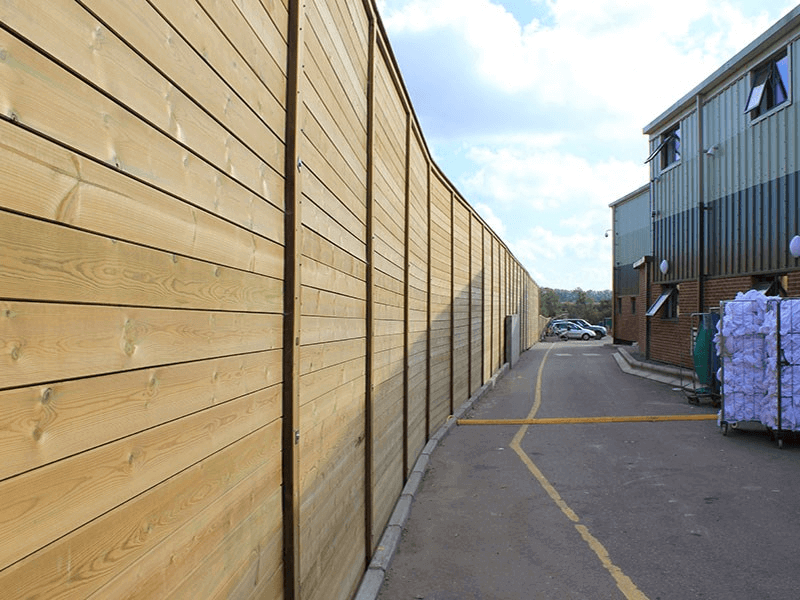 Timber noise barrier
Jakoustic® Reflective | Acoustic Fencing
The Jakoustic® Reflective acoustic barrier was first created in 2004, and has stayed true to the original design ever since thanks to its excellent noise-reducing properties, attractive timber appearance, enhanced privacy due to its solid construction, and increased security from the flat, anti-climb profile.
The acoustic barrier works by reflecting noise away from its carefully developed profile which is created from heavy section planed timber V shaped boards that slot together to minimise gaps that sound could travel through.
Offering up to 28dB* in noise reduction, it is an ideal solution for schools, commercial sites and residential properties.
25 year Jakcure® guarantee
*Jakoustic® barrier certified laboratory results: Rating according to BS EN 1793-2:1998 Category = B3 Laboratory sound reduction 28 dB Superficial mass 25kg/m²
Jakoustic® Reflective Features
Unique tuning fork design posts
Attractive timber structure with a planed finish throughout
Anti climb and scale design
High privacy barrier
Special fixings clamp the acoustic boards between posts
Can accommodate changes in level or profile
Complete with capping and counter rail
Up to 28 dB in noise*
Category B3 rating
34mm thick "V" boards
Matching pedestrian, swing and tracked sliding gates

Applications
✔ Residential properties
✔ Commercial properties
✔ Construction sites
✔ Sports venues
✔ Schools
Gates
To really benefit from a noise reducing solution, any gates that are required should match the specification of the acoustic barrier. We manufacture swing and sliding gates with manual and automated operating options to match this product.
Acoustic Gates
Jakoustic® Reflective Specifications
Heights from 1.8m-3.0m available as standard. Heights up to 2.0m supplied with timber tuning fork posts. Heights of 2.1m-3.0m include timber tuning fork posts and galvanised steel spur post reinforcements, powder coated black as standard.
For heights over 3m, see Jakoustic® Commercial and Highway.
| | | | |
| --- | --- | --- | --- |
| Height (mm) | Post Centres (mm) | Spur Post (mm) | Post Length (mm) |
| 2000 | 2410 | N/A | 2900 |
| 2500 | 2410 | 2000 | 3400 |
| 3000 | 2410 | 2500 | 3900 |
Post options
Timber tuning fork posts for heights up to 2m
Timber tuning fork posts with steel spur post supports for heights up to 3m
For heights above 3m, see Jakoustic® Commercial and Highway, which is installed on steel I-beams
Get the best results
Noise mitigation is usually a complex problem, so to ensure that you arrive at the best solution for your specific situation, we always recommend consulting a qualified sound engineer before you make your purchase.
Document Downloads
Download specification documents, drawings and case studies for this product
Acoustic Barrier Range
We manufacture a range of acoustic barriers to suit the requirements of different applications, all with a 25 year guarantee.
View Range