Vertical bar metal security railings
Vertical bar security fencing
At Jacksons we provide intelligent physical fencing and access control recommendations which deliver effective security like our vertical bar fencing - ideal for boundary security. Our focus is to offer a selection of systems which Deter, Detect, Delay and Deny unauthorised access in a variety of applications, ranging from domestic homes and commercial premises to government-approved sites.

Unlike other fencing manufacturers we offer both standard and bespoke options.

Surveillance technology has made great in-roads in managing the threat of a breach in security. Surveillance alone will not prevent determined individuals from accessing a site. There is always an innate requirement to establish a well-designed physical perimeter security response to act as both a visual deterrent and physical barrier.

Today, innovations in fencing have led to a whole host of new products which deliver additional benefits alongside the provision of a robust, physical barrier suited to a range of environments.

Product Quote for Vertical bar fencing
Green Barbican Fencing
Bespoke RAL Barbican Defender Xtreme
Stepped green barbican fencing
Galvanised Barbican Fencing with detail of pale and rail
Black Barbican imperial fencing with double leaf gate
Green Sentry fencing
Black barbican imperial fencing
Black barbican imperial fencing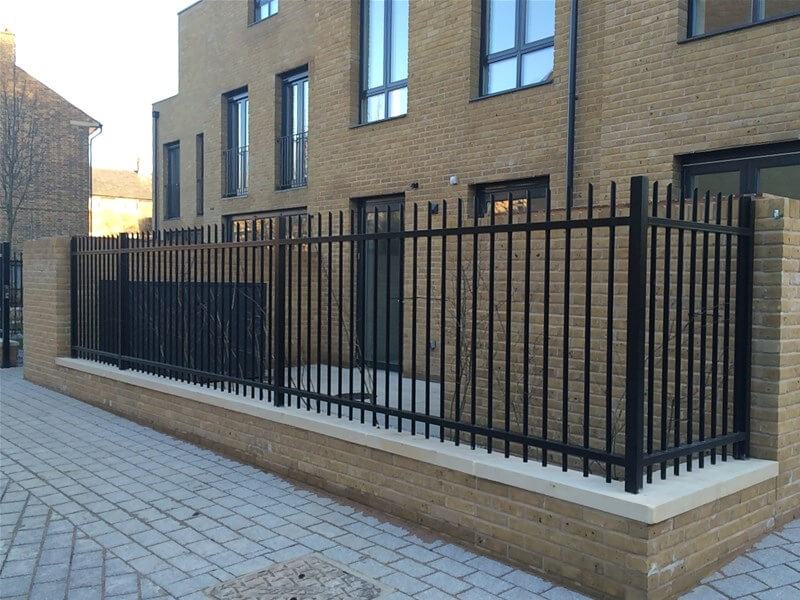 Black Barbican fencing on wall
View our vertical bar fencing range
Our vertical bar fencing solutions include our Barbican® range which employs strong vertical bar welded pale-through-rail construction and tamper proof fixings to create an aesthetically pleasing, anti climb security solution. The Barbican® range includes different designs to suit all applications including schools, public places, commercial properties, high security sites and residential areas.
Sentry® offers a different aesthetic appearance featuring a welded semi pale-through-rail construction with a flat bar top, suitable for low to high risk sites with the option of additional security toppings. Its wide bar design makes it just as suitable for schools as it is for high security applications.