In the UK, mental illness accounts for a third of all illnesses and one in four people will encounter at least one mental health condition at some point in their life. Treatment can very from medication, to detention at a mental health facility. There are three categories of facility – high security (of which there are only three in the UK), medium and low. But the varying levels of security are not necessarily accompanied by a sliding degree of vigilance when reviewing physical security measures to support these establishments. The safety and security of the service users, visitors and staff at residential mental health units remains of paramount importance and has been the subject of much debate.
Successful physical security solutions
For a physical security strategy to be successful, it must be a critical consideration within the initial planning and design process. A failure to adopt this approach could result in a weak link within the integrity of the security architecture of the overall site.
The Department of Health's Environmental Design Guide for Adult Medium Secure Services (published in 2011) advises that all units should have a 'secure external perimeter'. The Royal College of Psychiatrists' document 'Standard for Medium Secure Units, Quality Network for Medium Secure Units' defines the rationale for this as "the physical security protects the privacy and dignity of patients, facilitates their care and treatment, prevents the passing of contraband items, and offers protection to the public such as to make escape/abscond difficult."
Planning should also extend to ensuring the financial outlay made in establishing a secure perimeter represents a sound and future proof investment. Consideration should be given to sourcing only products which are fit for purpose and crafted from the highest quality materials to offer a guaranteed extended service life. Robust design and longevity/durability are the founding principles for all Jacksons products, which is why we can confidently offer a 25 year service life guarantee on all our products.
All steel items are galvanised to BS EN 1461 as standard and powder coated using a superior architectural grade powder. Superior fittings, clips and fixings are supplied to ensure the overall quality of the installation is not compromised.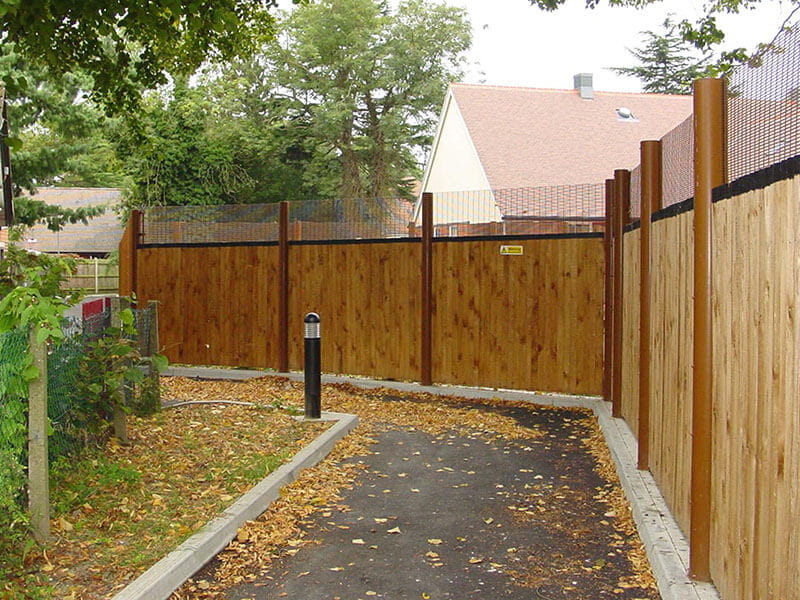 Bespoke Anti-Ligature Securi-Mesh fencing with Featherboard cladding section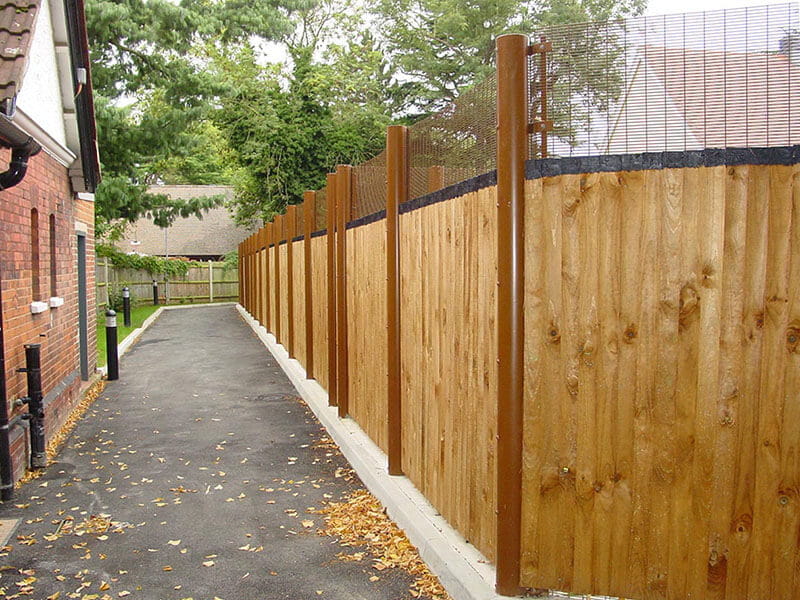 Anti-Ligature Fencing - Securi-Mesh fencing with Featherboard cladding in bespoke RAL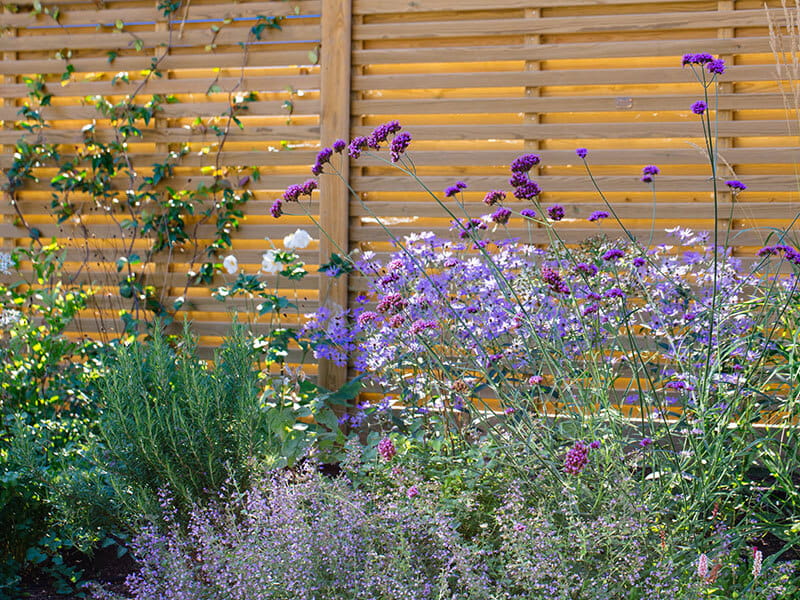 Venetian Hit and Miss Timber Fence Panels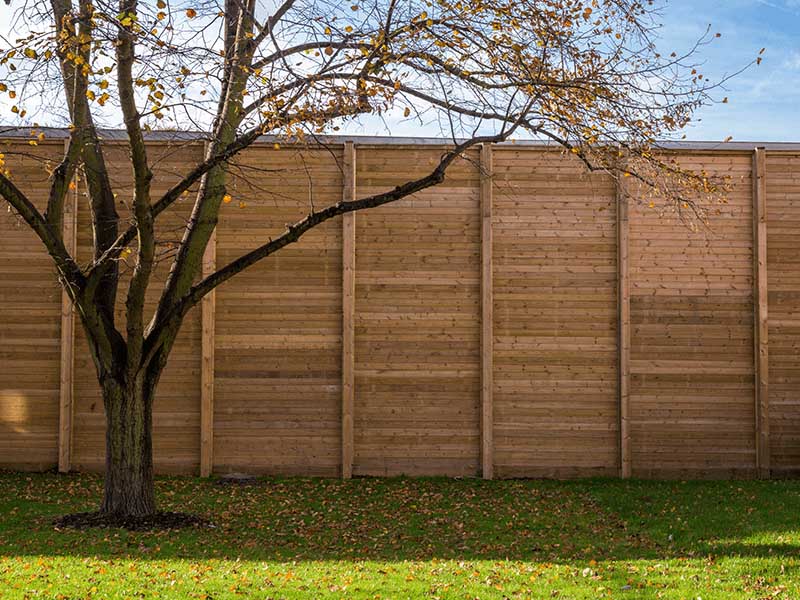 Anti-Ligature Fencing - Reflective Acoustic Barriers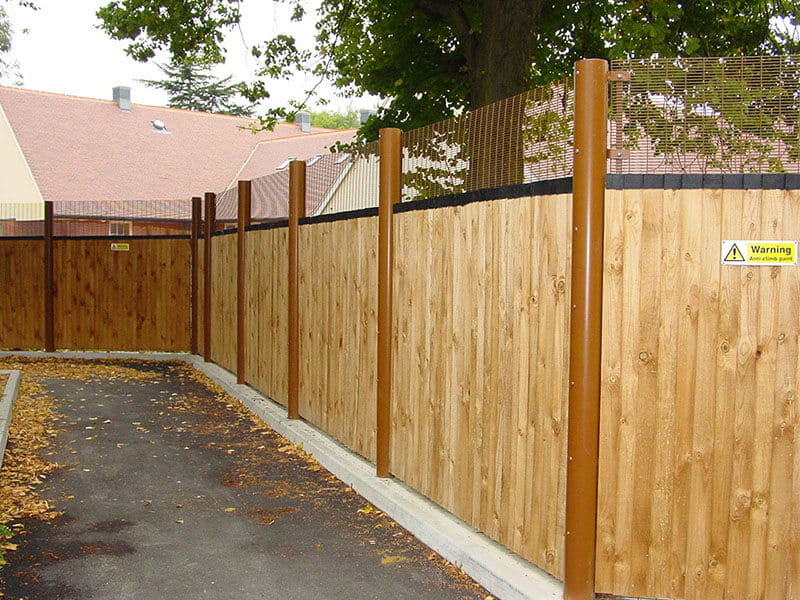 Securi-Mesh fencing with Featherboard cladding in bespoke RAL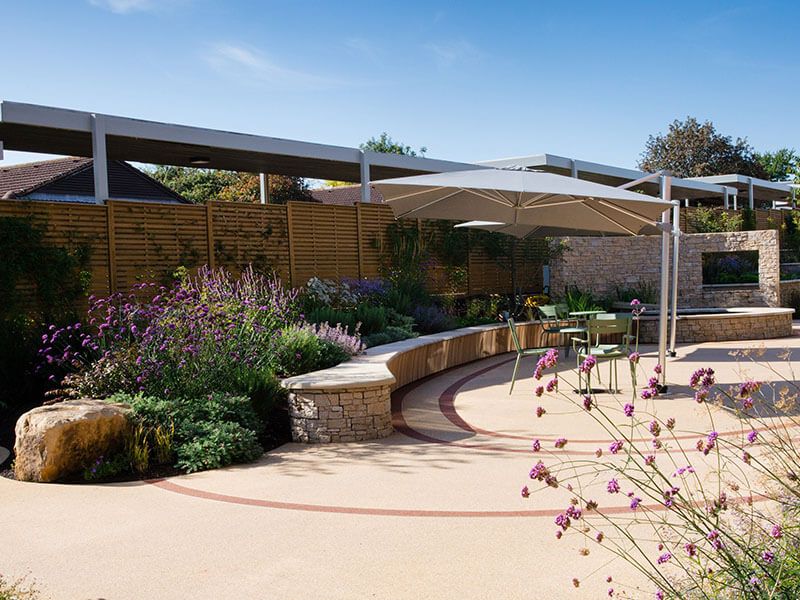 Venetian Hit and Miss Timber Fence Panels Installed In Hospital Setting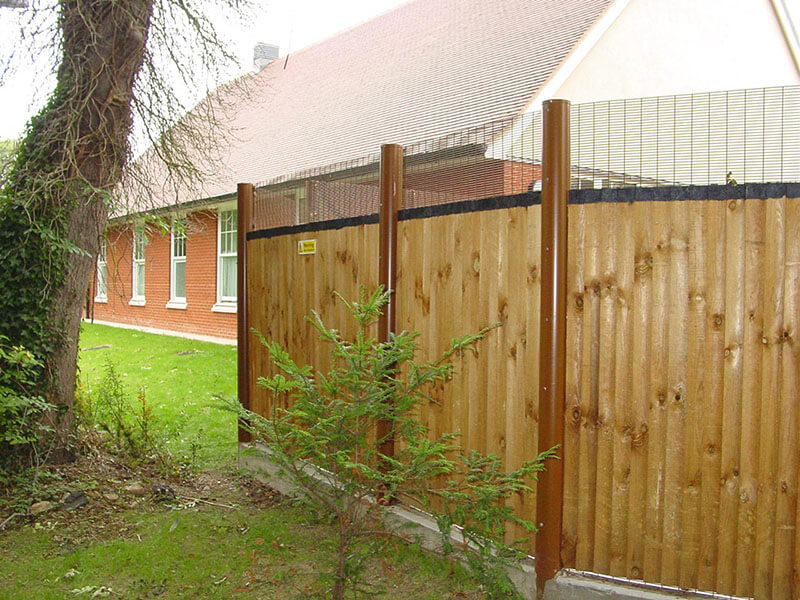 Anti-Ligature Fencing - Securi-Mesh fencing with Featherboard cladding in bespoke RAL
Mental health unit fencing solutions
Any choice of perimeter fencing will need to offer resistance to continual or immediate attack, so all fixings should be concealed to ensure that they cannot be easily removed. Where fencing is used to form all or part of the secure perimeter, it must be a minimum of 5.2m in height and should be 358 welded mesh. Posts should be fixed on the non-patient side so that they cannot be used as climbing aids. Our 358 Securi-Mesh has been designed to meet Home Office specifications for use in mental health units, offering a climb resistant mesh with sufficiently small apertures and welds at each intersection to eliminate any scope for foot or finger holds, as well as restricting the passing of objects through the mesh. The inherently strong design of Securi-Mesh also makes it resilient against the use of conventional hand cutting tools.
Joining fencing to buildings
Where a fence meets a building or another fence, care must be taken to ensure there are no gaps between the joins and no hinge gaps which could be construed as a possible climbing aid. Making any corner an angle of 45 degrees means scaling the fence in a traditional manner using back and feet is virtually impossible.
Gates and access control
Gates and access points within the perimeter represent a possible weak point, so only essential gates or entry points should be permitted and these must be controlled centrally and regularly monitored and operated. Best practice is to automate all gates into the perimeter, including pedestrian gates, using a underground operator so there is no visible mechanism on display. Gates should be DDA (Disability Discrimination Act) compliant. Vehicular entry should be via an airlock with two sets of interlocked gates that are also centrally controlled, monitored and operated. All automated gates be CE marked for safety in line with current guidelines.
Gate locks
The locks on manual gates must be integral to the gate itself and accessed through a key lock with no handles. The gate should match the same height as the fence, with minimal gaps that could attract climbing aid options. Specially adapted anti-ligature designs, which involve creating a gate with no extended pales that could be used by a patient to harm themselves should also be given consideration.
Perimeter Intrusion Detection Systems (PIDS)
Essential physical security measures may be complemented by technological systems designed to upgrade the level of support on a risk sensitive site. Perimeter Intrusion Detection Systems (PIDS), employ state of the art vibration sensors and magnetic detectors to relay any attempts to breach the welded mesh perimeter boundary direct to a computer monitor in the control centre. Jaktronic® Fence Sensor Systems have vibration sensors that are capable of identifying an intruder with an accuracy of plus or minus 10 metres.
Anti-Ligature Fencing
Fencing for mental health units should be secured with fencing that is anti-climb and anti-ligature to prevent escape and injury. It should also provide as much privacy as possible for patients to enjoy outdoor spaces. Fencing with a flat surface such as acoustic barriers, or tightly knit mesh overlaid with timber panels are ideal for providing a safe boundary solution which also has an attractive appearance. Timber acoustic barriers are ideal, with their natural appearance, anti-climb and anti-ligature flat surface, solid construction which increases privacy, and the potential to reduce noise by up to 28dB.