The right playground fencing solutions can help to prevent accidents and injury. Every year in the UK thousands of children are injured due to fencing and gates as a result of poor quality or failure to consider their safety and security features. Here's five common mistakes around playground fencing solutions that can threaten the safety of a play area.
Older children often target parks as a hangout after dark which in worst case scenarios can result in vandalism and other anti-social behaviour such as graffiti, destruction of playground equipment and arson in playgrounds and play areas where there are inadequate security measures. Installing fencing and gates constructed from durable materials that have been designed to prevent vandalism like double paired rails along with coating or treatment can help resist any anticipated vandalism. It is tempting to install a cheaper fence that may seem fit for purpose, but often the lifetime cost of the fence due to repairs every few years can outweigh the initial cost of a higher quality fence that will regularly outlive the play park itself. Some examples of damaged play area fencing can be found below. Fencing around areas that are supposed to be enjoyable for children can end up causing nasty injuries from broken wood and rusty nails left strewn across the play area.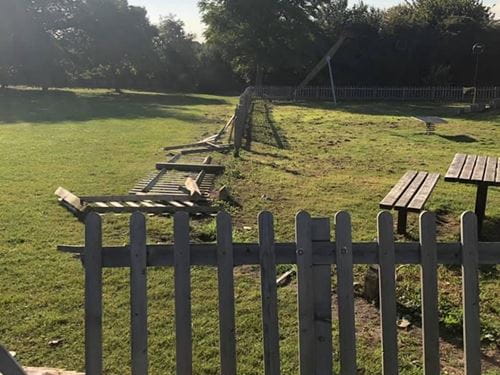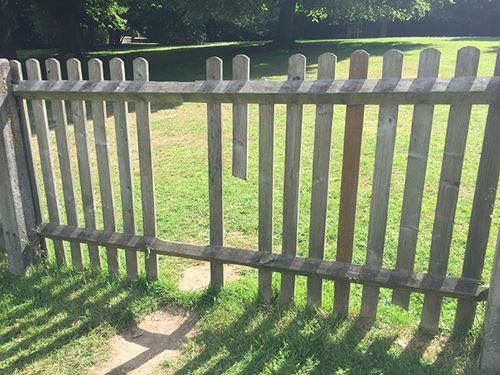 Opting for fencing or gates that are not designed to RoSPA specification may forfeit both the safety and security of a playground by potentially exposing children to risks such as getting their limbs or neck trapped between pales or limb entrapment between gate hinges. Durability and design closely link into safety. The day a new playground opens, a fence may look great, but after a number of years of climbing and antisocial behaviour, often fences not designed for play areas end up with dangerous nails or screws protruding from a fence line, as well as split timber and gaps in the fence line. Additionally, when installing gates, they should not be installed opening directly onto a hazard such as an open road, as this can potentially cause accidents when the child is exiting the play area.
Animals in a playground are likely to cause mess and damage and represent a major health and injury hazard. A way to help prevent this is to install gates which are self-closing along with a dog grid. It is also important to consider the direction in which gates open, as outward opening mechanics will prevent dogs from entering the play area.
Playground gates should be a minimum of 1m open width to allow passage of wheelchairs and pushchairs. They should open outwards except where they would cause a hazard to others i.e. opening into the path of pedestrians/cyclist etc. The use of self closing mechanism is strongly recommended to maintain the gate in the closed position and should not close quicker than 5 seconds to make access easier for wheelchair users and to prevent it from striking the back of children walking through.
Maintenance gates should be considered and be installed wide enough to allow for all likely machinery but they should be kept locked when not in use. It is good idea for gates to be a different colour to the fencing to make their location easily identifiable especially to those with visual impairment.
It's important to cover the all-important safety and security features mentioned above, but no-one wants a playground to looks like a fortress. A playground needs to appeal to children and should look fun and inviting; with the right solution, colour and playful features can be incorporated into a safe and secure fencing solution.
To ensure security and safety in a play park , our Anti-Trap Bow Top and Playtime® fencing and gates are ideal solutions; wide gaps between hoops and well-spaced pales ensure children's limbs can't get trapped, while quality manufacturing and optional additional features such as timed, self-closing gates help to ensure safety.
You can find out more about our playground fencing solutions here.
Related Products
Jacksons Fencing have a large range of related products, all complete with our 25 year guarantee. If you cannot find the item you are looking for, please do not hesitate to call our friendly sales team.