The main reason that automatic gates are required in commercial settings is convenience and security, namely, when the site needs to be secure all day but provide instant and reliable access to staff, visitors, and customers frequently throughout the day. Security is also increased as an automatic gate system can control who has access and when. Keep reading to find out about other benefits of commercial automatic gates.
Keep staff and vehicles safe
Automatic gates around a commercial property or business help to increase the trust that staff have in their own security as well as the security of their personal property while they are in the workplace, helping to create a more relaxed and productive environment. Commercial automatic gates may be required to keep staff and vehicles safe from theft and vandalism, especially if the risk assessment indicates a heightened threat. The need for automatic gates at commercial sites is particularly important if the site is located in a place notorious for high crime, and at sensitive sites where there is a risk of protests, such as pharmaceutical companies.
Automated gate access controls
Access can be granted for staff and visitors in a number of ways by pairing the electric gate with an access control device such as a card reader, key fob, biometric reader, intercom, or keypad. We recommend that alongside an automated vehicular gate, a pedestrian gate is included for those on foot. This increases safety and prevents unnecessarily creating a large gap in the perimeter which is a security risk. Pedestrian gates can also be automated if required.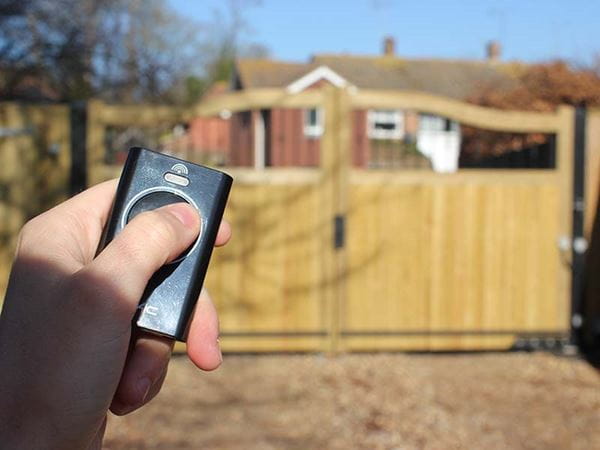 Timer clocks are also available for automatic gates, which can be set to open and close at certain times. These are ideal for business premises where there is an influx of traffic at regular times, for example between 8-9am and 5-6pm, with the gate closed for the rest of the day. They are also regularly specified for car parks and retail/industrial estates that require security at night but are open during the day for customers. With these automation controls, the timer clock needs to be included in any shut down period checklists, such as over Christmas, to ensure gates do not open at random times.
At Jacksons, our gates can span up to 24 metres wide. A steel gate of this size would be extremely heavy and awkward to open and close manually, and would take a while. There would also be an increased risk of injury with the manual movement, affecting who you hire. We highly recommend that large gates are automated for convenience.
Automatic gates are recommended when the business has high value items on site. This could be vehicles, machinery, or technology. Featuring automatic locking, automated gates cannot be accidentally left open or unlocked unless programmed, and have adjustable closing speeds, so they are highly secure. When paired with an access control operator and monitored through a central control centre, entry and exit can only be granted by authorised personnel, so once gates are shut behind the vehicle entering, it would be highly difficult to make a quick getaway. In addition, an audit trail of users who have accessed the site via the automated gate can be stored. This is beneficial for high security sites in case any breaches occur and the staff on site at the time need to be questioned or CCTV footage needs to be viewed at the time someone used the access point.
Prevent people freely walking across the site
When a manual gate is left open or the front of a commercial property has no demarcation fencing, passers by may be tempted to walk across the site, perhaps to find a shortcut through or just out of curiosity. This leaves your site vulnerable to theft and other unwanted scenarios and increases the likelihood of opportunistic crime rather than planned attacks.
Commercial automatic gates improve convenience and security by providing remote access to authorised persons without having to employ a security guard to manually open the gate each time, which provides a significant delay particularly with large double leaf gates. Conversely, electric gates can create a delay by preventing access while checks are performed on the vehicle entering, increasing security.
Installing an automated gate can increase the value of your business by ensuring any stock is kept secure to minimise loss. A good quality automated gate that is guaranteed to last for many years and has had its regular services will be an attractive prospect for a buyer should you wish to sell the site, as they have the assurance that the business has a good level of protection. Consider aesthetics when choosing an electric gate, as there are a range of designs that can enhance the appearance of your property and provide a luxury feel which may increase the value further.
When it comes to insuring your business, an electric gate can increase security and also provides an audit trail, therefore should bring your premium down. However, be sure to purchase the gate and have it automated by an experienced and reputable supplier, as well has having the gate serviced regularly, to ensure it is safe and will not cause injury to anyone.
An impressive electric gate that works smoothly and reliability may increase the trade of your business by improving customer experience. An electric gate may also encourage visitors and clients to stay longer on site as they feel safe and know their vehicles are safe in the car park.
Some sites are relatively open for people to be able to enter, however, certain areas of a site may need to be more secure. For example, a supermarket. The perimeter and customer car park generally have no barriers to enter, but the delivery area at the rear will have a gate of some sort. Usually in tight spaces, electric sliding gates are ideal for this application as they do not require any space in front of them to open into.
Related products
Jacksons Security has a range of products relating to this article, all complete with our 25 year service life guarantee. If you cannot find the item you are looking for, please do not hesitate to call our friendly sales team.