When specifying fencing for your site, along with aesthetics and security, the finish should be carefully considered. A good coating will prolong the life of your fence, reveal brand personalities and improve the overall appearance of the fence, and therefore the site. Budget, climate and location can all influence which finish will be most suitable for your requirements. Polyester powder coating (PPC) is just one of the high-quality finishes we offer, so we've answered a few questions to help you decide if powder coating is the best option for you.
What is polyester powder coating?
Polyester powder coating is a type of material refinishing that provides a robust alternative to conventional paint; essentially, it is paint in a powder form. Providing an inherently strong finish, it can be applied to any surface that will not be affected by heat.
How is it applied?
Using compressed air, an electrostatic gun pushes the powder onto the object to be painted, which is kept grounded, to ensure a uniform application and therefore better performance. Positively charging the powder ensures the paint is attracted to the surface and, once fully covered, the object is baked in an oven where a chemical reaction causes the powder to form a skin that cools into a hard finish.
Are there different types of powder coating?
There are two main categories of powder coating: thermoplastic and thermoset. These categories can then be broken down further. PVC, Polyolefin, and Nylon are all thermoplastic powder coatings. Our tubular fencing system infills such as chain link can be PVC coated to add protection. These types of coatings are effective against wear and tear, and providing resistance to chemicals.
Thermoset powder coatings include epoxy, epoxy-polyester, polyester, acrylic, and silicon. Most are hard wearing but they cannot all be used for external applications.
Of the thermoset powder coating types that are generally applied to external metal structures (furniture, buildings, BBQs, car parts, and machinery), polyester powder coating is superior to zinc rich powder coating. Zinc rich powder coating is primarily used to provide corrosion resistance but is known as a primer or undercoat, meaning it should ideally be painted over to get the required finish. Polyester powder coating can provide up to thirty years of UV resistance and protection from corrosion and humidity. Architectural grade powder offers even longer lasting durability and is designed specifically for exterior components to provide excellent weather resistance.
Did you know?
Jacksons Fencing has had its own Polyester Powder Coating facility on site since 2003, allowing us to control the process from start to finish, offer bespoke solutions, ensure stringent quality control checks, and avoid any delays in delivering orders. We offer a huge range of world leading powder coatings so you can get the perfect match for your vision.
Powder Coated Anti Trap Bow Top Fencing
anti trap bow top detail
Wall Mounted Sentry Fencing with Maroon Finish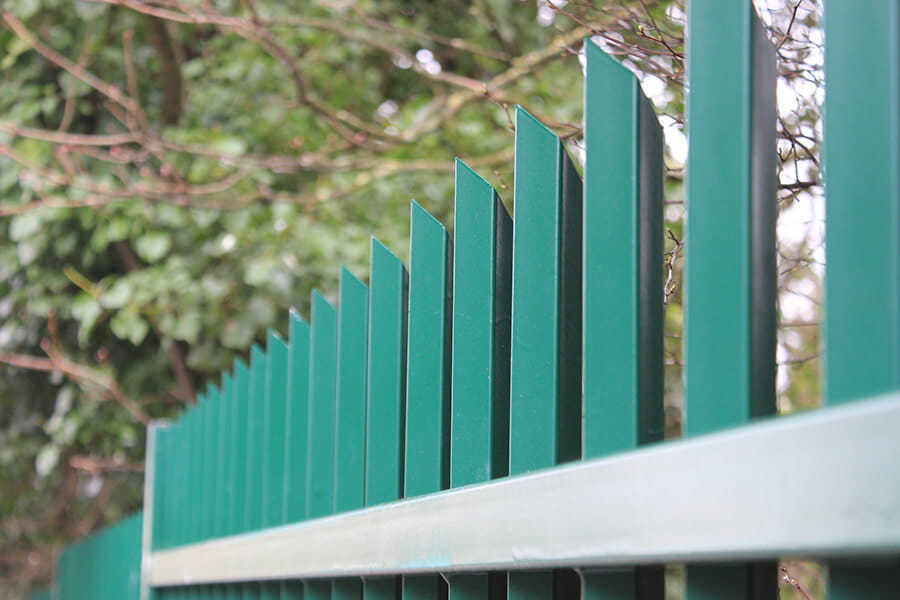 Green Polyester Powder Coating
Why should I specify powder coated products?
Aesthetically speaking, powder coating delivers a thicker coating than traditional paints, without any running or dripping, resulting in minimal difference in appearance between horizontally and vertically coated surfaces. A comprehensive range of colours provides specifiers with flexibility in terms of design and appearance. Colours can be chosen to match brand colours, enhance the appearance of the fence, and the appearance of the site overall.
Along with being visually appealing, the resulting finish is high quality, high performance and durable. Designed for external use, the powder coating has excellent colour and gloss retention, which are paramount with frequent exposure to the sun and inclement weather.
Powder coating is an especially exceptional choice for metal parts because of its strength, durability and resistance to abrasion, fading and wear.
What are the environmental benefits?
Significantly, solvents aren't used during the coating process, so fewer volatile organic compounds are emitted than with conventional paint, making the process more environmentally-friendly.
Waste is kept to a minimum through recycling and reusing any overspray produced during the powder application, and powder coatings also enjoy shorter processing times than liquid coatings, reducing lead time, space and energy.
You can find out more about our range of finishes here.
Related products
Jacksons Security has a range of products relating to this article, all complete with our 25 year service life guarantee. If you cannot find the item you are looking for, please do not hesitate to call our friendly sales team.