Timber acoustic barriers are ideal for reducing noise from industrial premises, bringing with them many benefits in addition to noise reduction of up to 32dB.
Aesthetics – with the increase in the population and urbanisation, residential areas are creeping closer to industrial and commercial sites. Improving the visual impact of your premises is often a key requirement or in some cases it may be advantageous that a site is hidden out of view from the public. Timber acoustic barriers, with their natural appearance, blend into most surroundings and can keep ugly or valuable items out of sight.
Security – the flat profile of timber acoustic barriers provides protection against climbing, while the solid design improves privacy and concealment. Higher security options are available which are government approved or tested and certified to LPS 1175 C5, F1, and G1.
Sustainability – when manufactured from carefully chosen timber which is properly prepared for a long life, timber acoustic barriers offer a long-lasting, cost-effective noise mitigation solution. Jacksons' timber acoustic barriers use specially selected timber which is kiln dried and pressure treated, and guaranteed for 25 years against rot and insect attack. The steel posts are also guaranteed for 25 years against rust and corrosion.
Jacksons manufactures different types of acoustic barriers which are suited to different applications, from education and residential properties, to industrial sites, roads, railways and transport hubs, and high security premises. We offer reflective and absorptive acoustic barriers in a range of heights which can be CE/UKCA certified as a complete system for mitigating road noise, as compliant with the requirements of EN 14388:2005, the harmonised standard relating to traffic noise reducing devices.
Read on to find out how we helped reduce noise at an industrial site in Lancashire.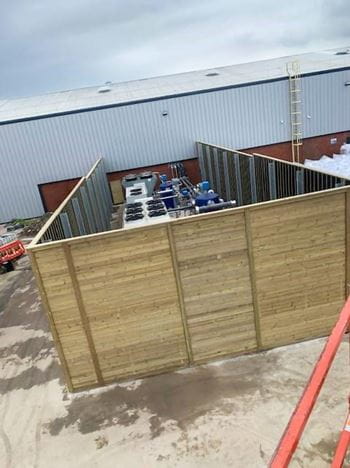 Established in 2003, Aurora Manufacturing Ltd is a polymer compounding company based in Lancashire. As part of a £5 million investment in 2020 to rebuild and extend the premises and install a new extruder and blenders, acoustic barriers were required to reduce noise around machinery behind the warehouse.
We installed 53m of 4m high Jakoustic® Absorptive acoustic barriers to create an enclosure around the area and reduce noise. Built on steel I beam posts for strength and stability at the required height, timber boards with a deep V tongue and groove interlock to reduce gaps that sound could travel through. On the side facing the noise source, a mineral Rockwool fibre with protective membrane is attached, which absorbs noise by up to 32dB. The manufacturing process depends on this essential equipment and machinery, so protecting it from unauthorised access, vandalism, and theft was also important. Two single gates with the same acoustic specification were also installed to maximise the noise reduction performance of the compound and provide secure access for maintenance and authorised personnel.
Similarly, our Jakoustic® Reflective acoustic barriers were installed to reduce noise around a power generator for an industrial site. Our reflective barriers are made with the same interlocking timber boards, but do not have the absorptive layer – they are reflective on both sides and reduce noise by up to 28dB. For this application and barrier height, timber tuning fork fence posts were used, with galvanised steel support posts, powder coated black.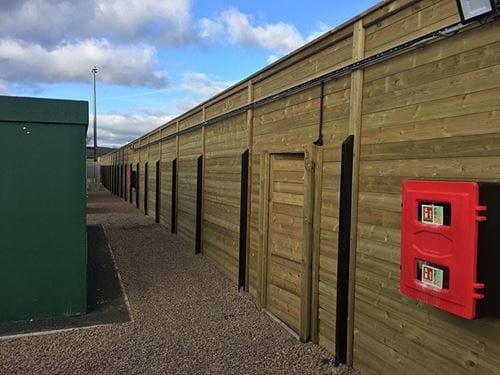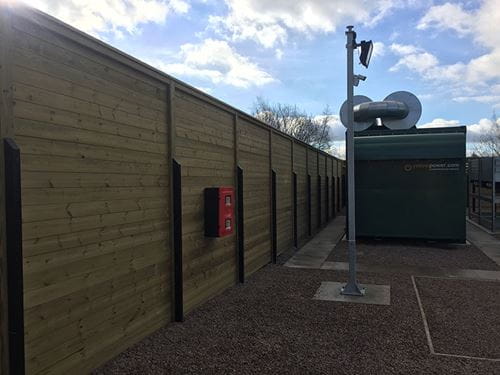 If you have a requirement for securing or reducing noise around an industrial site, get in touch. Acoustic barriers are not a 'one size fits all' solution – our acoustic experts will work with you to achieve optimum noise reduction by taking into account all the necessary factors such as the size of the area, the noise source, the distance from the noise source, and more, which we cover in our blog.
Related products
Jacksons Security has a range of products relating to this article, all complete with our 25 year service life guarantee. If you cannot find the item you are looking for, please do not hesitate to call our friendly sales team.