You may be specifying or installing a gate as an access control measure into a site and looking at the best option to fulfil your use requirements, security level, and width restrictions. Single and double gates are both available options but one may be better suited; we explain the differences here.
Each gate is often known as a gate leaf. The terms 'single gates' and 'double gates' refer to how many individual gate leaves make up the gate way. A single gate has one leaf, a double gate has two.
The most common reason for installing a double gate is that single leaf gates will only go up to a certain width before the gate becomes unusable or impractical. This is dependent on a number of factors such as infill type: mesh/vertical bar/timber acoustic; wind loading; accessories added; method of operation: manual or automated; ground type: sloped or flat; opening type: swing or sliding; and space available in front or to the side of a gate. A gate becomes heavier depending on the materials used and type of infill, but it may be that you can have a larger sliding gate or a double gate in this case – it is always worth speaking to a gate expert to find out if what you want is possible. If a single leaf gate is too large, it risks causing damage to itself, is difficult to open, and also leaves a large gap in the perimeter which increases the security risk when it's open. With a double gate, sometimes just one leaf can be opened at a time, rather than the whole gate, so it is more secure. A single leaf sliding gate can be large but when open the leaf will have to move backwards into a space that is not always viable.
In addition, sometimes a double leaf gate is used for aesthetic reasons as a pair of gates can look better than a single opening gate. Our timber Courtyard Gates are a perfect example of this. Regarding the design, each leaf can be shaped in a way to make the overall gate look like an arch, or have railings included. Each gate leaf can also be symmetrical.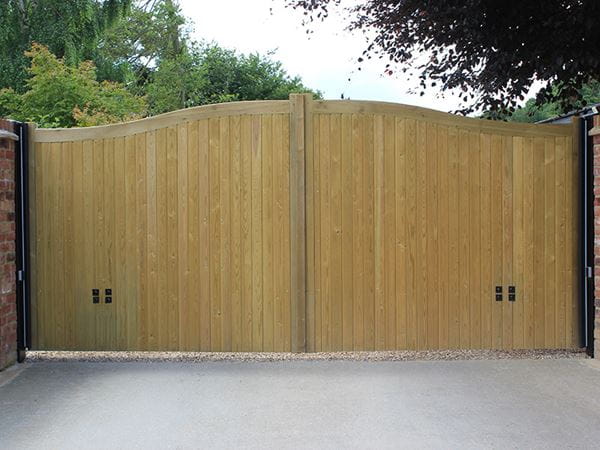 Double leaf gates are sometimes known as a pair of gates and most commonly are swing gates, but larger sliding gates also do come in pairs.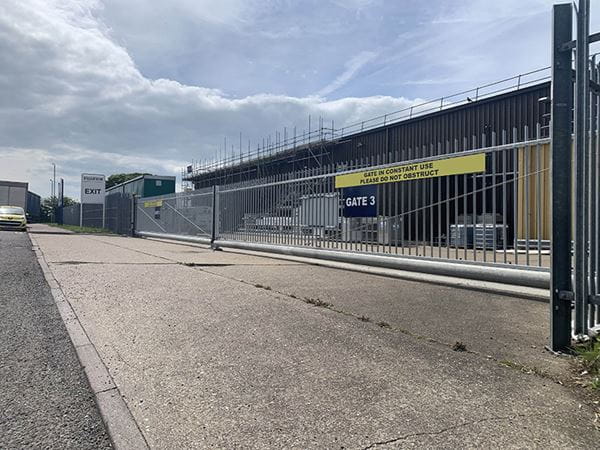 In a similar way to double swing doors within a property, often with double leaf gates, one of the leaves will open first before the other can be opened.
Parts of single and double gates and how they change:
Locks and latches
Most types of lock or latch can be installed on single leaf gates, as the gate post that the latch or dead bolt feeds into is static. The lock could be a key lock, push pad, or a sliding latch. The most common style of lock or latch is a sliding latch on a double leaf gate.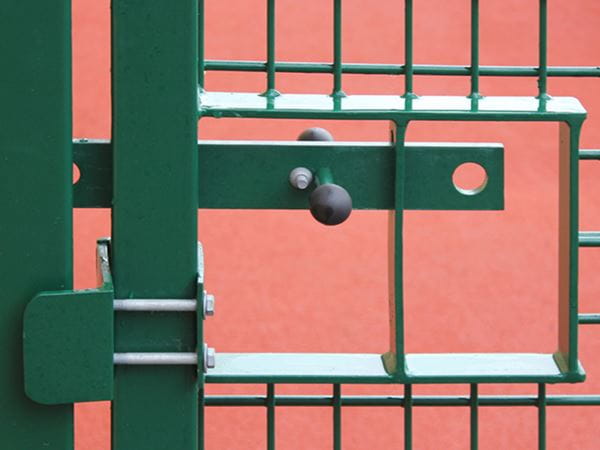 Drop Bolts
Drop bolts are often essential on double leaf gates as they hold the gate in the closed position. They are especially important on timber gates as a drop bolt will stop the gate from twisting. It is possible to install a drop bolt on a single gate which may be useful if the gate is particularly big or is used to help hold it in the open position.
Hold back catches
A 'hold back catch' does exactly what the name suggests and is designed to keep the gate held open. This allows the gate to be safely secured in the open position while someone or a vehicle uses the gate.
Regarding double and single gates; it is reasonably rare for a single leaf gate to have a hold back catch. This is because is commonly used for pedestrians who walk through the gate. It is more common for hold back catches to be used on double leaf gates, this is because a user would like a vehicle to be able to enter or to move something through the gate while it is in the open position. This doesn't mean that single gates cannot have a hold back catch, but generally it will be the wider single gates that have them.
Gate Shrouds
Shrouds are welded onto a sliding gate latch to prevent someone from being able to get a cutting tool near the lock and removing the padlock. These are used on both single and double gates. A daisy shroud, created by Jacksons Fencing, has a daisy shaped arrangement of holes for viewing the lock to make it easier for those legitimately unlocking the gate without having to bend down.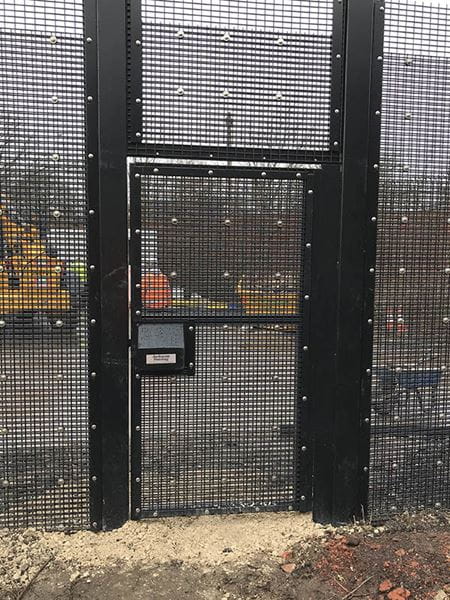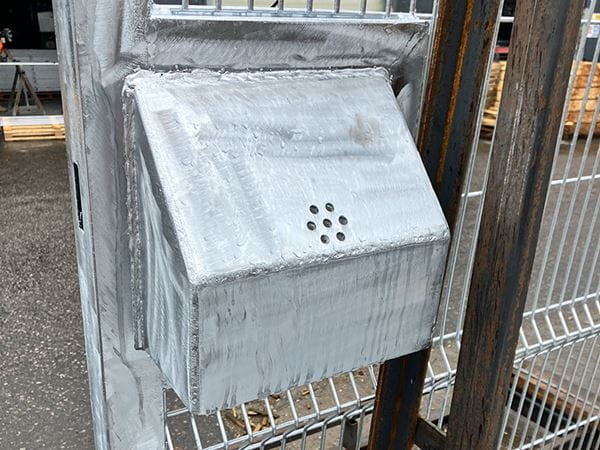 Can single gates be automated?
Double gates are commonly automated due to their size and purpose (usually to let vehicles in), so automation increases convenience. Single leaf gates can be automated in exactly the same way, and this is a popular choice for access gates to high security properties such as data centres. They require an access control device to operate and are usually centrally controlled from a distance, reducing personnel required on the front line and allowing remote access to visitors. It is recommended that at least one manual gate is included in a perimeter for emergency access or in the case of a gate failure.

What are single and double gates used for?
When we think of single gates, we generally think of narrow gates used for pedestrian access, but large single leaf gates are also available for vehicular access, in swing and sliding styles. Double gates are generally used for vehicle access although at event venues, stadiums, and schools, double gates for pedestrian access are useful for improving traffic flow and increasing safety. Generally, double gates will be opened at the end of an event at a venue to allow large crowds out rapidly, reducing panic and increasing customer satisfaction.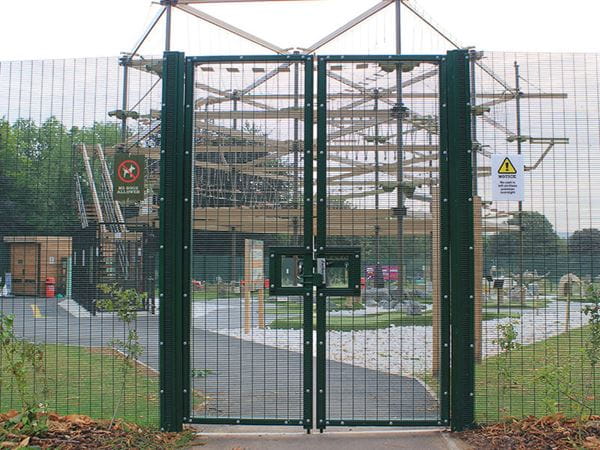 Bi-folding gates can also be configured as single or double leaf.
Related products
Jacksons Security has a range of products relating to this article, all complete with our 25 year service life guarantee. If you cannot find the item you are looking for, please do not hesitate to call our friendly sales team.