Sports facilities - especially at local and community level - have been amongst the hardest hit during the coronavirus pandemic. To support their recovery, Sport England, Wales, and Northern Ireland are providing £6.5 million to rejuvenate grassroots sports clubs across the regions.
With part of this investment going towards surfacing, surroundings and fencing for sports facilities, it's worth exploring the different types of fencing available for sports facilities, as well as the different applications and functions of each.
Considerations for sports facility fencing
Investing in quality sports fencing can help sports clubs to provide quality services and save money in the long run, which can be used to invest in good equipment. While a cheaper option may seem appealing at first, over the long-term Jacksons' sports fencing needs minimal repairs and replacements and, as it comes with a 25-year guarantee, any issues that arise from faulty manufacturing processes are covered.
Durability and spectator safety
Any fencing demarcating a sports ground where high-impact sports take place will need to resist the impact of the balls hitting the fence repeatedly, keeping spectators safe and preventing equipment getting lost.
Taller fencing also needs to allow for clear views of the pitch or court, so mesh fencing is an excellent choice for both security, safety, and visibility. There are also lower heights available for games like football, rugby, or netball where stray balls are unlikely to cause injuries, and people want to view the pitch.
Ball stop fencing
Tall net fencing around sports facilities can be further strengthened to protect houses and windows in residential areas by adding a top rail. Particularly effective for cricket and golf boundaries, or behind rugby and football goal posts, ball stop fencing prevents damage to surrounding structures, as well as ensuring rigidity for the fence itself as it is a tall structure.
Noise reduction and acoustics
When specifying fencing for residential areas or school sports facilities, noise reduction should be taken into consideration. Whether to dampen the noise of shouts and gameplay, or to mitigate the sound of late-night matches, acoustic barriers can reflect or absorb the sound from sports facilities to minimise the disruption to others.
Multi Use Games Areas (MUGAs)
For multi-purpose courts and pitches that can support multiple sports, flexible fencing that can accommodate every activity whilst meeting the requirements above will ensure safety, security and a better sporting experience. Mesh fencing, with through-visibility, is a good choice, while double-leaf gates allow for improved pedestrian flow and enough room for emergency vehicle access.
Tennis court fencing
For a specific sporting facility, like tennis courts, there are purpose-built fencing solutions like tubular chain link fencing. With strong construction, this fencing will not sag over time, maintaining both its aesthetic appeal and functionality. Galvanised steel with optional colour powder coating enhances the durability of the fencing, while also enabling it to blend into the surroundings and add visual appeal.
Demarcation around playgrounds
Many sports clubs have playgrounds attached, meaning any fencing specified for such sites must take into account demarcation, pedestrian flow, visibility, and child safety. The fencing must meet regulations for rail spacing and have anti-trap properties to ensure youngsters do not become caught in the fencing. Colour coatings can also be used to both identify separate areas and gates, while brightening up the playground.
Stadiums and arena fencing
When specifying fencing for bigger sports events and stadiums, crowd flow and the safety of large crowds must be considered alongside the requirements for visibility, uninterrupted gameplay, and security. This could include counter terrorism measures, such as hostile vehicle mitigation bollards, or LPS 1175 rated fencing to protect the premises. For the perimeter of larger sites, mesh and vertical bar fencing offers the strength to keep intruders out as well as visibility, enabling it to work in tandem with CCTV. Acoustic barriers are often an option at top tier training grounds and arenas as they do not only stop noise, but also provide an elevated level of privacy and security.
To find out more about fencing solutions for sports facilities, playgrounds or schools, or for support and advice on the right type of fence for any commercial site, contact Jacksons Fencing today.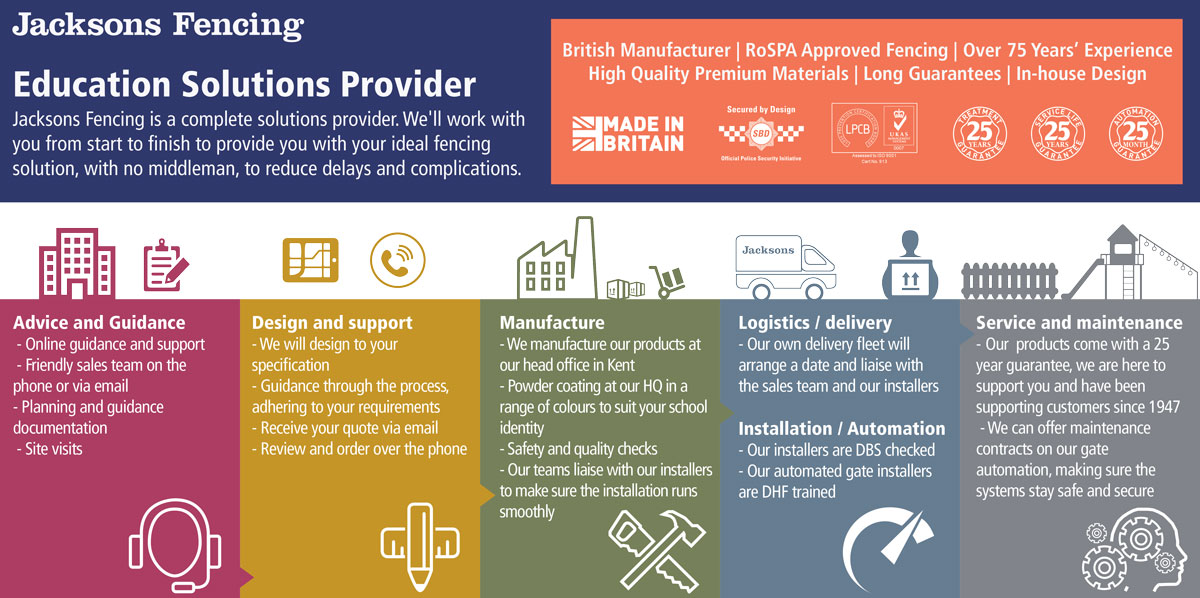 Related products
Jacksons Security has a range of products relating to this article, all complete with our 25 year service life guarantee. If you cannot find the item you are looking for, please do not hesitate to call our friendly sales team.