The familiar aesthetic of traditional metal railings conjures up images of the past. The earliest uses of cast iron railings in England date from the 18th century, and although some were removed during World War II, many from the Victorian and Georgian periods still stand.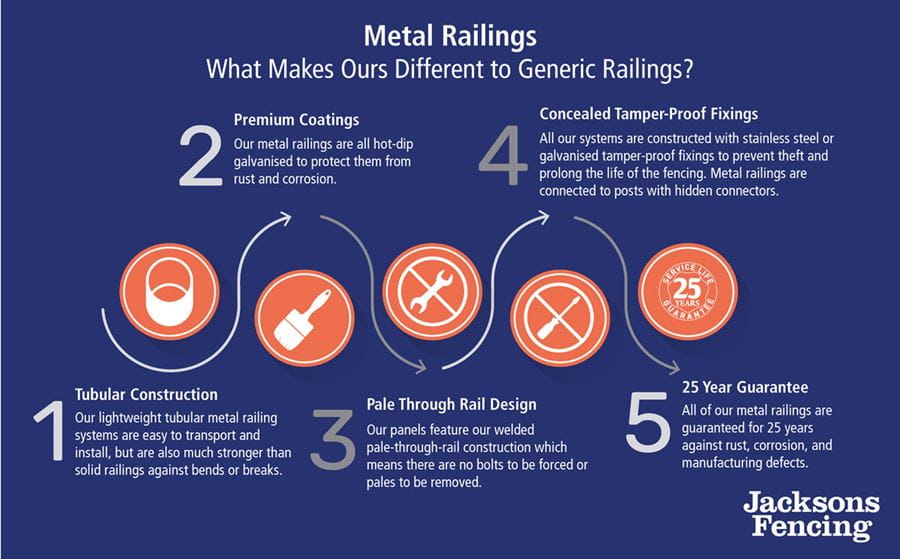 Historical railings can be elaborately ornamental and intricately detailed, yet one of their benefits is that they rarely visually overpower their surroundings. Allowing for sightlines through, their effect is to make an enclosed space feel less restricted.
Since they are an effective way to incorporate security while allowing passers-by to enjoy the scenery within, they are ubiquitous around parks and the fronts of properties. Also popular on walls and between brick piers, they can be combined with brickwork for a dynamic effect.
Challenges facing installers
In some areas, council planning regulations restrict the type of fencing that can be installed. It's not just conservation areas, either: local planners may be surprisingly strict about how the exteriors of properties can be modified to ensure they remain akin to their surroundings.
While traditional fencing made from wrought or cast iron can make for intricately ornamental pieces, these materials are seldom used now. Wrought iron especially requires a labour-intensive process as it needs to be manually hammered into decorative shapes. No longer produced on a commercial scale, it requires sourcing salvaged material which is then melted down and reworked by hand.
The high level of fabrication means higher manufacturing costs than those associated with steel fencing. As a result, wrought iron now tends to be used for bespoke applications only, which in turn pushes up lead times.
Benefits of tubular steel
Not only are traditional iron alloy railings costly and difficult to source, but the material is cumbersome. We manufacture tubular steel fencing, which provides an ideal alternative. The tubular construction means less material is required, making the finished product much lighter and therefore easier to install. And because the railings are produced on a larger scale, they are less expensive than iron.
Metal railings were traditionally installed by welding them in place on site, but the modern installation method is to attach panels to posts. Bolts are often used but they do not provide a seamless finish and this method is not as secure, as bolts can be removed to remove the panels and create a gap in the fence. Jacksons' metal railings use hidden, vandal-proof connectors and no visible bolts to securely attach panels to posts, creating a smooth finish and increasing security.
The steel posts and bars we use at Jacksons Fencing are galvanised, providing a long-lasting finish that also looks solid and attractive. Furthermore, while wrought iron railings are generally painted, tubular steel tends to be powder-coated. Unlike paint, powder coating does not chip or crack, which means a great deal less maintenance is required, and a long-lasting, glossy finish in a range of colours. An example can be seen below of how the coatings of our products differ from others; bubbling, cracks, and chips appearing and fading from black to grey.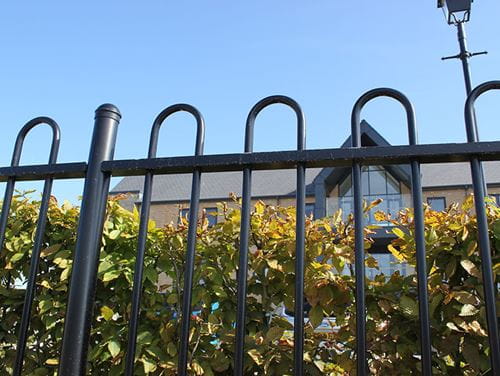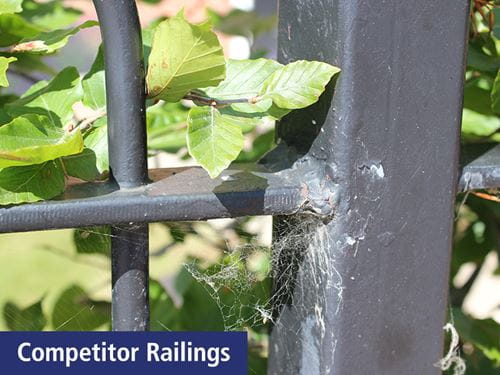 A special marine finish can be added to any of our products, should they be required for application in coastal areas, where extra protection against the elements is needed to keep corrosion at bay. All our metal railings also come with a 25-year service life guarantee.
Bow Top Fencing
Sometimes known as hairpin or hoop top fencing, our Bow Top railings are popular across a variety of commercial and residential applications. They are especially suited to educational facilities, however, providing high levels of security without any sharp edges where children might injure themselves. Characterised by the curved tops of the rounded vertical posts, Bow Top fencing has pale-through-rail construction with no visible joins, adding an extra layer of safety to a school environment.
Ornamental Fencing
Our Ornamental fencing is designed to offer a contemporary take on a classical theme, for environments where you need to match the traditional aesthetic of neighbouring properties. Different designs that mimic the gracefulness of wrought iron railings, are available for parklands, residential estates, gated communities, or any setting demanding a feeling of grandeur. The range includes fan-shaped end panels, which make for an eye-catching detail.
Estate Railings
Taking cues from traditional countryside fencing, Estate Railing panels and gates are a cost-effective alternative to replace traditional flat bar railings. Offering a lighter, balanced aesthetic with more breathing space between vertical posts, they are durable, elegant, and well-suited to parks and country estates.
Barbican® Imperial Residential
Designed for residential properties, Barbican® Imperial Residential has the same secure welded pale-through-rail design and tamper-proof fixings as its commercial sister product. With its slender pales and the option of adding finials, it can give a boundary a more decorative, personalised look. Cranked posts are also available, so it can easily be wall-mounted at residential properties.
Sentry® Residential
As a more elegant version of the standard Sentry, our Sentry® Residential fencing has a contemporary, refined look that makes it perfect for town or housing applications. Available in the full range of quality finishes, it is a multi-purpose product suited to both residential and commercial uses.
Contact us to find out more about our range of tubular metal railings.
Metal Railings Range
We manufacture a range of metal railings suitable for different applications, all with a 25 year guarantee.
View Range