With so many different types of fencing to choose from, and as many applications which require specific fencing varieties, it's possible to lose track of the exact type of fencing your next project might need.
You'll find clear, accessible guides to most types of fencing on the Jacksons Fencing blog; in this article we'll be looking at vertical bar fencing, its uses and benefits.
What is vertical bar fencing?
Vertical bar fencing has long been used to demarcate zones and secure both residential and commercial areas. Historically, it would've been made of wrought or cast iron, but today its made of stronger and more durable/sustainable materials, and offers a wider range of aesthetic finishes and accessories to enhance the look or strength of the fencing, such as powder coating finishes or barbed tops.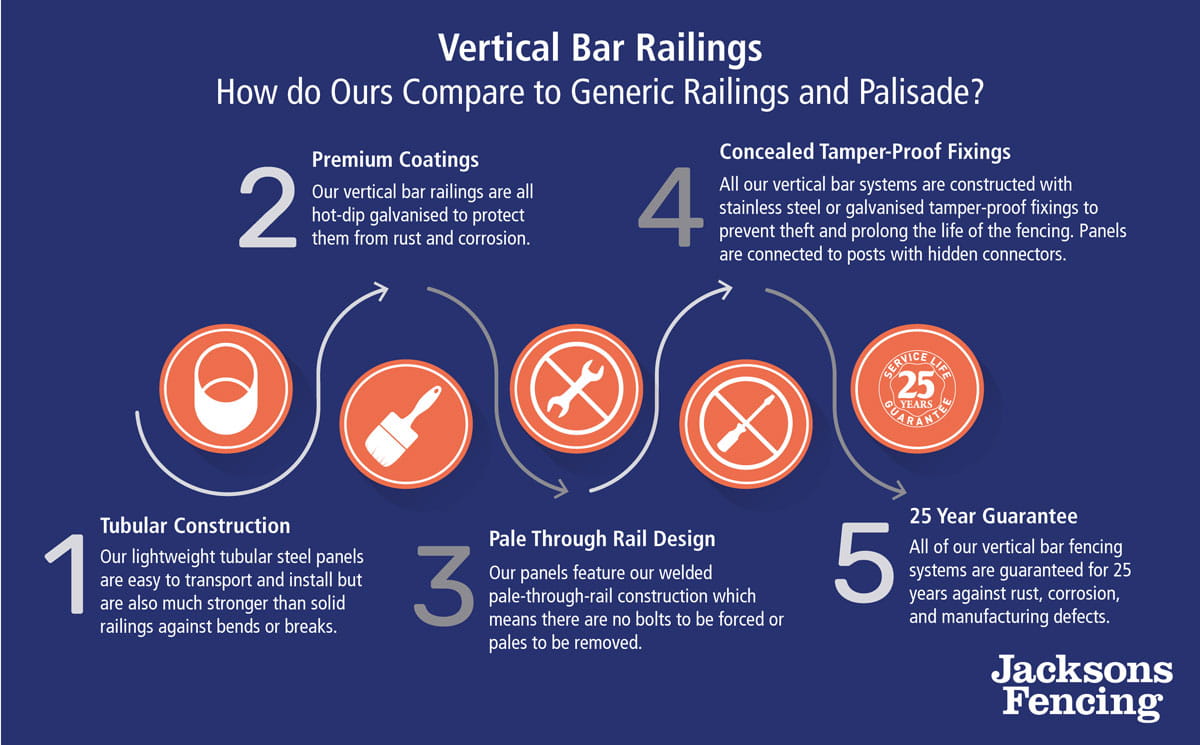 As cast iron could easily be shaped into classical forms, iron vertical bar fencing was a particularly popular choice for Victorian homes and gardens due to its elegant and non-threatening appearance. Today, vertical bar fencing has evolved to provide a modern fencing solution which should provide security as well as a similar aesthetic to traditional railings. Threats have also evolved, and fencing now needs to defend against modern threats such as power tools and even the theft of the metal fence panels themselves.
What are the advantages of vertical bar fencing?
Compared to many other styles of security fencing, for example mesh panels, vertical bar fencing offers greater strength and durability. The space between the pales also has less of an impact on biodiversity, as small animals can pass through, such as hedgehogs, which is essential for their survival.
Vertical bar fencing is typically seen in retail parks, tourism and leisure facilities, recreational grounds, residential estates, commercial properties, office buildings, car parks, schools, and light industrial sites. Due to its smart appearance, it has the ability to blend into many environments, and also provides good visibility through the fencing; increasing the effectiveness of CCTV and enhancing a site's overall security.
Specifying vertical bar fencing
When specifying vertical bar fencing for any site , there's a lot to look out for. Depending on the fencing's application, it will have different requirements; for example, commercial properties such as offices may need fencing that is secure enough to keep intruders out, but want to create a welcoming, relaxed environment for employees, so aesthetics are important.
When choosing vertical bar fencing, take note of security ratings, coatings, toppings and overall product quality to ensure you specify the right product for your needs. Lifetime value is important to consider – does the product have a long guarantee, and will it require much maintenance over time? These points also contribute to the sustainability of the fence.
Security ratings for vertical bar fencing
Before you specify any fencing, it's good to know the different security ratings and be aware of the different independent testing bodies that ensure a product is fit for purpose. For vertical bar fencing, look out for the following bodies and certifications.
LPS 1175 security rated fencing
The LPS 1175 certification, introduced by the Loss Prevention Certification Board (LPCB) , is a security rating that covers physical security products. To achieve LPS 1175 certification, a product must pass a number of tests including withstanding a physical attack and preventing a breach.
95% of products fail the certification assessment, but many of Jacksons' security fencing ranges, including our vertical bar fencing, have LPS 1175 options for sites that require a higher level of security and protection.
Did you know higher security vertical bar with a mesh and anti cut system exists? Our Trident 4 and Trident 5 are the only D10 and E10 fences on the market, designed by us.
NPSA rated fencing
Like LPCB, the NPSA (National Protective Security Authority) who were previously known as CPNI (Centre for the Protection of National Infrastructure ) is a body that certifies products are up to a specified standard of strength, durability and safety. NSPA-rated fences and gates have been independently tested to rigorous guidelines, guaranteeing their quality and security credentials. View our NSPA rated vertical bar fencing and other fencing options.
Secured by Design
A police initiative in the UK, Secured by Design focuses on the design and security of new and refurbished homes, offices, car parks and other public premises. With the aim of designing out crime, Secured by Design ensures that independent testing to a relevant security standard exists and gives successful products a Police Preferred Specification, a recognised standard that the product can deter and reduce crime.
Materials, coatings and designs for vertical bar fencing
Most vertical bar fencing is now made from tubular steel instead of wrought iron, as a stronger and less labour-intensive alternative to the traditional iron. Tubular steel also requires less maintenance, whilst being able to withstand the elements without warping or cracking, when correctly galvanised.
There are a range of coatings and designs available for vertical bar fencing, such as painting or powder coating, and ornate or in-built security toppings such as cranked pales and barbed spikes. It's important to bear in mind that any coating should be able to withstand rust and not weaken the fencing in any way and, for decorative designs, be aware of anti-trap standards that ensure people don't get limbs or necks stuck in the gaps.
Types of fixings used
Many modern vertical bar fencing panel and post systems are attached via bolts through the top rail into a protruding 'lip' which is welded to the post, however, this method of fixing can have its downfalls as it bolts can be removed to simply remove the panel and gain access. Jacksons' vertical bar fencing features welded pale-through-rail construction with concealed panel-to-post connectors with no visible bolts, ensuring an attractive finish as well as robust security. This method of construction makes it harder for vandals to damage the railings or remove pales and panels.
Jacksons Fencing and 25-year guarantee
At Jacksons Fencing, our vertical bar fencing is unique thanks to its strength, durability and style - and it's guaranteed to last you for at least 25 years. That's the longest guarantee for metal vertical bar fencing available in the UK.
Our vertical bar fencing is hot dip galvanised and can be powder coated on site by us, even for marine installations. Our products conform to safety regulations like anti-trap rail spacing and can be adapted for the level of security you need.
All our fencing is made in Britain by our expert team, part of the family business that has run Jacksons Fencing for over 75 years. To find out more about our vertical bar fencing, or any other fencing solutions we may have for your site, contact us today.
Or why not try our tool to compare vertical bar fencing styles ?
Related products
Jacksons Security has a range of products relating to this article, all complete with our 25 year service life guarantee. If you cannot find the item you are looking for, please do not hesitate to call our friendly sales team.