If you're looking to install fencing to enhance the security of your building or assets, you're probably in the process of exploring the range of products available to you and considering the best solution for your site.
In this piece, we focus on vertical bar and mesh fencing, taking a look at the features and benefits of each fence type. As each product lends itself better to certain situations, we explore the best applications and sites for these solutions.
Vertical bar fencing
Aesthetics
Sometimes, choosing the right fencing has to start with looking at the location of a building or asset. If you're based in a residential area or a community site where the aesthetic is important, such as housing developments, business parks, or public sector buildings, then the look and feel of the fence will be a key consideration.
Set the tone
Vertical bar fencing integrates well with its surroundings without compromising on security, and what makes this suitable from an aesthetic point of view, is that there are a range of options and styles to choose from. Whether you're looking to create a secure, yet non-intrusive presence or an intimidating structure that deters any attempts to breach security, vertical bar fencing can help you set an aesthetic 'tone' for your site.
Conservation
From a conservation perspective, vertical bar fencing allows small animals such as hedgehogs to pass through, which may be useful on residential developments. We discuss this topic in more detail in this blog post. On the other hand, if the objective is to keep them in a secure area, then mesh panels work best. With regards to human safety, vertical bar fencing should adhere to anti-trap regulations.
Secure design
Jacksons' range of vertical bar fencing includes a variety of products suited to different environments and levels of security. Unlike steel palisade fencing which can be easily compromised, each option within the Barbican range has a lightweight but strong tubular construction which incorporates anti-trap pale spacing, welded pale-through-rail construction, and hidden panel-to-post connectors with tamper-proof fixings. Each product in the range is galvanised to BS EN 1461 and can also be polyester powder coated to add a glossy, long-lasting finish.
Barbican is the baseline for the range, offering a simple security fencing solution with a smart appearance and all the benefits mentioned above.
Barbican Imperial, with its round pales, has a slightly softer appearance which lends itself well to sites such as schools and residential developments. Barbican Defender Extreme with its cranked pales, and Barbican Barbed Top, with its inbuilt spikes, are more intimidating for sites or premises requiring an imposing visual deterrent.
Adding to their security, Barbican railings can also work with additional anti-climb toppings providing an extra deterrent and security.
Matching gates allow you to create a seamless solution around your entire perimeter.
High security options
For higher security purposes there are tested and certified products available under the key industry Loss Prevention Standard, LPS 1175, which sets out the safety requirements around intruder resistance for security enclosures and freestanding barriers.
Mesh Security Fencing
This panel and post system is a more cost-effective option for large-scale sites while still providing superior security protection. When treated with a zinc alloy coating to give it superior rust and corrosion protection, and with wire gauge measurement taking place prior to coating, mesh security fencing is highly durable.
Climb resistance
With small apertures, lots of mesh security fencing such as Securi-Mesh offers increased protection against climbing, and has the ability to prevent objects from getting through. This includes small animals, which makes it a suitable solution for compounds or cages, as well as areas such as zoos or wildlife parks.
Cost effective
It is also ideal for locations that span large areas or perimeters, such as business parks, or locations where balancing security, surveillance, and cost are key considerations.
Versatile
Unlike vertical bar fencing, fixings are visible with mesh, but Jacksons' products are vandal and tamper-proof and some products such as our EuroGuard panels have the fixing located on the secure side of the fence. Even though mesh fencing is easier to cut through than vertical bar, Perimeter Intrusion Detection Systems (PIDs) can blend in easily with the metal wires to help prevent tampering.
Visibility
From a surveillance perspective, mesh fencing offers superior visibility due to the shaping and thinness of the metal allowing security teams to see clearly through the wires. Reassuringly, despite these characteristics which offer greater visibility, mesh security fencing still conforms to key security and safety requirements (including LPS 1175 A1 – E10) and comes with government approval.
Like vertical bar, mesh fencing is also available in a range of different coloured coatings designed to suit the location or purpose of the asset.
Ultimately, both solutions offer security in varying levels, and a wide range of benefits to cater for different project requirements. As experts in security fencing, we can help you find the best perimeter security solution based upon your site.
With over 75 years' experience, we deliver high-quality and highly secure fencing, all with a 25-year guarantee.
If you'd like further guidance on the choice of security fencing for your business premises, then get in touch. One of our advisors will be happy to help.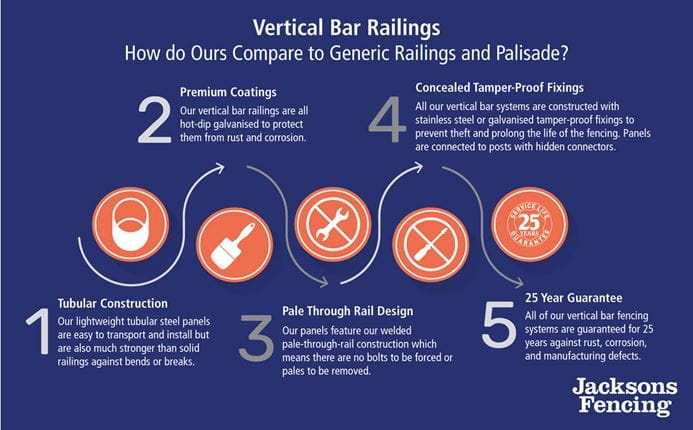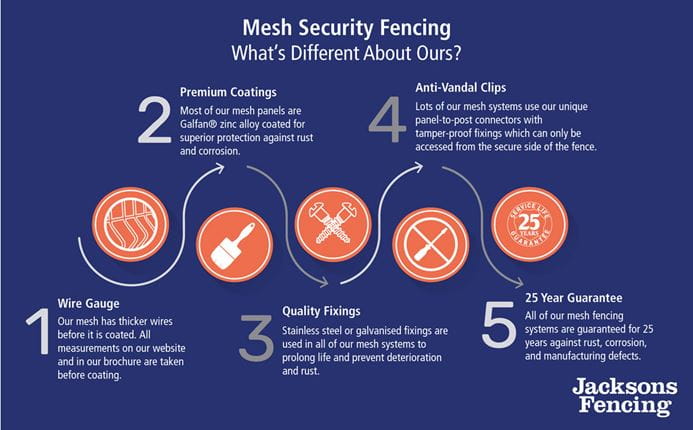 Vertical Bar Fencing vs Welded Mesh Fencing comparison tool
You may have more of an idea which fencing type you want for your site now, but if you still need guidance, try out our comparison tool below.
Try Comparison Tool
Related products
Jacksons Security has a range of products relating to this article, all complete with our 25 year service life guarantee. If you cannot find the item you are looking for, please do not hesitate to call our friendly sales team.