Vertical Bar Fencing is a versatile fencing system created to deliver a robust physical barrier for a wide range of low/medium security applications including education facilities, commercial premises, public spaces and residential settings. Vertical Bar is a well-established, timeless fencing design that offers a highly secure and aesthetically pleasing choice for specifiers, architects and end users alike.
Design
A key benefit to using Vertical Bar Fencing is the excellent visibility it provides for natural and electronic surveillance, as individual pales tend to be less obstructive than alternatives such as standard triple-point steel palisade and some types of steel mesh.
Vertical Bar Fencing has been designed to provide security, without creating an intimidating oraggressive appearance, making it ideally suited for sites where style, security and a welcoming atmosphere are key concerns. Vertical Bar's reputation as a highly secure fencing system comes from products like our Barbican® range, which features pale-through-rail design, making it tougher to breach, and leaving obvious signs in the event of an attempted breach.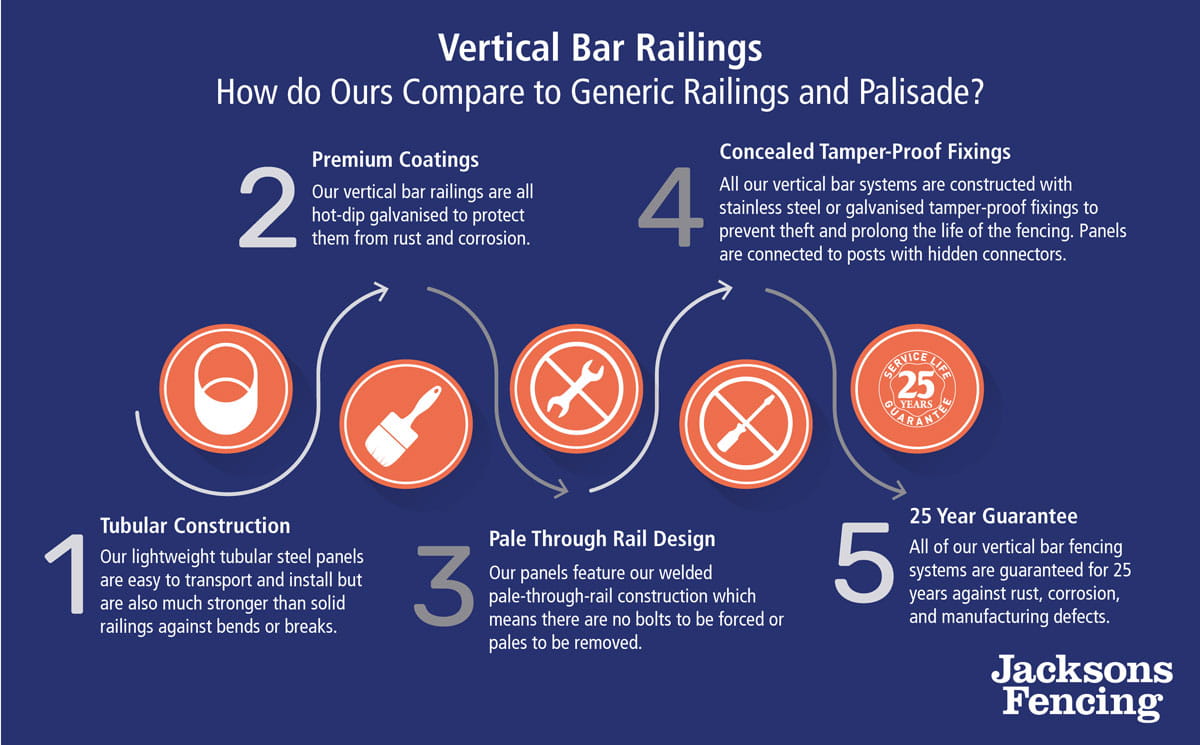 While Vertical Bar Fencing is designed to make it difficult for intruders to climb over the fence, it can be customised to be topped with Barbed Wire, Razor Wire and Rota Spike® for extra security. For sites where a less obtrusive fence topping is needed, our Security Comb fence spikes, provide a deterrent without an intimidating aesthetic.
Security Standards
When specifying for sites that require a higher level of security, Vertical Bar Fencing systems should be Loss Prevention Standard (LPS) 1175 certified. The minimum certification that can be attained is SR1; to achieve this certification, fencing systems must resist an opportunist attack using tools such as knives, cable cutters, screwdrivers and hexagon wrenches (Category A hand tools) for a maximum test duration of 10 minutes. For comprehensive information on Security Ratings and their implications for your projects, download our free guide.
Barbican® Vertical Bar Fencing
The leading example of Vertical Bar Fencing is the Barbican® range, designed over 26 years ago to be the most complete and adaptable range of fencing available. Since its inception, innovation driven by continuous research and development have made Barbican® fencing even more adaptable and durable, with over 12 different Barbican® Vertical Bar systems now available, including 6 which have achieved LPS 1175 SR1 from the LPCB.
All products in the Barbican® range come with a 25-year guarantee; an unrivalled quality assurance that gives you long-term security and complete peace of mind.
Related products
Jacksons Security has a range of products relating to this article, all complete with our 25 year service life guarantee. If you cannot find the item you are looking for, please do not hesitate to call our friendly sales team.