Perimeter security and access control around specialist rental business
Project Overview
Client
Dawsongroup
Date Complete
2015
Sector
Commercial
Background
Dawsongroup is an established leading specialist asset rental business which operates in several related markets within the European logistics sector. The company's rental portfolio includes over 17,000 assets and the site in question represented new premises to provide a secure storage facility to operate over 1000 rental vans. A well thought out physical security strategy was required to deliver an imposing line of defence and effective access control, to discourage intruders, whilst also presenting a professional and not overly intimidating first impression for customers.
Initial contact was made with Jacksons in July 2013, when Fencing Manager Paul Peers made two visits to the site to discuss the key factors influencing the security of the newly acquired plot, with Dawsongroup MD Steve Miller and Facilities Manager Steven O'Connor. The company's established credentials as a key player in the physical security sector and the proven reputation for delivering authoritative technical counsel had been a significant factor contributing to Dawsongroup's decision to make contact with Jacksons. As a business which prides itself on providing only high quality rental solutions, Dawsongroup was also attracted to the premium products and superior level of customer service synonymous with the Jacksons offering.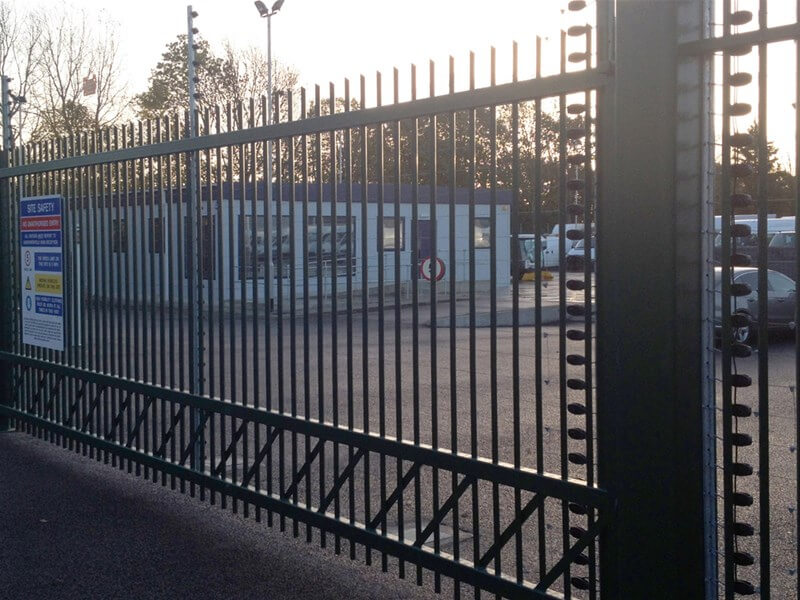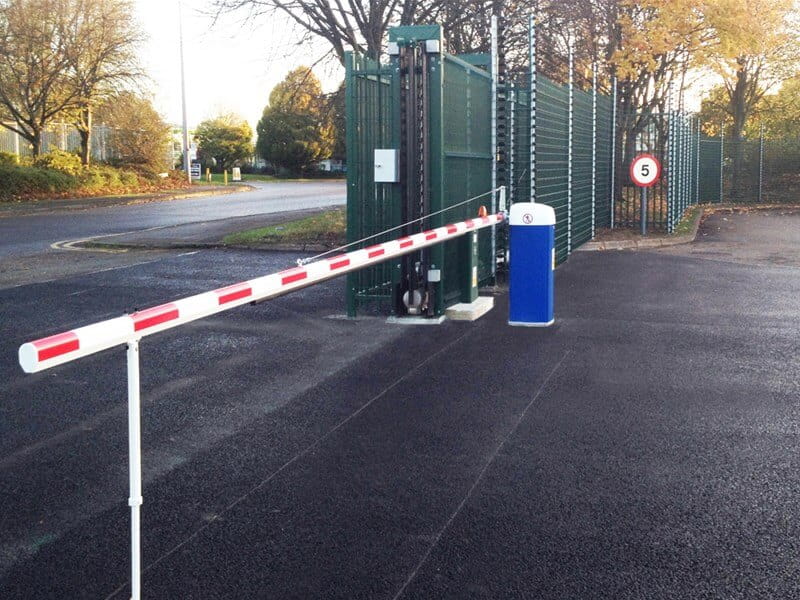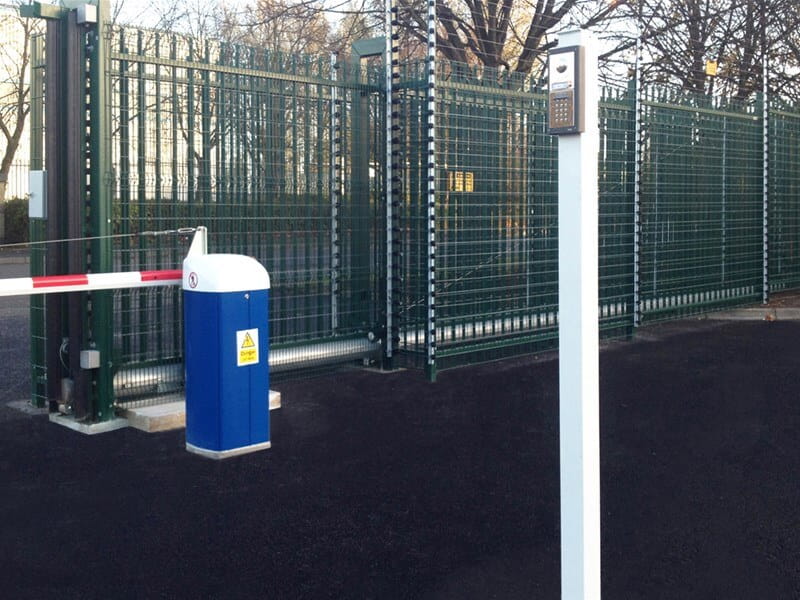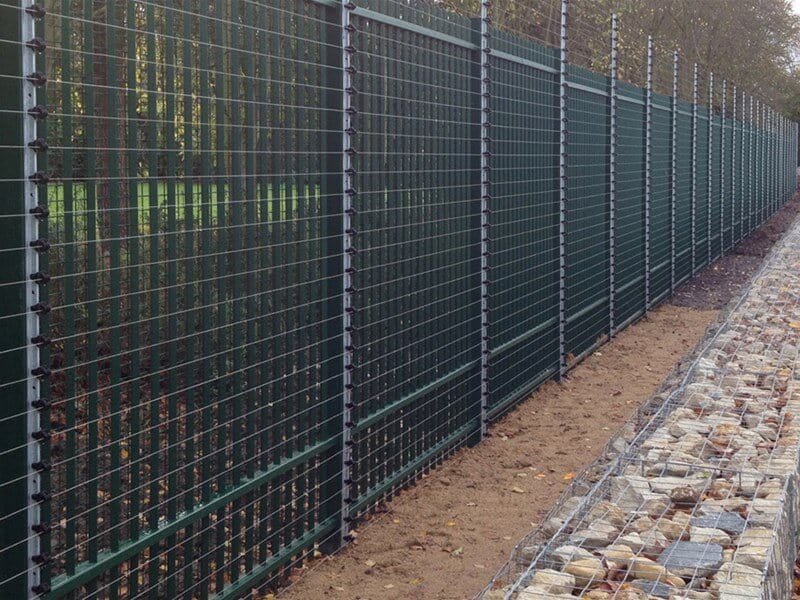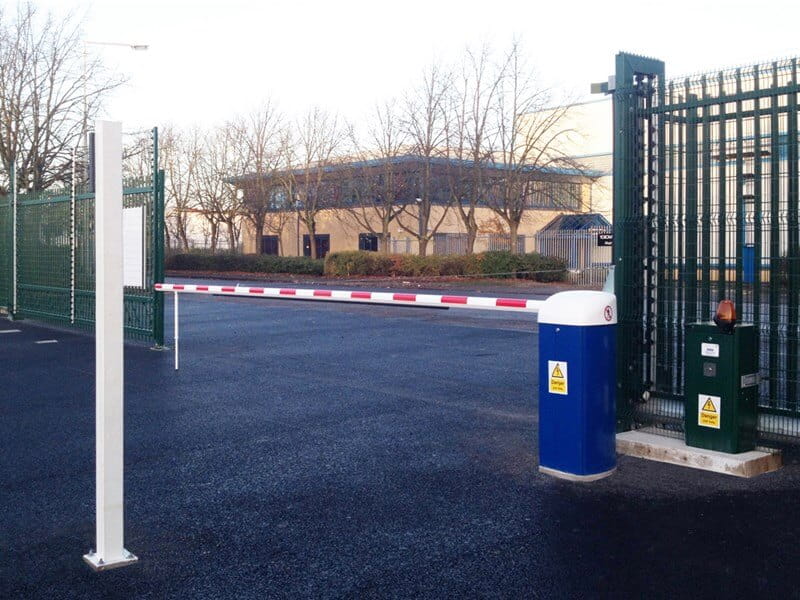 Solution
The first priority was to replace the existing temporary boundary fencing with a permanent, visibly robust and ultimately strong structure. Barbican square pale security fencing were selected, featuring the ultra secure welded pale-through-rail construction which renders it virtually impossible to force / remove the palings and force an entry.
Vertical pales are sleeved onto the rails and the panels discretely joined to the upright posts, resulting in a stylish design with no compromise on the overall strength of the installation. In total a 400m run of Barbican was required – at a height of 2.5 and 3m height to accommodate the needs of the site. The space at the rear of the property was identified as being potentially vulnerable to attack so the Barbican fencing in this section was reinforced with an additional cladding of steel welded mesh which provides an effective deterrent to dissuade attempts to pass any objects / valuables through the pales.
Once the perimeter was secured, attention was focused on addressing the complex issues in relation to delivering the best method of access control into and out of the site. The nature of the rental business dictated a regular flow of traffic, but there was a clear need to maintain a high level of security even when vehicles were being moved on and off the premises. An 8m wide automated sliding Barbican gate provides a commanding presence, supplemented by a 7m Barbican manual swing gate.
When both gate operations are combined, the extensive 15m wide access required by car loaders is created. However, on a daily basis, the automated Barbican gate is used to determine when the site is 'open for business', with a 6m automatic barrier and an intercom system ensuring only authorized personnel are able to enter the premises. As founders of the Gate Safe charity which promotes improved standards in automated gate safety, Jacksons was ideally placed to ensure the Class 3 automatic gate and automatic barrier were both fully compliant with the Machinery Directive and with any supporting guidance in relation to best practice for automated installations.
A row of three heavy duty Anti-Vehicle telescopic manual bollards have been installed inside the swing gate area to establish an effective means of preventing unwanted entry via this entrance point. A final layer of protection was added to the site by installing a run of electric fencing around the entire boundary.
The whole project from initial site visit to completion took just four months – and given the nine sets of layout plans required to finally agree the best method of securing the entrance area, this represented a time efficient response to a challenging project. The client is delighted with the results, so much so that Jacksons has been invited to review the company's other UK depots, with a view to upgrading the physical security measures in line with what has been achieved at the Dawson Road site.
Products Used
Manual swing gate
Ready to find out more?
To discuss your requirements please call us or fill out the form below and someone from our sales team will be in contact with your quote shortly.
Request A Quote
Related Products
Find related products for your order. If you cannot find the item you are looking for, please do not hesitate to call our friendly sales team.