Vertical bar fencing with cranked posts for the newly built Buttons Pre-School
Project Overview
Contractor
Beacon Group
Location
Kent
Date Complete
2017
Sector
Education
Background
Originally founded in 1870, Fegans is a Christian charity based in the South East which provides support for children and their families throughout the UK, via a range of specialist services.
During 2015 the main contractor, Beacon Group, began constructing a new 568sqm million pound family centre to replace an already existing dated community property located in Ramsgate, Kent. Designed as a multi-purpose facility Buttons Pre-School houses a nursery, play room, restaurant and amenity facilities for children and staff.
With approximately 20 children and staff onsite during open hours; ensuring complete safety for all parties was a key requisite for the project. Recognised as a leading perimeter security specialist Jacksons were identified as the right company to design and supply both a vertical bar fencing solution and timber palisade alternative for both the perimeter and internal areas of the school.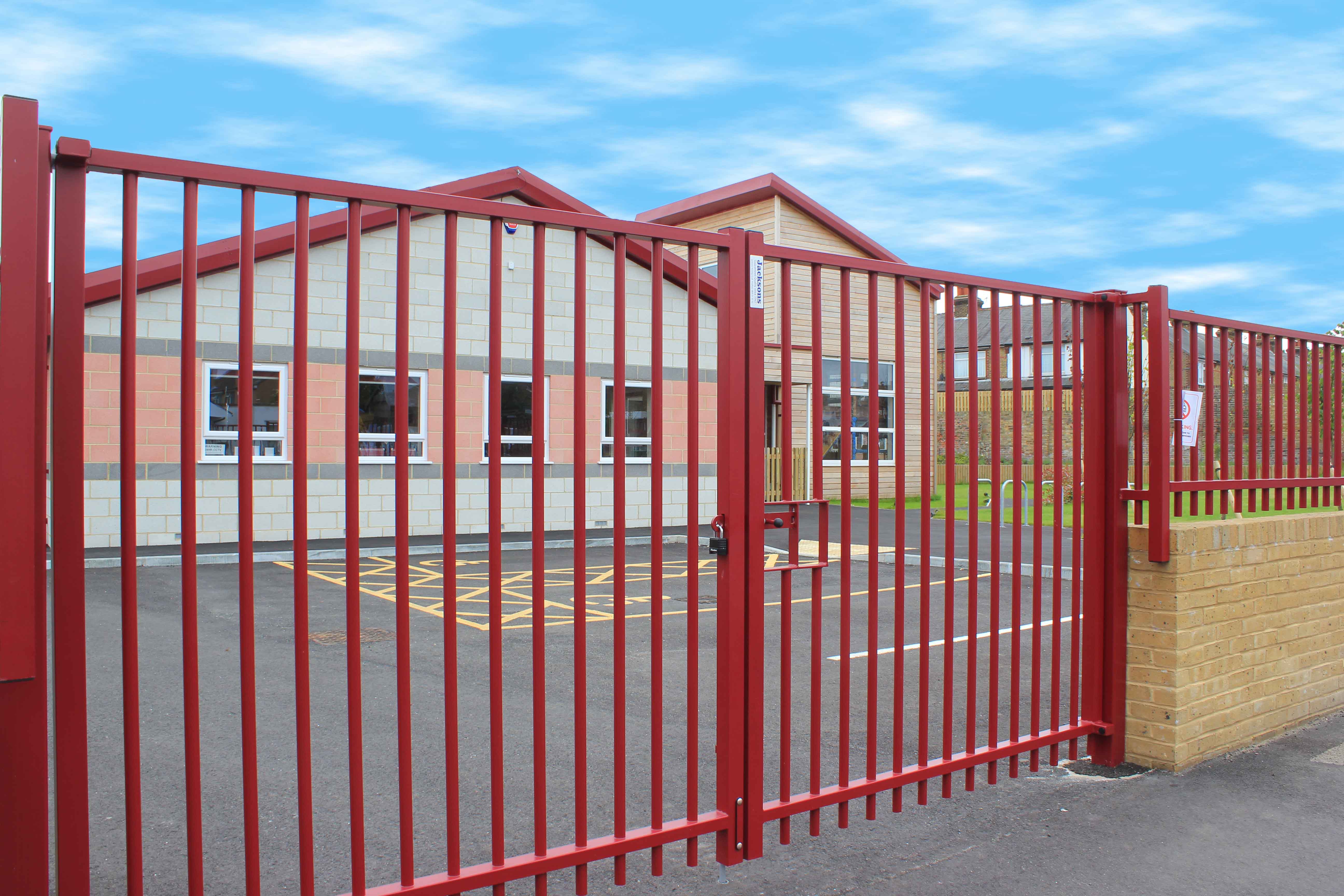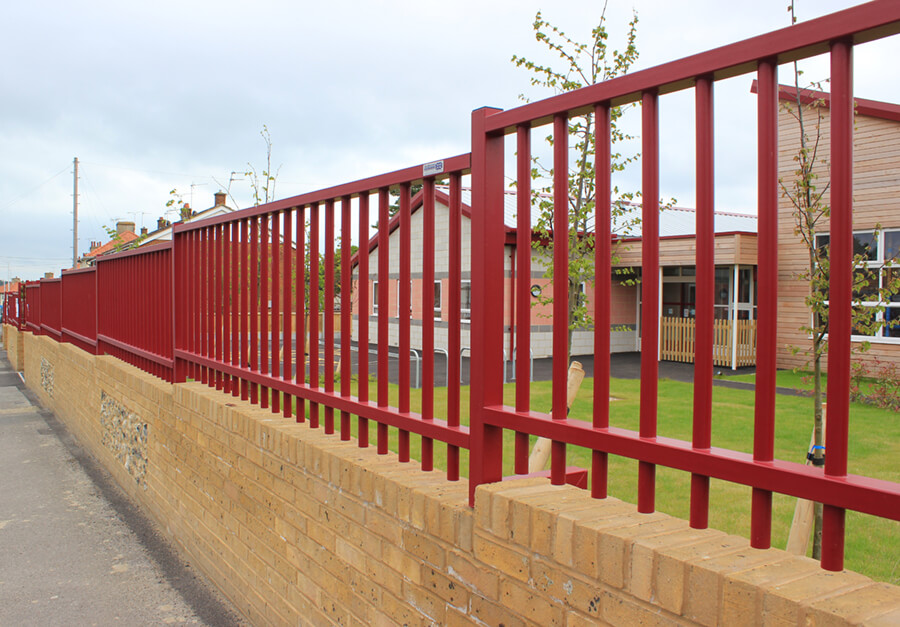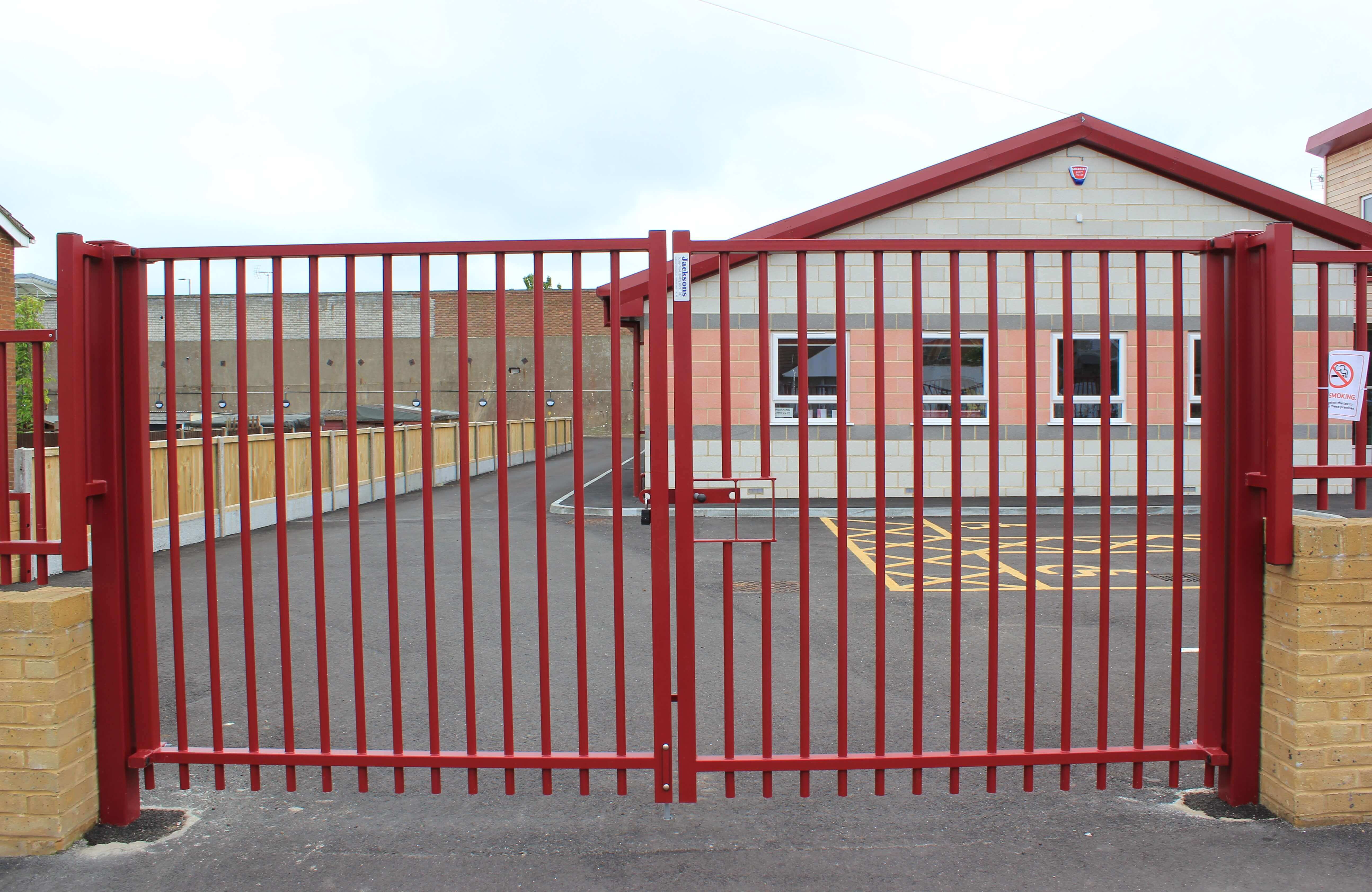 Solution
As the property is situated on Newington Road - a busy well known route regularly used by local residents, Buttons Pre-School felt it was necessary to choose a fencing system with anti-climb and anti-trap properties to improve safety and security.
Supplying over 60 x 1 metre high Sentry® fencing, the system was mounted on top of the existing 1 metre high boundary wall using our bespoke designed cranked fence posts whilst also being stepped to accommodate the sloping ground. With a fully welded tubular semi pale-through-rail construct climbing the system is notoriously tough, however still combines style with performance through a contemporary design.
To match the school's colours and to provide a warm and welcoming environment, the fencing and gates were powder coated in maroon RAL Colour 3004. Hot dip galvanised to BS EN 1461 Jacksons powder coating process employs the use of architectural grade powder which is less porous than the fencing powder traditionally used within the industry. This superior finish provides Jacksons with the capacity to offer a 25-year guarantee backed by our partner Akzo Nobel Interpon.
Another key element to the project was to ensure there was controlled access in and out of the site; this was achieved with the installation of two manual Sentry® gates installed at the entry and exit points of the car park.
To conclude, since opening in May 2016 the main supervisor for Buttons Pre-School Jane Williams said, "Jacksons Fencing did a great job supplying us with both types of fencing. It meets the safety needs of the school but doesn't compromise the overall design. It looks great!"
Ready to find out more?
To discuss your requirements please call us or fill out the form below and someone from our sales team will be in contact with your quote shortly.
Request A Quote
Related Products
Find related products for your order. If you cannot find the item you are looking for, please do not hesitate to call our friendly sales team.