Bespoke acoustic barrier for Sandwell Aquatics Centre
Project Overview
Client
Sandwell Aquatics Centre
Contractor
Wates
Location
Smethwick
Date Complete
2023
Sector
Sport and Leisure
Background
Sandwell Aquatics Centre in Smethwick is a brand new, state-of-the-art leisure centre which started off as a specially built venue for the 2022 Commonwealth Games in Birmingham.
The venue hosted more medal events than any other, featuring the swimming and diving competitions. The new building included a swimming and diving competition pool, a temporary swimming and para swimming warm-up pool, and a dry dive training area. Since its success hosting the games, the centre has now been transformed into a leisure centre with a 100+ station gym, 25+ station ladies only gym, sauna and steam room, football pitch, 2 4-courts, 3 exercise studios, indoor cycling studio, 3 swimming pools, and more.
The original venue was reconfigured, removing 4000 temporary seats, and adding new facilities for use by the community from the summer of 2023 onwards.
Within the proposal documents, Mach Acoustics provided two detail acoustic reports, one for operational noise and one for plant noise. In the plant noise breakout assessment, the acoustician detailed predicted noise outcomes from the mechanical plant room, which includes a number of pumps and air handling units. The acoustician recommended an acoustic barrier with louvre features to ensure adequate airflow. In a later amendment to the design, a solid acoustic barrier with slatted topper for airflow and aesthetics was specified. It also specified steel louvre doors.
Absorptive acoustic barriers are now commonplace around new and refurbished leisure centres, reducing noise pollution from mechanical plant and operational compounds. It is common for heat pumps and air conditioning units to emit a low humming or buzzing noise that can disturb neighbouring properties and cause sound levels to be unpleasant for members and visitors.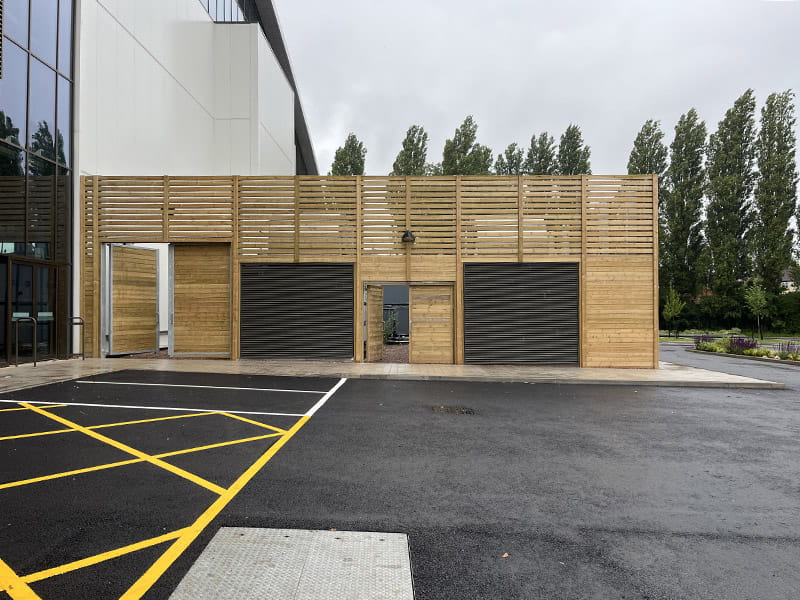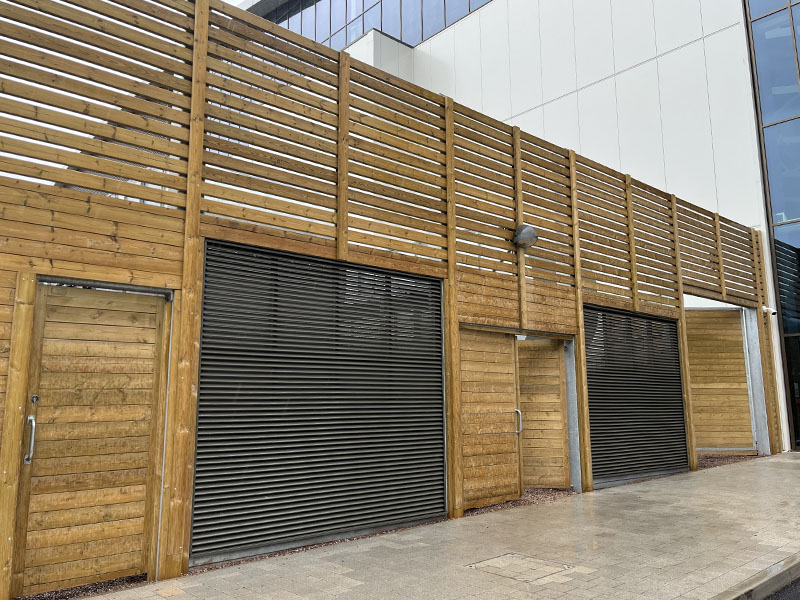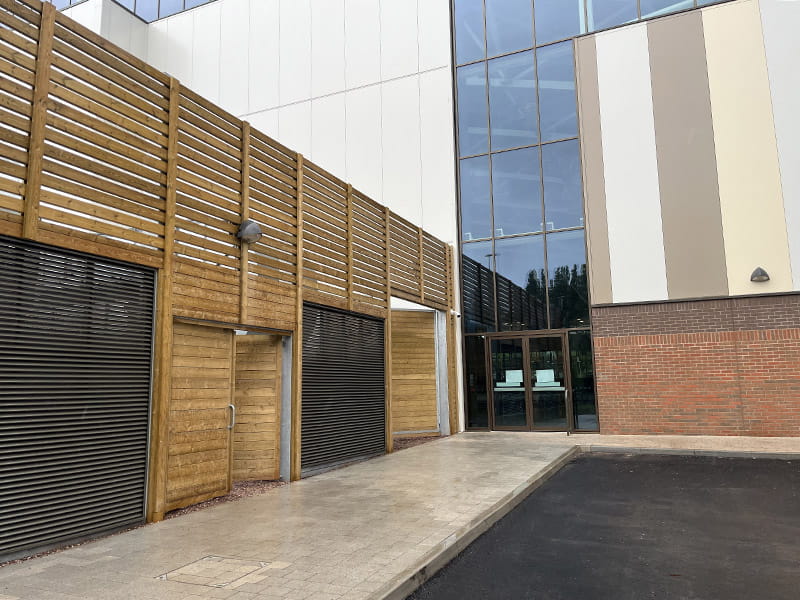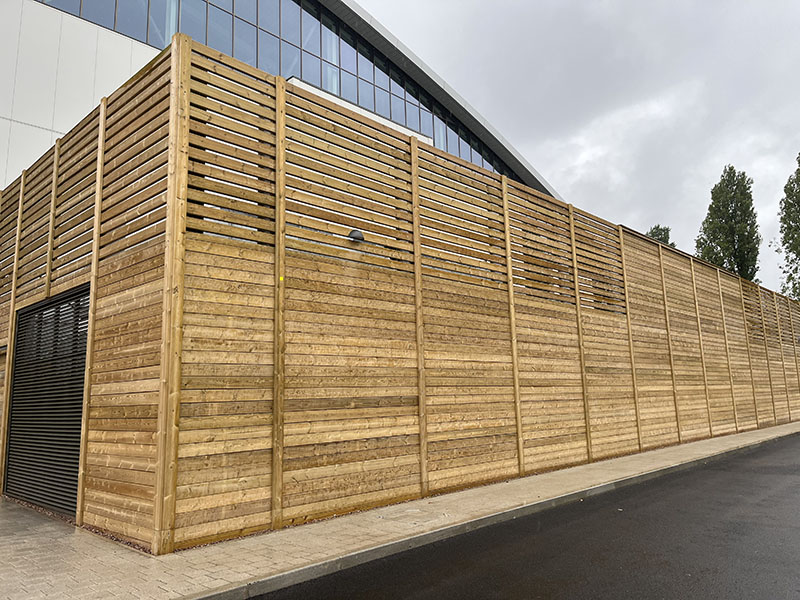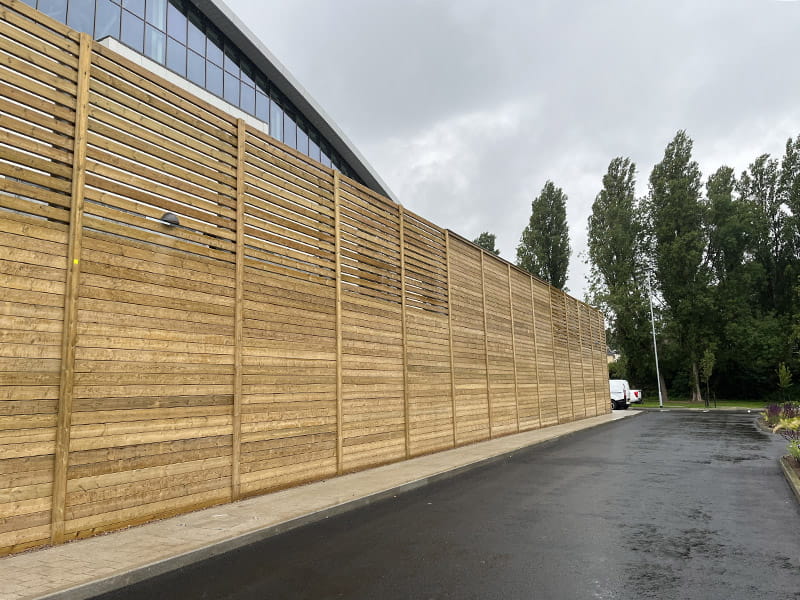 Solution
Having completed a number of similar acoustic installations for aquatics, swimming and leisure centres , we submitted a tender proposal for the work to act as subcontractor for Wates and were awarded the contract.
Acting as subcontractor for Wates, we produced bespoke drawings for the acoustic fence and gates, which we then manufactured, and installed in three elevations. The first consisted of 16.5m of 2.8m high Jakoustic Reflective with 2.1m high timber slats above. The second consisted of 11m of 3.2m high Jakoustic Reflective with 2.1m high timber slats above, 9.64m of 5.3m high, and 11.3m of 3.2m high with 2.1m high timber slats above. The third elevation consisted of 16.5m of 3.2m high Jakoustic Reflective with 2.1m high timber slats above. The varying heights of solid acoustic barrier were specified as the height required to effectively reduce noise, with the addition of the timber slats on top to improve aesthetics by breaking up the solid design, while enabling airflow. Matching double leaf acoustic gates were also installed for access.
Two apertures were left in the first elevation for the installation of steel louvre panels.
Installed on base plated galvanised steel posts, the acoustic barrier is created from tongue and groove boards with a deep V profile. They slot together tightly and reflect noise by up to 28dB.
The barrier installed not only provides an attractive noise solution that hides the machinery, but is also an effective security barrier; free from hand or foot holds and very difficult to scale.
Supplied with a 25 year guarantee, our acoustic fencing will help to reduce noise for years to come while presenting a long-term cost effective and sustainable solution.
Ready to find out more?
To discuss your requirements please call us or fill out the form below and someone from our sales team will be in contact with your quote shortly.
Request A Quote
Related Products
Find related products for your order. If you cannot find the item you are looking for, please do not hesitate to call our friendly sales team.