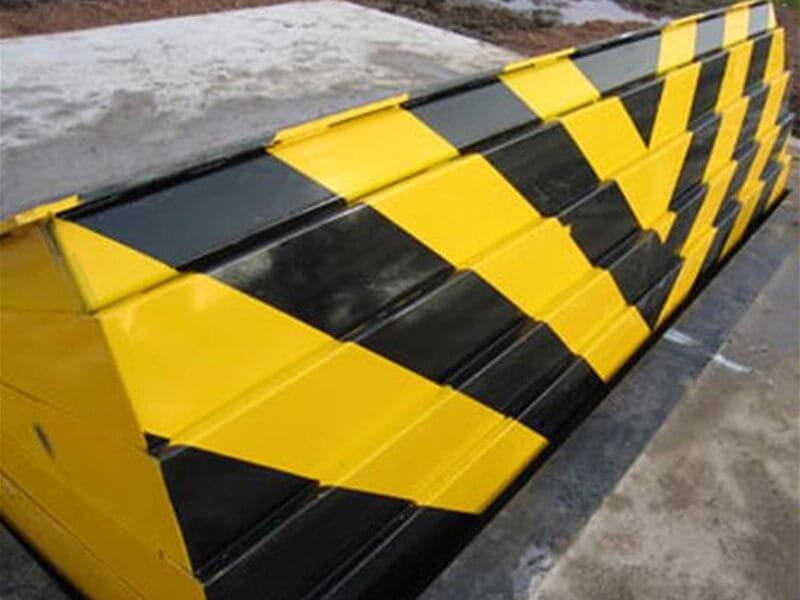 Hostile Vehicle Mitigation
PAS 68 Crash Rated Shallow Mount Road Blocker
The Crash Rated Shallow Mount Road Blocker has been designed to prevent the threat of potential terrorist attacks where high security is required.
Crash tested at MIRA (Motor Industry Research Association) the test was a great success, passing 100% with '0' penetration and still operational after use. It is driven via a hydraulic 7.5Kw power pack with inverter/plc controls which requires a three phase supply.
Crash Rated Road Blocker Features
High grade PFC and RHS
Aluminium curtain, 3mm skirt
Panels in 5 sections
Raised position height at 1050mm
Government sites: shallow 400mm nominal foundations
Easy removal on impact
3 phrase supply 415 VAC
PLC & inverter controlled
Performance Classification: V/7500[N3]/80/90:0/24.6

Finishes
Galvanised bottom frame
Top section powder coated
Anti skid paint applied to the top plate
Crash Rated Shallow Mount Road Blocker Specifications
Document Downloads
Download specification documents, drawings and case studies for this product
Vehicle Security Barrier Range
Browse our individual hostile vehicle mitigation products or view the full range below.
Browse Products