Green is one of our most popular colours as it can blend into most environments, available in a variety of styles - 358 securi-mesh, 656 or 868 flatform panels, v mesh, v mesh with timber, double skin 358, and LPS 1175 certified.
To make our green mesh fencing, our welded mesh panels are hot dip galvanised or Galfan® zinc alloy coated accordingly. We then polyester powder coat it with an architectural grade powder at our own facility in Kent. This provides it with superior protection against rust and corrosion and a lasting colour finish which does not chip or crack. Finally, it is supplied with a 25 year guarantee for peace of mind.
Product Quote for Mesh Fencing
Why green is a popular choice for mesh fencing
Green is one of the most popular colours for mesh fencing as it can blend into most environments without being obtrusive.
Transparency and visibility: the green colour of mesh fencing can look semi-transparent in direct sunlight due to the way light reflects off the surface of the mesh, making it look translucent at times.
Blending with nature: being a colour associated with nature, green helps to blend in with plants, trees, and wildlife, while creating a calm, welcoming environment.
Ideal for 'being reclaimed by nature', as plants can easily climb the mesh while the green colour helps it to blend in.
Makes areas look bigger: bright colours are able to reflect more light which creates the illusion of more space.
Matches colour schemes: green is popular because it is generally easy to match with existing colour schemes, and does not stand out too much.
Non-imposing boundary: green-coloured fencing provides a clear border to the boundary that is not intimidating by maintaining a natural and unobtrusive look.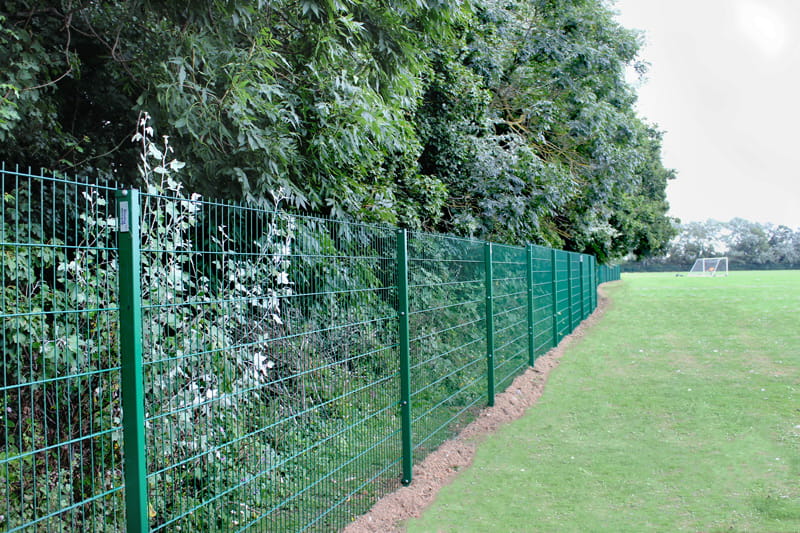 Euroguard® Flatform for school boundary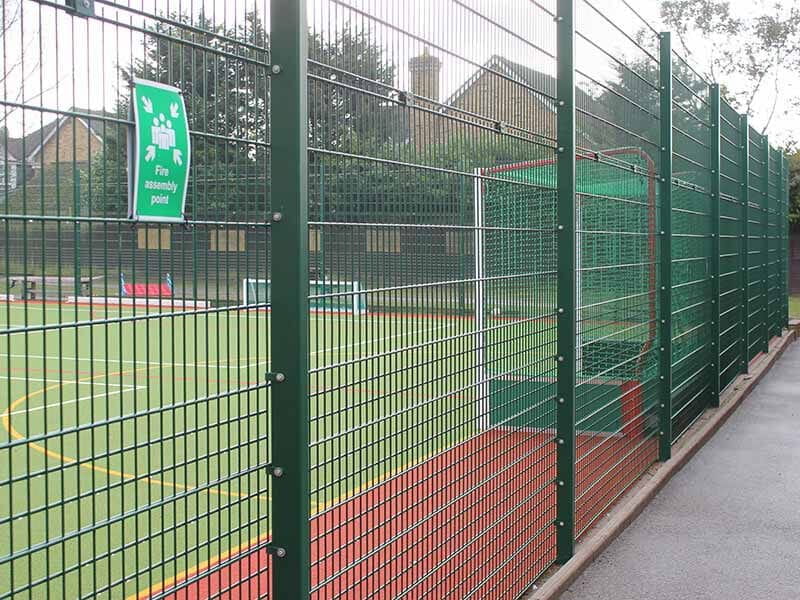 EuroGuard® Rebound Around School MUGA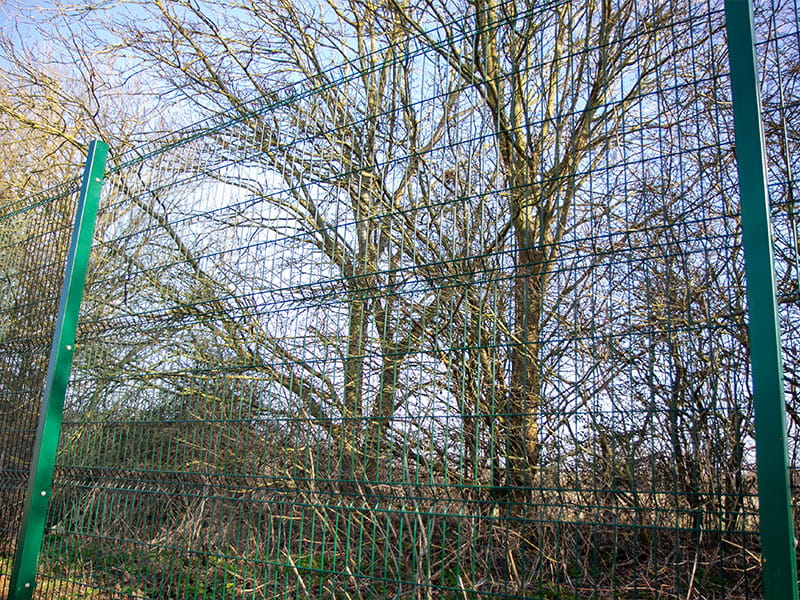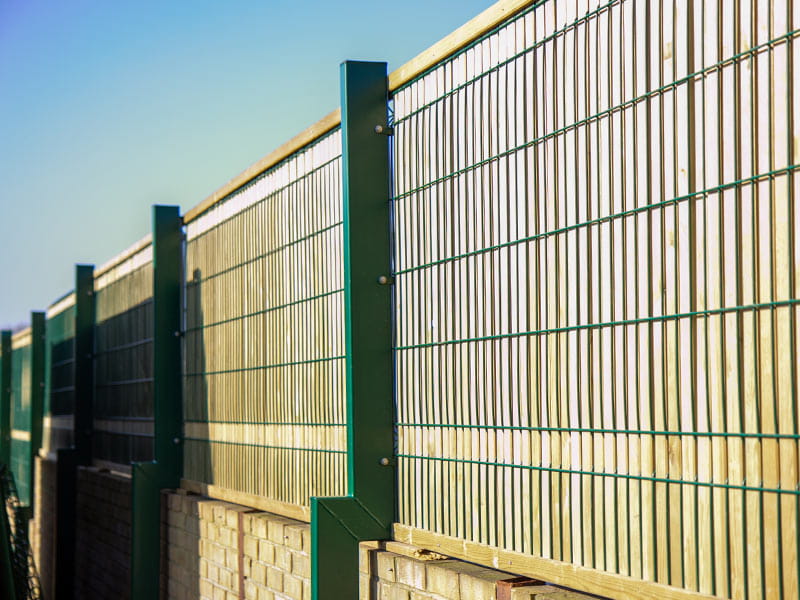 EuroGuard® Combi - Steel and Timber Fencing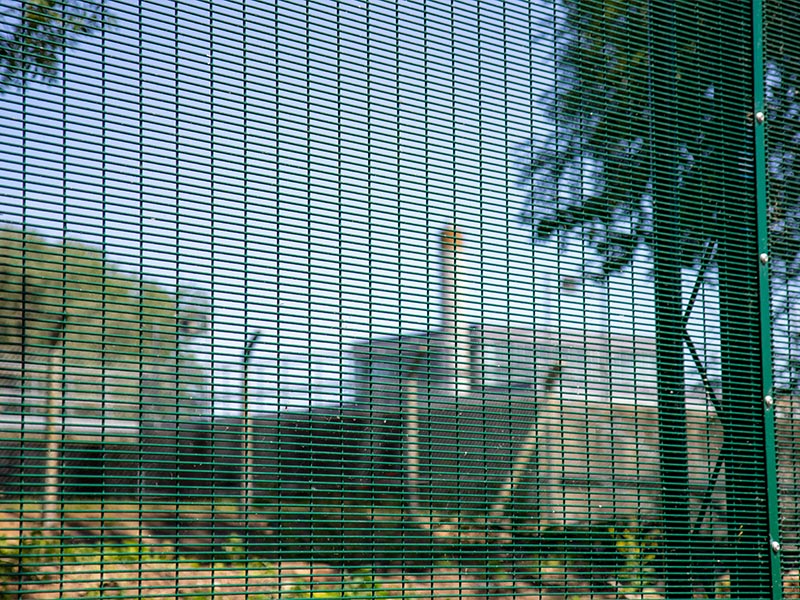 Securi-Mesh® RAL 6005 Green Detail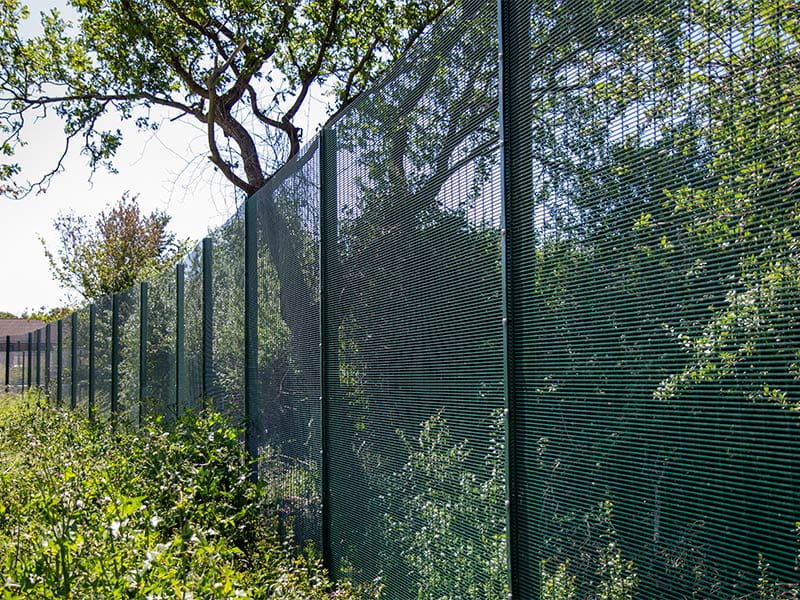 Securi-Mesh® fence run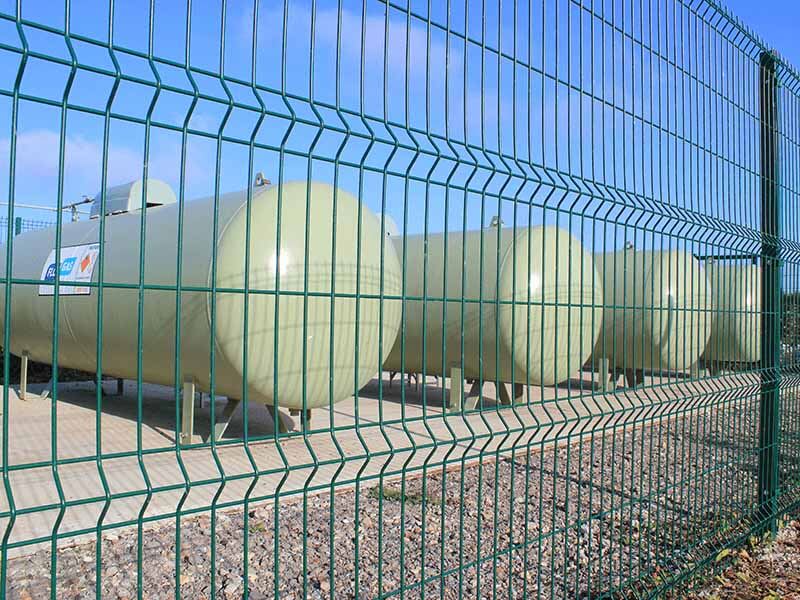 EuroGuard® Regular Welded Mesh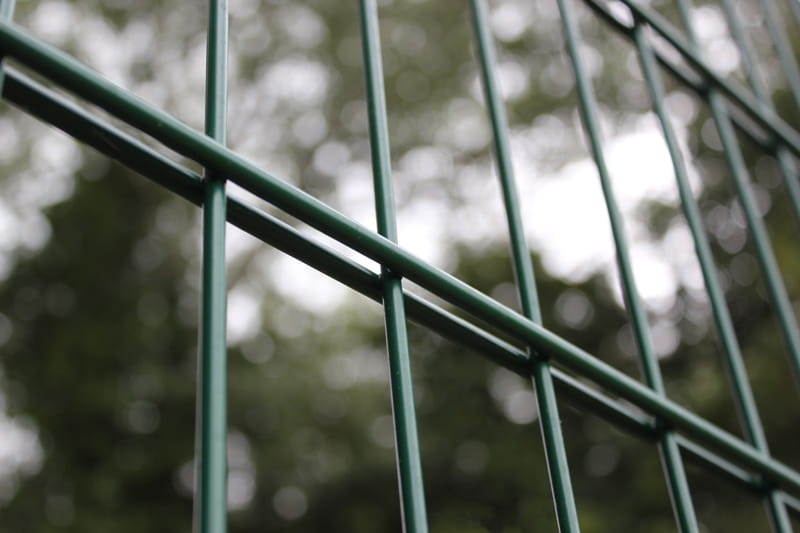 EuroGuard® Flatform fence detail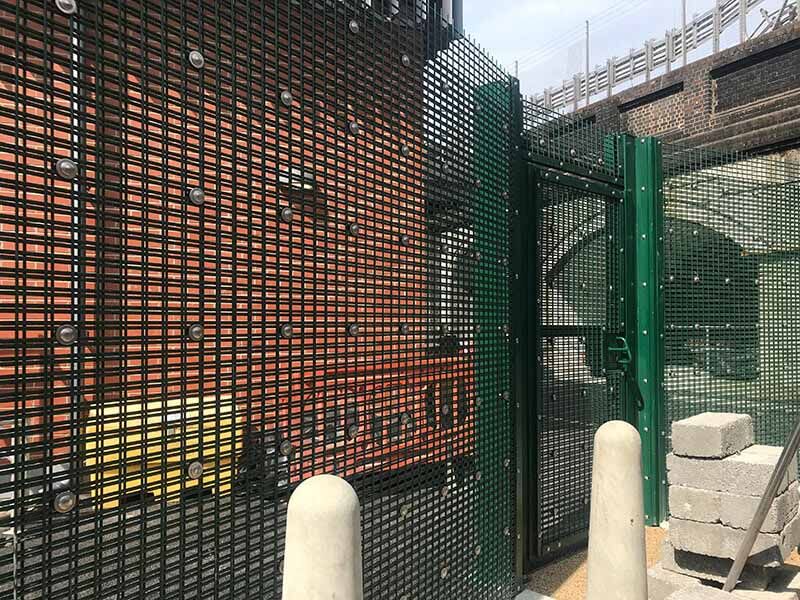 UHS Extreme Mesh C5 security rated fencing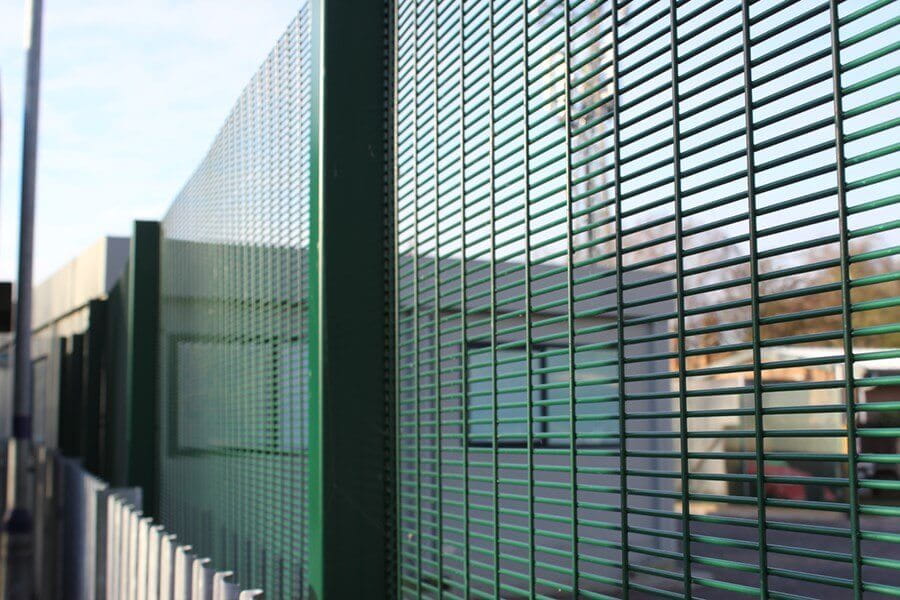 358 Securi-Mesh®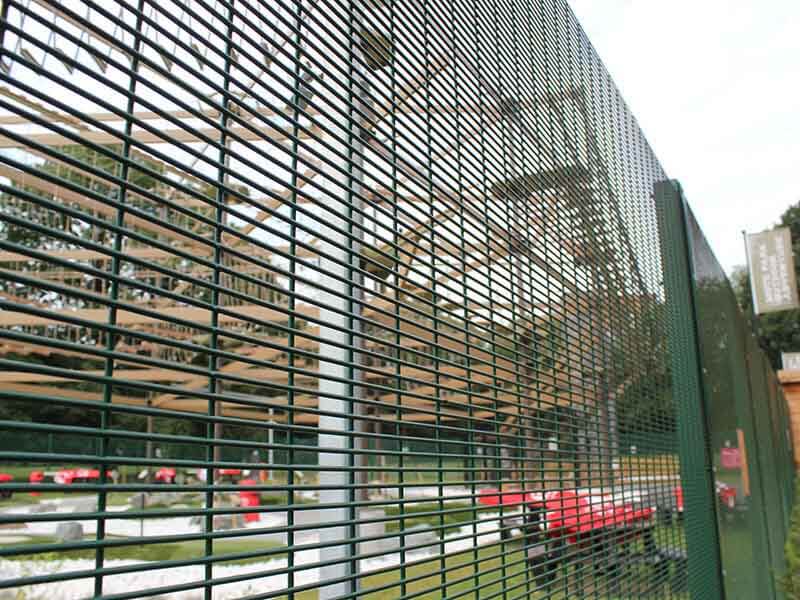 358 Securi-Mesh® fence panels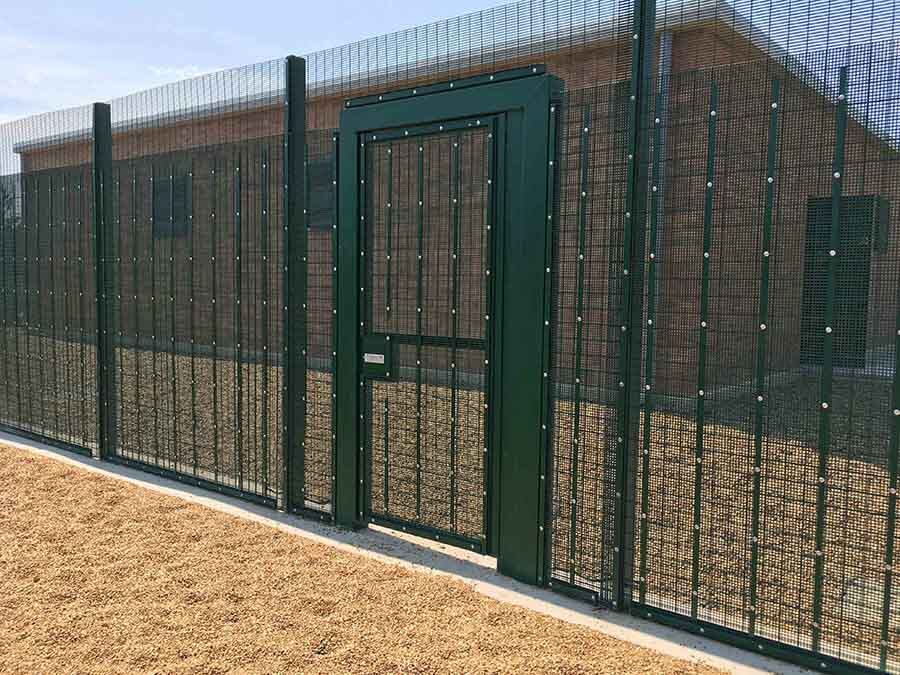 Securi-MEsh® Plus B3 security rated mesh fencing with pedestrian gate
Green mesh fencing and other colour options
We offer a variety of RAL colours as well as custom colours, the RAL colours to the right are available at our basic extra charge and custom colours can be provided upon request with a special surcharge. We can also provide marine coating that has been designed to prolong life span of fencing close to the sea.
Powder Coating & Finishes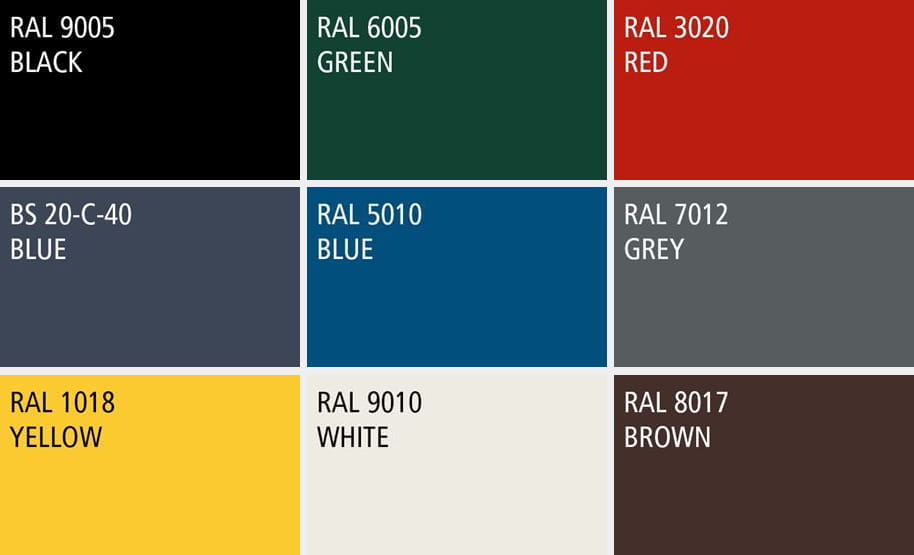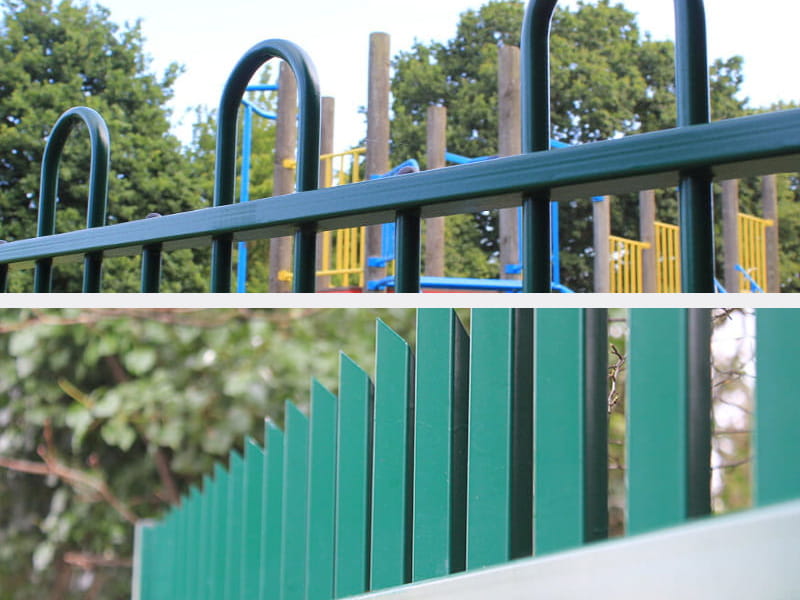 Other types of steel green fencing
Our polyester powder coating is not just for mesh fencing, we can coat a variety of our steel galvanised fencing including vertical bar and metal railings.
Vertical Bar
Metal Railings
EuroGuard® Welded Mesh Panels
The EuroGuard® range of welded mesh panels offers an ideal perimeter fence solution for schools, leisure attractions, commercial sites and even residential properties where there is a need for higher levels of security. There are different styles available, including a flat profile fence with horizontal twin wires, a flat profile sports rebound mesh, reinforced V mesh fencing with v shape profiles for strength and rigidity, and a steel and timber combination panel to increase privacy and aesthetic appearance with a natural timber façade.
Securi-Mesh® Welded Mesh Panels
Commonly known as 358 Mesh or Prison Mesh, our Securi-Mesh® range of welded mesh panels employs a climb resistant heavy duty mesh with small apertures and welds, meeting specifications including the use of CCTV, and where a visual deterrent is a key consideration. Securi-Mesh® panels have a single layer of close-knit welded mesh, while Securi-Mesh® Plus offers a double layer of mesh secured with tamper-proof fixings.
High Security Welded Mesh Panels
Our high security welded mesh panels have passed physical tests to a standard which gives each panel a classification indicating its protection level against a range of toolsets and attack times. Achieving a certified LPS 1175 Security Rating from the LPCB, these mesh panels are ideal for high risk areas where certified protection is necessary.