Care homes are unique facilities which cross the healthcare and residential setting, requiring fencing and gates which make people feel at home but also protect them from harm. We discuss the key aspects to consider when specifying fencing and gates for care homes including safety and aesthetics.
Types of fencing
Security is important at care homes and appropriately specified fencing and gates make the lives of staff and management easier; removing worries from unauthorised persons trespassing, or residents coming to harm or accidentally leaving the premises. The fence should be of correct height – at least 1.8m around secure areas, and gates should be locked with keys or keypads for staff access.
Recommended fence types:
Around the perimeter of a care home: usually a vertical bar or railing system that is pleasant and welcoming, fits in with the surrounding environment, and is installed at a height that can not easily be climbed.
Where privacy and security are needed simultaneously around the perimeter: EuroGuard Combi blends the security of steel with the natural appearance of timber slats which add concealment.
Around bin stores: EuroGuard Combi or solid timber fence panels both help to hide unsightly items while helping the storage solution to blend into the surroundings.
Around areas that make noise such as generators, air-conditioning units, or along road sides: timber acoustic barriers provide a pleasing aesthetic, increase privacy, and reduce noise to create a peaceful environment.
Around car parks and for demarcation: Timber Palisade fencing, Bow Top, and Sentry residential railings provide a welcoming entrance around the front of buildings and to guide people to the right place.
Landscaping items can also be included in the layout of the outdoor space such as timber sleepers to create raised flower beds and pergolas to cover seating areas and add height and interest.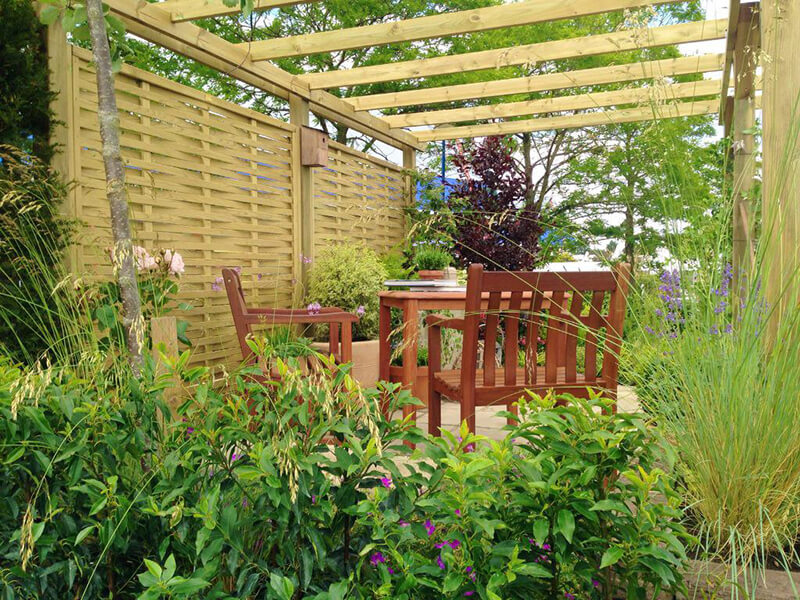 Safety is paramount when it comes to care homes. Fencing and gates for care homes should be designed to prevent injury in the event of someone coming into contact with them. They should be free of spiked toppings, conform to anti-trap regulations, and be made from appropriate materials with suitable coatings and finishes. A polyester powder coating does not flake and peel away like traditional paint does, ensuring a high quality finish for years to come and preventing any sharp flakes of paint causing harm. Similarly, a timber fence should have a planed finish to minimise the risk of splinters and be treated for longevity, reducing any chance of rot that will impact the appearance and could cause safety issues. The perimeter should be regularly checked for damage or any risks that could harm or upset residents. Emergency gates with the likes of push pads must be kept in good condition, kept clear, and regularly checked that they easily open to prevent any delay in getting to safety if required.
In places with vulnerable people, investing in quality items can help in a number of ways. Fencing that has not been properly prepared for life exposed to outside elements will deteriorate rapidly. This includes metal fencing that has not been hot dip galvanised and timber fencing that has not been pressure treated. An average, dip treated timber fence lasts around 5 years before it needs replacing. If a fence is continuously being replaced in a care home, this can cause disruption as areas of the home may not be able to be used during the installation. Not only is this inconvenient for staff, it can also be highly unsettling and confusing for inhabitants who are used to a routine and nervous about change. Not to mention the increased cost of repairing and replacing fencing time and time again. All of Jacksons' timber and steel fencing comes with a 25 year guarantee against rust, insect attack, rot, and manufacturing defects, protecting the customer from the day of installation should anything go wrong.
Aesthetics
Aesthetics are extremely important in and around care homes to improve quality of life for residents, particularly those staying long term. There have been many studies over the years of the impact of the environments we dwell in, on both our physical and mental health and wellbeing. An article in Care Home Magazine 2023 concluded that 'finding the right balance between functionality and aesthetics is essential in care home design', 'incorporating visually appealing elements, can greatly enhance the overall wellbeing and quality of life for residents'. When it comes to outside areas such as the gardens, visual cues can help to make residents more relaxed and comfortable, and this also extends to the feelings of family members visiting or considering the care home for relatives. An outdoor environment that looks to be safe and secure will help increase confidence and trust in the home.
Gardens help to give residents freedom and access to the outside world, and the right fencing and gates help to provide a safe, controlled area for exploration. The aesthetics of the fencing around the care home are just as important as the planting and furniture and should be considered in the design, being sympathetic to the setting. Fencing can blend into the landscape of the garden or contrast the planting, and should always prevent the space from feeling like a prison or even a hospital.
Timber fencing (planed, not weathered), can be used to provide privacy and screening within gardens. Visibility also plays a part in aesthetics. Depending on the surrounding environment, residents may enjoy being able to see outside the confines of the care home. If the wider surroundings are interesting, a semi-solid fence panel like Venetian can be used to provide a view. We recommend that an additional perimeter security fence is also installed beyond the garden if timber panels are used within. Some security fencing options incorporate good aesthetics in their design, such as Bow Top fencing. Available in a range of heights, its gentle curved design adds character, which paired with tamper-proof panel-to-post connectors and welded pale-through-rail construction wraps security and looks into one fence, saving money at the same time.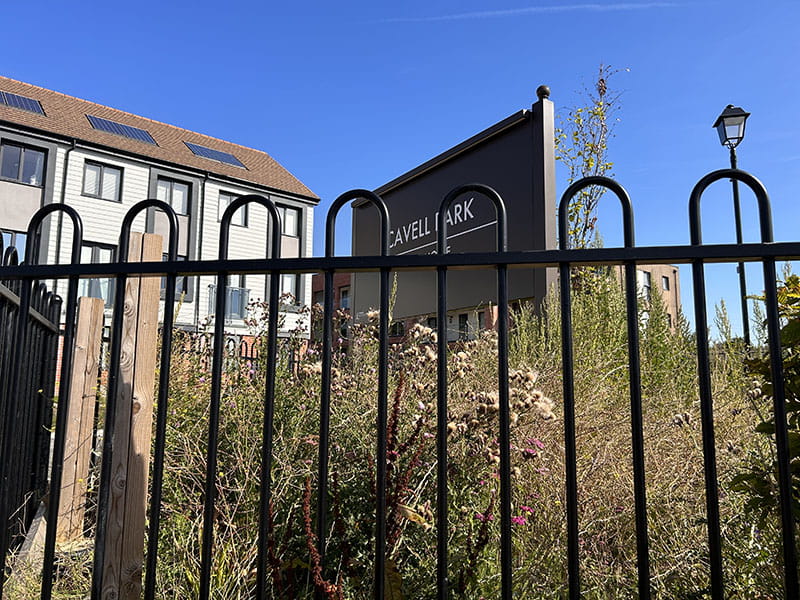 The aesthetics of car parks and other areas of the care home are also important to consider. Simple solutions like hiding bins in storage compounds improve tidiness and also increase sanitation. The views that residents see from windows of the home are not to be overlooked either. Staring out at a dull, unsightly fence that reminds occupants of where they are will soon decrease optimism and positivity. Often, the car park is the first place that visitors and prospective families will see and first impressions count. The appearance of these areas including the fence that surrounds the entrance will be a good indication that the home is well funded and maintained. This simple aspect can also help to boost the morale of frequent visitors to relatives in the home.
Colour is also important when it comes to care home fencing and gates to help elicit calm or creative moods. For metal fencing, a polyester powder coating should be specified to add colour. An elegant black can help to create a luxurious feeling, while bright, contrasting colours can help short-sighted and dementia patients to interpret their surroundings more easily.
Read about the fencing solution we provided for one care home below:
Related Products
Jacksons Fencing have a large range of related products, all complete with our 25 year guarantee. If you cannot find the item you are looking for, please do not hesitate to call our friendly sales team.