When visitors enter a zoo or wildlife park, it's unlikely that they will give much thought to the security fencing and systems in place that make it possible for these tourist attractions to exist.
While mistakes and factors beyond human control are bound to happen, as we've heard on the news over the years – tigers escaping from cages where electric fencing has been turned off, or bears and monkeys escaping via trees which have fallen in storms – there is no excuse for animals and people being put at risk simply because of poor quality fencing and gates. By their very nature, zoo owners have a responsibility to keep both the animals and public safe, and fencing plays many important roles in zoos and wildlife parks, including: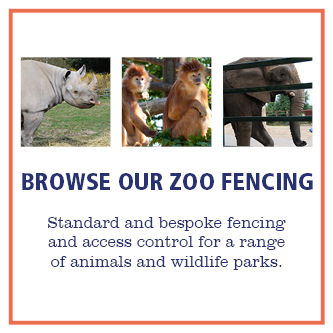 Prevention of animal theft
Prevention of animal escape
Prevention of contamination or outside contact with animals
Creation of safe areas (airlocks) for keepers to enter enclosures for maintenance, cleaning, and feeding
Allowing good visibility for visitors to view the animals
Keeping animals and humans at a safe distance from each other
Protecting endangered and vulnerable species
Making the animals feel safe and comfortable
Giving confidence to visitors that they are safe
Preventing wild animals (such as foxes) from entering enclosures
Creating a good flow of direction around the zoo or park, using bollards, demarcation fencing and gates for restricted areas
What it ultimately comes down to is that fencing in zoos should be fit for purpose to keep animals in a designated enclosure, with humans at a safe distance, while also creating a welcoming environment that provides good visibility.
So, what are types of fencing are available to park management officials who want to fulfil this need? Here are just some of the services that we provide here at Jacksons Fencing:
Perimeter fencing
Security fencing should be used for the perimeter of the zoo or wildlife park to keep it secure when closed. In addition to the fencing around zoo enclosures which needs to be strong and secure enough to stop animals breaking out, the zoo perimeter fencing should prevent people breaking in for theft or thrill-seeking purposes.
Standoff fencing
An additional line of fencing around the main animal enclosure, which indicates where visitors should safely stand (i.e., around mesh cages where there may be the potential for human/animal contact). This is usually made from timber, such as post and rail fencing, which provides a suitable natural aesthetic for the park in question. Kiln-dried, pressure treated timber guarantees strong and high-quality fencing that prevent visitors from damaging it easily. The tops of standoff fencing should be triangular to stop children sitting on the fence and reducing the possibility of them falling back.
Demarcation fencing
An example of this would be knee rail fencing around grass verges, which keeps the zoo or park looking neat and well-presented to visitors.
Enclosure fencing
Different animals will have different requirements for fencing - i.e. the abilities of the animal (jumping, climbing), the size, and the risk level involved with human contact. We have created a number of animal enclosures for various zoos in the UK, with mesh panels and bespoke timber and steel constructions. Mesh fencing is ideal for providing visibility around animal cages and enclosures, but not all mesh fencing is created equally. We suggest opting for mesh panels with vandal proof connectors and anti-tamper fixings.
Temporary fencing
This is normally used for queuing, particularly on event days where larger numbers of visitors are expected.
Playground fencing
Zoos, nature reserves and wildlife parks will sometimes provide play areas for children, and suitable fencing is often required to ensure that these zones are safe. Playground fencing should be made from smooth, planed timber or galvanised steel; be free from splinters, peeling paint, and loose fixings; have a safe topping; be installed at a safe distance from any equipment; have anti-trap properties; and be RoSPA approved to BS EN 1176.
Acoustic fencing
Some animals are sensitive to noise and have been proven to benefit from acoustic barriers. These could be installed along one side of an enclosure – i.e., along a roadside or next to an event area. As they are solid by nature, they do not allow viewing, so are unsuitable for use around whole habitats.
Acoustic barriers can also be used in the construction of quiet areas, for animals which are ill, stressed, pregnant, or need acclimatising, allowing them a peaceful retreat from the eyes of the public, when required.
For zoo fencing to perform optimally, it must also be installed correctly. We have experience of designing and installation all types of zoo fencing, from standard standoff fencing, to bespoke enclosures for large animals including elephants.
Whatever your fencing needs, the quality should be high, encompass tamper proof fixings, appropriate mesh gauge (measured before coating), and have guaranteed long life, as fence replacements are tricky and tend to involve moving animals. We provide premium coatings to prevent rust and corrosion, utilising galvanised or zinc alloy finishes, or powder coating which adds colours that blend well and create an attractive environment.
To find out more about what we can offer your zoo, nature reserve or wildlife park, get in contact with us here and one of our advisors will be more than happy to talk you through the process.
Related products
Jacksons Security has a range of products relating to this article, all complete with our 25 year service life guarantee. If you cannot find the item you are looking for, please do not hesitate to call our friendly sales team.