Heritage sites can include churches, cathedrals and abbeys; palaces and stately homes; and natural landscapes and gardens. Usually managed by The National Trust and English Heritage, there are also World Heritage Sites, landmarks, or areas created by UNESCO which are specifically protected by the UN; there are 28 UNESCO World Heritage Sites in the UK.
Fencing for heritage sites poses unique challenges and often serves a range of purposes, from safety and security, to demarcation, ticketing and access, whilst also maintaining the aesthetic integrity of the site.
Specifying heritage site perimeter solutions
Different heritage sites require different types and styles of fencing. For sites such as castles or gardens which are open as visitor attractions, ticketed entry is in operation, and secure fencing and gates must be installed to ensure the security of the site when closed. For sites which host weddings and other events, fencing is required to both keep guests safe, and demarcate the event area alongside signposts and lockable gates.
As some heritage sites are home to either the owners of the property or on-site staff, certain buildings, gardens, and car parks may need to be kept private and secure from the areas which are open to the public. Public car parks which are attached to the properties for visitors can utilise secure fencing with access control systems, such as rising arm barriers and rising bollards, to control when they can be used and deter people from the property.
When specifying heritage site fencing it is essential to undertake a thorough risk assessment and ensure planning permission restrictions are adhered to; significant changes - such as installing high-security fencing - could devalue the property, so the right fencing must provide appropriate security without detracting from the site's appearance.
Installing fencing on heritage sites
Organisations such as The National Trust and English Heritage exist to protect and maintain places of historic significance and beauty, so an essential consideration when selecting heritage site fencing is the surrounding landscape.
Fencing installation should cause minimal disruption to the site and wildlife, and the fencing chosen should be long-lasting to prevent frequent maintenance work or the need for panel and post replacements. Also, surrounding structures may be fragile, for example when attaching gates to walls, making minimal installations the ideal solution.
How to choose the right fencing for a heritage site
The appropriate fencing for a site will depend on the buildings, gardens and areas that need securing, and should become clearer based on the above criteria for minimal installation and the type of site and how it operates. Generally, the right fencing for heritage sites may include:
Demarcation Fencing
By outlining a boundary for visitors to follow, demarcation fencing can help direct the public whilst keeping guests away from private areas. Timber post and rail fencing is a natural-looking perimeter solution for heritage sites that won't interrupt views, and helps to discourage trespassers by minimising curiosity in off-limits areas.
Ornamental metal railings
Metal railings in ornamental or simpler residential designs provide strong security whilst looking elegant and providing minimal line-of-sight disruption, complementing historic buildings and allowing the greenery of nature to be seen through the fence.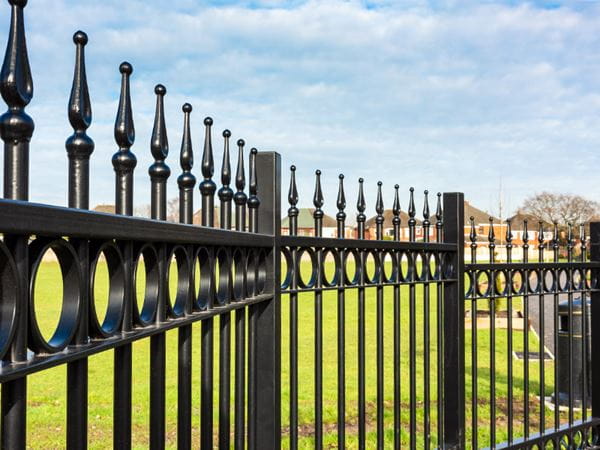 Fencing and hedging
For a more discreet appearance, landscaped hedges can be combined with either timber or metal fencing to help fencing blend into its surroundings in a controlled way.
Detection systems
PIDS and CCTV offer enhanced security without the need for high-security fencing, as site staff can gain visibility over large areas. Ensuring these are placed discreetly won't affect the overall appearance of the site.
Choosing a powder coating for heritage site fencing can enhance the security and durability of metal railings whilst also matching the aesthetics of the building or site. Ornate metal railings - generally powder coated black - are ideal around heritage properties due to their traditional appearance. With a secure design and a range of decorative finial options and heights, they provide demarcation and security without distracting from the architecture and keeping landmarks open to viewing. Where traditional wrought iron railings have fallen into disrepair, we have been able to replace with a closely matched but more secure, modern metal railing fence around a number of heritage sites including castles, churches, and even old schools.
Preventing Graffiti
Graffiti is a common problem facing any type of building and is particularly damaging to heritage and listed buildings. Usually hundreds of years old and made from expensive and delicate materials, defacing these historic buildings leaves an unsightly mark, causes disruption and closures, and inflicts costs on the trust or property owner who is generally charity funded. Installing an anti-climb demarcation fence which leaves the property open enough for visitors but acts as a deterrent and prevents taggers getting close to the building is a practical strategy.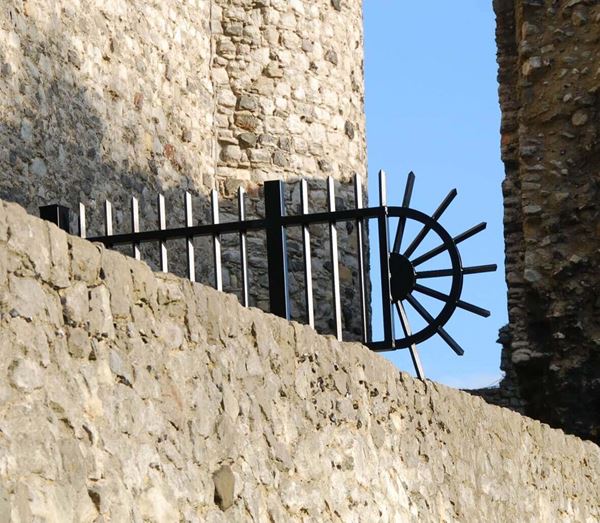 Jacksons Fencing is a leading provider of fencing and gates for a wide range of applications. Our expert teams are on hand to ensure you find the right fencing solution for your needs, and we create bespoke solutions for heritage sites on a case-by-case basis to guarantee security with an attractive finish for the site.
To find out more about Jacksons Fencing heritage site fencing solutions, contact us today.
Related Products
Jacksons Fencing have a large range of related products, all complete with our 25 year guarantee. If you cannot find the item you are looking for, please do not hesitate to call our friendly sales team.