Sliding gates are becoming increasingly popular, especially on sites where there is limited space for swing gates to operate freely and where higher security is required. Often, sliding gates form one part of an integrated perimeter system that includes fencing and other security features such as access control and electronic surveillance.
There is a growing preference for automated gates, chosen for their efficiency and ease of handling as well as their versatility: today, electric sliding gates are widely specified for residential, education, transport, military, commercial, warehousing, public utility and high-risk sites.
Specifying sliding gates is a multifaceted process and specifiers need to consider the characteristics of the two most common types of sliding gate: tracked and cantilever.
The features and benefits of tracked sliding gates
Tracked sliding gates run along a fixed track, upon which the majority of the gate's weight is carried on wheels. The track is installed along the opening, running at the base of the gate, and the gate itself typically features automated operation. Tracked sliding gates can be of single, paired-leaf or telescopic design.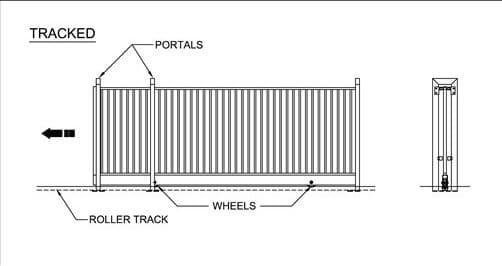 1. Space efficient
A key benefit of tracked sliding gates is that they are space-efficient and suitable for sites where there is restricted space beyond the gate. They are suitable for high and heavy gate designs and can span very wide openings. They can have a lower profile from the ground too.
2. Robust design
Tracked sliding gates provide strong security as they are difficult to force open and the few vulnerable points of their structure are hard to access. Due to their robust design, they are extremely reliable in adverse weather conditions, including high wind.
3. More maintenance
Tracked sliding gates are mechanically simpler than cantilever sliding gates, however, specifiers should take into account that tracked sliding gates require a higher level of maintenance. In order for the gate to work as well as it should, the track needs to be well maintained, regularly cleaned and clear from debris. They are also unsuitable for sites with uneven ground.
The features and benefits of cantilever sliding gates
A cantilever sliding gate design is counterbalanced and therefore does not require a track to run along the opening. This type of gate is supported on post-mounted rollers that slide in a tubular track fitted to the bottom of the gate. Guide rollers at the top also enable movement of the gate. This gate design can be of single- or paired-leaf design to span. Small cantilever gates are available for pedestrian access where vehicular entry isn't required.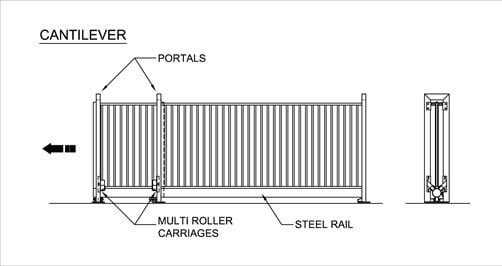 1. Ideal for uneven ground
Due to the absence of a track in the ground, cantilever gates are ideal for locations where the gates span uneven ground, or where the ground slopes upwards behind the gate opening. In terms of space efficiency, a disadvantage to cantilever sliding gates is that the overall length of the gate will be greater than the gap it would span on your site; this allows for the counterbalance on the trailing end of the gate.
2. Quicker to install
These gates require less time to install, since no groundwork is required for laying a track.
3. Less maintenance
They also demand lighter maintenance as there is no need to keep the area beneath the gate clear of debris. Cantilever gates tend to be less expensive than tracked sliding gates and they have a quieter operation.
To learn more about specifying automated gates, try our RIBA-approved CPD training.
Related products
Jacksons Security has a range of products relating to this article, all complete with our 25 year service life guarantee. If you cannot find the item you are looking for, please do not hesitate to call our friendly sales team.