Many housebuilders have a bad name for cutting corners during specification to do with costs, resulting in cheap developments that are bad for the environment, unsustainable, and can also be dangerous. Use of cheap materials or poor installation can result in items breaking easily and needing replacements and repairs, with materials ending up in landfill if they cannot be recycled, and homeowners generally left to stump up the costs for new products.
New build housing development perimeter security
The perimeter of the site when complete should have some sort of fencing around it, and this will vary depending on the location. For example, a rural development with no risks and only fields adjacent to the development can benefit from a demarcation fence like Heavy Post and Rail fencing. With a rustic but robust construction it provides that 'country living' environment and prevents livestock that may be housed in the fields from entering the grounds. It also leaves rural views unspoiled with its short height and open design. In the case of a timber demarcation fence, it's best to install a product that has been treated correctly and is sold by the manufacturer with a long guarantee. Otherwise, when the fence falls into disrepair in 5 years, the maintenance company will usually blame the housebuilder and this generally will give the housebuilder a bad reputation. Opposingly, new developments next to A-roads or motorways are well suited for acoustic barriers. With their solid construction and general tall height to maximise performance, they not only reduce noise by up to 32dB but also provide a pleasant aesthetic and help to block pollution and unsightly views of the road. Further, they prevent children and animals from venturing out of the estate and into the road, creating a safe, harmonious environment. Due to urbanisation, some developments are built next to water works which will need secure fencing around, but aesthetics are obviously important; something like a vertical bar fence or ornamental fencing is ideal as it provides security as well as a smart appearance. In some cases, the fence should be LPS 1175 rated so that it protects against attempts at forced entry. Again, look for products with long guarantees, whether they are timber or metal.
Securing estate facilities
On site, there may be facilities such as playparks, ball parks, and tennis courts. To ensure playparks are safe zones for children, the regulations around playground fencing should be followed. The fencing should be RoSPA approved with an anti-trap design to prevent limbs and necks being stuck, and designed to BS EN 1176 standard. Ideally, it should have a pale-through-rail construction with tamper-proof fixings, as unfortunately playparks are common targets for vandalism. If vandalism occurred with an unsuitable timber fence involved, such as picket fencing, this could create a safety hazard of sharp nails and splintered wood strewn across the ground. The fence should be of a correct height to allow young children to play independently without being able to climb over. Older children will likely still climb the fence, so it needs to be of a robust construction to stop it from breaking. Timber fencing specially designed for playgrounds is available, as well as metal styles. Again, if a park is vandalised and a private maintenance company has to replace the fence, bills for residents will increase and usually the reason will be that the original fence was not the correct specification, often with the housebuilder to blame.
Thankfully there is a solution to prevent stray footballs from hitting windows and vehicles parked outside properties. Ball stop fencing can be installed around greens and sports pitches, keeping balls in play and preventing damage to the surrounding area. A double lattice post design ensures stability.
Tennis courts can end up looking tired and in need of repair fairly quickly, with holes in the fence and sagging which can cause tennis balls to leave the court, but also cause injuries due to sharp broken wires. It's best for chain link fencing around tennis courts to have a top rail, and be made from galvanised steel rather than angle iron, to prevent rust. To prolong the life of the fencing even further, particularly if other sports are going to be played, it may be worth investing in rebound fencing which is designed to take the stress of high impact sports, and creating a MUGA, which could help boost average property value within the development due to high demand.
Estate Hazards
There may be items present on site that need fencing around to prevent any accidents or injuries, this includes any water sources, reservoirs, pumping stations, electrical utilities, and substations, traffic, as well as waste from new facilities such as a community centre, doctors' surgery, or school.
If there are bins outside a community centre, a security fence with privacy is a good options. EuroGuard® Combi has the benefit of a security fence while concealing the contents with timber components, and is covered by a 25 year guarantee.
Around small ponds, post and rail fencing is ideal as it allows wildlife to move freely but keeps children at a safe distance. Functional bodies of water like reservoirs which are not safe for swimming are highly dangerous and should be protected by security fencing like anti-climb mesh panels.
Demarcation fencing
Demarcation fencing is important for indicating where properties begin, protecting grass verges, or segregating vehicles and pedestrians. Knee rail fencing is a common choice for housing developments but should include gaps for pushchair and wheelchair access. Another option is verge protection marker posts or bollards.
The Properties
Rear garden fences
Gardens are generally left as blank spaces for homeowners to make their mark on, but a baseline feature should be a good quality boundary fence. Properly treated and guaranteed timber and metal fence posts not only have a more attractive appearance than concrete, but they are more secure too, as panels can be securely attached to posts to stop them from being lifted. This also stops annoying rattling noises. We have many garden fence panels which are ideal for shared boundaries to give each side of the fence the same or a similar view. Our double-sided panel range includes Chilham, Urban, Woven, and Venetian Hit and Miss, all with various benefits, and matching gates. With our 25 year guarantee on all timber posts, gravel boards, and fence panels, an excellent selling point would be to provide each homeowner with a 25 year guarantee certificate for their garden fence. To increase the sustainability and biodiversity of the whole development, consider installing hedgehog gravel boards in each garden to allow them to roam freely.
Front garden fences
Fencing is the first thing most people see at the front of a property, so it needs to make a good impression. Front garden fences and gates are important for adding safety around the front door and keeping pets and children from running into the road. Metal bow top fencing is a popular option, as is timber palisade fencing. Both provide a traditional appearance, modernised by the use of durable galvanised steel which is polyester powder coated to prevent peeling paint and rust, and treated timber to prevent rot and insect attack. Other options include estate railings for that high-end countryside property feel. Parking spaces can be marked with ground markings, but stainless steel bollards also provide an option for signage while ensuring vehicles do not drive onto pavements or park too close to houses. Another option is to install collapsible parking posts to prevent non-residents from parking in the estate – ideal for developments near town centres or in areas without plentiful parking spots. Investing in high quality fencing has a number of benefits: it's more environmentally friendly, it can boost property demand and value, reduce snags and homebuyer complaints, reduce costs in the long-run, and increase reputation of the housebuilder. If you're working on a new build housing development which requires fencing or gates, contact us today to tell us about your requirements.
Example Housing Development Layout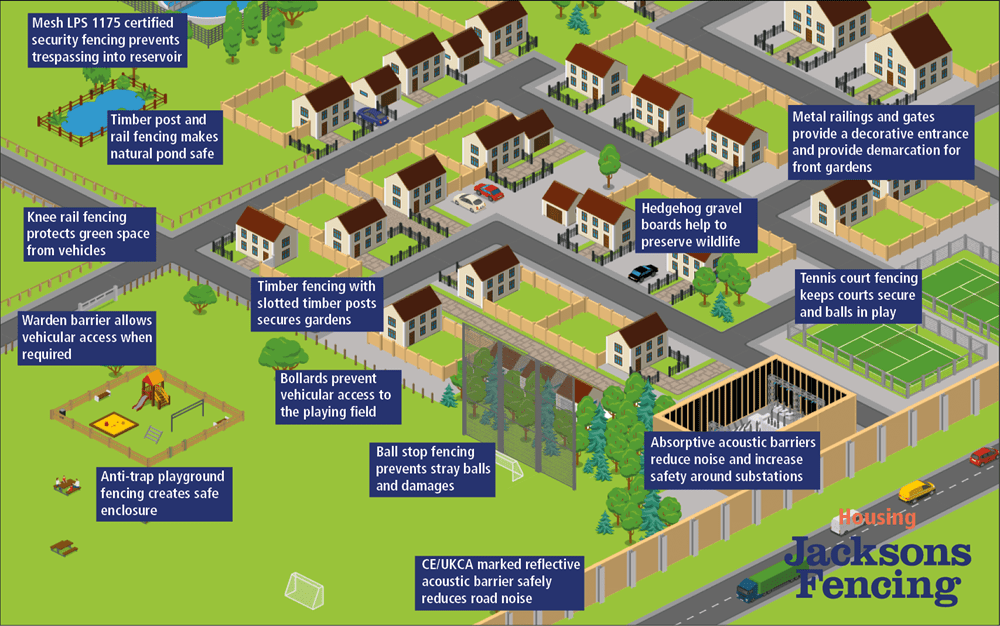 Related products
Jacksons Security has a range of products relating to this article, all complete with our 25 year service life guarantee. If you cannot find the item you are looking for, please do not hesitate to call our friendly sales team.