School security and safety is becoming increasingly important each year with the impact of an ever-changing security landscape and external environment. Schools are responsible for not only teaching and nurturing students in their care, but also keeping them safe and secure from the moment they step foot on site, to going home at the end of the day. Many of the obvious or common-sense tactics employed by schools regarding safeguarding are now found in the standards and statutory guidance set by the Department for Education (DfE) and inspected against by Ofsted. Conducting a safety audit each year means protection and security become a routine target to achieve rather than time-consuming, continuous checks and maintenance throughout the year.
If you keep the auditing process in-house, create a team of three to five staff members who are well versed in current safety standards. You don't need a specific qualification to do this, but you should have sufficient training. Alternatively, enlist the help of a trusted professional to carry out the audit for the school.
Perimeter security of a school is just one part of the auditing process; this includes the fencing and gates which help to keep students separate and protected from passers-by with secure access, prevent trespassing, burglary, and vandalism, and also help to create a safe and welcoming environment.
The school auditing process can often seem daunting and create a lot of work in the weeks leading up to it, so we have created a check list to help with what to inspect beforehand.
Investing in quality fencing with a long guarantee can really help to take the strain off this process. Fencing that is backed by the manufacturer's guarantee will last much longer and stay in better condition. All our school fencing and gates are guaranteed for 25 years.
Download Checklist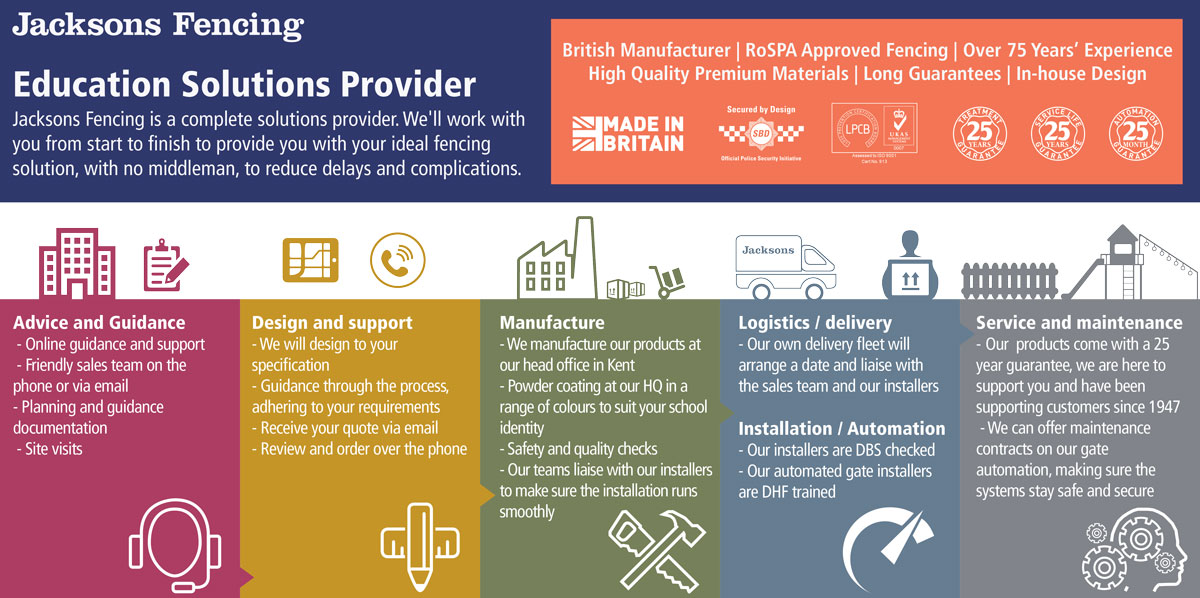 Related products
Jacksons Security has a range of products relating to this article, all complete with our 25 year service life guarantee. If you cannot find the item you are looking for, please do not hesitate to call our friendly sales team.