Here at Jacksons Fencing, we get a lot of enquiries about our gates and fencing for schools, colleges, and universities. When selecting the best fencing solutions for educational premises, there are a number of things to think about. Safety, security, durability, and noise are all obvious factors that will affect a decision. But – no less important than any of the above – colour must also be given consideration.
Colour can be used to create a specific atmosphere; to promote an image or an identity; and can also be applied to create clearly marked zoning. From welded mesh panels to vertical bars, metal railings, and playground fencing - we manufacture a huge range of fencing products in a vast range of colours that are ideal for school premises.
How school fence colours set the tone for learning
To help children and young adults approach the learning day with the right attitude and an appropriately relaxed mind-set, a welcoming rather than intimidating aesthetic should be utilised – and colour is key to achieving this.
Many schools opt for green mesh fencing because it blends well with surrounding treelines and helps to provide a natural, understated look. Black mesh fencing is another popular choice for schools and colleges, providing a smart and sophisticated appearance.
These discrete colours have a calming impact on learners and staff alike, and can help to set a professional and focussed atmosphere within the facility.
Conversely, bright, vivid colours may also be equally appropriate. For example, in playgrounds - especially those of nurseries and primary schools - our Playtime range can set the tone for a fun and exciting setting that encourages imaginative play.
When it comes to choosing the right colour fence, much will depend on the outlook and philosophy of the individual school, as well as the surrounding architecture. Bright colours can inspire young and creative minds, giving students license to express themselves and explore. In more traditional, period properties, less extravagant colours are likely to complement the structural style and are often deemed more suitable.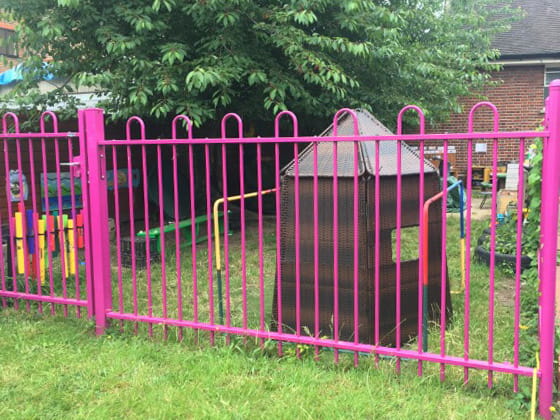 Bright pink railings add a fun splash of colour at this nursery
First impressions – what your fence colour says about your school
The outward appearance of any school or college has a large bearing on the way that that institution is perceived. To visitors and passers-by (be they people within the community, parents of prospective students, or perhaps even Ofsted inspectors), a well-presented perimeter fence helps to create favourable first impressions.
Colours like blue and red are frequently selected to match the design of logos, badges or uniforms and can be utilised to assert a memorable visual identity that's synonymous with a school's good reputation.
Getting practical about school fence colours
Coloured fencing can also bring benefits of a more practical nature. For example, on a recent project at St. George's C of E Foundation School in Broadstairs, Kent, we installed Euroguard® Flatform mesh fencing in shades of both green and black to help delineate which areas of the playing field were for primary students, and which were for secondary.
Different colours may also provide safety and accessibility benefits. Some schools use contrasting colours to highlight the locations of gates, thus simplifying emergency evacuations and making life easier for visually impaired students.
Sometimes however, it's worth acknowledging that an absence of colour is the best all-round option. Although our timber fencing does not require staining or painting, natural timber provides a premium, warm and inviting aesthetic that blends beautifully with most surroundings. Generally speaking, it's a shame to cover high-quality wood in opaque paints.
Similarly, our acoustic barriers do not come painted. However, as necessitated by their function, these structures are typically high and solid, and if covered in block colours, they can become visually overpowering.
With a polyester powder coating plant at our headquarters in Ashford, we offer premium, glossy coatings on our metal fencing and gates that won't crack or chip and will stay looking great for decades to come. If you have a specific colour in mind for a fence at your school, college or university, don't hesitate to get in touch with one of our Jacksons Fencing specialists today.
To find out more about what we can offer your school or college, get in contact with us and one of our advisors will be more than happy to talk you through the process.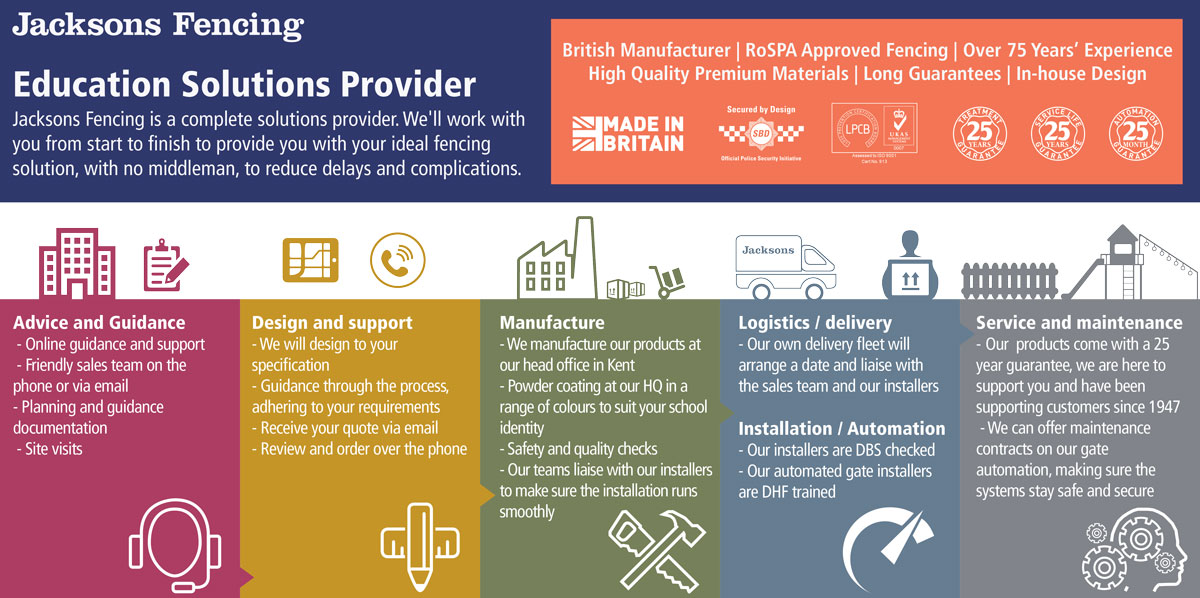 Related products
Jacksons Security has a range of products relating to this article, all complete with our 25 year service life guarantee. If you cannot find the item you are looking for, please do not hesitate to call our friendly sales team.