Historically called hairpin railings, bow top railings – named by Jacksons – have evolved significantly over time.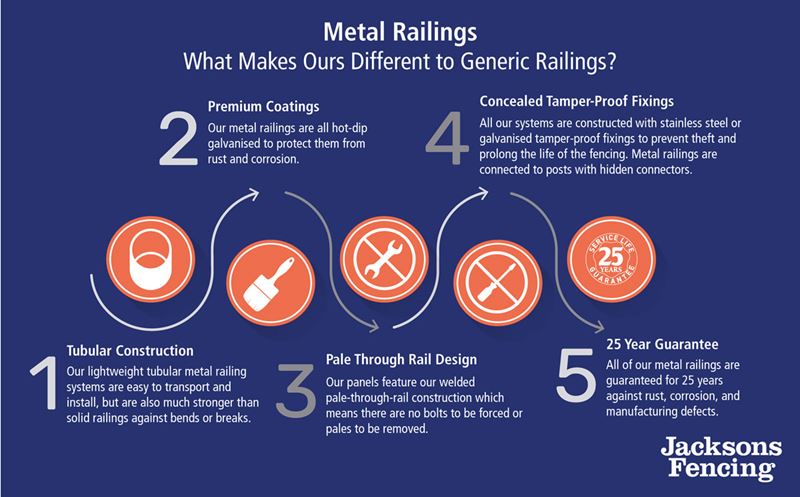 Traditionally, bow top or hairpin railings would be made from wrought iron flat bar metal, with hoops welded to the horizontal top rail to add decoration. Jacksons' bow top railings provide a similar effect with their hooped top design, but with a modern, updated construction for several reasons.
The types of materials used have changed over time too, with our fencing being made from galvanised tubular steel which is lighter, stronger, more sustainable, and requires less maintenance than wrought iron, which generally needs frequent painting. Our bow top railings can be polyester powder coated with a range of colours to suit the surrounding environment, providing a glossy finish which does not crack or chip. The images below demonstrate how coatings differ between our products and others; bubbling, cracks, and chips appearing and fading from black to grey.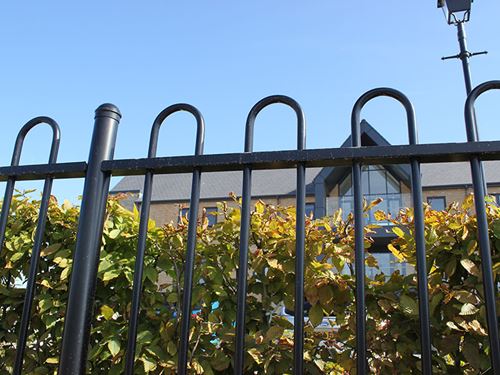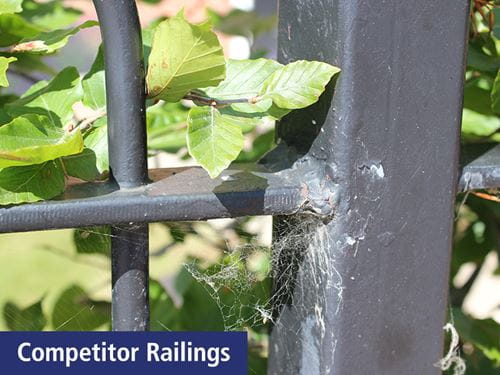 As with all our metal railings and vertical bar fencing, our bow top fencing is designed to be secure and have an almost seamless finish. With a welded pale-through-rail construction, the pales go through the top rail and are secured without the need for bolts, making the panels extremely tamper-proof. Concealed, vandal-proof panel-to-post connectors are used to attach the panels to posts, unlike traditional railings which are secured using bolts to posts, preventing the removal and theft of panels which is a risk with the increase in metal prices.
Where to use bow top fencing
Bow top fencing, also known as hoop top railings, is a versatile and durable fencing solution that suits a wide range of applications from commercial properties to parks, schools and residential areas. Historically, bow top railings were used around railway stations, however with modern-day problems such as fare-dodging and trespassing, fences around railway stations are generally taller and more functional with security being the key focus, such as the fencing we installed for South Western Railway.
Bow top railings are commonly seen around schools and playgrounds but are also ideal for anywhere that needs secure demarcation as well good aesthetics and something slightly decorative.
The most common height for bow top fencing is 1.2m. Where children will be in close contact with the fence such as around playgrounds or in schools to segregate classes, anti-trap bow top fencing which conforms to BS EN 1176 should be installed instead. For a school perimeter, bow top fencing at a height of 1.8-2.4m is ideal because the gentle curved design helps to create a welcoming environment, while its robust construction and the added height creates a strong and secure perimeter to keep intruders out. Bow top fencing was installed at Bishop Luffa School for these reasons.
Bow top fencing is often chosen where it has been specified as part of planning regulations to match the local area and fit in as a decorative fencing option. It can also be used for residential properties and developments, particularly around communal areas and front gardens, for those who want metal railings instead of timber fencing. Local councils, maintenance and facilities will often install bow top railings around sites that require decorative demarcation fencing such as gardens, cliff tops, schools, parks, and other open spaces as they provide protection and good visibility.
Features of Jacksons' bow top fencing
Unique vandal-proof panel-to-post connectors
Secure fixings prevent vandals from tampering with or damaging the fencing, ensuring the railings remain secure and your property is safe.
Pale spacing conforms to Building Regulations for anti-trap
In traditional hairpin railings, often the pales were overlapped to create a decorative effect, however from a safety perspective this can provide a trap hazard, and railings with this design do not conform to building regulations for anti-trap. Our bow top railings have pale spacing which conforms to the regulations and does not overlap, to ensure the fence is safe and prevents injuries.
Anti Trap Bow Top fencing is designed to prevent limbs getting stuck in the railings and should be a feature of fencing around schools, parks and play areas. A key point in the design of anti-trap fencing is the wider gap between each hoop above the top rail, to prevent children getting their heads, necks or limbs stuck between pales. The design fully conforms to play fence standards in BS EN 1176.
Flexible design and applications
Bow top fencing can be adapted to suit any site; with the option to include decorative hoop infills, matching gates available and mounting options including wall-mounting or base plating. Panels can also be manufactured to accommodate sloping ground.
Jacksons Fencing bow top railings
This is Bow Top fencing with a difference. With a 25-year guarantee, our bow top fencing will stay looking good and keep your property safe for years to come. To find out more about Jacksons Fencing's bow top railing solutions, get in touch today.
Related products
Jacksons Security has a range of products relating to this article, all complete with our 25 year service life guarantee. If you cannot find the item you are looking for, please do not hesitate to call our friendly sales team.