Acoustic barriers secure detector dogs at major UK airport
Project Overview
Client
Major UK Airport
Location
The UK
Date Complete
2021
Sector
Transport
Background
Detector dogs are a common security asset for many sectors such as event venues, seaports, and airports. After thorough training, these highly skilled animals have an extremely important role in the security ecosystem assisting front line personnel tackling the smuggling of drugs, firearms, currency, tobacco, people, and other products.
For the duration of their service at any given site, detector dogs are generally housed in on-site kennels. During their stay, they receive daily care, grooming, and feeding, and follow a strict exercise regime with high intensity training.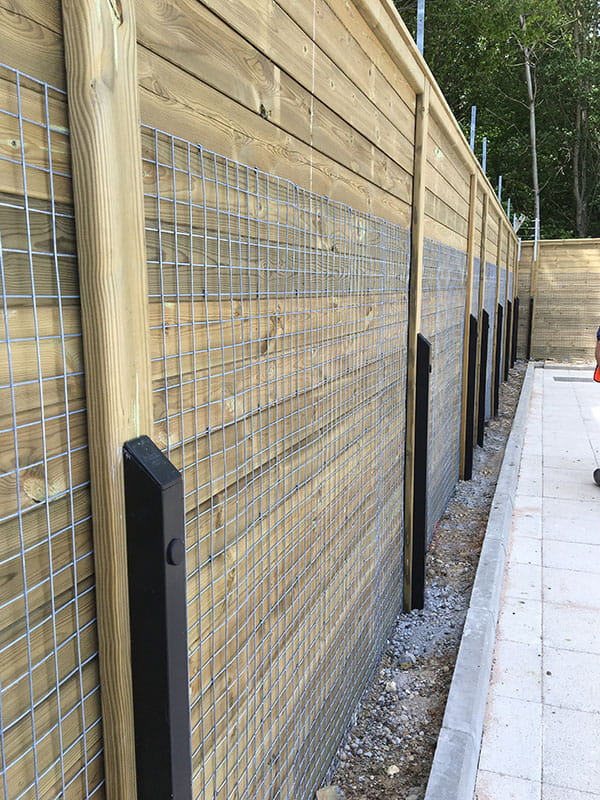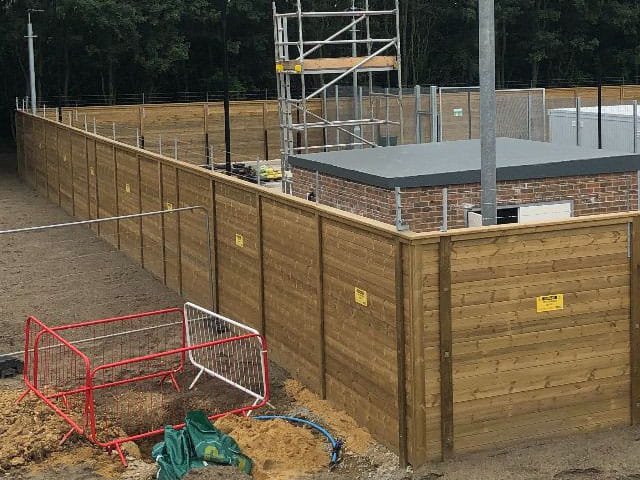 Solution
To protect the dog training facility at a major UK airport, we installed over 270 metres of fencing and gates, including 148m of our Trident® Jakoustic® acoustic barriers to keep the dogs safe and secure, while reducing noise from barking and training techniques. Dogs make noise, but they are also sensitive to noisy environmental factors. The acoustic barriers help to protect the dogs from external noise, as the reflective acoustic barriers reduce noise on both sides. The timber fence boards interlock with a deep V tongue and groove design which minimises gaps that sound could travel through, reducing noise by up to 28dB.
Manufactured from kiln-dried, pressure treated timber, the acoustic barriers have a pleasant aesthetic which creates a welcoming environment for the staff and animals, and are supplied with a 25 year guarantee. Part of our ultimate high security fencing range: Trident®, the acoustic barriers have a totally flat attack face to increase climb resistance, and incorporate a steel mesh layer to one side of the barrier for a highly secure fencing solution. To further reduce the risk of intruders attempting to climb, the acoustic barriers were supplied with three rows of barbed tape topping to take the height to three metres. This height and specification is CPNI tested and approved. To maximise the noise reduction potential of the acoustic barriers, we also installed a manual single leaf gate and an automated double leaf gate with the same acoustic specification.
In addition to the acoustic barriers, we installed 125 metres of Securi-Mesh® welded mesh fencing and six matching gates. Based on a 358 mesh or prison mesh design, Securi-Mesh® fencing incorporates tightly knit mesh to stop hand and footholds, and features our tamper-proof panel-to-post fixing system.
Products Used


Ready to find out more?
To discuss your requirements please call us or fill out the form below and someone from our sales team will be in contact with your quote shortly.
Request A Quote
Related Products
Jacksons Fencing have a large range of related products, all complete with our 25 year guarantee. If you cannot find the item you are looking for, please do not hesitate to call our friendly sales team.