The LPCB's Loss Prevention Standard (LPS) 1175 is the UK standard for protection against forced entry. As part of BRE Global, LPCB has been working with government agencies, police services, architects and insurers over many years to help reduce loss and protect against opportunistic and planned attempts at forced entry and unauthorised access. The standard was introduced to evaluate the resistance of physical security products and demonstrate that a product meets a specified security performance, helping to provide assurance to buyers of the strength levels in terms of manual forced entry.
Extended performance classifications
Security performance is classified using a range of security classifications which are awarded to products after rigorous testing as defined within the standard. To keep up with the latest security trends and attack methods, BRE, under the LPCB certification brand often updates the standard, with the latest iteration, Issue 8, released in 2019.
Previously in Issue 7, Security Ratings ranged from SR1 to SR8 – a simple yet accurate indication of attack resistance. Issue 8.1, has redefined security classifications, replacing the old SR1 – SR8 classification with a more fluid approach including:
Threat level – Letter (A to H) corresponding with the tool kit used to evaluate the product's intruder resistance and the number of attackers involved.
Delay – Numeric value (1, 3, 5, 10, 15 or 20) corresponding with the minimum delay (in minutes) provided by the product when placed in a locked condition.
For example, a product evaluated with tool kit E with a corresponding minimum delay of 5 minutes has a security classification of E5.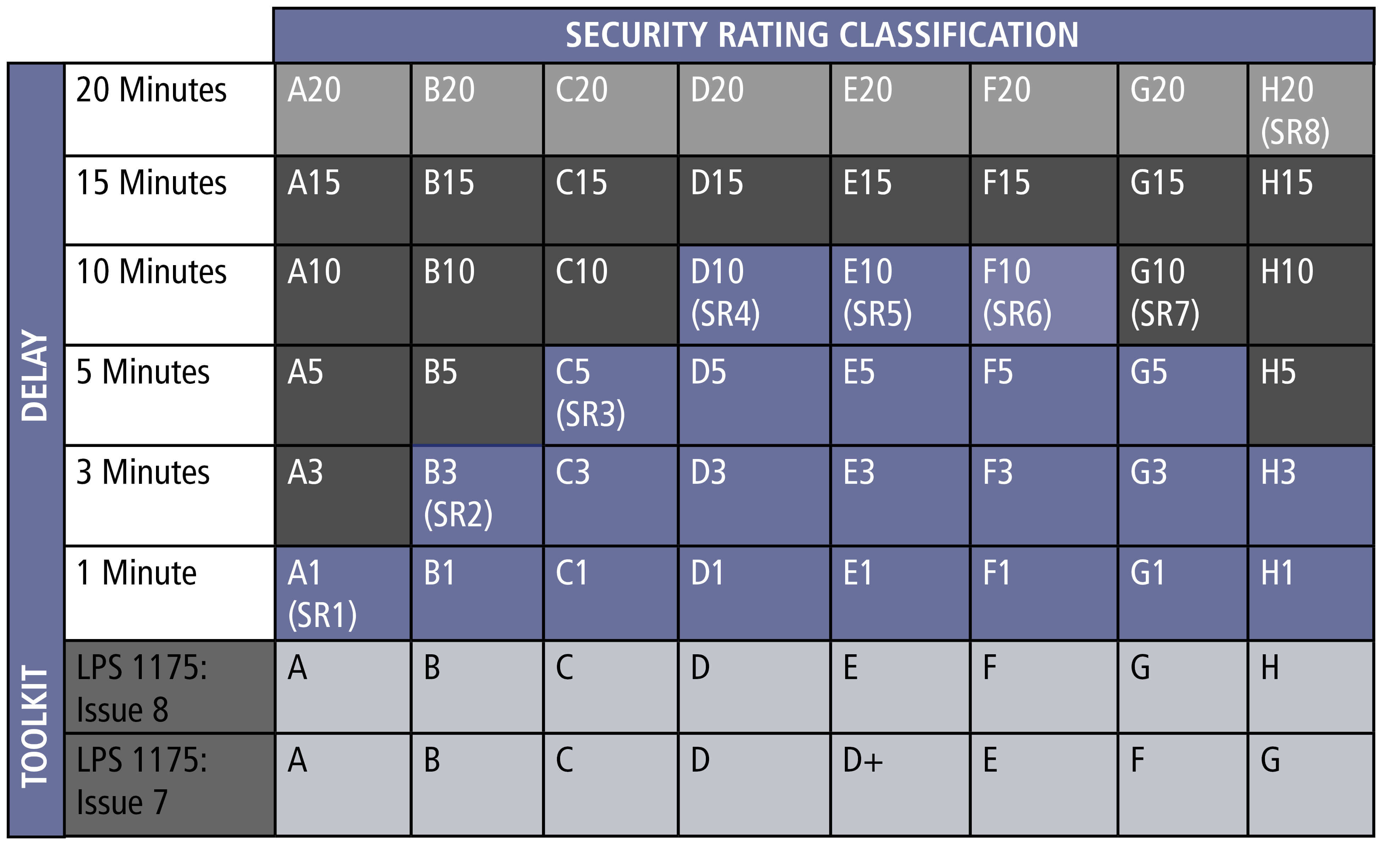 Benefits of using Issue 8
What are the benefits of Issue 8 for specifiers of security fencing? Firstly, it provides smarter information, enabling buyers and specfiers to make more effective choices and not leave a site at risk by under-specifying, or incur unnecessary budget spend by over-specifying.
Specifiers can now choose products based on the delay the product provides against attacks and tool set independently, rather than a fixed combination of both. The new certification provides 48 possible combinations of threat and delay, allowing specifiers to select the most appropriate solutions for specific situations. With the new standard, layering of products is now possible which makes it easier to achieve the security ratings contained within the black boxes in the table. Specifiers, architects, and end-users can achieve an extended delay by deploying a series of products in a layered approach; a strategy that is supported by the classification system introduced within this standard. For example, it is considered a 10 minute delay against a level 'F' threat is more likely to be achieved by deploying two layers formed of products that achieve an 'F5' security rating instead of a single layer formed of products that achieve an 'F10' security rating. The 5 Ds model works well with this approach, as it actively supports the use of layered security to create an integrated solution.
Specifiers can achieve an extended, calculable delay during a breach by deploying a series of security products in a layered approach. For example, using three protective layers consisting of F1, F3 and F10 would provide 14 minutes of delay against Category F tools.
It lends itself to more economical specification, especially in situations where criminals may spend less time attempting to breach than recognised in previous issues of LPS 1175. Furthermore, the update was necessary to reflect the increasingly effective tools and knowledge that attackers now possess.
Prior to Issue 8, each layer would have had to provide at least 10 minutes of resistance before being recognised by LPS 1175.
Security-rated fencing and gates from Jacksons Fencing
The following security ratings under LPS 1175 Issue 8.1 are relevant to Jacksons Fencing products:
A1 (SR1) & B3 (SR2)
Products provide minimum enhanced resistance to opportunist attempts at forced entry using a range of techniques and tools including those that create noise. The range includes vertical bar railings in various designs, V mesh and twin wire mesh fencing, and matching gates.
C5 (SR3)
Products provide moderate resistance to determined attempts of forced entry using a range of techniques and tools including those that create noise. The range includes heavy duty mesh fencing in two styles and a timber acoustic barrier layered with mesh which reduces noise by up to 28dB.
D10 (SR4) & E10 (SR5)
Products resist experienced attempts at forced entry using a wide range of tools including battery-powered tools lasting up to 10 minutes depending on the security rating sought. The range includes vertical bar and mesh combination fencing.
How are products tested?
The engineering team at BRE Global carry out the rigorous testing regime, completing a full series of attack tests on the product using tools of the appropriate category relative to the security rating expectation, delivering an independent and more lateral approach to testing than manufacturers or others in the supply chain are likely to carry out themselves. Only 5% of the products BRE test actually pass.
Older versions of products are also still valid because of the stringent testing and auditing procedures that BRE conducts of product manufacturers, to ensure they continue to deliver the certified performance. In 2019, even though none of the specification of our previously certified products changed, Jacksons Fencing was issued updated LPS 1175 Issue 8 certificates for all of our LPS 1175 products. Both ratings (Issue 7 and Issue 8) are visible on our website and brochure for easy comparison and identification.
Changes to tools
To keep up with the constantly evolving selection of tools available to potential intruders, the standard needs to ensure it reflects these changes and adapts to suit the threats. One of the biggest changes is the capabilities of portable battery-operated tools. The new ratings are also more realistic of tools and time spent attacking. Shortening the attack time of each rating gives more scope for manufacturers to develop products which reflect real-world scenarios, such as attackers using bigger tools which get through the fence quickly. This is where the layering of security comes in, such as the use of multiple security rated fences, PIDS, CCTV, and manned security.
View the full range of high security solutions from Jacksons Fencing. For more advice on Loss Prevention Standards and security rated products, please contact us today.
Related products
Jacksons Security has a range of products relating to this article, all complete with our 25 year service life guarantee. If you cannot find the item you are looking for, please do not hesitate to call our friendly sales team.