Metal Security Gates
Metal Security Gates
Jacksons Security manufactures and supplies a wide range of metal security gates for a range of applications including commercial, high security and education sites, offering security for vehicle or pedestrian access. All our security gates styles have matching fencing to complement the gate if required.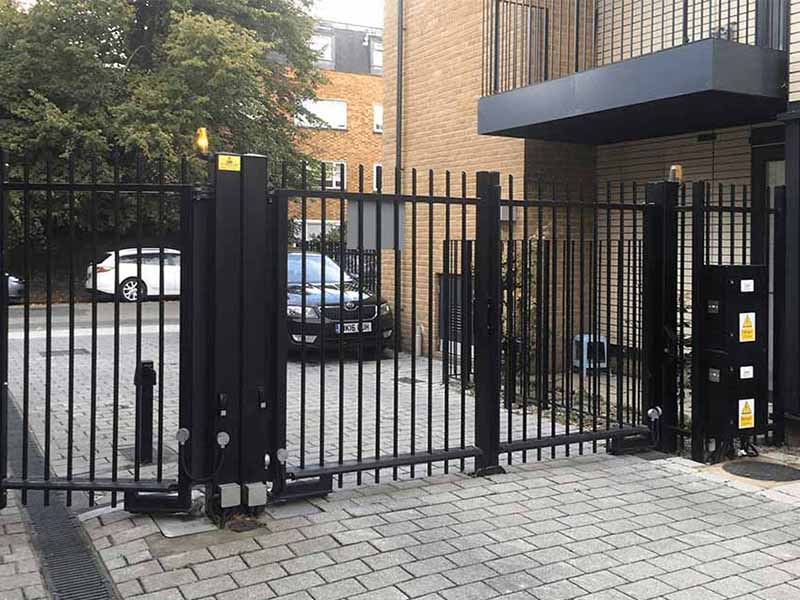 Vertical Bar Double Leaf Automated Gate
EuroGuard Double Lead Swing Gate
TriGuard sliding gate
Sentry sliding gate
double leaf sentry gate
What to consider when choosing and installing a
metal gate:
What are the risks? Before installation, a thorough risk assessment should take place, considering the immediate and longer-term use of the site.

Manual or automated - if the gate or barrier is essential to daily site operations, it may be beneficial to choose an automated gate solution.

Consider the space the gate is required to fit, including the potential opening and closing of the gate. A site with limited space may be better suited to sliding gates, whereas other sites may be suited to swing gates.

The wider the gap the heavier it will be meaning if automated it will need a heavier duty motor.

Is the gate being used for pedestrian of vehicular access? It is important to ensure that vehicles and pedestrians are kept safely apart.

How will authorised access be controlled through the barrier? Both entry and exit can be controlled by guards and/or electronic access control.
High security applications may also want to consider the use of LPS 1175 Certified, CPNI Approved and Secured by Design gates.
Consider what type of

metal gate

you need
Different gate types are suited to different applications, for example sliding gates are an ideal solution when there is limited space however, when opening and closing you have to remember that the same width of your gate will need to be clear on the side to accommodate for the gate to run back when opening.
Swing gates are a perfect choice for smaller entrance gaps such as public footpaths, playground gates and pedestrian school gates or where there is insufficient space for a sliding gate to have a run back.
Remember that if you are automating your security gate to have the relevant safety devices in place to make it safe. If you are unsure have a look at our Gate Safety Check List.
For more help and guidance on gates and gate automation, download our free whitepaper on the topic.
Security gate opening options:
Manual gates - Proven, simple and cost effective; manual gates are the most common gate type for both pedestrian and vehicle access.
Automated gates - Convenient and providing good access control and security, most gates and vehicle barriers can be designed to be operated automatically.

Tracked sliding gates

- Space efficient where space beyond the gate is restricted and suitable for high and heavy gate designs. Typically features automated operation and a good level of site security.

Cantilever sliding gates

- Another gate type suited to sites where there is limited space to accommodate swing gates or where there is sloped or uneven ground. Cantilever sliding gates do not require tracks and can be single or double leaf design.

Bi-folding speed gate

- Ideally suited to sites where the gate is subject to high wind loading or where the is insufficient space for swing gates to open in to or where there is insufficient site frontage to accommodate sliding gates.