An Introduction to Acoustic Barriers
The growing impact of noise on people, planning and architecture has increased demand for acoustic barriers and fencing across a wide variety of applications from housing and schools, to transport and retail.
Evidence from studies increasingly suggests that noise pollution can have a detrimental impact on modern living, from house prices, to physical health and well being. The impact of noise is often felt most in busy urban areas or near industrial sites, however, there's a solution to limiting noise and the damage it can cause to physical and mental wellbeing.
Our Jakoustic® acoustic barriers and acoustic gates were specifically designed to deliver good noise reduction performance, sustainability and security and importantly, to blend in with the surrounding environment.
The original Jakoustic® timber acoustic barrier system was first introduced in 2004, featuring our unique 'tuning-fork' posts. This design has been adapted and evolved to suit different applications and is available in a number of versions to provide solutions for a wide variety of noise problems.
Get a product quote
We are the first UK manufacturer of timber acoustic barriers which can UKCA mark both its Jakoustic® Commercial & Highways Reflective system and Jakoustic® Plus Commercial & Highways Absorptive system as compliant with the requirements of EN 14388:2005 relating to Road traffic noise reducing devices. This follows the successful type testing and validation of both systems, including posts, reflective and absorptive surfaces, fixings and installation method carried out by BSI and detailed in its report number 8765852 dated 8th March 2019.

This landmark achievement allows us to make an appropriate Declaration of Performance in relation to a number of characteristics defined in the ZA annex of EN 14388:2005, in support of the UKCA marking of its Jakoustic® Commercial & Highways barriers as road noise reducing products.
To request a copy of the Declaration of Performance, please contact our sales team.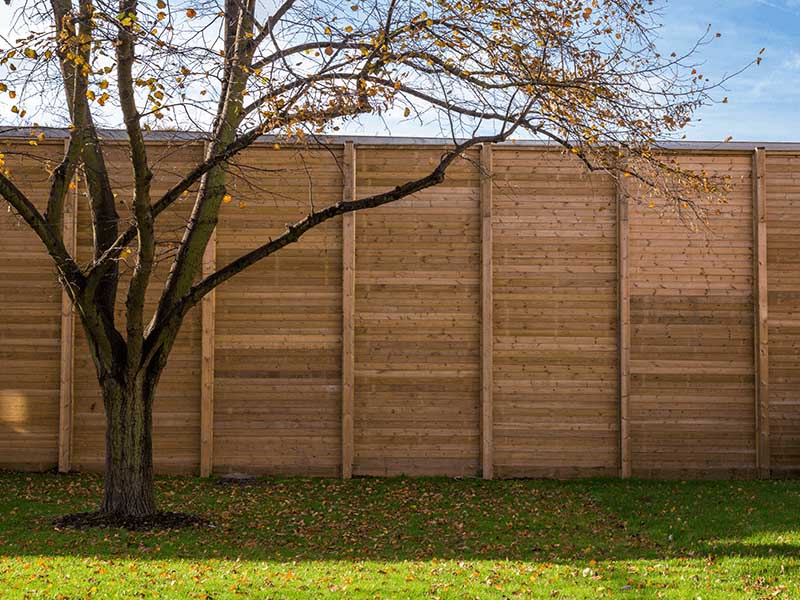 Jakoustic® Commercial and Highway Reflective Acoustic Barriers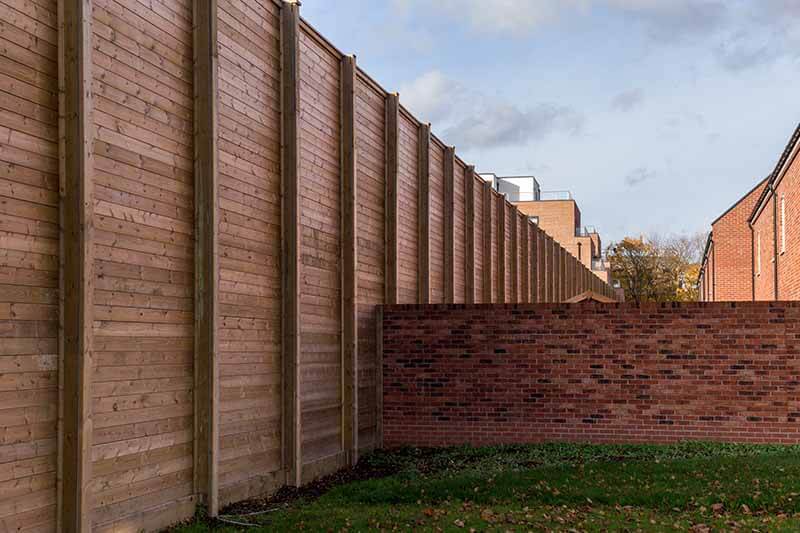 Jakoustic® Commercial and Highway Reflective Acoustic Barrier With Bespoke Timber Cladding On Steel I-Beams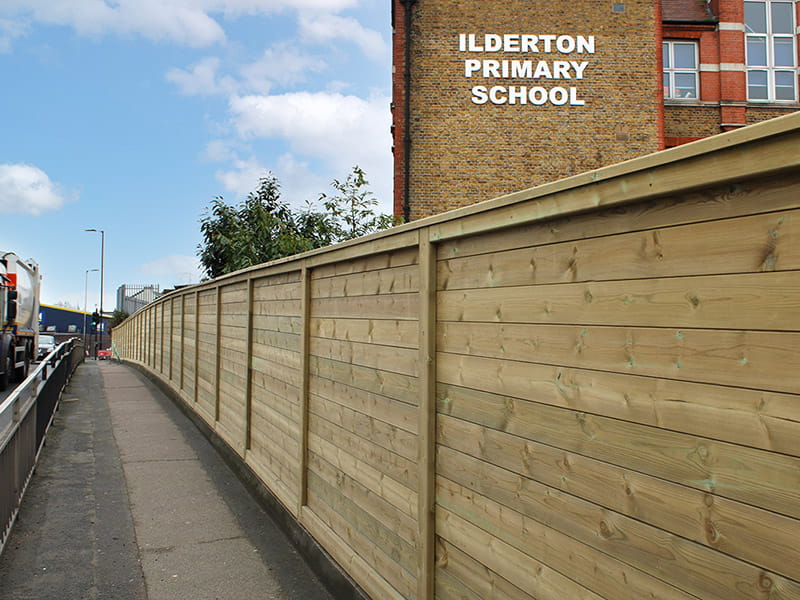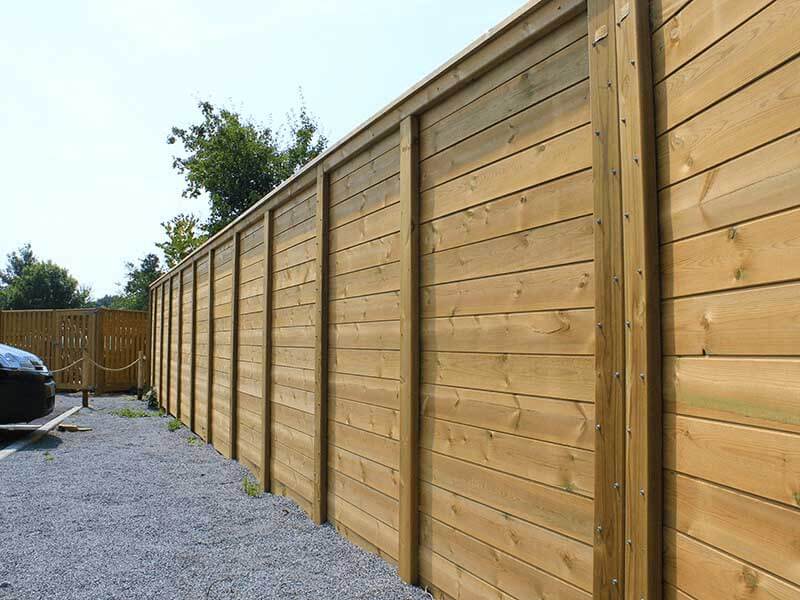 12k Acoustic Envirofence® Acoustic Barriers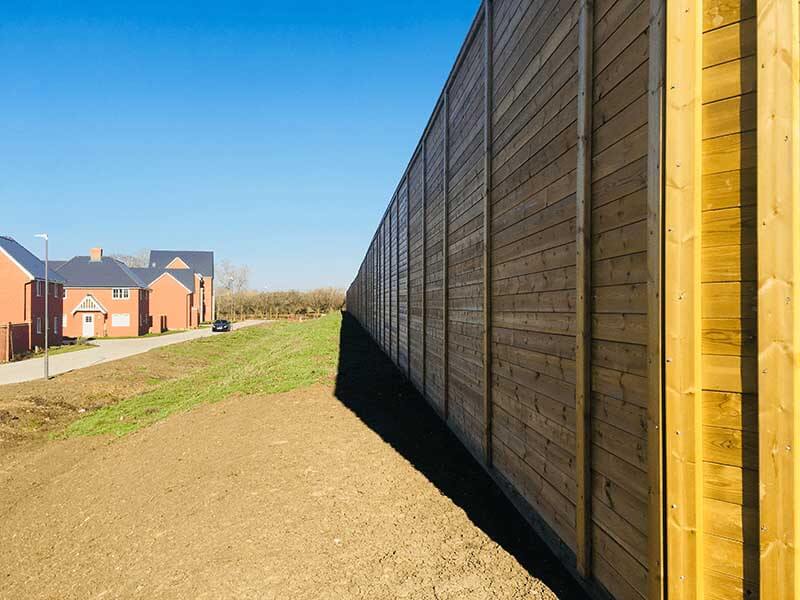 Reflective acoustic barriers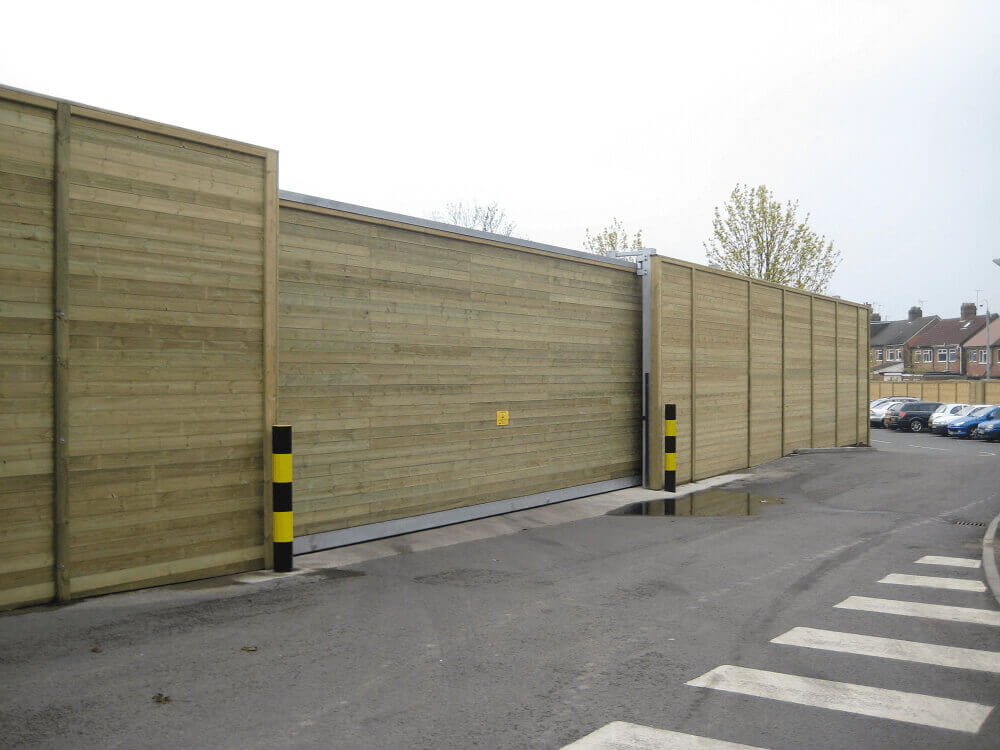 Timber Acoustic Sliding Gate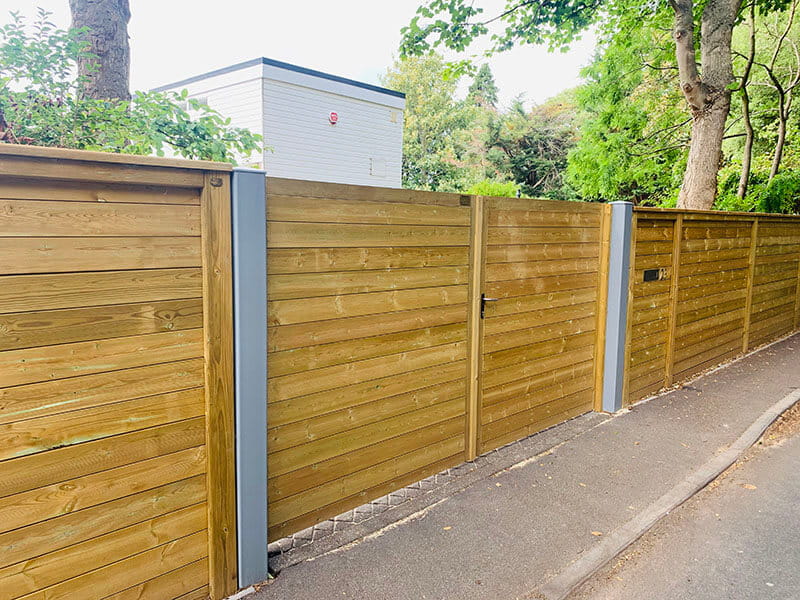 Manual Swing Double Leaf Acoustic Gate at Residential Property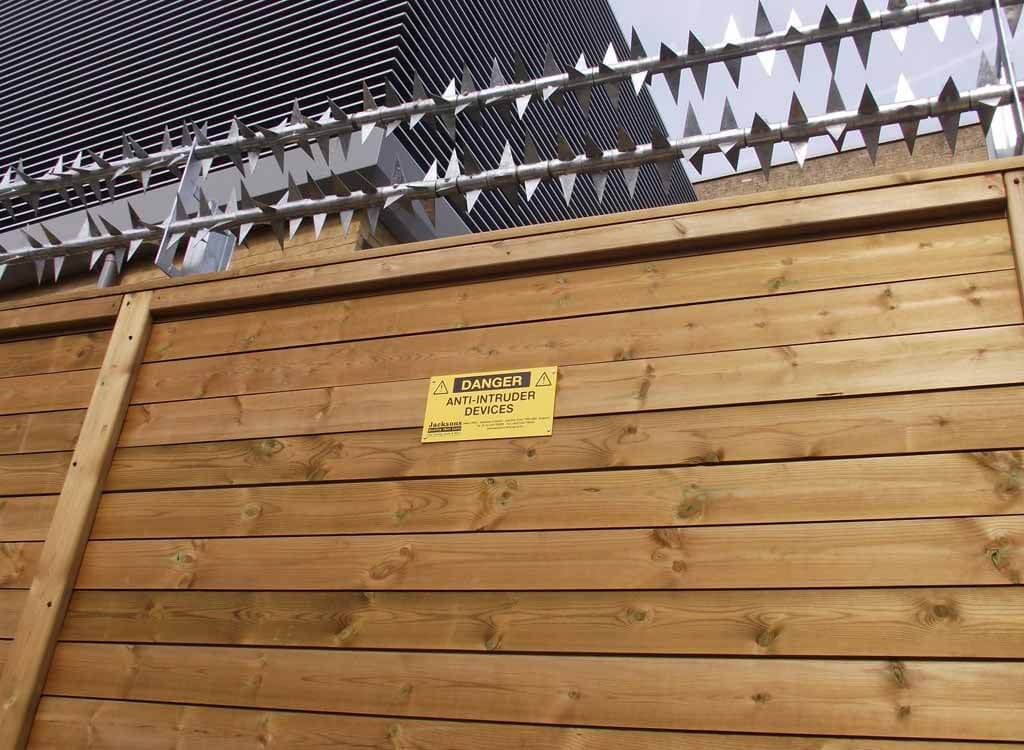 Jakoustic® Class 3 High Security Acoustic Barriers With Rota Spike Topping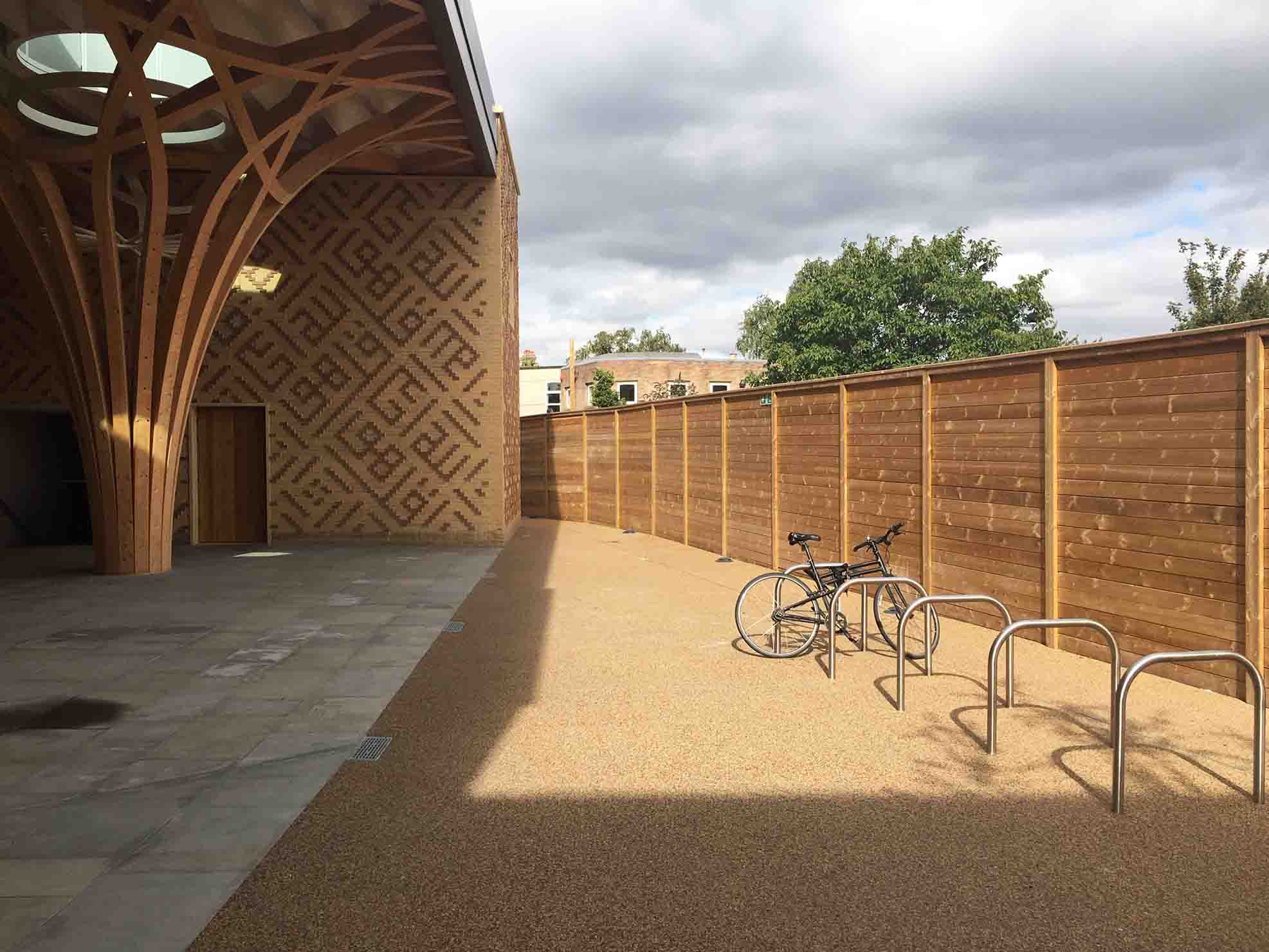 Jakoustic Reflective around Cambridge Central Mosque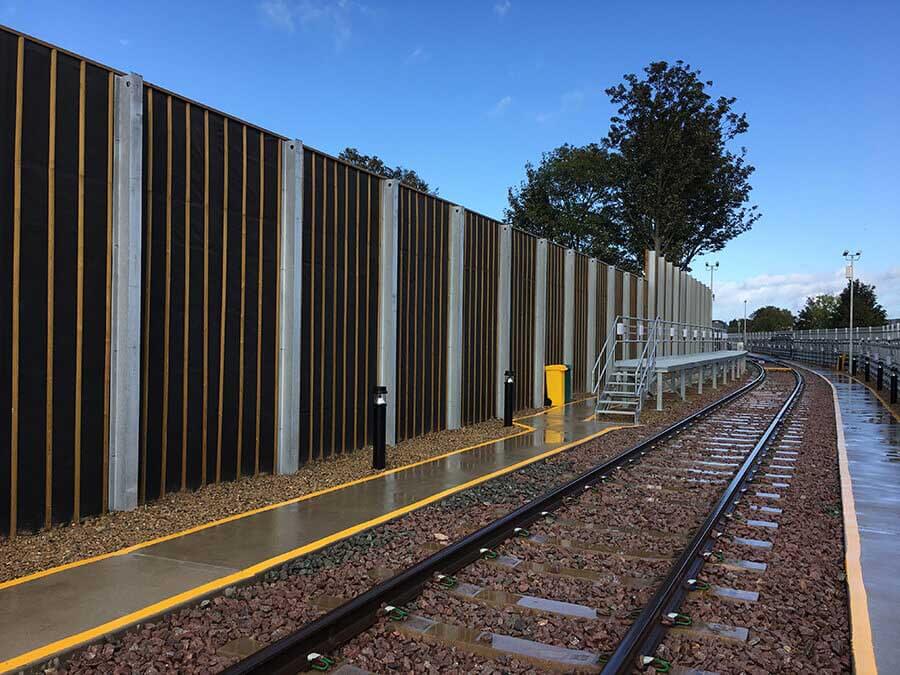 Jakoustic® Absorptive Showing Mineral Fibre Layer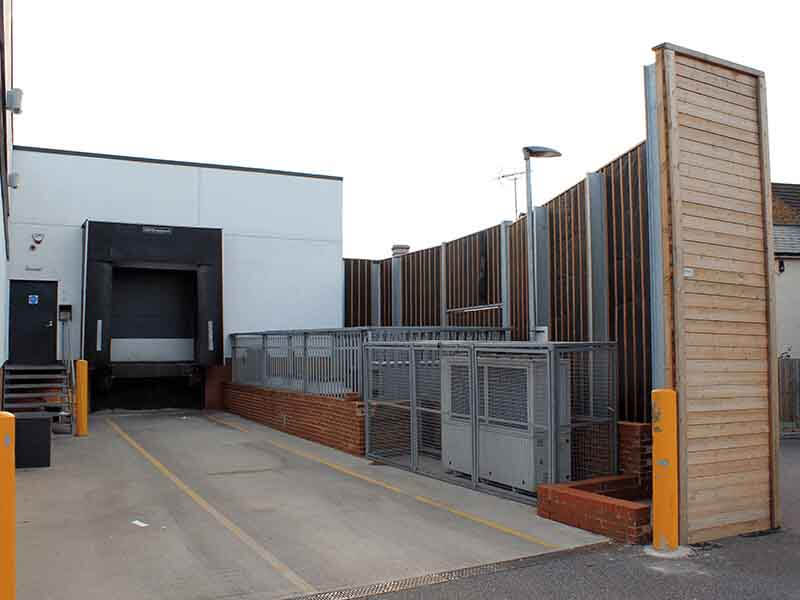 Jakoustic® Absorptive Acoustic Barriers At Supermarket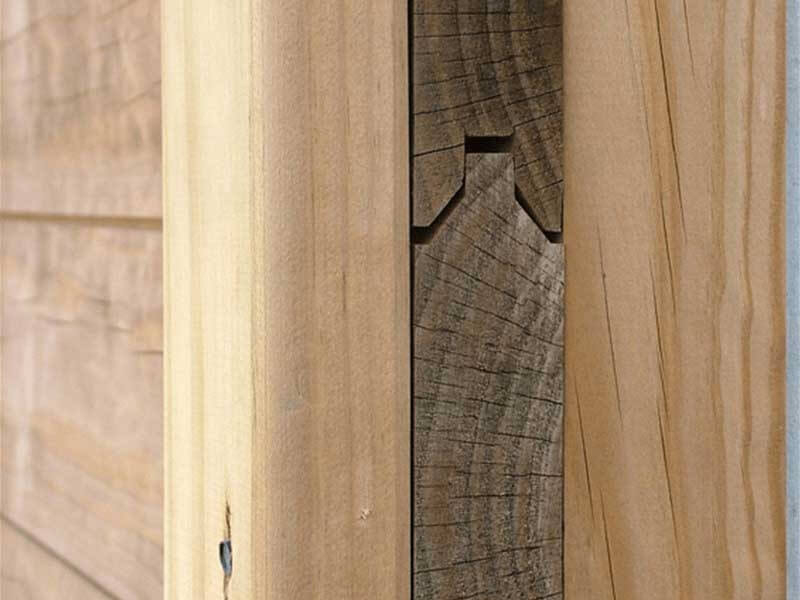 Jakoustic® Interlocking V Boards
Types of acoustic barriers, benefits and principles
Watch our 3D video walkthrough to find out more about the different types of acoustic barriers we manufacture, and how they can be used in and around schools, residential properties, commercial sites and transport hubs.
Acoustic barriers with a 25 year guarantee
All our acoustic barriers are manufactured from premium pressure treated timber and guaranteed for 25 years against all forms of wet and dry rot and insect attack. Browse our range of acoustic fencing and gates below.
Noise mitigation is usually a complex problem, so to ensure that you arrive at the best solution for your specific situation, we always recommend consulting a qualified sound engineer before you make your purchase.
Acoustic barriers features & benefits
High privacy
Security
Low visual impact
Sustainable
Fast installation
Low lifetime cost
Can be stepped or raked to maintain height over most ground conditions
25 year guarantee
Specifying acoustic barriers
When considering acoustic fencing you should take in account:
The location of noise source
The intensity and frequency of the source
The distance from the source to the acoustic barrier
The location of the position or areas to be screened
The density, height and degree of reflection/absorption required the barrier
In addition, our in-house design team will prepare detailed specification drawings and wind loading calculations when required.
Good against noise and good for the environment
Jacksons has achieved certification under the environmental chain-of-custody schemes of both the FSC® (Forest Stewardship Council®) and the PEFCTM (Programme for the Endorsement of Forest Certification TM).
Flexible solutions
Whether you require supply of Jakoustic materials or a full design, manufacture and installation service, our team of experts can offer flexible solutions tailored to meet your needs.
* Jakoustic® laboratory sound reduction of up to 28 dB* Superficial Mass 28kg/m2 ** Jakoustic® Absorptive laboratory sound reduction of up to 32 dB* Superficial Mass 28kg/m2
Want to learn more about acoustic barriers?
Download our free expert articles
How do acoustic barriers work?
Acoustic barriers work by disrupting the path of sound waves travelling from a noise source. This is done either by sound being reflected off the surface of the acoustic barrier, or being absorbed by the acoustic barrier. The height and location of the acoustic barrier will make a difference to the level of noise reduction and should be decided by a qualified sound engineer or acoustic consultant. Read more about this here.
How much does acoustic fencing reduce noise?
Different types of acoustic fencing vary but timber acoustic fencing can reduce noise by up to 28dB for reflective variants and 32dB for absorptive variants. One of our customers reported a 15-20dB reduction in road noise using a reflective acoustic fence. An acoustic specialist should always be consulted before the specification stage to find the best solution for your site to maximise noise reduction potential.
What are acoustic barriers?
Acoustic barriers are structures that are installed to reduce noise. They are used internally and externally. Jacksons Fencing manufactures a range of external timber acoustic barriers which reduce noise either through reflection or absorption.
What are the types of noise barrier?
There are many types of noise barrier including timber, concrete, metal, brick, acrylic/Perspex, gabion walls, and earth bunds. When choosing a type of noise barrier you should consider the aesthetics, footprint, sustainability, and quality of the barrier in relation to cost.
Does acoustic fencing really work?
Yes, acoustic fencing is designed and constructed in a specific way to reduce noise by blocking sound waves either by reflecting them back or absorbing them. Acoustic fencing is entirely different to normal timber fencing as it must have a surface mass density of at least 10kg/m2, be imperforate, and generally be a taller height than garden fencing. A typical timber fence has a mass of around 4kg/m2 and does not provide an effective barrier to reduce environmental noise.
How thick should an acoustic fence be?
An acoustic fence should be at least 20mm, ideally 25mm thick in all areas to ensure it provides effective noise reduction.
Discover more about acoustic barriers
We have an extensive library of content covering the top queries about acoustic fencing, including an in depth explanation about the different types of acoustic fencing, and what the difference is between an acoustic fence and a normal fence.

Acoustic Fencing Options
12k Envirofence®: 12k Envirofence is ideal for projects where the need is for a barrier that meets with minimum superficial mass requirements. While it has not been subject to laboratory testing, 12k Envirofence offers a cost-effective solution for situations where lower level of noise reduction is acceptable in applications subject to low to moderate wind loads. Its timber construction provides an attractive natural appearance that is appropriate for housing developments, schools, parks, and light commercial properties.
Jakoustic® Reflective Acoustic Barrier: The original Jakoustic barrier. Our Jakoustic Reflective barrier is particularly effective in reflecting noise away from its face by employing heavy section planed timber boards with deep interlocking 'v' tongue and groove joint, coupled to tuning fork posts that clamp the boards together to eliminate gaps that sound can easily travel through.
It offers up to 28dB* reduction in noise, it has been designed to for faster installation times on site and can accommodate changes in site levels or profile.
Jakoustic® Absorptive Acoustic Barrier: The Jakoustic Absorptive barrier takes the proven Jakoustic Reflective design of heavy section planed timber boards with deep interlocking 'v' tongue and groove joint, coupled to tuning fork posts and adds an absorptive layer of a mineral Rockwool fibre and protective membrane to one side of the barrier.
It offers up to 32dB* reduction in noise, it has been designed for faster installation times on site and can accommodate changes in site levels or profile.
Jakoustic® Commercial and Highway: Jakoustic Commercial & Highway barrier system has been designed for commercial and highway applications, providing the same level of noise protection as the original Jakoustic reflective and absorptive barriers.
Interlocking timber 'V' boards are affixed to galvanised steel I-beam posts for strength and rigidity, meeting not only stringent Highways Agency standards BS EN1794-1 and 2, but also ideally suited for application in exposed locations subject to high wind loading. The system is available in reflective or absorptive, with matching capping, counter rails, and timber cladding to posts to further enhance its appearance.
Trident® Jakoustic® 2: Trident Jakoustic 2 system is of a dual layer construction comprising a single facing of interlocking 'V' timber boards, lined with a layer of steel mesh to 1.70m above ground, with 3 rows of barbed wire on top. The interlocking 'V' coupled to a tongue and groove eliminates gaps even when boards shrink and expand with changes in the weather. NPSA (CPNI) approved.
Trident® Jakoustic® 3: Trident Jakoustic 3 represents the ultimate in timber security barrier systems. It is of a sandwich construction comprising two facings of interlocking 'V' timber boards, lined internally with a layer of high security steel mesh to 2.28m above ground, with concertina barbed wire on top. NPSA (CPNI) approved.
Jakoustic® Class 3: Jakoustic Class 3 is an acoustic fence which has been approved to LPS 1175 C5 (SR3), F1, and G1, products certified to these standard resist experienced and determined attempts at forced entry using a wide range of tools.