Fencing is an important security, demarcation, and aesthetic feature of any school; it blocks intruders and other unwanted visitors from entering the site, helps keep staff and students safe on site, and is one of the first things prospective students and parents see when visiting. When specifying fencing for schools, it is worth considering not only how secure a school's fencing is, but also the durability, longevity, sustainability, and the impression it makes.
School risk assessment
The first step in specifying fencing for schools is to carry out a risk assessment, considering performance, maintenance, aesthetics and, most importantly, student safety. View the school from a potential intruder's perspective and use photographs, notes and drawings to identify weaknesses; if you have a higher security fencing at the front of a school, make sure it cannot be easily compromised at the back.
Other things to consider include ensuring gates match the fence to guarantee consistency of perimeter security as well as a more pleasing appearance. Ideally, a school should have different entrance points for vehicles and pedestrians with one main entrance and exit for each; ensuring safety for anyone entering the site.
Consider the storage areas within the school grounds, we recommend that bikes are kept in secure, visible mesh compounds for easy identification, to monitor capacity, and provide peace of mind, while privacy mesh like EuroGuard® Combi works well for valuable sports equipment and unsightly bins. Storage compounds should be situated away from the main perimeter to prevent them from being used as climbing aids.
Depending on a school's surroundings, acoustic barriers might be necessary to reduce noise, whether from the school itself or from nearby roads or other buildings. Timber acoustic barriers offer a range of benefits in addition to noise reduction, such as climb resistance, privacy, and great aesthetics.
Quality fencing and gates with a guarantee
Budget is important for any school when specifying fencing, but cheap options can be poor quality, incurring a higher lifetime cost. Without a long-term guarantee, like Jacksons' 25-year guarantee, expensive repairs and replacements may be frequently required, costing more in the long run.
When specifying fencing for schools, always research and recommend the most suitable options available. Vertical bar fencing, for example, offers greater strength than palisade fencing and is better for hedgehogs, but a more pressing concern could be, for example, minimising noise, as previously mentioned. A fence's quality is only as good as its weakest parts, so fixings should match both the design and quality of the fencing. For strength, durability and aesthetic appeal, welded, galvanised, or stainless steel tend to be the best choice.
A welcoming school environment
Schools need to strike a balance between being secure and being welcoming. While appearance is not always a priority, it should be considered. Different fencing options, whether chain link, vertical bar, welded mesh or timber, offer varying levels of security and aesthetics, with different options and limitations for ornamentation, colour and finishes. All of our steel fencing can be polyester powder coated in a range of colours to suit a school's brand, and this is done in our own facility at our manufacturing site which improves and prevents delays to quality control checks.
Fence toppings can add extra security, but can be considered intimidating and should only be used sparingly. We recommend instead, opting for a fence which already has security topping features built in, such as Barbican Defender® Xtreme or Tri-Guard®, for a decorative but effective deterrent. Schools in high-risk areas may need to look into Secured by Design or LPS 1175 A1 (SR1) fencing.
Low maintenance fencing
To ensure the long-lasting security and durability of their fencing, schools must perform regular maintenance such as making sure that trees near the fencing don't allow for easy trespassing, checking hardware integrity, and testing the functionality and security of gates. Considering maintenance requirements when specifying fencing for schools, as well as using quality, robust materials from the outset, can help minimise the need for ad-hoc repairs in the long term.
Fence and gate safety standards
While protection from intruders is a major concern, students' safety within school grounds is also a high priority. Making sure playground fencing is RoSPA approved can help prevent limbs or clothing becoming trapped in fences, whilst also avoiding sharp fittings and fence components breaking and/or splintering. Additionally, vertical bar and metal railings should incorporate pale spacing which conforms to building regulations for anti-trap.
While a height between 1.2m and 1.6m is good for demarcation purposes and controlling movement within a site, perimeter fences should ideally be between 1.8m and 2.4m when specifying for schools, depending on local planning guidelines and the risks being managed. Automated gates should always be UKCA marked and compliant with the Supply of Machinery (Safety) Regulations 2008 and installed by trained Gate Safe Aware or DHF Gate installers. Jacksons gate automation engineers are qualified to a minimum of level 2 DHF training.
When specifying fencing for schools, the above will ensure you have fundamental safety and security issues covered, such as deterring authorised entry, reducing noise and ensuring safe entry and exit of the site. A thorough understanding of fundamental security principals, outlined above, allows you to be certain that basic safety and perimeter protection are covered when specifying fencing for schools.
Every school site is different and comes with its own set of requirements, so to find out more about Jacksons' school fencing solutions, visit our dedicated education section or read more of our Education blogs which answer some common school fencing related FAQs.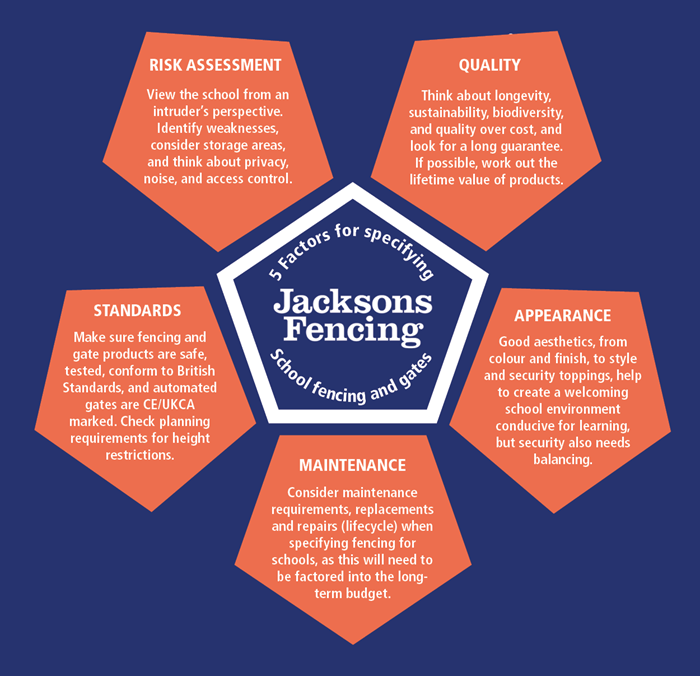 Related products
Jacksons Security has a range of products relating to this article, all complete with our 25 year service life guarantee. If you cannot find the item you are looking for, please do not hesitate to call our friendly sales team.