There are several names for what we call EuroGuard® Flatform: twin wire mesh and double wire mesh, and commonly, 868 mesh or 656 mesh.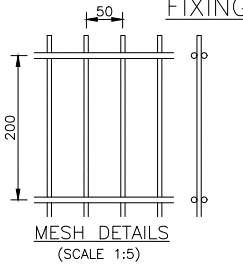 Available in medium or heavy styles, the numbers 868 and 656 refer to the size of the wires; the wire gauge. The middle number represents the vertical wires, while the first and last number which is the same, indicates the size of the two horizontal wires that sandwich the vertical ones. For a medium gauge mesh panel (EuroGuard Flatform Medium) this is 656, and for heavy mesh (EuroGuard Flaform Heavy) this is 868.
Generally, a mesh fence panel with larger apertures requires some support to keep it rigid and reduce sagging. This support could be in the form of a V profile (EuroGuard Regular), or the use of an extra horizontal wire which is welded into place. This increases the thickness of the panel, creating a structure that is less likely to bend and break.
The gap dimensions of the mesh are the same on both styles of Euroguard Flatform (868 and 686), this is 50mm centres between the vertical wires and 200mm centres between the horizontal wires.
Although we don't refer to it as 656 or 868 mesh, EuroGuard Flatform is designed with the same principles as generic 656/868 mesh fencing, but with Jacksons' trademark quality and security features added. These include:
Wire measurements before coating
Many suppliers of mesh security fencing provide the measurements of the wire after it has been galvanised or coated with a thermoplastic or thermoset coating. This is not a true representation of how thick the wire really is and therefore what the core strength of the wire is. The coating is not as strong as the steel wire inside, and it merely adds protection against corrosion. Our technical data sheets, website, and brochure always display the true measurement of wire gauge of our mesh products before any kind of coating.
Galfan® zinc alloy coatings
Our EuroGuard Flatform mesh, along with most of our mesh fencing, has a premium Galfan coating which provides it with excellent protection against rust, it is not just pre-galv. In addition, it can be polyester powder coated in 9 standard colours with an architectural grade powder to enhance the appearance and further increase protection. In addition to our standard range of colours which carry our base charge, bespoke colours can be specified for additional cost.
Vandal-resistant mesh security clips
Usually, mesh fencing panels are attached to posts using front-facing clips and torque screws. As can be seen in the video below, these are extremely easy to remove, creating a gap in the perimeter through which to remove items. The clips can also be replaced in the same way to close the gap, letting the security breach go unnoticed. Jacksons' mesh security clips are U shaped and clamp the panels to the posts, with tamper proof screws on the secure side of the fence, restricting the access to the clips to remove the panels.
25 year guarantee
All our steel products are supplied with a 25 year service life guarantee against rust, corrosion, and manufacturing defects, offering a lower lifetime cost and increased sustainability.
Installation
Installing 656 or 868 fencing panels is simple with our posts which can be bolted down or dug in. Panels are available from 1.3 to 2.43m high, with taller heights achieved by stacking panels. The mesh panels can also be cut down in width to fit specific spaces or help with stepping down uneven ground.
656 and 868 gates
868 and 656 mesh gates are available to match our 868 and 656 mesh fencing: EuroGuard Flatform gates. Available in swing and sliding styles with automated or manual operation, they are made to measure to fit the size of your space, up to 12m per leaf.
Applications/strong>

Due to its high visibility properties and its unobtrusive design, 656 and 868 mesh fencing is often seen around schools, universities and other educational facilities, commercial sites, and parks and sports areas. Available in your desired colour, it has the ability to blend into the surrounding environment or match institutional branding. For applications which require a higher level of security or protection from climbing, it is available with security toppings. In addition, Jacksons manufactures an LPS 1175 certified 868 fence: EuroGuard Flatform Heavy A1 (SR1). The mesh fence looks almost identical to our standard 868 fence but has undergone a rigorous test process by BRE and LPCB.

Find out more about EuroGuard Flatform.
Related Products
Jacksons Fencing have a large range of related products, all complete with our 25 year guarantee. If you cannot find the item you are looking for, please do not hesitate to call our friendly sales team.