Welded mesh fencing consists of steel wire strands which are welded together to form a high-strength, rigid mesh panel. From light mesh, suitable for pet enclosures and residential settings, to heavier styles for high-security and commercial applications, there's a wide range of welded mesh fencing to choose from.
Due to its design, welded mesh fencing offers better visibility for surveillance, such as CCTV, than solid styles of fencing such as timber panels or steel palisade. Perimeter Intrusion Detection Systems (PIDS) can also be installed discreetly to provide enhanced levels of security.
Welded mesh panels combine strong security with attractive design; mesh won't obstruct plant growth, so thorny shrubs and plants can grow alongside the fencing to provide additional protection. It's also an unlikely target for graffiti as it lacks a flat surface. It's lightweight and easy to install yet robust, resisting damage from strong winds as the open mesh allows wind to pass through open apertures.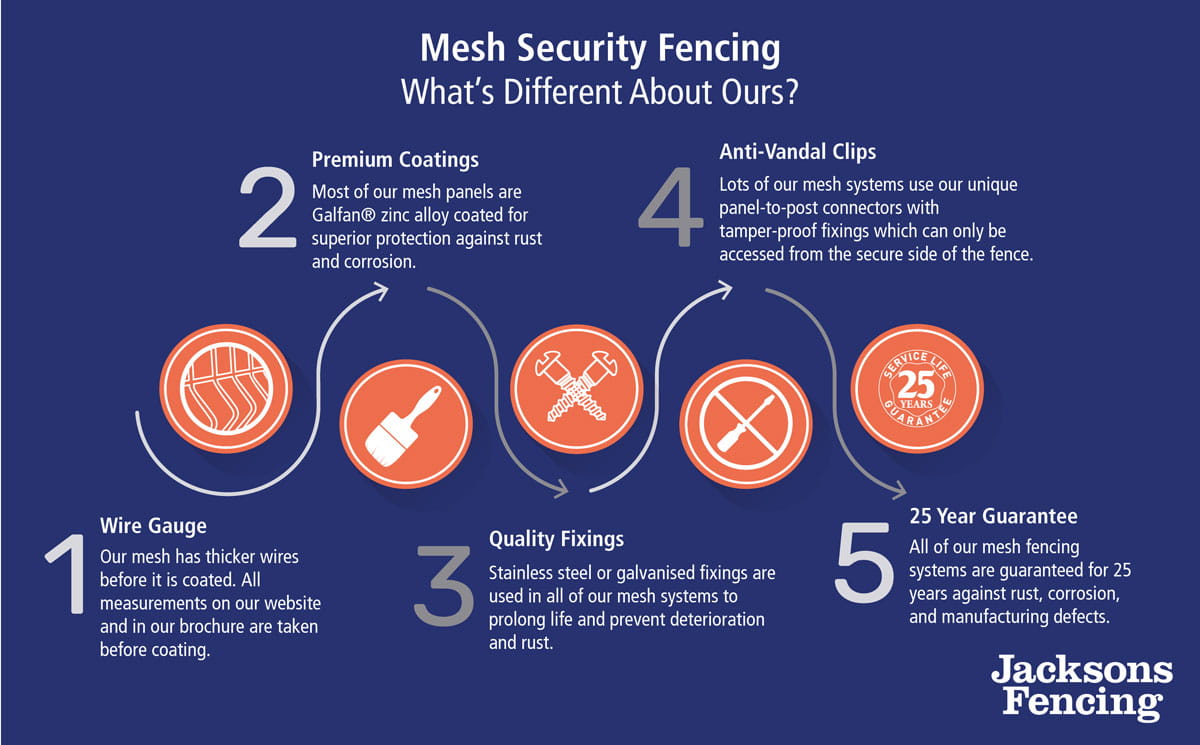 What are the different styles of welded mesh fencing?
V Mesh
V mesh welded panels are made up of horizontal "V" fold projections woven together to form a unique profile. The V projections in the panels increase rigidity and strength, so they are less prone to damage or deformation. They offer high visibility due to their tall, narrow apertures which equally make them difficult to climb as they don't provide a foothold.An additional polyester powder coating is often applied to the panels, with green being a popular colour to help blend into the surrounding environment, making them an attractive option that also offers high security, ideal for schools, parks, sports pitches, zoos and other applications.
358 or Prison Mesh
358 mesh is best suited for higher security applications, such as prisons and data centres, but its inconspicuous design is also well-suited for schools and sports grounds in high-risk areas. The panels have close-knit apertures which still provide excellent visibility but offer increased protection from climbing with no foot or finger holds available. Additionally, its design prevents items being passed through and makes it challenging to cut; we also manufacture LPS 1175 approved 358 mesh fencing, certified to SR1 / A1. Our unique panel to post fixings overlap panels, also preventing the fencing from being removed or damaged.
Double layer mesh
An extra layer of mesh provides an additional layer of protection and strength, offering both anti-climb and anti-cut protection against hand or power tools (when NPSA/LPS 1175 approved) whilst also preventing objects from being passed through the fence. With welds at each intersection for additional strength, and overlapping panels at posts, double layer mesh exceeds UK Government specifications for use in prisons. It's also well suited for use in high-security facilities such as data centres, water treatment plants and other Critical National Infrastructure.
Timber/steel combination
Timber/steel combination mesh fencing consists of a welded mesh fence panel overlaid with timber slats that partially cover the wires. For rural properties that require higher security (for example farms or country estates),schools and storage areas (e.g. bin stores), this versatile style of welded mesh fencing offers greater levels of privacy and strength that than provided by either timber or mesh fencing alone. The natural look of timber is aesthetically pleasing and complements any environment, whilst providing the strength of steel.
For more advice on our full range of welded mesh fencing panels and to explore their suitability for your project, contact us today.
Related products
Jacksons Security has a range of products relating to this article, all complete with our 25 year service life guarantee. If you cannot find the item you are looking for, please do not hesitate to call our friendly sales team.