Retail and leisure sites are constructed for one reason – to attract a high number of consumers, with visitors to the attraction intent on participating in a leisure pursuit, spectating, or spending money. The crowd appeal of such venues is second to none, so site security is of paramount importance to ensure effective control strategies are in place to cope during times of particularly high traffic flow – or in the event of a natural or man-made disaster. The ability to draw such vast numbers also makes these sites a natural target for potential activists keen to raise awareness of their cause. Furthermore, retail and leisure environments which boast high value stock/merchandise or portable equipment will also appeal to the opportunist thief – or petty vandal intent on causing damage to a high profile public amenity. Finally, consideration needs to be given to the fact that these sites represent a venue frequented by members of the public in their 'down time' - when thoughts of safety and security are far from top of mind; sites need to create a relaxed and welcoming environment.
The need to create a physical ring of defence around the site and introduce effective access control measures - which not only restrict unauthorised access but also allow for safe egress in the event of an emergency – should be discussed as part of the early planning process to ensure an integrated approach to the overall security architecture. All too often, physical perimeter protection and access control are not considered until the final stages of a build, when budgets are running low – but also more importantly, when other aspects of site security have already been agreed, which can lead to a disjointed and potentially vulnerable security solution.
Developing a security architecture which provides welcoming, easy access to the general public, whilst dissuading would be criminal perpetrators from selecting the site as a target represents a challenging conundrum. A typical response could include secure fencing, turnstiles, gates, blockers, electronic deterrents, detection and motoring devices along with pedestrian flow management, traffic calming, strategically located airlocks and segregated parking and public spaces. In addition, an anti climb wall topping for the rear of premises may be specified to provide enhanced protection. Only a planned, strategic approach to security is capable of delivering the optimum, site-specific solution.
Guarding the public
A priority for most retail/leisure sites is to segregate the people within the complex from site traffic. A pedestrian guard rail will provide a strong and effective vandal proof steel barrier protecting crowds from vehicles but also creating an effective perimeter boundary line. Jacksons' Pedestrian Guard Rails conform to UK Highways Specifications, and are supplied with a 25-year service life guarantee. The welded hollow tubular rail and solid pale construction delivers an extremely robust barrier, whilst the bolt-together design ensures ease of installation or replacement. Railing panels are available in two types with the option of inline or staggered pales to suit different applications. The 'standard' design features inline pales from top to bottom, whilst the 'see through' design offers inline pales and a clear visibility slot below the top rail.
Car park priorities
Car parks (and park & ride sites) represent a natural target for the 'would be' criminal, who is likely to feel safe in the knowledge that they have at least an hour to access the targeted vehicle. As well as providing a mecca for car/vehicle theft, car parks also often offer an attractive venue for itinerant youths to congregate at night to engage in illegal activities. Fencing to the perimeter of the car park and access control measures, combined with CCTV will not only hinder the intruder's progress, it can also act as an effective deterrent to reduce the actual incidence of such crimes.
Critical cash point defences
Today, cash points are no longer restricted to high street bank sites and retail/leisure attractions will frequently boast a cash point to encourage accelerated spending. Steel bollards can provide a natural means of demarcation but will also inhibit access to the cash machines by any ram raiding device and as such are an integral feature for retail/leisure sites. Bollards are a simple measure to prevent this type of attack and are available in fixed and rising options.
Child protection
Many retail and leisure sites will provide a dedicated children's play zone to deliver added 'family friendly' appeal. These play areas need to be protected by a RoSPA approved and BSEN 1176 compliant products. Jacksons' playground fencing and gate ranges and self-closing gates all comply with BS EN 1176 play fence standards and are RoSPA approved, and as an added feature can be colour coated in an architectural grade polyester powder coating to enhance the play environment.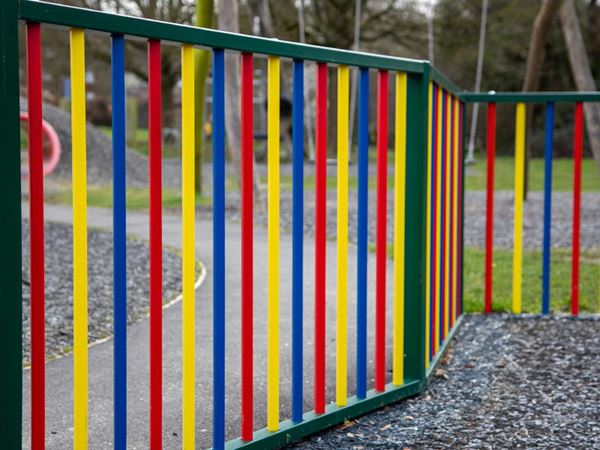 Shielding noise pollution
Perimeter fencing is capable of delivering additional benefits beyond demarcation and the creation of a physical barrier. Acoustic fencing will stop the noise associated with the day-to-day running of a busy retail or leisure site impacting unfavourably on the local residents. Jacksons Fencing has invested heavily in this sector, resulting in the development of the original Jakoustic acoustic barriers in 2004, which have been proven in laboratory conditions to reduce noise by up to 32 decibels - whilst also providing an attractive aesthetically pleasing fence which is visually acceptable even in the most sensitive sites. The Jakoustic Absorptive Noise Barrier features timber interlocking V boards and a unique tuning fork design post, and employs special fixings to securely clamp the acoustic boards between the posts. A timber capping and counter rail provides added strength whilst the anti-climb and scale design of the flat profiled face delivers heightened security. The system is easy to install and is suitable for uneven or sloping ground. This outstanding acoustic system delivers the ultimate combination of high security and noise pollution control, supplied with the added reassurance of the 25 year guarantee against rot and insect attack – ensuring low whole of life costs and enabling a responsible approach to sustainability.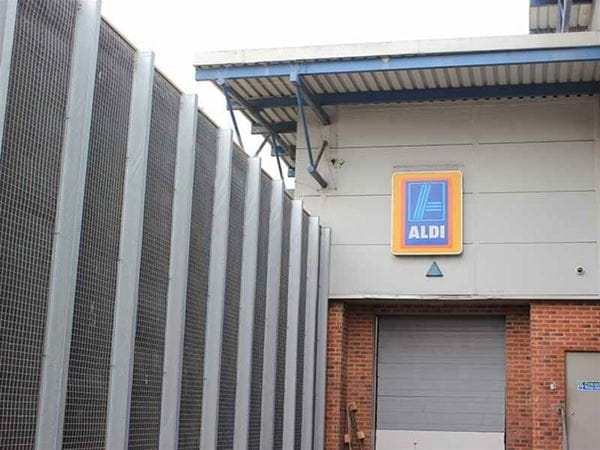 Sporting first
Large outdoor sports complexes will need secure perimeter security but there is also an obvious need to create an internal fencing structure capable of delivering a safe playing area to contain the players and their equipment/play accessories. Jacksons Fencing was the first company to develop a double lattice post design for ball stop fencing which provides a fencing structure strong enough to allow sports webbing / mesh to remain in place year round. Suitable for a wide rage of sporting applications (from rugby to a golf driving range), our Ball Stop Fencing features a top rail for extra rigidity and durability to ensure a strong, stable and safe structure capable of withstanding high winds. Supplied with a 25-year service life guarantee, with the option of adapting post mounts to house a lighting or camera mount, this robust system reduces the risk of exposure to costly damage and injury claims.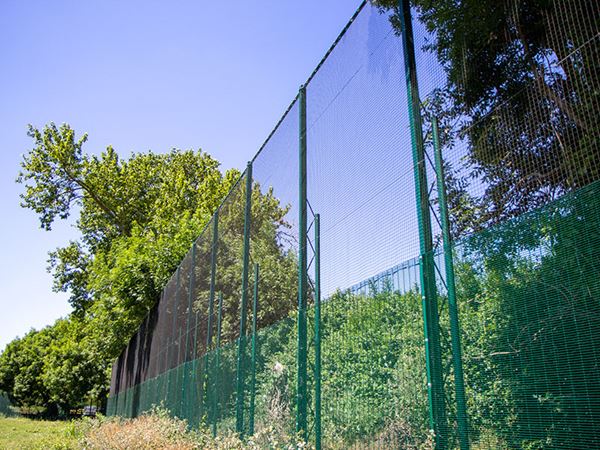 Related Products
Jacksons Fencing have a large range of related products, all complete with our 25 year guarantee. If you cannot find the item you are looking for, please do not hesitate to call our friendly sales team.