When choosing to install security fencing, often, protection against threats like vandalism, crime, trespassing, and truancy is not the only reason for the requirement or the installation. Many sites also need to provide privacy and concealment for various reasons.
Why do sites need privacy?
There are many different reasons that sites and applications need privacy along with security.
The most common reason is to reduce opportunist crime by keeping potential assets or valuables out of sight and out of mind and reducing the motivation to gain access to a site.
There are also other reasons to opt for privacy as part of a perimeter security strategy, for example, if playing fields and recreational areas at schools or sports clubs are adjacent to roads and public places, they will likely want to install fencing which conceals and safeguards children from people on the outside being able to see in or make contact. Manufacturers may also want privacy to prevent classified information and processes being copied or stolen. Similarly, football clubs may want privacy to prevent opposing teams spying and picking up training techniques – behaviour which was reported in recent years with one club even fined £200,000 for the offence. Classified information also needs protecting in the Critical National Infrastructure sector such as for utilities and government properties, for public safety purposes.
What type of privacy fencing is available?
Depending on your property type and level of security required, there are various types of fencing which can provide privacy.
Timber fencing – suitable for residential and low risk properties.
A range of solid timber fence panels are available up to 2 metres in height; generally best for residential properties, bin stores, and parks.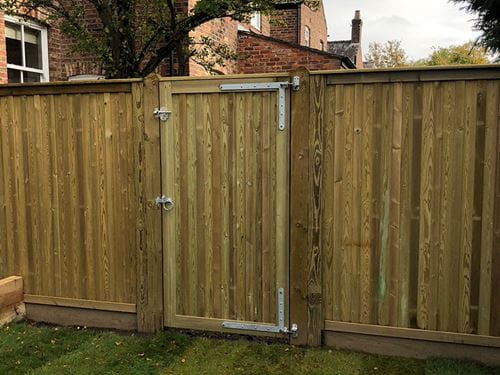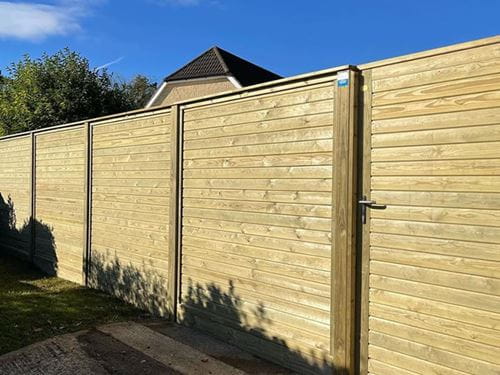 Acoustic barriers – suitable for residential and low to medium risk properties
Ideal for schools, supermarkets, factories, and sports clubs, timber acoustic barriers provide all the aesthetic features of a timber garden fence but with the added benefit that they reduce noise by up to 32dB. By nature, their solid design and usual tall height to ensure they perform optimally provides excellent privacy. In addition, their robust construction provides a strong anti-climb solution and good level of security. Available in a wide range of heights to suit your requirements.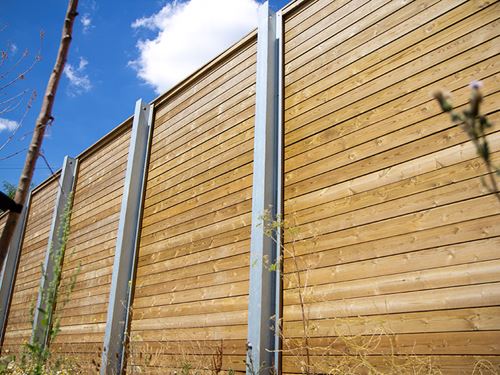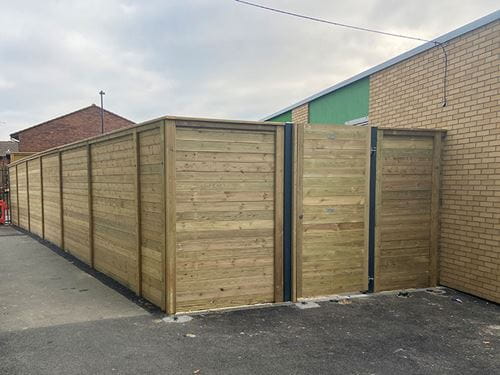 High security acoustic barriers – suitable for medium to high risk properties
Great for airport facilities and data centres, high security timber acoustic barriers are available as LPS 1175 and Secured by Design certified or NPSA rated (previously CPNI), with different options to choose from. Combining our proven Jakoustic® timber barrier and layers of steel mesh, they provide an attractive aesthetic and privacy, as well as security against climbing, attempts at forced entry through the barrier, and digging.

Privacy mesh fencing – suitable for low to medium risk properties
Privacy mesh may sound like an oxymoron, but it does exist. A Jacksons invention; EuroGuard® Combi combines our expertise in both timber and steel, with a steel V mesh fence panel and timber slats which cover the apertures. It is available in both standard and LPS 115 A1 rated versions, for properties that need protection against attempts at forced entry.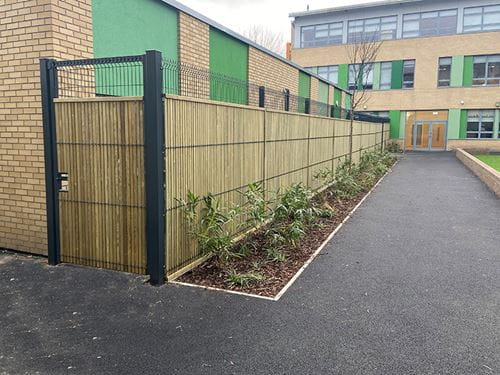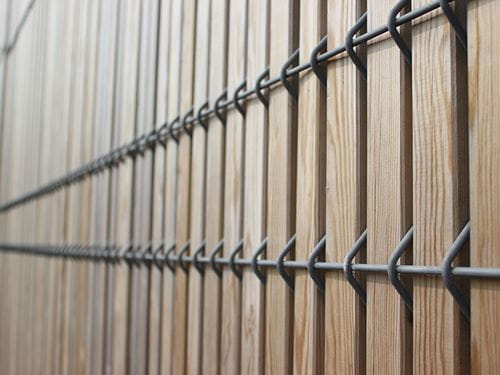 Other benefits of privacy fencing
Privacy fencing not only provides concealment, can also help prevent tools being passed through which could damage or disrupt the services inside. This was one of the reasons we installed EuroGuard® Combi around a 5G mast after a spate of attacks and arson attempts due to conspiracy theories during the Covid-19 pandemic. As discussed, if acoustic barriers are used to provide privacy, then these also reduce noise, so they're ideal for protecting air-conditioning units, server rooms, machinery, and power supplies.
Which fencing does not provide privacy?
Certain factors contribute to how much privacy you will receive from a fence. It needs to be of sufficient height to ensure a person cannot simply look over the top of it to gain sight. Fencing with holes or gaps such as mesh fencing or vertical bar fencing is obviously unsuitable as people will be able to look through the gaps.
Where should privacy fencing not be used?
Some places do not need privacy and this may seem obvious but it can be missed. Public playparks, and MUGAs in schools should always have high visibility mesh, whether you intend sports games to be watched by spectators or not, these areas have a potential for injury and should always be supervised by an adult from a safe distance outside of the fence. Similarly, areas where surveillance is a part of the 5 Ds approach and visibility is essential to facilitate this, such as around high security properties in high crime areas, so CCTV and manned security can see who is coming and going. These requirements will vary and be site-specific.
What to look for in privacy security fencing/security fencing with privacy
If you are purchasing a privacy fence, ensure there is not a compromise in security. Check the following factors:
Fixings and fittings: does the fence have tamper-proof screws and anti-vandal panel-to-post connectors?
Coating and finish: is steel hot dip galvanised or Galfan® zinc alloy coated to protect it from rust and corrosion?
Composition and construction: how substantial are the parts of the fence? Sometimes, low quality, flimsy hoarding is attached to a fence which comes loose in the wind or just general wear and tear. Ensure the fence is built to last.
Service life guarantee: does the fence come with any kind of guarantee against rust and corrosion or manufacturing defects? If wood is involved to provide privacy this should also be correctly treated against rot and insect attack. As a guide, our steel and timber fencing is guaranteed for 25 years – anything less than this and you should question the confidence of the manufacturer in the longevity of its products and services.
We've seen many schools unfortunately realise after their mesh fence has been installed that they should've opted for a privacy fence, and had to install additional measures retrospectively. Similarly we've seen a football club with a fence that has fallen into disrepair after installing a low quality measure.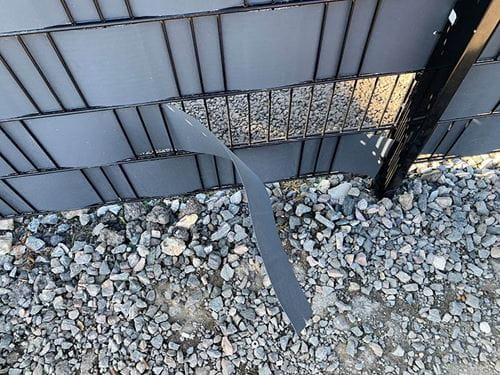 Alternative privacy screening solutions
Sometimes existing hedgerows or foliage exist which provide privacy but do not give enough security, so a fence is installed in front of the fencing for extra security.
In the example below, a high value property had an existing hedgerow but an ornamental fence was installed to provide extra security as well as privacy.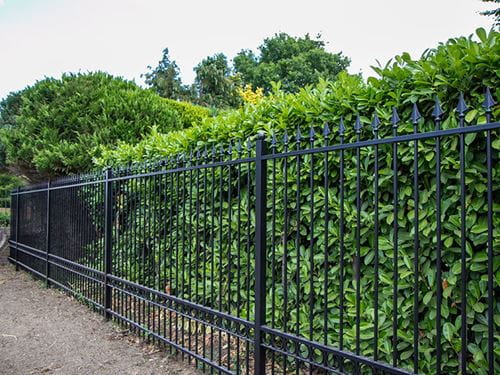 This is a good solution but hedgerows can take a reasonable time to establish and if the boundary is new and privacy is required straight away then the solution of planting and a separate fence is probably not an option and a fence with privacy should be considered instead.
If you have a requirement for privacy, security, or noise reduction, speak to our team today to find out about our solutions.
Related products
Jacksons Security has a range of products relating to this article, all complete with our 25 year service life guarantee. If you cannot find the item you are looking for, please do not hesitate to call our friendly sales team.