'Reducing crime by good design' is the motto of Secured by Design, an Official Police Security Initiative which works to improve the security of buildings and reduce burglary. Established in 1989 following the amount of cheaply built housing with poor security during the 1960s-80s, the UK Police Service owned initiative works closely with builders, developers, consultants, manufacturers, councils, and housing associations to incorporate proven crime prevention techniques and create safer buildings and communities. Police forces across the UK have dedicated Designing Out Crime Officers (DOCOs) and Crime Prevention Officers (CPOs) who offer advice free of charge, including guidance on the specification of windows, doors, locks, alarms, and walling systems.
Police Preferred Specification
Secured by Design has over 700 member companies with thousands of products that have achieved the Police Preferred Specification (PPS) status; providing them with a logo which can be displayed on corresponding products. To achieve certification, products need to have been tested to relevant security standards as well as have full certification from an independent third-party body accredited by UKAS. This includes testing and regular retesting of the products, and inspections of manufacturing facilities to ensure continued adherence to correct and consistent processes. In addition to receiving Police Preferred Specification status on individual products, companies also become members and are awarded a different 'Official Police Security Initiative' logo to show they are a licensed member. Not all products supplied by a member have been awarded the PPS status, so be sure to check this if you're specifically looking for a PPS certified product.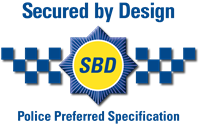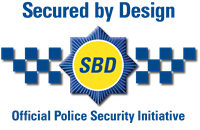 Secured by Design fencing
For products to achieve Secured by Design Police Preferred Specification approval, they must comply with and be accredited to various standards depending on their product group. For security fencing to achieve approval, it needs to be tested and evaluated against specific CPNI security standards or tested and certified to LPS 1175. We have a wide range of both CPNI and LPS 1175 certified fencing and gates with ratings from A1 up to G1. Products in the range include our Jakoustic® Class 3 high security acoustic barrier; Trident®, our vertical bar and mesh combination fencing; and EuroGuard® Combi, our timber and steel mesh combination fencing. As they have achieved LPS 1175 certification, they are also Secured by Design accredited, and the PPS logo is displayed on products in our brochure and on our website.
Secured by Design vehicle security barriers
To achieve Secured by Design approval for vehicle security barriers, they must be tested to PAS 68 or IWA 14. Our range of Secured by Design approved hostile vehicle mitigation barriers includes Linebacker® and static bollards. Linebacker® is a cable crash fence vehicle security barrier capable of stopping a 7.5 tonne vehicle travelling at 50mph. It can also be cloaked with timber to give it the appearance of an unassuming timber post and rail fence which adds discretion, and is ideal for use as a standoff fence around a main perimeter.
Where to use Secured by Design fencing
There are many types of fencing available with different features and benefits, making the range very versatile and applicable in a range of sectors. Schools can benefit from vertical bar railings such as Barbican® and Sentry® for perimeter security. With a welded pale-through-rail construction and hidden panel-to-post connectors, they provide a smart appearance but a secure boundary solution to stop trespassing, theft, and truancy. Around sports and playing fields, EuroGuard® Combi provides an ideal solution for increasing privacy. It also provides effective security and concealment around sensitive sites such as manufacturing facilities, and storage areas. Using our unique mesh security clips with tamper proof fixings on the secure side, it prevents access to the fixings making it highly effective against vandals. With an A1 rating, all these fencing options provide tested and proven protection against forced entry from opportunists. A1 is an appropriate rating for schools and light commercial properties without over-specifying, which is inefficient and costly.
For higher security properties like data centres, utilities, and government properties, there are multiple solutions in the range to suit, with ratings including C5, D10, E10, F1, and G1. Jakoustic® Class 3 is well suited to data centres in particular as they often require noise reduction in addition to security.
In addition to having achieved an LPS 1175 and Secured by Design rating, our fencing by default includes features which align it with the goals of the Police initiative and make it more secure. Features include hidden or tamper-proof fixings on the secure side of the fence, concealed anti-vandal panel-to-post connectors, and welded pale-through-rail construction. In addition, all steel fencing is hot dip galvanised or Galfan® zinc alloy coated to protect it from rust, preventing deterioration of the fence which could cause a security risk. Due to the quality of materials and treatment processes we employ, our fencing is also guaranteed for 25 years, proving our confidence in its security performance and longevity. Incorporating these design traits makes our fencing secure, however this does not mean aesthetics are compromised as we know how important this is in many applications. The removal of harsh security toppings and instead depending on well thought-out designs means communities are safe and secure without any hostility.
Related products
Jacksons Security has a range of products relating to this article, all complete with our 25 year service life guarantee. If you cannot find the item you are looking for, please do not hesitate to call our friendly sales team.