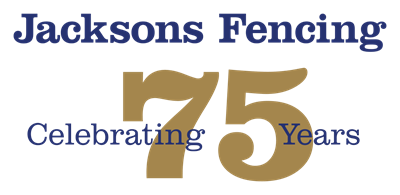 This year, Jacksons Fencing is proud to be celebrating its 75-year anniversary. Founded in 1947 by Ian Jackson and his father Harold Sands Jackson, Jacksons Fencing is now in its third generation of family ownership by son and grandson Peter Jackson Recognising a gap in the market, the company began by selling best quality chestnut stakes to farmers, from Stowting Farm in Ashford, Kent. In the 60s, they developed a unique timber preservation process to increase the quality and longevity of the growing range of products, and expanded to a new site near Bath to service the west country. In the 70s, a range of innovative garden fence panels was developed, and another site was acquired near Chester to serve the North West. In the 80s, we began manufacturing metal fencing, offering a wide range of vertical bar railings and welded mesh panels.
In the 90s, decking, pergolas, and decorative garden products were added to the company's portfolio. Additionally, robotic technology was introduced to increase manufacturing speed and ensure accuracy and consistency, and, realising the timber preservation process had proved itself time and time again, the decision was made to offer a 25-year guarantee on all timber and steel fencing. Over 30 years later, this is still the longest guarantee available for timber and steel fencing on the market today.
The company had developed steadily, and in 2003, a state-of-the-art powder coating facility was installed on site in Ashford, and just a year later, the innovative Jakoustic® acoustic barrier was invented.
Over the last 20 years, the company has been at the forefront of garden fencing designs with the likes of our Venetian, Chilham and Venetian Hit and Miss panels. Our products have been at the core of award winning high profile show gardens and have featured in many of the UK's favourite gardening shows such as Love Your Garden.
Having heard of the declining numbers of hedgehogs in the UK and realising that fencing can unfortunately have a negative impact on hedgehogs, Jacksons Fencing were the first manufacturer to offer the hedgehog gravel board in 2015. It can be used with all our timber fence panels, and allows hedgehogs to roam freely between gardens

in search of food and mates, which is essential for their survival. Just this year, our work towards helping hedgehogs has taken another step forward. Helping to raise awareness of the issues hedgehogs face to architects, specifiers and the construction industry, we have been promoting the commercial fence styles that are hedgehog friendly. You'll now see an icon on product pages indicating whether a product is hedgehog-friendly, such as our vertical bar fencing.
We have worked on many notable projects over the years, including installing perimeter fencing and gates around Eurotunnel, providing fencing and automated access control for multiple London Ambulance Service stations across the city, and installing 92 alley gates in Northamptonshire to help tackle crime.
With many more achievements to add to the list which can be read about in our timeline, we have stayed true to our founding principles, to offer premium quality, sustainable products that are more cost effective over time, and better for the planet too.
Whether you require gate automation, security fencing, school fencing, garden fencing, or acoustic barriers, you're in safe hands with Jacksons Fencing, with 75 years' experience and knowledge under our belt.
Peter Jackson, Managing Director commented "I'm unsure if my father and grandfather would have foreseen how instrumental the company has been to the UK fencing industry in the last 75 years. There is no doubt that they would both be extremely proud of where we are today, and to see that the family values that they started with are still a core part of the business.
This anniversary gives the company an opportunity to look back with pride at the various achievements and look forward to what the next 75 years might hold."
Find out about some of the Jacksons Family
Many of our staff members have been with us for 20+ years, providing us with a wealth of knowledge, passion, and experience. Click on the staff below to read some of the day to day tasks that our staff get involved with, manufacturing our products in our UK or view more members of the team by clicking the button below:
Meet the Team
Related products
Jacksons Security has a range of products relating to this article, all complete with our 25 year service life guarantee. If you cannot find the item you are looking for, please do not hesitate to call our friendly sales team.