There are many metal fence types including:
Chain link
Steel palisade
Welded mesh rolls
Welded mesh security panels
Wrought iron railings
Vertical bar fencing
Decorative laser cut metal fence panels
Sports mesh
At Jacksons, our types of metal fences are tailored towards providing security and as such we do not manufacture everything in the list such as steel palisade and wrought iron railings.
Many types of metal fencing integrate smoothly with the surrounding environment without sacrificing security, making them suitable for schools, public places, commercial and residential properties, and high security sites. In terms of metal fence types which provide security, vertical bar fencing, metal railings, and mesh security fencing are popular and often comparable choices, but there are clear differences. Comparing generic products, vertical bar fencing features a strong railing construction, has a smart appearance, and allows wildlife such as hedgehogs to roam freely, while mesh security fencing is mostly lighter and quicker to install, features enhanced climb resistance, and is often cheaper.
Metal fencing
The metal fencing that Jacksons offers epitomises our commitment to sustainability while delivering strength, an attractive aesthetic, and superior durability.
Vertical bar fencing
Our vertical bar fencing, for example, provides effective perimeter security while also keeping an eye toward conservation and preservation of wildlife. With its pale-through-rail construction and tamper-proof connectors, it features pale spacing that conforms to anti-trap regulations. Available in a range of styles and options, it allows you to make a truly custom choice that fits your needs and vision. Whether you need a flat bar top solution such as Sentry®, or something more unique, like our Tri-Guard® design that features pales with curved tops, we offer a broad range of solutions suited to many sites.
For increased corrosion resistance and endurance, our tubular vertical bar metal fencing and metal railings are hot dip galvanised and can also be powder coated in a range of colours to suit your brand. To bolster protection, they can be customised with Razor wire, Rota Spike® and Alarm-aFence® security toppings. For inbuilt protection, our Barbican® Extra security panels have additional short pales and Barbican® Barbed Top has spikes on the pales, which makes climbing or scaling them extremely difficult.
As with our timber hedgehog gravel board for use with our fence panels and slotted posts, this spacing between the vertical pales allows hedgehogs to pass through safely, which is essential for their survival.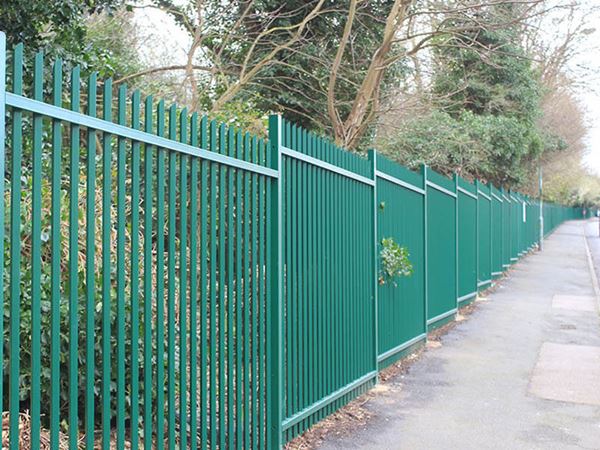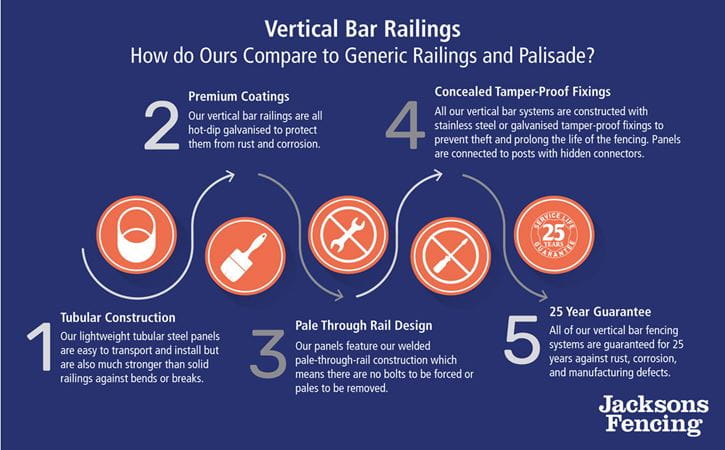 Metal Railings
Two key differences between vertical bar security fencing and metal railings are usually the aesthetics and the height. Vertical bar fences are often chosen or specified to fit in with the fence's surroundings either by following adjoining or other products in the local vicinity. Metal railings are often chosen over other metal fencing due to planning restraints. Our ornamental steel railings are designed to provide a similar aesthetic to traditional wrought iron railings which were popular in the 18th century through to the mid 90s in the UK. Many urban areas have held onto the metal railing heritage and they are characteristics of the area, so this often means that they have to be restored or replaced with similar looking designs at their end of life. Our metal ornamental railings are ideal for this, possessing a similar appearance to traditional solid metal railings but with the strength and durability of tubular galvanised steel.
Metal railings are often shorter than vertical bar fencing and because of this are used for demarcation purposes such as around parks and play areas. Styles include bow top railings of which there are anti-trap versions for play areas, and slim-paled 'residential' railings which can be installed in the ground or on top of walls. Although the purpose of shorter metal railings is not generally for security, it's still a good idea to invest in vandal proof, durable solutions, to stop vandalism or theft of the fence panels – a modern-day issue. Our metal railings feature the same design principles as our vertical bar fencing with welded pale-through-rail construction, tamper-proof fixings and concealed panel-to-post connectors. They're also guaranteed for 25 years, so in areas where aesthetics are important they provide a long-lasting solution that stays looking good for years to come.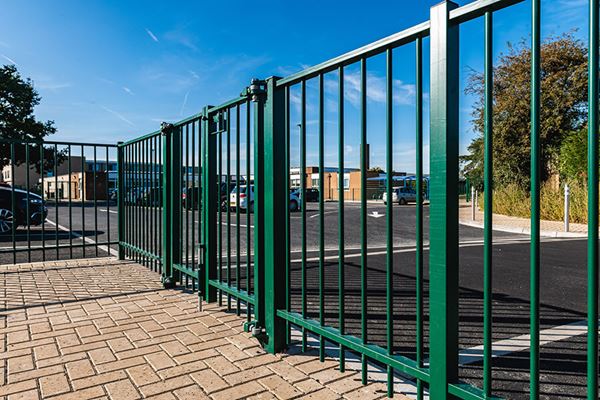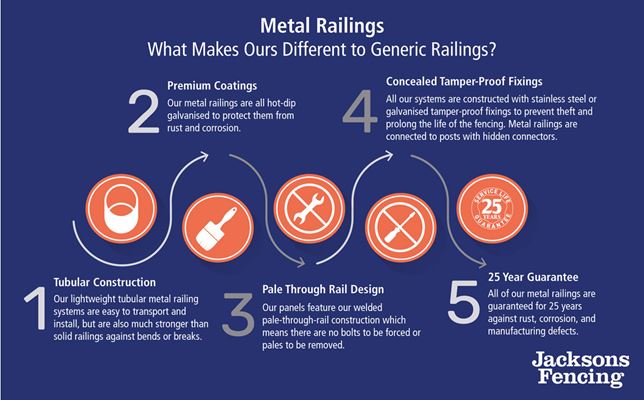 Welded mesh fencing
While we talk about the benefits of vertical bar fencing in terms of protecting wildlife and providing a smart appearance, there's of course still a place for welded mesh panels. Offering good flexibility and visibility for sports areas and school playing fields, providing superior climb resistance (when compared to standard vertical bar fencing), and offering some of the highest rated security rated fencing available. For areas that require a medium level of security, Jacksons' EuroGuard® range of welded mesh panels constructed of Galfan® coated steel wire are a cost effective option. Including V mesh and twin wire mesh fencing styles, the panels in this range are an ideal perimeter fence solution for schools, leisure attractions, commercial sites and residential properties. The mesh creates an "invisible" screen, giving you high visibility without compromising strength and protection. The tamper proof mesh security clips used to construct the mesh panels in our range are far more secure than comparable products.
Most manufacturers' welded mesh fencing is simply hot dip galvanised, but most of our mesh security fencing panels are zinc alloy coated for exceptional flexibility and corrosion resistance, ensuring they last long into the future.
As with our vertical bar solutions, mesh fencing also comes in a range of different coloured finishes to suit the aesthetic of your particular asset.
Although these types of metal fencing are the options generally used for security, there are many other metal fencing products available, including decorative metal railings, metal playground fencing, hostile vehicle mitigation fencing, sports fencing, temporary fencing, and chain link, all of which Jacksons manufactures, supplies, and installs. All of our metal fencing comes with a 25-year service life guarantee.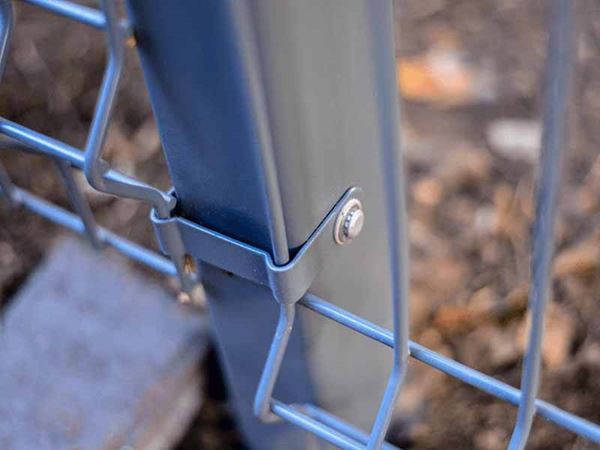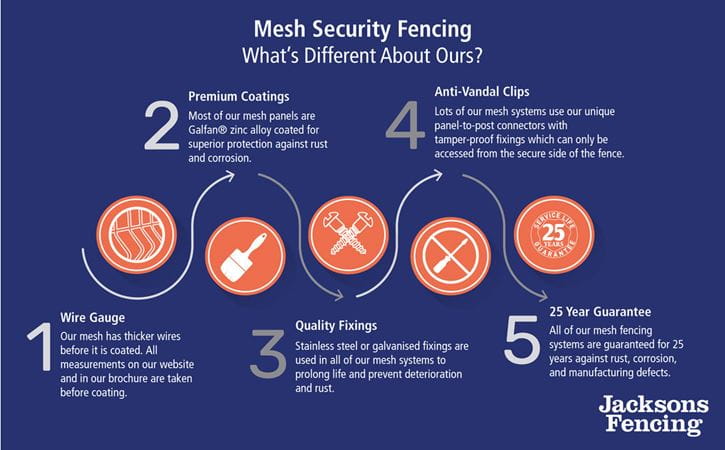 Built-to-last materials
Our strong, durable metal fencing and gates are built with higher quality materials such as stainless steel fixings, shear nuts, and concealed anti-vandal panel connectors. Low quality materials and fixings can lead to theft of the metal fencing panels, burglary or vandalism of your property, and will end up costing more in repairs and replacements over time.
25-year guarantee
Our 25-year guarantee ensures that your fencing will continue to effectively provide protection for over two decades, saving you the cost, time and hassle of replacements or repairs in that time. This also minimises the impact of our fencing on the environment, as fewer products and parts end up in landfill sites, or require digging up and replacing which disrupts local wildlife habitats.
Which metal fencing is right for you?
Our vertical bar fencing, metal railings, and mesh fencing solutions offer a broad range of benefits suitable for your specific site requirements. With over 75 years of expertise, we can help find you the ideal perimeter security solution.
To learn more about our versatile, built to last and sustainable metal fencing products, contact us today. Alternatively, try out our comparison tools to see which type of metal fencing you need.
Related products
Jacksons Security has a range of products relating to this article, all complete with our 25 year service life guarantee. If you cannot find the item you are looking for, please do not hesitate to call our friendly sales team.