According to RoSPA, there are an estimated 40,000 injuries to children on playgrounds each year which result in a hospital visit. Some key causes are: poor playground design and layout, incorrect installation, poor inspection, and poor maintenance. Good playground fencing design should seek to serve three main purposes: to contain children within a safe area, keep dogs out of the playground, and give children a sense that it is their area.
1. Make sure the fencing is RoSPA approved
RoSPA recommends that playground fencing design should conform to BS EN 1722 (relating to fencing) and 1176 (playground equipment standard). Playground standards are not currently a legal requirement but represent good practice in the event of an accident claim. Like other standards, they should be used intelligently and inform decision making.
2. Make sure there are no trap hazards within the playground fencing design
Pale spacing should be a maximum gap of 100mm to avoid limbs and heads getting stuck between pales. Anti-Trap Bow Top fencing also has widely spaced hoops at the top to reduce the risk of children getting trapped in the top of the fence.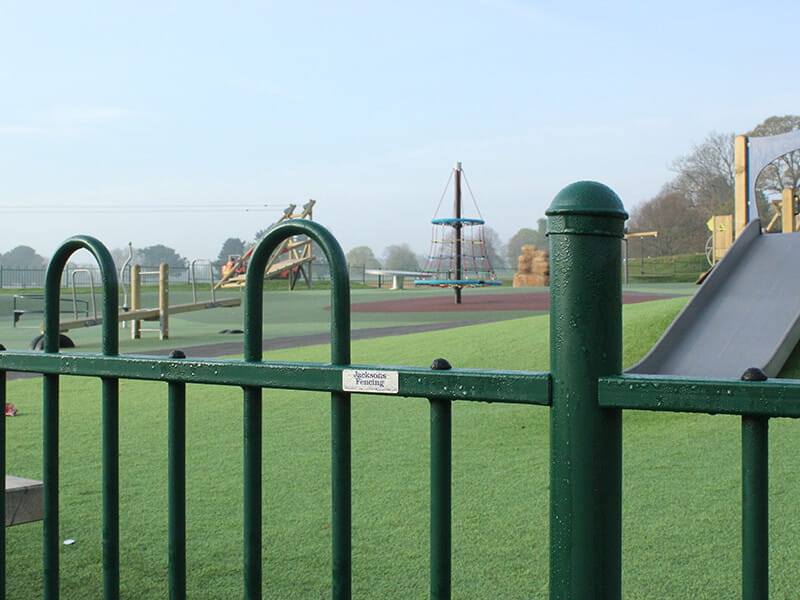 3. Make gates a different colour to the rest of the fencing
Gates that are powder coated a different colour are a clear indication to children where they can exit from, or where parents and guardians can enter. This is also beneficial for quick access in the event of an emergency.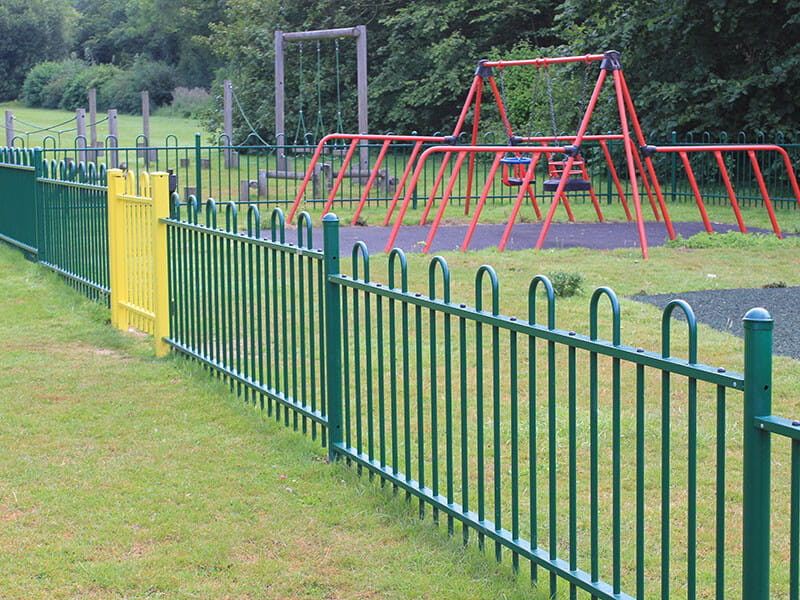 4. Include multiple gates in the playground fencing design
Having more than one gate improves the flow of pedestrian traffic into and around the playground, providing other entrances/exits should one become blocked for any reason. Double leaf gates are also recommended to provide emergency and maintenance access (usually these will be the same colour as the rest of the fence as not used by visitors).
5. Invest in good quality fencing at the outset to minimise necessity for frequent repairs and maintenance
RoSPA recommends that 'good quality fencing' is provided where required. This doesn't only reduce the lifetime cost of the fence but reduces the risk of children harming themselves on a fence or gate than needs repairing. A 25 year guarantee on fencing and gates is a good indication of quality.
6. Create an inclusive playground fencing design
Playground equipment, fencing and gates can all be designed to make sure everyone is welcome, no matter their ability. Gates should have self closing timers set to at least 5 seconds to allow safe access to all at a comfortable pace.
Mote Park playground was approved by PiPA (Plan Inclusive Play Areas) for being ahead with inclusivity, making it the only playground in Kent to be awarded this standard.
7. Choose premium finishes
A good playground fencing design involves high quality, glossy, bright colours to create a fun and welcoming environment. Polyester powder coating is recommended over painting, as it will not crack or chip. Similarly, planed timber that has been treated reduces the risk of splinters, knots and rot which can create a finger trap hazard. Timber will also blend in well with a countryside or rural setting.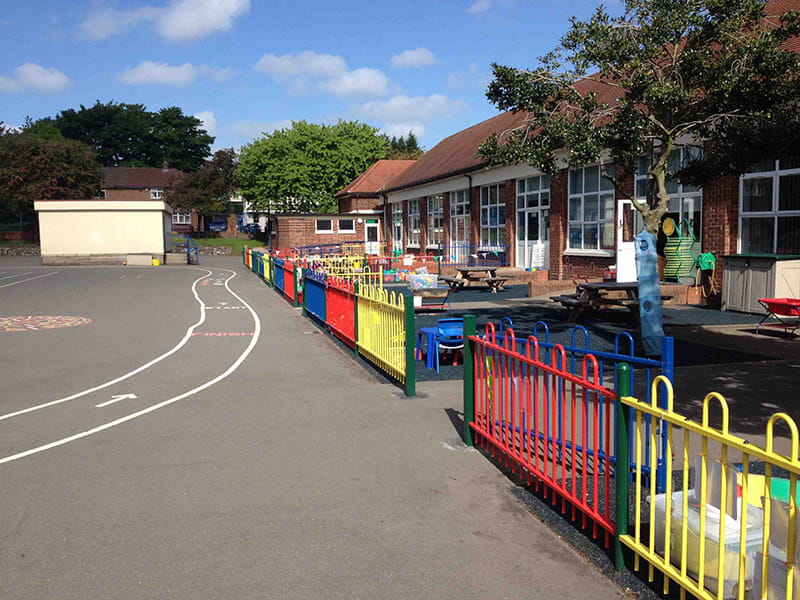 8. Choose fencing that is difficult to vandalise
Pales that are sleeved into rails and welded provide a more secure, robust fence. Our Playtime® Timber fencing uses premium stainless steel tamper-proof screws that stop pales being removed and leaving an unsafe playground fence. Many fences use standard screws prone to rust or nails in their design. Over time, nothing is more dangerous in a playground setting than rusty nails that are exposed through wear and tear or vandalism.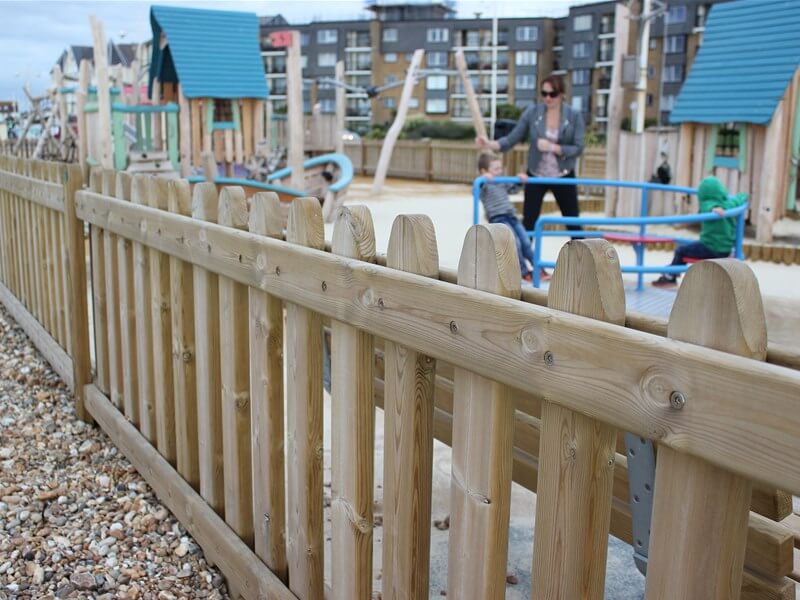 9. Install safe latches on gates
Magnetic latches are designed for adult use only, preventing children escaping from the safe area or being injured by a gate latch but still perform an essential role.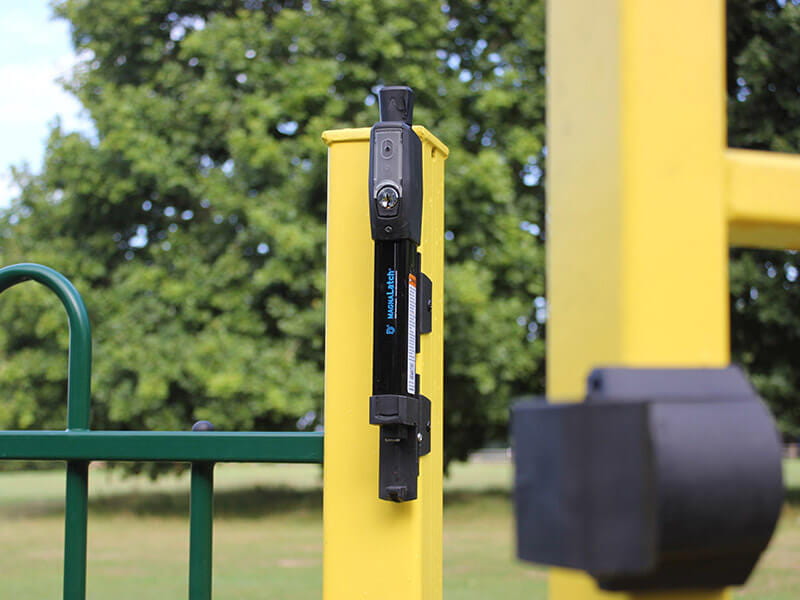 10. Choose a safe playground fencing design
Fencing should be free from pointed or protruding pales, and fencing should be well clear of any play equipment in case a of a child falling. Capping should be added to tubular posts to avoid trap points and sharp edges.
Related products
Jacksons Security has a range of products relating to this article, all complete with our 25 year service life guarantee. If you cannot find the item you are looking for, please do not hesitate to call our friendly sales team.