Safeguarding Schools for today and into the future
School Security
While in essence, both the BSF (Building Schools for the Future) and PCP (Primary Capital Programme) initiatives are highly commendable, what is the point in the substantial targeting of funds designed to improve the built environment within the education sector, if these new schools fail to harness the opportunity to meet the increasing security needs of the 21st century?
The October 2008 "Evaluation of Building Schools for the Future" Technical Report examines the success of the BSF programme to date. Sadly very little information can be gleaned which relates to the security perceptions of the new buildings aside from a pupil survey question which asks children's views on the statement 'the school building feels like a safe place to be' to which 45% of respondents who were in a BSF school agreed with this statement whilst an alarming 54% were unsure or disagreed.
School security - whose responsibility is it?
OFSTED (Office for Standards in Education, Children's Services and Skills) holds responsibility for 'inspecting and regulating to achieve excellence in the care of children and young people". However, OFSTED does not make school security audits.
In 1995 the Department for Children, Schools and Families set up a Working Group on School Security (WGSS). Its remit was and continues to be "to identify good practice in maintaining security in and around schools ….".
One of the suggestions that came out of the WGSS was the appointment of a designated member of staff to take on the role of School Security co-coordinator. But, whilst schools, police and local agencies are being encouraged to sign up to Safer School Partnerships and work more closely together to keep schools and children safe, research seems to indicate that it is still individual schools that are responsible for the day to day management of security and there is currently no direct mandate for a School Security officer.
Factors contributing to a safe and secure school site
The number of entrances to a school site should always be reduced to the minimum practicable, with vehicles and pedestrians being segregated but directed through one main entry and exit, so siting car parks, footpaths and drop off/pick up points in appropriate locations can help to achieve this.
On larger sites it is usually advisable to consider pedestrian gates and turnstiles with access control and management systems.
All visitors to the site should be screened, and anyone scheduled to carry out any work within the school grounds must conform to the requirements of the Safeguarding the Vulnerable Groups Act, be CRB cleared, and able to provide proof of identity.
Access controls should work in conjunction with any fire alarm installation to enable the safe and fast evacuation of the site in the event of an emergency.
Perimeter fencing should restrict both unauthorised access and exit and must be specifically designed to be fit for purpose. For example, the Jacksons ranges all feature a welded pale-through-rail construction which is not only inherently strong and vandal proof, but also gives a better finish with no visible joints or unsightly bolts. Unlike generic riveted palisade fencing, our solution is attractive and cannot be easily forced apart or used to create a 'gate' to the site. Our fencing and gates are designed in-house and subject to rigorous trials and testing to destruction.
Selective planting of thorny bushes and hedging can complement the choice of security fencing. Care needs to be taken to ensure that the fence line is clear from overhanging branches, storage bins or vehicles that can act as a climbing aid.
Security fencing that is attractive as well as functional can also help overcome the concern of creating a prison like environment. Higher security versions of Jacksons EuroGuard® Combi and Jakoustic® timber/steel mesh designs have been approved by the government following testing, and meet the requirements of Secured by Design Police Preferred Specification.
All fencing and gates must comply with current quality and safety regulations – the latter is especially important in today's increasingly litigious society. All Jacksons vertical bar railing type fencing and gates conform to UK Building Regulations for anti trap with 100mm pale spacing as standard.
Gate specifications should match the fencing and incorporate appropriate high quality locks and anti-lift hinges. Care should be given to avoid any features which assist climbing. Jacksons automated sliding and swing gate designs are CE certified and comply with EU Machinery Directive (a legislative requirement).
Safe Play Areas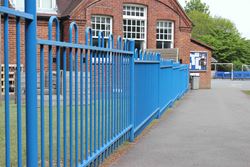 In infant and junior schools and for play areas, schools should opt for RoSPA (The Royal Society for The Prevention of Accidents) approved and BS EN 1176 (British European Standards Specification) compliant products. Jacksons Anti Trap Bow Top fencing, Playtime® timber and metal ranges and self-closing gates all comply with BS EN 1176 play fence standards and are RoSPA approved; and as an added feature can be colour coated to enhance the children's play environment.
Threats to school security
The ability to gain access to a school with the intent of causing criminal damage is an obvious security issue out of school hours. Unauthorised entry poses an obvious threat but of equal importance is the requirement to provide a safe and secure environment, free from criminal and anti-social behaviour or the need to prevent access to individuals' intent on inflicting violence.
Guidance on school security
Further reading
Those involved in school security should consider a review of the guidance laid out in Secured by Design article 'New Schools, 2014', and Zurich's 'School and Academy Design'.